Israeli Intelligence Spied on Trump's Cell Phone Calls
File this post under "well, of course they did!" Politico reports today that Israeli intelligence implanted Stingray devices near the White House and other sensitive U.S. government facilities in order to intercept the cell phone calls of Pres. Trump and presumably other officials in key foreign policy and national security positions. Though the article does not mention which other agencies were targeted you can be sure they were, at least, the State Department, National Security Council, and possibly even the NSA itself.
The Israelis weren't subtle about what they did. They didn't care whether U.S. officials knew what they were doing. Politico says U.S. officials knew about the interception because Israeli officials in meetings with them, would use specific language from documents or conversations that were only known inside the White House.
When Shamai Leibowitz leaked top-secret transcripts to me of internal Israeli embassy discussions (based on a bug planted in the embassy by the FBI), I was extremely cautious about how I used the information in my published reporting. I sought to avoid precisely the sort of exposure that these Israeli officials could have cared less about concealing. And the Israelis discovered the spying despite my best efforts!
The Israeli denials are entertaining, if not predictable. They swear on their mother's grave they didn't do it. They have rules, RULES I say, that prohibit it! As if Israeli rules, even if they existed, have any meaning, especially in such circumstances. Of course, the Israelis did it. The only question is who specifically did it and how they did it. Presumably, this was an operation by the Mossad with close collaboration with Unit 8200, the IDF's SIGINT division.
Trump too has denied the claim with a typically meandering, non sequitur response:
"I don't believe that, no, I don't think the Israelis were spying on us, I really would find that hard to believe.  My relationship with Israel has been great: you look at Golan Heights, you look at Jerusalem with moving the embassy to Jerusalem, becoming the capital.  You look at the Iran deal, what's happened with Iran.  Iran is a much different than it was two and a half years ago. It's in a much different position.  I don't believe that, I wouldn't believe that.  It could–anything's possible. But I don't believe it."
The Stingray fools cell phones by posing as legitimate cell phone towers, so that the calls are routed through the Stingray rather than the cell phone company towers. Then, the spy can intercept all calls made from the phone. The device could have been mounted on either the Israeli embassy (though the four miles distance to the White House rules this out) or any building within range (several blocks) of the White House. A vehicle may carry such a device either driving in the vicinity or parked within range. There are even miniature models which someone can carry with them.
The article doesn't make clear which specific model was used, as Stingrays are manufactured by both Israeli and U.S. companies. It would be a bitter irony if the Israeli spies used our own technology in order to bug our president, hoisting us on our own petard.
I consulted with Cooper Quintin, senior staff technologist at the Electronic Frontier Foundation and asked how the FBI would have detected the use of the surveillance technology targeting the White House. Their staff specialist said that both the Stingray itself and any counter-measures used to detect it are closely guarded secrets. Presumably, since the FBI uses the device regularly, it would have developed measures to detect its use by others.
This incident should offer plenty of ammunition to activists campaigning to prohibit police forces from using these devices to invade our privacy. If Israel can intercept the calls of our president, why should we let police departments do the same to us? Without even the need for a warrant or subpoena?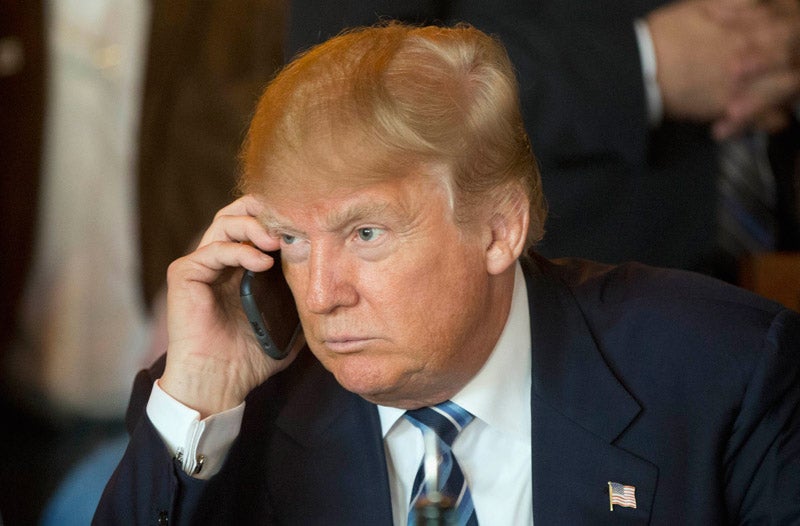 This means that all calls and texts Trump made to anyone on that phone would be accessible to the Israelis. Now, this was vulnerability was no secret. From the beginning of his presidency, the media reported that Trump eschewed any hardening of his communications systems. Journalists and their security sources warned that this could be the outcome, though they tended to emphasize the Russians or Chinese as likely to exploit these opportunities. Given that Israel is among the top four most aggressive intelligence operations on U.S. soil according to the FBI itself, we should not be surprised at this development.
It is absolutely shameful that Trump refused to follow prescribed security protocols and equally shameful that our government's security professionals permitted him to do so. If you add to this Trump's revealing U.S. security secrets in the Oval Office to the Russian ambassador and foreign minister; and Trump's spilling of secrets to his best bud, Vladimir, at their summits, the president is an intelligence sieve. This should shock and disturb members of Congress who are considering whether the president should be impeached.
Further reasons to disbelieve Israeli denials: there is a long history of Israeli penetration of U.S. government communications. During the Iran nuclear deal negotiations, the hotels of both the Iranians and U.S. delegations were bugged by Israeli intelligence.  One of the more bizarre and hilarious incidents involved a U.S. agent who was in the hotel room where Vice President Al Gore was staying during an Israel visit:
According to a senior former U.S. intelligence operative, a Secret Service agent who was enjoying a moment of solitude in Gore's bathroom before the Veep arrived heard a metallic scraping sound. "The Secret Service had secured [Gore's] room in advance and they all left except for one agent, who decided to take a long, slow time on the pot," the operative recalled for Newsweek. "So the room was all quiet, he was just meditating on his toes, and he hears a noise in the vent. And he sees the vent clips being moved from the inside. And then he sees a guy starting to exit the vent into the room."

Did the agent scramble for his gun? No, the former operative said with a chuckle. "He kind of coughed and the guy went back into the vents."
Going farther back, Rafi Eitan ran Jonathan Pollard, who stole top-secret naval intelligence documents and sold them to the Israelis, who promptly offered them to the Soviets in exchange for the freedom of Russian refuseniks. They also ran Larry Franklin, who provided them intelligence related to Iran, with the collaboration of Aipac's Steven Rosen. As far back as the 1950s, Israeli agents did break-ins on American soil to secure intelligence material. Perhaps the gravest Israeli breach involved an operation in which future Hollywood producer, Arnon Milchan, played a key role. He and his co-conspirators stole enriched uranium from a U.S. research site in the 1960s and spirited it to Israel for use in the Dimona reactor, which eventually created Israel's first nuclear weapon.
And just as in the current case, the U.S. government punished no one. It permitted one of the most blatant thefts of top-secret material in the country's history to go completely unremarked, as far as relations between our two countries were concerned. Compare that to the Rosenberg affair, in which two people (one of whom was guilty of nothing) to go to their deaths based on crude drawings detailing U.S. processes to produce a nuclear weapon. They died, while all of these Israeli spies and assets went unpunished, with the exception of Pollard. But you can be sure that if there is a Pollard now buried somewhere in U.S. intelligence, his exposure will elicit barely a murmur from the Trump White House.
Another irony is that the Israelis hardly needed to spy on the president to learn our deepest secrets. There are at least three U.S. officials (Kushner, Friedman, and Greenblatt) whose ties are so close to Israel that they surely would expose anything the Israelis wanted to know. In fact, I'm virtually certain that when the FBI prodded Trump to take action and hold the Israelis accountable, he said something like this: "What did they learn that I wouldn't tell Ron Dermer himself if he was standing here right in front of me?" Which shows Trump's typical obliviousness to national security and American interests.
The one area where such Israeli intelligence penetration would be especially useful would be in a case like Iran, where Trump may be planning an initiative the Israelis would perceive as against their interest; such as the proposed Trump-Rouhani summit which may take place at the UN in the coming weeks. In such a case, Trump should not want the Israelis to be privy to his agenda. But given Trump's complete obliviousness, one wonders whether he would even care if they knew.
As I noted above, let's not be naive about the spy business: everybody spies on everybody else.  We spy on them too. There are no innocent parties here.  As a former U.S. intelligence officer noted in the Politico article: "Guess what we do in Tel Aviv?"
I am working to answer some key questions I have about the Stingray operation: how and where was the equipment installed? Which specific agencies outside the White House were targeted? How did the FBI expose the exploit?