Did Iran Just Shut Down Half of Saudi Arabia's Oil Production?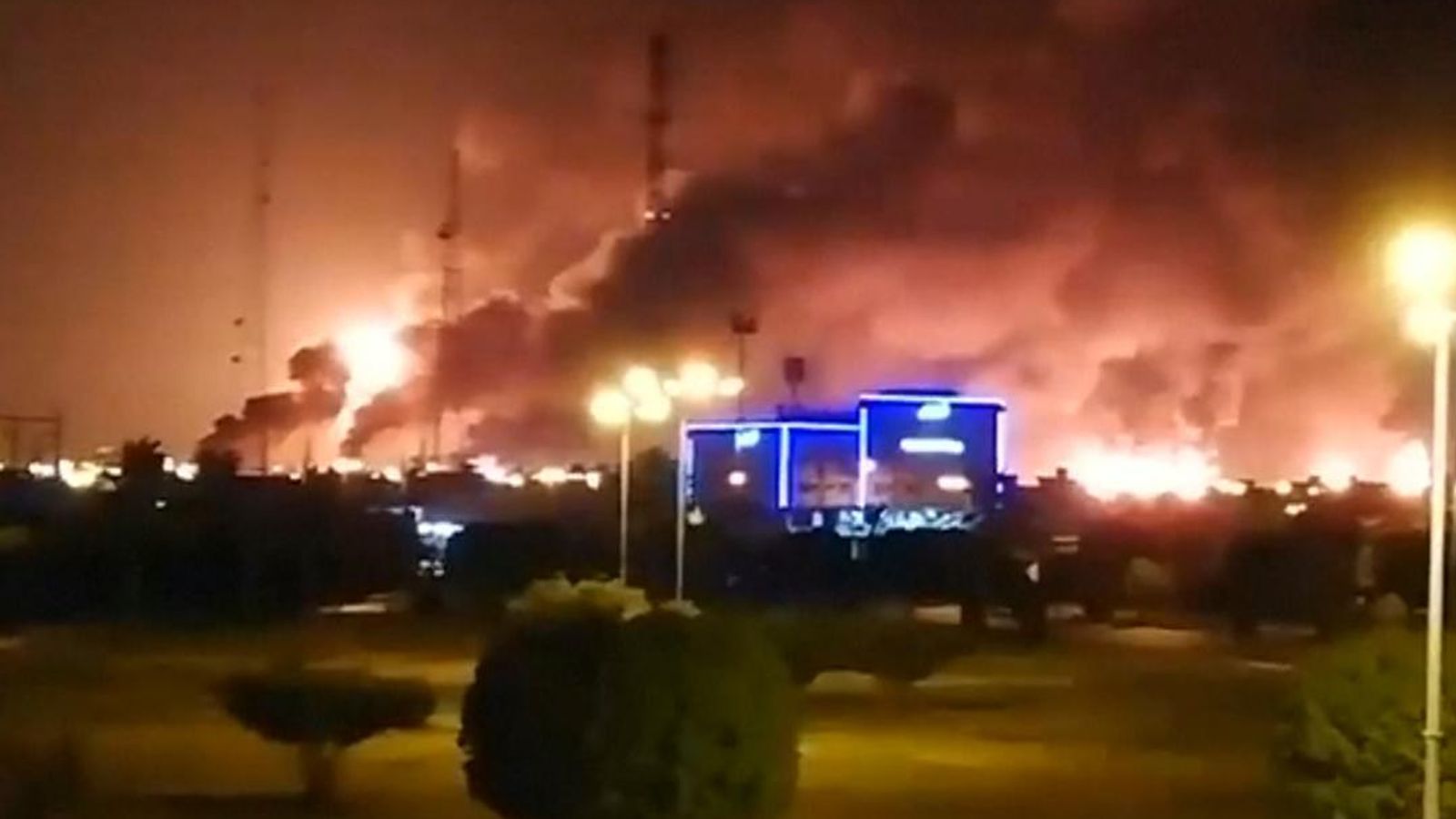 There's a mystery hovering about today, in the aftermath of a major attack on several Saudi oil fields, which shut down half of the country's oil production.  There are two conflicting reports on the source of the assault.  The first says that Houthi rebels launched a drone swarm against Saudi targets which resulted in the fires and destruction to the oil facilities.  But a second report says that the attack was not mounted by drones, but rather by cruise missiles fired either from Iraq or Iran.  If true, that would mean that Iranian personnel had directly intervened in the Houthi war against the Saudis.  It would mean yet another escalation in this bloody, costly conflict pitting the Saudis and their Yemeni proxies against Iran and its Houthi allies.
Mike Pompeo immediately dispensed with niceties and went straight to Iran, blaming it as author of this attack.  This follows in the footsteps of his long-held antipathy for the Iranian regime, which he shared with the late, lamented John Bolton, who's now gone on to greener pastures.
If the attack did originate in Iraq, it would follow in the footsteps of several Israeli attacks on Iranian bases in Iraq, which killed a senior Iran Revolutionary Guard commander.  News reports at the time said that the Israelis were targeting missile bases the IRG built there to act as a forward base in case Iran sought to respond to attacks against it by enemies such as Israel, the U.S. or Saudi Arabia.  Israel announced the purpose of the attacks was to take out missile sites which could target Israel, and prevent the transfer of missiles by Iran to Hezbollah via neighboring Syria.  But there's a new possibility: that Israel was attacking Iranian sites which could attack Saudi Arabia.  If true (and there is as yet no concrete evidence to support this claim), then Israel is deepending its strategic partnership with the Saudis against Iran.
Also, worth noting that recently Israel claimed to have preempted a coordinated drone strike against Israel originating in an Iranian base in Syria.  This tactic of mounting a drone swarm against enemy targets is precisely what the Houthis have claimed in launching ten different drones targeting Saudi facilities in the current attack.  One wonders if this isn't a strategem Iran has devised in its air war against both Israel and Saudi Arabia.
The timing of the attack couldn't have been more likely to make a statement on the eve of a Saudi plan for a multi-billion public offering of shares in its national oil company, Aramco.  The Crown Prince Mohammed bin Salman, is banking on the huge windfall both to fund his flamboyant lifestyle and his development plans for the kingdom, which are to be the hallmark of his future reign.  If the Iranians were involved, they're sending a clear message that continued Saudi hostility means the kingdom will pay a heavy price in blood and lucre.
This is also a message to the U.S.: if it aims to bring the Iranian economy to its knees and inflict suffering on tens of millions of Iranians, then they will not endure this in silence.  Iran will return the favor by inflicting pain on America's allies and their leaders, and maximum damage on their most precious resources.
Equally alarming is the phone call between Pres. Trump and MBS earlier today in which the U.S. leader essentially said that an attack on Saudi Arabia is an attack on the U.S.:
In the phone call, Trump also told the crown prince the attacks hurt the US and global economies…
In fact, this country relies less and less on Saudi oil.  The only damage that can result here is a rise in oil prices resulting from the instability in oil supply, which would hurt the pocketbooks of American drivers.  Yet such a conviction by Trump, if acted upon, could embroil us in a sectarian conflict among warring Muslim states.  This is precisely the sort of involvement Trump campaigned against in 2016.
Iran will not stop their misbehavior until the consequences become more real, like attacking their refineries, which will break the regime's back.

— Lindsey Graham (@LindseyGrahamSC) September 14, 2019
There are even suggestions that the U.S. should attack Iranian targets on behalf of our Saudi ally, as Trump almost did after Iran shot down one of our drones which had invaded Iranian airspace.  Such a development would not only foolhardy, it would be extremely dangerous.
The attack could also complicate plans by Trump to attempt to arrange a meeting with Iran's president, Hassan Rouhani at the United Nations in the coming weeks.  The IRG, which is part of the regime's hardline anti-U.S. apparatus might deliberately wish to sabotage any possibility of such a meeting.  Though given how small the likelihood such a meeting would happen, and the even smaller likelihood of any positive result coming from it if it did, launching such an attack for that purpose seems hardly necessary.