Why Do Donald Trump and the Far Left Agree on Ukraine?
Those on both ideological extremes find a lot to hate about the west and its opposition to a Ukraine invasion
As Russia masses almost 200,000 troops on Ukraine's border (thousands have already invaded by entering puppet republics conquered from Ukraine eight years ago and annexed by Putin this week), the reception to Russian aggression has taken a strange turn.  Under normal circumstances, I find myself in agreement on Israel-Palestine with those on the left who now support a Russian invasion (whether tacitly or explicitly).  But the imminent outbreak of war has really clarified things for me.  It's made clear that there is an element on the far left who call themselves anti-imperialists or go by other names, that have lost the plot.  They, of course, don't view things that way. They believe they have a unified theory of global evil that includes the US, NATO, the Azov Battalion, and Ukraine itself.  There is no room for nuance in this worldview.  Only absolutes and total certainty in the purity of their position.
There will be those reading this who will disagree vehemently with me. You've made these views clear in the comment threads in the past.  I should make equally clear to you that I am not interested in comments which justify or explain Russia's motives or behavior.  I think as we prepare for a disastrous war likely to kill tens of thousands, mostly Ukrainians, we are beyond justifications and defenses.
Before I enter into this moral morass, I'll make a few things clear.  I myself am a person of the left and proud of it.  But that does not mean that I agree with all views or all who also call themselves leftist.
Further, the US is undoubtedly guilty of heinous acts of genocide throughout its history and war crimes in more recent times. All that being said, there are times when force is needed to stop evil.  In the face of Nazi aggression, the Allies defeated Hitler, overthrew him and ended the scourge of German Nazism. Amidst Serbian genocide against Bosnian and Kosovar Muslims, NATO overthrew Slobodan Milosevic and Radovan Karadzic. I am not advocating foreign military force to stop Russia's imminent invasion.  That would be foolhardy, ruinous and counter-productive.  But everything short of military force should be on the table including economic sanctions and other disruptive actions which make Putin pay a steep price.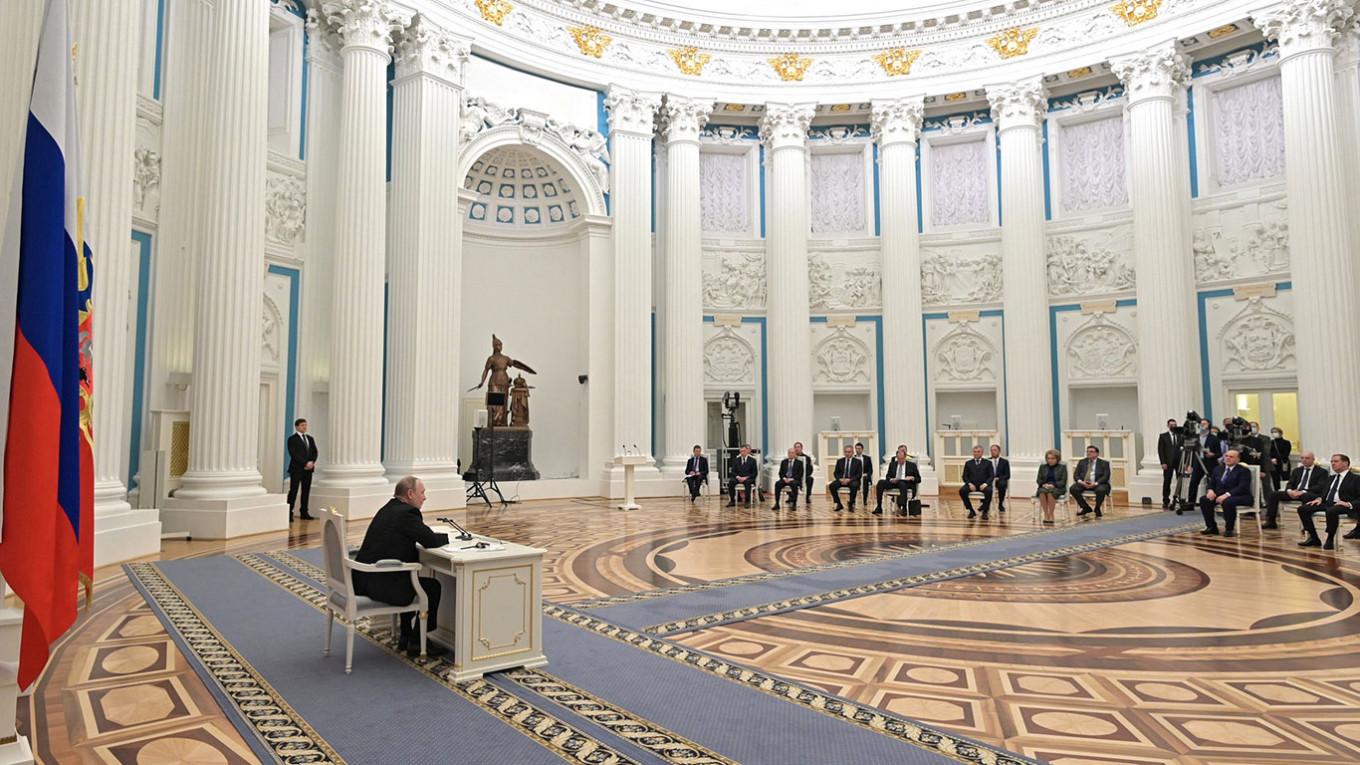 Putin has made clear that he wants to reassemble the Old Soviet Union.  He said the greatest mistake the former Soviet Union made was dissolving itself in 1992.  He has adopted many of the trappings of the former Czars. He is even more powerful than former Soviet leaders, who at least maintained a Council of Ministers, with carefully balanced interests and ideological views to constrain the executive power of the Chairman and overall leader.  Putin, in contrast, has a crowd of yes-men, as proven by the depressing dog and pony show he displayed to the world a few days ago.  There, he dragged a few underling-capos before TV cameras and made them parrot their fealty to him and his plans to invade Ukraine.  We would have to go back to the days of Stalin to find a leader as absolute and dictatorial as Putin.  The only difference between them is that Putin has murdered only a few score of his political enemies, and he hasn't starved millions of his citizens into submission.
Putin is nothing if not cagey. He will not swallow Ukraine whole and annex it to Russia in its entirety.  He will take time to eradicate opposition there through expulsion, exile or assassination.  He will appoint Ukrainian toadies to take control and do his bidding in much the same way he has done in Chechnya, Abkhazia and other Russian satellites.  Ukraine will be nominally independent, but in name only.
Another matter to consider is the impact on countries bordering Russia–Poland, the Baltic States, and Finland (and even Scandanavia to a lesser extent)–of the dissolution of Ukraine.  They have to fear that Putin will advance historic Russian claims to their territory as well.  Even if he doesn't, they have to prepare as if he will (or might).  That means increasing their military preparedness, purchasing more armaments, improving cyber-infrastructure and preparing for Russian sabotage and disruption.  If we think things are bad now on the brink of war, imagine Putin asserting such claims in multiple countries.  He is smart enough not to do this in one fell swoop.  He will craft a long-term plan to achieve these strategic aims and pursue them individually, one by one.  There is a long, hard road ahead for those who hoped for democracy in the former Soviet republics.  These hopes are dead or near dead.  And it is Putin's ultimate aim to prove this to the west.
Many of those who take a far-left position argue that while they don't support Putin, they believe that Russian suspicion of western motives and fear of the repetition of past aggression, justify that country's exercising its "rights" in Ukraine.  Such a bifurcated moral claim is disingenuous. You cannot separate Putin from his policy.  If his policy is war, then you not only support war, but you support Putin.  You can try to argue this view till the cows come home.  And it may make you feel morally sound in your judgment.  But you're building your foundation on sand.
Those who argue that the past crimes of the west excuse Russian behavior; or that past claims of Russia to Ukraine justify now retaking the latter; or that Nazis in Ukraine somehow justify liberating Ukraine from their presence; or that past western invasions of Russia (Napoleon, 1919 Expeditionary Force, Hitler's invasion) justify a Ukraine invasion as an act of defense by Mother Russia–have a warped view of history.
This issue of past western aggression whether against Russia or other countries, is separate from its posture toward a Ukraine invasion.  Past sins by one side do not justify current sins by another.  To put it even more starkly: the west is not invading Russia; it isn't even sending troops to defend Ukraine (though it has provided weapons).  In addition, the west is prepared for negotiation. Russia has shown no serious willingness to resolve the matter short of war.  Even a Biden-Putin summit, which France mediated and which would appear unlikely given that Antony Blinken canceled his meeting with his Russian counterpart, would not have proven Russia's intent to negotiate in good faith. Russia is the aggressor. No amount of past pain or suffering by the Russian people justifies what appears likely to happen within hours or days.
Finally, those on the left who take pride in their unified moral stance in opposing Western imperialism and "intervention" in Russian affairs, might wish to reconsider in light of Donald Trump's embrace of Putin and a Ukraine invasion. Here is Rolling Stone's account:
"I said, 'This is genius,'" Trump said on a right-wing podcast. "Putin declared a big portion of … Ukraine … as independent. Oh, that's wonderful. … I said, 'How smart is that?' And he's going to go in and be a peacekeeper. That's strongest peace force. … We could use that on our southern border. That's the strongest peace force I've ever seen. There were more army tanks than I've ever seen. They're going to keep the peace all right. Here's a guy who's very savvy … I know him very well. Very, very well."

Trump eventually seemed to remember that most people think Putin invading an independent democratic nation is a bad thing, so he quickly pivoted from giddy praise to noting that "this would have never happened" if he were still in office. "This would have never happened," he said, adding that "it's very sad" that Biden gave "no response."
If ideology exists on a circular continuum (known in political science as the "horseshoe theory"), then supporters of Putin might wish to consider how their views came to align so closely with Trump's.  Admittedly the left doesn't much admire Russian tanks as does the ex-President.  But in the latter's view of Russian troops as "peacekeepers" and defenders of Russian interests, the two are not far removed. That to me, if I held these views, would be some scary s*.