Putin Cobbled Together Alliance of US Radical Right and Anti-Imperialist Left, Dividing Opposition to Ukraine Invasion
How Did the Hard Left Get Ukraine So Wrong?
Vladimir Putin's war on Ukraine has made for some strange bedfellows. Say what you will about the Russian dictator, he's accomplished something remarkable, uniting what I'll call the anti-imperialist left and the Trumpist right in an alliance, which has upset the calculus of American politics.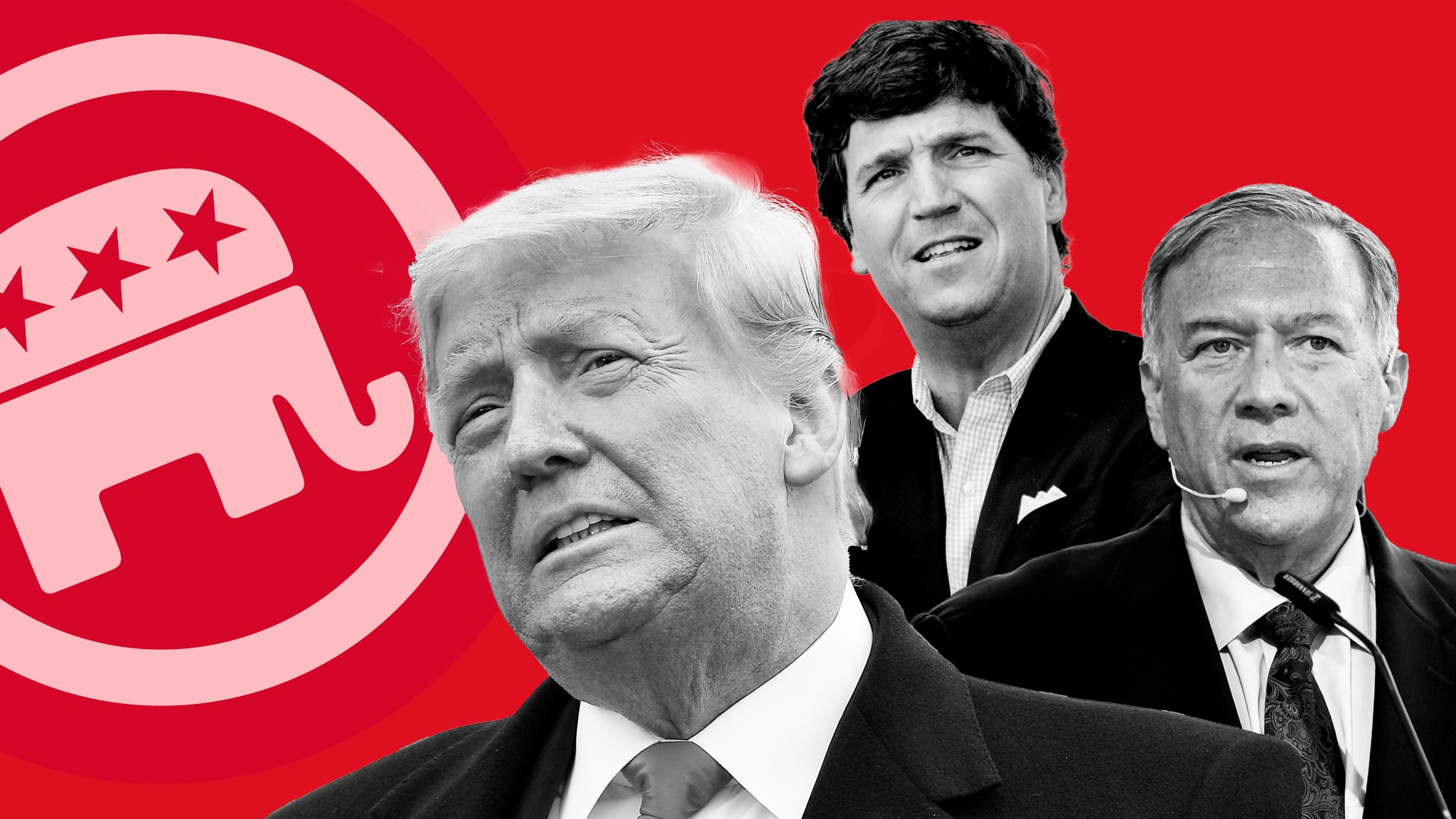 Back in the bad old days of Cold War politics, Republicans were always the anti-Communists, consistently accusing Democrats of being "soft on Communism." Remember Joe McCarthy?  But now in the Age of Trump, everything has changed. After years of corrupt dealings, covert support of key far-right groups and leaders, Putin has made huge inroads in the Party. It now holds views that past Party regulars would have called traitorous. So it is no surprise that notorious figures like Tucker Carlson would slavishly toe the Kremlin line on Ukraine (though tonight he apparently walked back his previous views and has come to the realization that what Putin is doing isn't such a good thing).  Nor is it a surprise that Trump would call Putin's initial foray into Ukraine,  "genius."  He too has walked back his fulsome praise, as if he hadn't said what he did earlier (classic Trump).  Now Russia's invasion is a "holocaust," a shameful abuse of the term that insults victims of real Holocausts.
What's even more surprising is that Putin has succeeded in co-opting major factions of the global progressive movement. I call them the anti-imperialists though you may call them the hard, extreme or pro-fascist left, tankies or the pseudo-left. They're characterized by hostility to capitalism, corporatism, militarism and a western world order headed by that two-headed hydra of NATO and the US.  According to this theology, the West has had designs on Russia going back at least to 2008.  And NATO policy has been to surround it with hostile "western democracies" fomented by Color Revolutions in Georgia and Ukraine (and later a failed attempt in Belarus),  which would constrict and tame the Russian Bear.   Though they don't usually go this far in their analysis, presumably the anti-imperialist argument suggests that the west's true intent is to overthrow the Putin regime and replace it with a western-friendly government.   It's not clear to me why any western leader would want to do that.  Traditionally, some on the left point to rapacious western hunger for natural resources like oil, gas, etc. to feed the capitalist economic maw. But I haven't heard this analysis offered regarding the West's view of Russia.
If Putin was really threatened or concerned about NATO expansion, he would have realized that attacking Ukraine would not only make this more likely, it would make it inevitable.  Now, Finland, Moldova, Sweden, Georgia and Ukraine have announced their intention to apply for membership. Given Putin's record, the Alliance will likely embrace such a development.  Despite making a potential future conflict defending these new members from Russian aggression more likely. Prior to the Ukraine invasion, each of these countries did a delicate calculation concerning their security and Russian intentions and decided caution was the better part of valor. If Putin had been wise and did not want to risk such a step, he would have decided on restraint. His actual decision was to go hell bent for leather. Thus, the argument advanced by the radical left concerning NATO expansion "cornering Putin" and leading him to lash out, doesn't withstand scrutiny.
It's hard for this leftist to understand what is worth defending regarding Putin's Russia. He's a profoundly corrupt, brutal killer running an entire country based on a cult of personality not seen since Stalin or Mao.  While I would never support regime change in any country including Russia, what are those on the left defending when they advance claims that imperialist powers have malign intent or seek regime change there? And what are they defending when those claims against the West discredit comrades on the left who oppose the Ukraine invasion?
Roane Carey writes in The Intercept:
In the present context, the tankies either directly defend, or make excuses for, Putin and Russia, even though the government is phenomenally corrupt, a crony capitalist regime led by a thug who assassinates his political opponents. The tankies tend to be correctly critical and probing about U.S. empire but don't apply these critical faculties to Russia. They become gullible and naïve when dealing with Russian officials and their narrative. It would be tempting simply to ignore the tankies, but we must repudiate them. If we don't, they will continue to give the left a bad name, especially among people fighting repressive regimes, who often assume tankies speak for the rest of us and thus feel betrayed by Western leftists.

…What the tankies fail to acknowledge is that Putin's regime is as deeply reactionary socially as it is repressive politically. That's why right-wing extremists in western Europe and the U.S., including Tucker Carlson and Steve Bannon, have applauded him, and why neo-Nazis have celebrated him as the savior of the white race. In supporting Putin, the tankies are in league with the far right.
This hard left faction has unintentionally become a means of amplifying the Kremlin's  agenda via social media.  As Vice reveals, Russia has created fake media platforms to generate propaganda in the guise of genuine political analysis. These leftist elements have swallowed it hook, line and sinker:
… What Redfish [the covert Russian propaganda outlet] is doing is tapping into people's desire to have their preconceived notions about how the world works reinforced.

"What skillful propagandists do is find people's prejudices and leverage them to advance their own message," Ahmad said. "In most cases, the propagandized individual is an inadvertent carrier of such messages. But even where they know, they are often willing to be dupes, because they think they are sharing something that they believe anyway."
While it may be natural for everyone with a political agenda to believe that theirs is the most moral, most natural, most humane, I marvel at how sure and how intensely the hard left holds its views. I'm aghast at how this faction of the progressive movement, the latter to which I proudly belong, could promote beliefs that are so divorced from the current political-military reality.  It's as if their entire belief system is threatened unless they can twist the facts pretzel-like to fit this theoretical narrative they've devised.
In co-opting right and left, Putin has cobbled tougher an unlikely alliance designed to provoke disunity and undermine any effort to create a consensus anti-war narrative.  So far,  Russia's utter barbarity has diminished any impact the right-left alternate narrative could have. The glocal consensus remains unified and outraged regarding Putin's War. The overwhelming angry voices ringing out in Western capitals at Russian aggression, has drowned out any possible expressions of doubt. That could change over time if public opinion should turn toward Russia and away from Ukraine.  But given Putin's tactics so far, that seems highly unlikely, to say the least.
I have witnessed this drama of a divided left in my Twitter feed. Though there is a consensus among most that this war is an abomination, there are strident, insistent voices offering a counter-narrative.  It's not as blatantly mendacious as Putin's fantasist media liars, but it is spurious nonetheless. It does use facts mixed with wild conspiracy theories.  For example, one of the recent memes suggested that Ukraine white supremacist border guards were beating up POC refugees fleeing the country. Yes, there are facts included in this reporting.   Racist Ukrainians were engaging in acts of violence against African,  Indian and Arab refugees. Certainly, such behavior is outrageous and Ukraine denounced it. But what was the story meant to prove? That all of Ukraine was composed of neo-Nazis and that the Azov Battalion ran the country?  And does such misbehavior discredit Ukraine's resistance to Russian aggression?
Not to mention that this version of reality ignored an equally odious tradition of xenophobia, homophobia and misogyny in Russian society, which Putin shares. There are as many neo-Nazis in Russia as in Ukraine. Probably more.   Not to mention, that some of the most racist thugs sit in the Duma and secret police (aka FSB).
Further, Putin's cult of personality, his concentration of financial and industrial power in the hands of a carefully selected group of cronies, has many parallels with Nazi Germany.  No,  Putin hasn't committed genocide as the Nazis did. But that may be because Russia is under a moral microscope and Putin doesn't believe he could get away with it if he tried.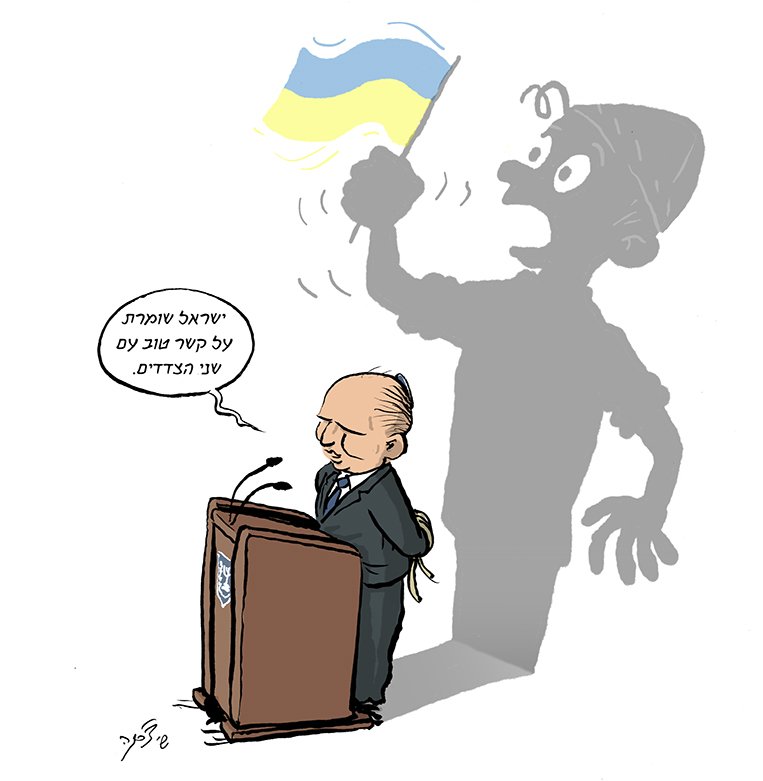 But Putin has one remarkable achievement: he has divided the global left. Instead of a unified voice and agenda denouncing war crimes,  dictatorship and corruption, the left is left somewhat adrift.  Those of us who oppose Russian interventionism and regime change in Ukraine stand for what we believe and what seems obvious to the naked eye.  But our former allies (and so many of these individuals were allies in the struggle for Palestinian rights) have, in effect, cut us off at the knees. Instead of one voice, there is a cacophony.  This doesn't serve the cause of morality or peace. It serves one man's interest: Putin.  Those in this left faction protest loudly that they don't support him. But if you oppose his enemies (the Ukrainians),  if you mouth his narrative without using his name, you are still doing his dirty work for him.
Another country Putin has co-opted is Israel.  For a decade or more, PM Bibi Netanyahu made pilgrimages several times a year to visit Putin in the Kremlin. The two seemed figures cut from the same cloth: Putin the autocrat and Netanyahu the wannabe.  They made deals that permitted each of them to slice up spheres of influence in Assad's Syria.  They managed a marriage of convenience by which Putin supported Assad, whose allies were Hezbollah and Iran; while Israel attacked all of them as mortal enemies.  But Netanyahu's relationship was always as the junior partner supplicating before the Kremlin potentate.
Though the Israeli government is now headed by a purportedly more moderate figure, Naftali Bennett, apparently nothing has changed.  None of the senior government ministers (Gantz, Bennett, Lapid) can seem to get words like "invasion," "democracy," or "war crimes" out of their mouths.  They stand mute before moral catastrophe despite 76% of Israelis supporting Ukraine and only 10% supporting Russia.  Israel sits back despite the desperate pleas of Ukraine's Jewish president begging for Israeli support.  This isn't surprising for the jaded among us, who've witnessed Israeli obsequiousness to the world's kleptocrats, dictators, and anti-Semitic despots.  And to have the world on one side for justice–and Israel, if not on the other side, then on no side–is a common phenomenon.
Perhaps Israel's leaders are wary of denouncing Russia's invasion of Ukraine because there are so many parallels between it and Israel's repeated invasions of Lebanon and Gaza, and its ongoing attacks on Syria.  Russian aggression and Israeil aggression are two sides of the same coin.  Not to mention Israel's transformation of conquered Palestinian territory into vassal-like Bantustans dominated by Israel.  This could indeed be the future fate of Ukraine as a satrap of Russian Empire.