The NY Times just published a story detailing the assassination three months earlier of Al Qaeda's number two leader, Abu Muhammad al-Masri, who had been living secretly in Iran since 2003.  The Times report, on which Israeli intelligence reporter Ronen Bergman shared a byline, said al-Masri, who was responsible for the 1998 bombing of U.S. embassies in Tanzania and Kenya, had been on a most wanted list for years.  The CIA located him and joined together with the Mossad to eliminate him.  The Times twice mentioned that "Israeli operatives" and "Israeli agents" performed the operation.
But this claim flies in the face of multiple previous assassinations Israel carried out in Iran. As former Israeli defense minister, Binyamin Ben Eliezer, told me at the time, these operations were carried out with Mossad training and collaboration, but carried out by MeK assassins in the field.  Seymour Hersh also confirmed this in his own reporting.  The MeK are the only figures who know the country and could blend in well enough to carry out such a complicated mission.  They have also carried out many similar terror attacks inside Iran so they have the capability and expertise necessary.
It's simply too risky for the Mossad to send members of its Kidon unit into Iran as they did in Dubai in the killing of Mahmoud al Mabouh.  If anything, the agency should have learned the lesson that foreign assassinations in the hostile Arab states can unravel easily and cause huge damage to both Israel and Mossad's reputation.
This killing also would fit a pattern of past collaboration between the CIA, NSA on the one hand, and the Mossad and Unit 8200 on the other.  American signals intelligence located Hezbollah's deputy chief, Imad Mugniyeh in Damascus.  They taxed the Mossad with creating the bomb to kill him and planting it on site.  The Israelis wanted him for his alleged role in bombings in Argentina which destroyed the Israeli embassy and Jewish community headquarters.  This partnership was described by Bergman in another NYT expose he published.
Israeli intelligence also collaborated with the CIA in sabotaging Iran's uranium enrichment program at Natanz.  The serious damage done via cyber-hacking to the centrifuges caused considerable, but temporary delay to the Iranian nuclear program.
Yaniv Kubovich, writing in Haaretz, (English) does dispute one of Bergman's major claims.  An Israeli intelligence source tells Kubovich:
Israel intelligence used its capabilities in Iran, specifically the sources there who can carry out such a mission.  It appears that Mossad's own agents were not there in the field. 
Not only did Meir Dagan tell Ilana Dayan on Uvdah that the Mossad uses domestic Iranian dissidents to sabotage targets, Tamir Pardo also bragged to Dayan on her show that his agency assassinated Iranian targets.  Ben Eliezer told me specifically that the Mossad used MeK killers to assassinate five nuclear scientists on the streets of Tehran.  The fact that Bergman attributes the killing to the Mossad and not the MeK means that either he's right and the spy agency performed a murder operation inside Iran it had never done before; or someone is covering up for some reason.
Yossi Melman also disputes the Times claim:
It's also reasonable to assume that because he was a minor target for Israel, the Mossad would not have risked its own staff combatants to kill Abdullah. Most probably, the Israeli foreign service activated foreigners who had worked on similar operations in the past. In this context, it's important to note that Iran and some foreign media outlets have accused Israel of previously working with Iranian opposition groups or mercenaries.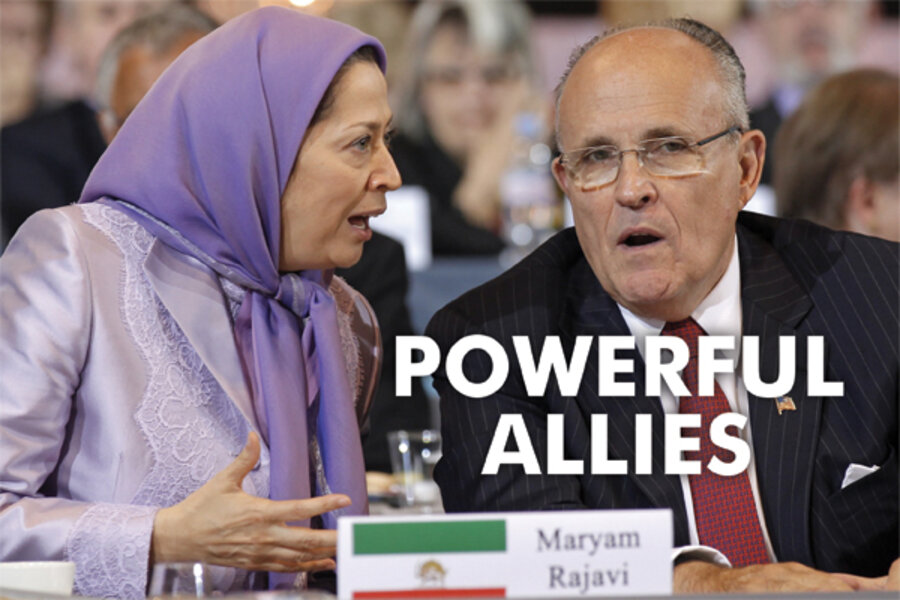 There could be ample reasons for covering for the MeK: first, it was removed from the U.S. Treasury terror list during the Obama administration after furious lobbying by American figures handsomely paid by the Iranian terror cult to pressure Hillary Clinton's State Department.  Among those lobbyists was Rudy Giuliani and a host of others, both Democrat and Republican.  To now admit that the MeK has returned to its terrorist ways could be embarrassing to the CIA, not to mention endanger the group's current clean status.
There are numerous improbabilities about this killing which demand explanation.  For one, how does a senior operative of one of Iran's mortal enemies, Al Qaeda, live covertly in Iran for 17 years?  On the face of it, this makes no sense.  Iran has fought ISIS and AQ for years in Iraq and elsewhere.  Iranian diplomats have been kidnapped and killed in Afghanistan and Iraq by such groups.
But looking more closely at Iran's motivations, one can discern a certain logic: just as Saddam Hussein exploited the MeK against his own mortal enemy, Iran, by maintaining a military base for them inside Iraq, so too Iran could offer haven to Al Qaeda fugitives in order to monitor and control the group's activities.  If you're an Iranian intelligence agent, you would want to ensure a potential enemy didn't attack your own interests, but those of your enemy–in this case, the U.S.  What better way to do this than by harboring al-Masri and keeping close watch on who he met, what he did, and where he went?
This bit of Machiavellian double-dealing would explain why Iran put out a cover story after the initial killing.  It said that a Lebanese history professor affiliated with Hezbollah had been murdered there along with his daughter.  The story was swallowed up in the media maelstrom of the Beirut bombing which happened days earlier, and received scant attention.  Just the way Iran preferred it.
Another improbability: what is Israel's motivation in joining this operation?  After all, al-Masri had done greatest harm to U.S. interests.  If anyone wanted him dead, it was the CIA.  The victim had barely been on the periphery of the Mombasa terror attack which killed 3 Israelis.  And al Qaeda in general has steered clear of attacks on Israeli interests.  As Melman wrote:
It's hard to believe that the Mossad would allocate precious resources and manpower to chase down and eliminate Abdullah for his marginal involvement in the Mombasa attacks. Therefore, it's more likely that the CIA subcontracted the Mossad to lend a hand in the manhunt for Abdullah. The Mossad's readiness to assist the CIA is more evidence of how intimate the relations are between the two agencies, and how closely they work together not only in gathering and sharing intelligence at headquarters level, but also during field operations.
There are two golden reasons explaining Israel's involvement: first, killing al-Masri would be a huge favor done for the CIA.  Anyone who does such a favor knows they can expect to collect down the line.  Second, as Kubovich's intelligence sources tell him, while the murder of al-Masri in itself has little significance, the location of his killing has huge significance (more on this later).
If you are Bibi Netanyahu, you can read the election tea leaves and see that Joe Biden is going to win the presidency.  That means that yet another Democratic president will take office and thwart Israeli interests in restraining Iran's nuclear ambitions and its trouble-making (from the Israeli vantage point) in the region.  As he did when Obama was negotiating the JCPOA nuclear agreement, Netanyahu pulled out all the stops in dramatizing Iran's malign intentions.  What better way to do this now than show Biden that Iran is harboring one of America's most wanted fugitives in its own backyard?  Should Biden resume negotiations about, or return to the nuclear agreement, the Israeli PM has a high card to draw from the deck showing the world who America's negotiating partner really is.
This also would explain the timing of the leak of the Times story.  Why didn't it leak three months ago right after the actual killing?  Why wait until ten days after the U.S. election?  Because Netanyahu needed to fire a shot across Biden's bow and have him understand that he would not lie down if the U.S. decides once again to cross Israel and rejoing JCPOA.  Yes, this is some awfully tortuous political conniving.  But anyone who knows Netanyahu's modus operandi understands that he is precisely the sort who plots these sorts of scenarios and carries them out with gusto.
It's also possible that Yossi Cohen, the Mossad chief, was the leaker.  He's known for his 'way with the ladies,' roguish charm and ferocious ambition.  He also takes pride in the numerous assassinations of Palestinians undertaken on his watch.  Cohen also has political ambitions once he leaves the agency in the coming months after his term ends.  What better way to enter politics than with these notches on his belt of enemies of Israel he has eliminated?
Another improbability that needs explaining: if the U.S. participated in this operation, why did Donald Trump not boast about it to the world as he has done far too many times to count?  When a U.S. commando team assassinated Abu Bakr al-Baghdadi in Syria, Trump spent days boasting.  Why has he maintained radio silence about this daring operation to kill a leading enemy of America? First, Trump's big mouth would offer more than enough reason for the CIA to refuse to tell him about the operation except in bare outline.  The littler he knew the less chance he would blow the operation.  He may not have even known about it until the Times report was published.  And by now, he has more than enough on his plate to worry about than to bother with this news.
A final improbability: if Israel is behind the leak, then why wouldn't Bergman publish his story in his main journalism outlet, Yediot Achronot?  Simply because the Israeli military censor would never permit this story to be reported by Israeli media.  However, if Bergman would get the story published by a foreign outlet, the censor would have no control over publication.  And Israeli media could then report what a foreign newspaper published and so avoid the bane of the censor. Which is exactly what happened.
As I wrote above, this assassination was more a political act than a genuine counter-terror operation.  There was little strategic value in it.  Al Qaeda is not nearly as powerful as it once was, especially not in the Middle East.  Killing al-Masri was at most, an act of revenge by the U.S. for the acts he committed decades ago.  It has little or no impact on the battlefield today.  For the Israelis, who had little motivation to kill him, this was a way to lay down a marker for Joe Biden.  To remind him that if he crosses Israel in his dealings with Iran, there will be a price to pay.  Al-Masri's murder was an act of political theater with the main characters being Iran, the U.S. and Israel.