U.S. Spy Who Defected to Iran Helped Plan Assassination of Intelligence Officers, Attacks on U.S. and Israeli Targets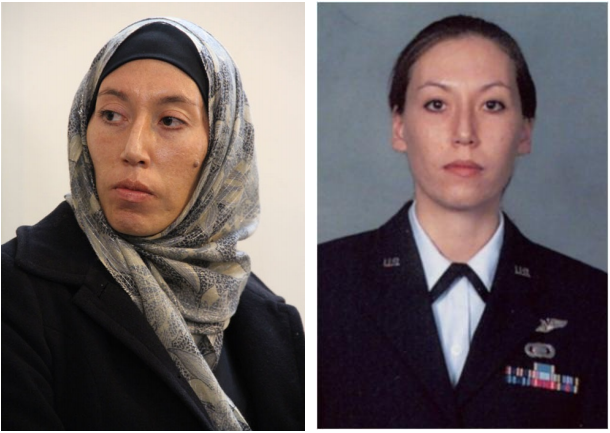 For the past weeks, U.S. media has reported the story of Monica Witt, an air force intelligence officer.  Witt gradually became disenchanted with our approach to Iran.  Along with a budding interest in both Iran and Islam, she began contacts with Iranian agents, which eventually led to her defection.  She now lives in Iran and has converted to Islam.
This Yahoo article lays out the scope of Witt's betrayal:
After 2013…U.S. officials identified multiple instances…where Iranian operatives appeared to be targeting U.S. and Israeli intelligence officials engaged in activities against Iran for possible assassinations. Critical identifying information about the threatened U.S. intelligence officials — all of whom worked for the Department of Defense — was provided by Monica Witt, the former air force officer who defected to Iran in 2013, says this person. "These people were not identifiable without her help," the former official said.

Though the plots were prevented before the Iranians were potentially able to carry them out, Iran's actions went far beyond the mere assembling of dossiers for potential future attacks, said this person. "These were cases where people had been assigned; plane tickets were purchased; weapons caches were in place. Plans were being activated. It had moved long past the written description."

This was a "five alarm fire," said this former intelligence official — highly anomalous and inconsonant with the behaviors of other hostile intelligence services like those of Russia or China. "The targeting of American intelligence officers was unique," the former official said. "When this was happening the reaction was not, 'Oh these things happen.' There was shock, awe and surprise. The thought was, 'The battlefield changes in an instant if this is true.'"

In one unnerving case after Witt's defection, a U.S. intelligence official in Europe had to be evacuated in the middle of the night with their family because of Iranian operatives casing their home, said this person.

A second former official confirmed the evacuation of a U.S. intelligence official in Europe during this period because of unexpected Iranian interest. How the Iranians had managed to identify this person led to intense scrutiny by U.S. officials — and rising consensus that the Iranians had recruited a U.S. government source, said this former official. There was a great deal of CIA-FBI finger-pointing over this issue, recalls this person.
Further, the article reveals that Obama administration officials activated a high-level surveillance system in an attempt to track Witt down inside Iran:
The identification of Witt as the defector sent shockwaves through the intelligence community. Her access to highly classified technical collection programs was "immense," says the first former official, and while U.S. officials had an "inkling" about who Witt was meeting with, and where these meetings were occurring — that she was being debriefed, and who her spy handlers were within Iran — U.S. officials were fundamentally in the dark on what she was sharing with Iranian intelligence.

Then came the potential assassinations, and the realization about Witt's role in them, says this person. This, in concert with overarching concerns about Witt's disclosures, prompted U.S. officials to reorient a sensitive national-level technical collection program — allowing for pinpoint geolocation — to try to track her down within Iran. Although approval was eventually given, "there were some conversations with uncomfortable [U.S. government] lawyers" about altering this program, which was strictly regulated, toward hunting down Witt, said this person, because she is a U.S. citizen. The request to alter this program went all the way up to senior Obama-era National Security Council officials, said this former official.

It's unclear whether this effort to locate Witt was successful.
This passage does not clarify what the intent was of locating her.  But clearly she could never have been persuaded to return to the U.S. and could never have been forcibly returned by kidnapping.  The only real option would be to murder her.  Given that she supposedly exposed the identities of U.S. intelligence agents to Iran and led directly to them being targeted for death (if the story is to be believed), it's entirely possible Obama would have approved her murder.  The president had approved the murder of a number of American citizens who played some role in promoting Islamist violence against U.S. targets.  Why wouldn't he approve the killing of a former U.S. intelligence agent who went over to the other side? The truly troubling aspect of this plan is that whatever Witt did, Iran did not act on any of these plans.  It may have plotted, but it never acted.  The report claims that Iran planned to act and that these killing operations were interrupted and derailed.
Another puzzling aspect of this account is that U.S. counter-intelligence officials claim to have known that Witt was speaking to Iranian agents, but did not know what she was telling them.  How can you have such a senior agent with access to enormous amounts of top-secret information speaking to enemy agents, and you don't know what she's telling them?  In most circumstances, you can track exactly what material agents and analysts access.  In case, an agent is turned you should be able to track what they knew, what they accessed, etc.  Did Witt somehow gain access to material she shouldn't have like the Snowden case?  Or was U.S. counter-intelligence simply caught flat-footed and had no clue what she knew or accessed.  If the latter is true, then this is a huge U.S. intelligence failure on the order of Aldrich Ames.
It's important to note that other media sources have taken the complete opposite tack, deriding Witt for being a sloppy, dumb spy who gave herself away through her public exploits before and after she defected.  It's hard to determine from these accounts whether she was a master plotter who betrayed vast swaths of U.S. intelligence capability; or she was a "fake Nigerian prince with a lucrative business offer."
Marzieh Hashemi's Role in Case
The solution to another mystery involving this case is suggested in the case of Melanie Franklin, a U.S. citizen who moved to Iran and converted to Islam as well taking the name Marzieh Hashemi.  She was arrested by the FBI when she arrived from Iran at the St. Louis airport, where she planned to visit her U.S. family.  She was held for nearly three weeks on unspecified charges, which were never revealed.  Now it appears that the U.S. believes that Hashemi played some role in recruiting Witt and securing her defection.  As the former was arrested weeks before the charges against Witt were revealed, it makes perfect sense that the government saw the Iranian news anchor as a key player in facilitating the air force intelligence officer's plan to betray this country.  My guess is that we will not be seeing Hashemi back in the U.S. any time soon.
Iranian Plans to Counter-Attack Against U.S. Targets
One of the main thrusts of the article is recounting Iranian preparations to retaliate against U.S., Israeli and American Jewish targets in the event that country is attacked.  American officials purport to be shocked at the intensity and sophistication of Iranian surveillance and actual plotting to attack such targets.  But this betrays a serious naiveté regarding the role of the military in protecting a nation's interests.  Any general who did not prepare to counter-attack and a sabotage campaign against an enemy who launches an assault against his country would be sacked in the event of a conflagration.  Of course, the IRG is planning such operations in the event that the U.S., Israel or the Saudis carry out their promise to bring regime change.  No one should be shocked by this.
To be clear, any Iranian agent plotting to kill Jews to avenge a possible Israeli attack on Iran is making a huge blunder.  Not only will it destroy whatever level of credibility Iran may have in the world, it would forever destroy links of friendship between Iran and progressive forces in this country and around the world. It will also further the canard that there is no difference between Jews and Israel.  This is not only an anti-Semitic conception, it plays right into the hands of Israeli and Israel Lobby propagandists who claim that Iran wants to destroy not just Israel, but the Jewish people as a whole.
The conclusion of the article does offer some dose of pragmatic realism in warning that Trump may be planning just such an attack.  The officials quoted in the article warn that his would be catastrophic, and that Trump hasn't a clue how bad things would be:
Some officials point to the ratcheting up of pressure by the White House and its resident hard-liners. In May 2018, the Trump administration withdrew from the Iran nuclear deal. Administration figures seem to have concluded that Iran has continued to covertly pursue nuclear weapons, despite the U.S. intelligence community's official assessments to the contrary, say former officials.

It's "a blatant attempt to politicize the intelligence community," said Wise, the former DIA deputy director. The Trump administration appears to be looking for a pretext for war, says another former senior official.

The Trump administration seems oblivious to the potential Iranian response to U.S. military action, warn multiple former officials. And yet Iran has been telegraphing its intentions — including its capacity and willingness to use terror — if a war takes place. "We are in such a precarious situation, and people don't realize it," says one former senior intelligence official.

"The Trump administration approach is, 'Oh shit, we'll drop a few bombs and that'll take care of it, says another former senior official. "Something precipitous could happen."