Israel Plans to Ethnically Cleanse Gaza
IDF gives 1.5-million Gazans 24 hours to leave their homes, one of greatest acts of ethnic cleansing since Bosnian War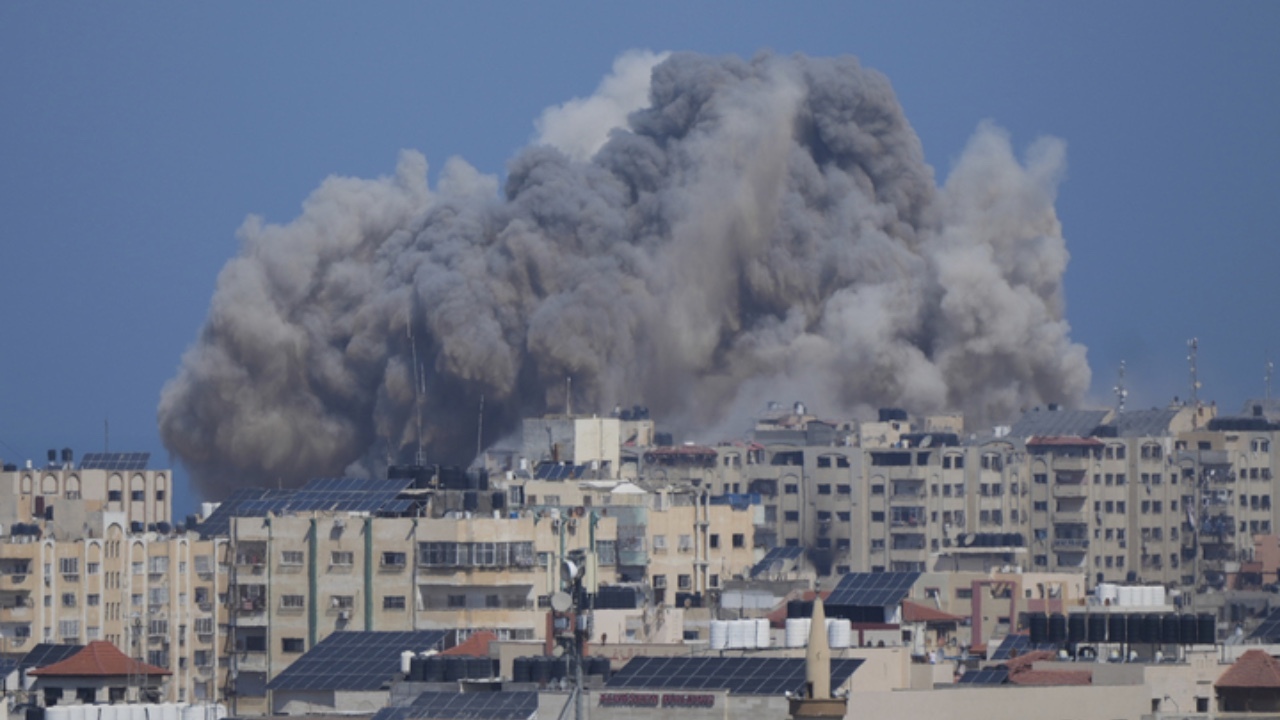 URGENT: Tikun Olam is live-blogging the Gaza war. I bring you the latest media coverage from Israel and Palestine. Views and analysis you won't find in the MSM, and perhaps even in progressive media.  I break stories based on my security sources and report them here. You will be better informed here than almost anywhere else on the internet. Please donate now.
Currently, the death toll from "Operation Slaughter" is 1,200 Israeli dead and nearly 2,000 Palestinian.  500 or 20% of the Gaza dead are children.  And yes, even babies (see below).
As the IDF prepares for its invasion of Gaza, mobilizing its full active duty force of 250,000 troops along with 360,000 reservists, it ordered all residents of norther Gaza, 1.5-million (according to UNWRA figures), to leave their homes.  This equates to three-quarters of the entire population.  This would be equivalent to 7-million Israelis or 250-million Americans. It will be the greatest act of ethnic cleansing in the past 35 years (1991 Bosnia-Serb war).
The army clearly plans to eradicate all of the area.  These people will have no homes to return to when it's over (if it's over).  The army's seeks a clear field of fire to destroy Hamas infrastructure and hunt down all its fighters and eliminate them.  This, it believes, will fully and finally eradicate Hamas as an effective fighting force. The IDF plans are not only ethnic cleansing, but full-scale genocide.
Hamas, of course, will reposition its forces south of the eradication zone, from which it will launch attacks on the Israeli forces.  It will not destroy Hamas. It may reduce its resistance capabilities.  But eventually it will replenish them.  If anything it will make it stronger with an even greater will to resist and endure.
The only sure way to eradicate Hamas is to launch an exterminationist campaign like Sri Lankan army did against the Tamils, slaughtering 20,000 and liquidating the groups entire leadership cadre.  While it surely has plans it could implement to achieve this, the world might (just might) object.  Though given its tepid response to the impending slaughter, even that is doubtful.
My guess is that Israel will declare all of northern Gaza a restricted buffer zone and not permit anyone to return.  If so, that will only increase the misery of a people now living in an open air prison. Instead, it will become an even more miserable hellhole.  And even the phrase "open air" no longer applies, since Israel controls even the skies over Gaza. Except, of course, during the Hamas assault, when Hamas paragliders owned the skies for a time.
The UN issued an urgent call for world leaders to tell Israel they must not do this.  It issued an appeal to Israel to stand down.  The response of Israel's UN ambassador was to tell it to shut up and fall into line with the rest of the world decrying Hamas terrorism.
UNWRA says it currently has 300,000 Gazans sheltering in its facilities.  It cannot possibly do more than it has.  That in itself is a shocking number.  Can you imagine nearly 1-million Israelis sheltering in the buildings of a single NGO?
Israel has launched a major propaganda campaign to arouse outrage against Hamas and protect it from future claims of crimes against humanity, once it launches what promises to be a catastrophic ground campaign.  One that will dwarf Sherman's March to the Sea, in which his Union army killed and burned everything in his path.
In a phone call with Pres. Blinken, Bibi Netanyahu offered a mendacious narrative, claiming Hamas beheaded babies and raped women.  As you will see below, both claims are categorically false.
Biden in turn, gave a briefing to American Jewish leaders in which he claimed to have viewed "confirmed photos" of such horrors.  Immediately afterward the White House press office clarified that the president had not actually seen the images, but was relying on what he was told by Netanyahu.  That's the equivalent of a cuckolded husband finding his wife in bed with another man and believing his wife's denials.  Bibi is an inveterate liar.  He lies like he breathes.  In fact there is a phrase Israelis use to describe him: "liar, son of a liar."
It's one thing when an Israeli leader levels incendiary and false allegations against an enemy. But when the President of the United States does it it has global impact.  People can and will die from such inexcusable lapses.
The Israeli diplomatic corps has been dispatched to world capitals for dog-and-pony shows featuring pictures of dead babies, what I call "terror porn."  To be clear, the fate of the actual babies (including Palestinian) is heinous.  But these cynical displays exploits the deaths for political gain.  The goal isn't only to elicit sympathy. It is to anesthetize the world to what is coming: full-scale genocide.  If world leaders are forced to view these images, they will be so disgusted they won't dare criticize Israel's impending massacre.
As part of this campaign, is no longer making bogus claims that babies were "beheaded" and women raped. That is likely becuase Oren Ziv, the Forward and other media outlets have debunked both claims. They've asked the IDF, and it has responded that it has not found any such evidence.
If Israel wishes to focus on its dead babies, let's not forget that thousands of Palestinian babies have died in Gaza during repeated Israeli invasions. There are no Palestinian media blitzes or dog-and-pony diplomatic campaigns to elicit sympathy.  So let's keep that in perspective.
Before Israel goes all-in on the claims of rape, we should remember that Israel's premier historian of the 1948 war, Benny Morris, confirmed using archival evidence that Israeli forces raped Palestinian women.  After the War ended, there continued to be incidents of rape, as I've recounted here.  Further, during an earlier Israeli invasion of Gaza, "Rabbi" Eyal Karim, later named the army's chief rabbi, declared that it was permissible for soldiers to rape Palestinian women in order to bolster their fighting spirit.  In other words, be careful what you claim about your enemy. The chances you have engaged in precisely the barbarity you claim they have, will bite you in the ass.
Reports say the Israeli diplomats are using images of dead babies.  This means they've retreated from the earlier lies and now feature claims that are more accurate.  This is a feature of Israeli propaganda.  It makes an initial claim that is either a lie or a partial truth.  When the effect of that wears off or its proven a hoax, it then moves to equally incendiary messaging, but which hews somewhat closer to the truth.
Secretary of State Blinken began a trip to the region visiting all the usual spots: Saudi Arabia, Jordan, UAE, Israel, etc.  With one glaring omission: no visit to Palestine.  That speaks volumes. It appears that he may be desperately attempting to salvage the Saudi-Israel normalization process, which has been halted due to the currrent "unfortunate circumstances."  He may also be seeking to explain or assuage the Arab capitals concerning the current conflict. Though what he can say that will make them feel reassured is unclear.
He took time during his Israel stopover to view Israel's terror porn.  It apparently shocked him to the core.  In fact, he declared that the Israeli deaths were "the equivalent of 10 9/11s."  This in itself is an outrageous statement.  3,000 Americans died in one of the greatest national disasters since Pearl Harbor.  His statement is an insult to the memories of the victims.  American victims.  Is it the job of an American diplomat to in effect diminish our national tragedy and declare it inferior to that of a foreign country?  Blinken's obsequiousness to Israel and its interests, even amidst tragedy, is objectionable.  You can express your support in ways that don't diminish your own country's suffering.