Gaza: Chickens Come Home to Roost
Terror, hate and violence of Gaza war make their way to America's shores
DONATE: Tikun Olam is live-blogging the Gaza war. I bring you the latest media coverage from Israel and Palestine. Views and analysis you won't find in the MSM, and perhaps even in progressive media.  I break stories based on my security sources and report them here. You will be better informed here than almost anywhere else on the internet. Please donate now.
The horrors of the Gaza war have penetrated US political discourse.  They've aroused tempers, provoked violence, and threatened personal safety and gotten people fired.  In addition, disinformation peddled mainly by Israeli sources has poisoned the environment with unvetted reports regarding Hamas atrocities (more on this below).
Warning: graphic content. Video given to us shows clash between Israeli and Palestinian protesters in #Kirkland following Hamas attack on Israel pic.twitter.com/IxagI5k3A9

— Jackie Kent (@JackieKentNews) October 9, 2023
Last Sunday, local Seattle pro-Palestinian students mounted a protest in Kirkland against Israel's genocidal assault on Gaza.  They were confronted around 50 counter-demonstrators who were mostly Israeli (see video tweet above and a second video here).  The latter were draped in Israel and American flags.  They assaulted the students, threw punches, screamed F-bombs, ripped Palestinian flags from the hands of protestors, and a a woman even brandished a knife with which she slashed the flag of Palestine.  Police were summoned, both sides were separated after tear gas was fired at them.  It was sheer mayhem. Similar violence happened at other rallies, including one in New York.
Jason Rantz, a local shock jock infamous for his "Rantz Rants," stoked such hatreds against the student organizers.  He is known for his Islamophobia and fact-free MAGA tirades. In this case, he was provoking hatred and violence against a group of college students standing up for Palestine.
There is an atmosphere of hate and violence reminiscent of the January 6th insurrection.  It is far more than holding strong opinions.  It is hostility and violence that could cause far more damage than mere irritated eyes from police tear gas.  I know this at first-hand because I received a death threat via e-mail. It said that Israel would "take care of Hamas and then deal with the internal Leftist Scum we have here."
Death threats and disinformation
I have received similar death threats before.  In 1985, after Palestinian-American activist, Alex Odeh, was assassinated by the JDL, I received a death threat warning that the group I worked for, New Jewish Agenda, would suffer the same fate as "that dead sand-n*. But threats I got since I began Tikun Olam I chalked up to the venting of disgruntled deranged individuals.  However, in this political environment nothing is normal. Everything is possible, including the worst.
I can understand the need to dramatize one's suffering. God knows there is plenty to go around in Gaza and Israel. But peddling lies in order to do so does a disservice and demeans that suffering. Global media: do NOT report rumors peddled to you without authenticating them. pic.twitter.com/tgWqvnjdtC

— Tikun Olam (@richards1052) October 12, 2023
Israel and its allies have fed the media massive doses of disinformation, meant to dramatize the suffering of Israelis and incite hatred for Palestinians.  I reported that Israel planted the leak reported by the Wall Street Journal, in which it falsely claimed that Iran ordered the Hamas attack against Israel.  US officials including Secretaries Blink and Austin have been debunking that rumor over the past few days.
3/5 Soldiers I spoke with in Kfar Aza yesterday didn't mention "beheaded babies". The army's spokesperson stated: "We can not confirm at this point… we are aware of the heinous acts Hamas is capable of" pic.twitter.com/enXnHID66A

— Oren Ziv (@OrenZiv_) October 11, 2023
Beheaded babies hoax
The IDF has also peddled lies to the Israeli and global media.  The most incendiary one claims that Hamas fighters beheaded 40 Israeli babies during their attack (see above tweet). This was first reported by an Israeli search and rescue officer, Yossi Landau, on CNN. It was repeated by IDF spokesperson, Maj. Libby Weiss also on CNN. From there it was reported by the Independent, the Los Angeles Times and other outlets.
The apparently cognitively impaired President of the United States, 79 year old Joe Biden, even repeated the calumny, stating he'd seen "confirmed photographs" documenting the incident.  After which, his press officers "clarified" that he had not actually "seen" the photos, but was basing his statements on "Netanyahu and Israeli media." On the other hand,  Israeli journalist, Oren Ziv, visited the southern Israel communities attacked and repeatedly asked IDF officers if they could verify the story.  They told him they had seen no evidence supporting these claims (see tweet above).
Such disinformation demeans the real suffering of real people, including Israelis.  It deflects from the suffering Israel is inflicting on Gaza.  It incites violence. It poisons human discourse.  During crises, it is most likely people will fall prey to their worst fears and act on them. That is when people most need news that is properly and accurately reported.  Rumors fly and tempers flare.  That's when facts are vital.
Disinformation inflames. It moves people to violence.  People will die due to the outrage incited by such lies.  It would even provoke a wider conflict than the one confined now to Gaza.
Meanwhile, actual pogroms in which Judeo-terrorists murder actual Palestinians are barely reported, including this one in the Palestinian village of Qusra:
4 Palestinians were murdered by Judeo-terrorists in Palestinian village of Qusra. This is the announcement of their plan for murder: "To all the stinking rats of Qusra. We're ready for you and will show no mercy. The Day of Vengeance approaches. The IDF knew & aided the killers pic.twitter.com/eaW7BCZgwU

— Tikun Olam (@richards1052) October 12, 2023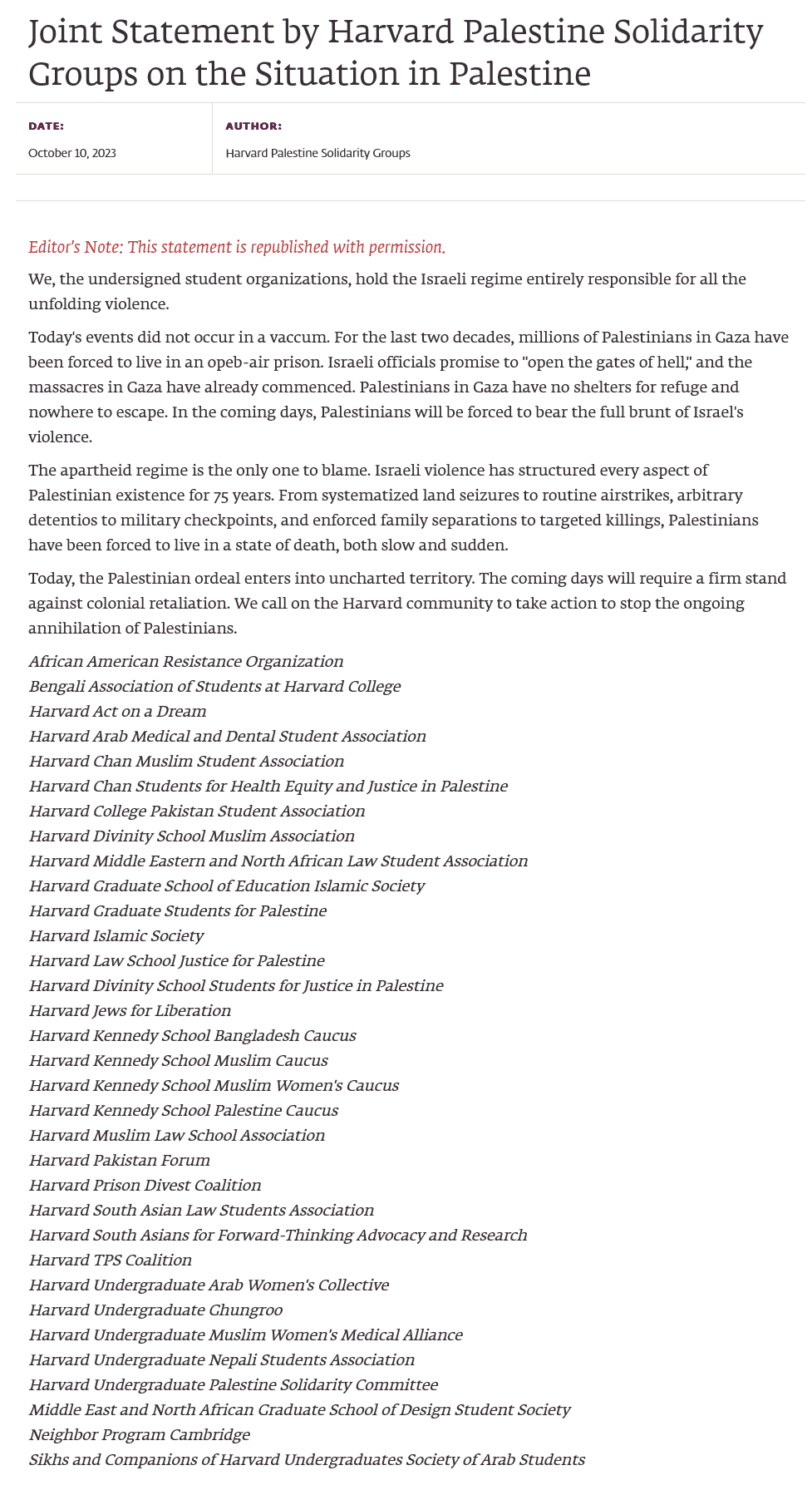 Billionaires for 'free speech' except on Palestine


I am 100% in support of free speech. Everyone is entitled to their opinion. I do however object to students putting out a statement holding Israel 'entirely responsible' for terrorists' heinous and despicable acts, but doing so anonymously under a corporate veil while leveraging… https://t.co/jzYzSntDRP

— Bill Ackman (@BillAckman) October 11, 2023
Pro-Israel billionaires have done the same.  Bill Ackman, founder of Pershing Square Capital, responded by a tweet (see above) by a political scientist concerning a statement by dozens of Harvard pro-Palestinian student groups saying: "We, the undersigned student organizations, hold the Israeli regime entirely responsible for all the unfolding violence. "
Ackman was outraged, calling on his fellow CEOs to establish a blacklist of students who are members of the groups.  He dared them to out themselves so they could be held up for shame. He declared that he would refuse to hire any student affiliated with the statement and urged the other business leaders to do the same. The optics of a billionaire bullying colleges students is just not good.
He claimed to support free speech, while this statement was somehow was exempted.  He missed the entire purpose of such Constitutional protections.  They were meant to protect precisely such speech.  Expressing a political view about a subject of public interest is a hallowed American right.
An NYU law school student has already been fired by a law firm for writing a message in her law school newsletter supporting Palestine. The school is attempting to remove her as president of the law school student association as well.
Such punitive behavior by entitled white male billionaires provokes fear in young people just beginning their careers. It teaches them not to stand out, not to express dissenting opinions about anything. It teaches them conformity. A truly democratic society enjoys diverse opinions and debating ideas. Otherwise, what are we worth?
Silencing pro-Palestinian voices in Congress
Reps. Rashida Tlaib, a Palestinian-American, and Ilhan Omar, a Somali-American Muslim, have been viciously attacked by Democratic House members for their calls for an end to violence against Palestinians.  Republicans have filed a motion to censure her. Media reports have noted that those attacking them are heavily funded by Aipac, and that it has put a bullseye on the backs of Congress members insufficiently loyal to Israeli interests. It is no accident that both are Muslim American women whom mainly white Christian men are seeking to silence.
At the Democratic caucus meeting, an AIPAC-funded, enraged Rep. Josh Gottheimer, said all Muslims are guilty for the Hamas attack. A statement redolent of racism and Islamophobia.
The new "Red Scare" blacklist
In the 1950s we had blacklists and loyalty oaths.  There was the cry of: "are you now or have you ever been a Communist?"  People talked of the"McCarthyite "red scare."  Today, we substitute Muslim and Palestinians for "Communists."  Israel's allies at home and abroad stoke fears and incite violence.  They do so to deflect from the horrors and genocide of carpet-bombing, levelling entire neighborhoods, turning Gaza into "rubble," as Netanyahu threatened.  These are crimes against humanity.  People must see them clearly and call them by their name.
Israel knows that the world will detest such carnage.  So it muddies the waters and confuses people.  It makes them think that the subject is too complicated to understand.  That lessens their willingness to take a stand or hold Israel accountable for its actions. It makes it less likely the International Criminal Court will ever prosecute Israel (and Hamas, for that matter) for these heinous crimes.