Israel's Hannibal Directive: Israeli Attack Will Likely Result in 120 Hostage Deaths
Defense minister calls Gazans "human animals"
It just won't stop. We're looking at about 1,000 Israelis killed, and over 650 Palestinians killed in Gaza. Many on both sides are children. 100 abducted, with the Israeli government so far refusing to negotiate on their release, and Hamas warning it will start murdering them

— Haggai Matar (@Ha_Matar) October 9, 2023
The latest Gaza death toll is 1,000 Israeli dead and 700 Palestinians.  Hamas fighters continue to attack southern Israel and the IDF has conceded that it has not blocked all of the 22 sites where militants blew up its security fence.  It also concedes that Palestinian fighters continue to enter Israel from them.  The army also conceded that the Palestinian resistance inside Israel continues unabated.
Israel has called 300,000 reservists for active duty. Tens of thousands of troops are massing outside Gaza preparing to invade the enclave.  IDF spokesperson, Jonathan Conricus declared that Israel will occupy Gaza and ensure Hamas will never again control it.  To do so, Israel will have to reoccupy it and station thousands of troops.  They in turn will be targeted by Hamas, which Israel cannot succeed in eradicating.
Israel occupied southern Lebanon for 20 years and lost hundreds of soldiers to Hezbollah attacks.  Israeli occupation of Gaza would repeat the quagmire.
Bibi Netanyahu has threatened to turn Gaza to "rubble."  Defense Minister Yoav Gallant has called Hamas "human animals" and denied Gazans food, water, electricity and fuel.  This is collective punishment and forbidden under Geneva Convention. It is a war crime.
The International Criminal Court has already opened a file against Israel for alleged war crimes during the last major invasion in 2014. Then, it killed 2,300 Palestinians.  The ICC has not yet agreed to open a formal investigation after several years of delay.  The world awaits action.  Holding war criminals accountable, whether Palestinian or Israeli, is critical to maintaining the credibility of international law.  Israel is shredding it by the day.
Palestinian militant groups hold up to 120 Israelis hostage in Gaza.  Netanyahu has not announced any effort to free them or exchange them for Palestinian prisoners.  Instead, he speaks of all-out war.  Hamas, on the other hand, has threatened to execute one hostage for every Palestinian killed or house destroyed.
Hamas says that it is detaining hostages in its underground tunnels. The IAF has already dropped bunker buster bombs to destroy them.  If what Hamas says is true, then Israel is killing its own citizens.  If it unleashes a full-scale exterminationist assault, then all the Israeli hostages will die. Either at the hands of Hamas, of from IDF assault.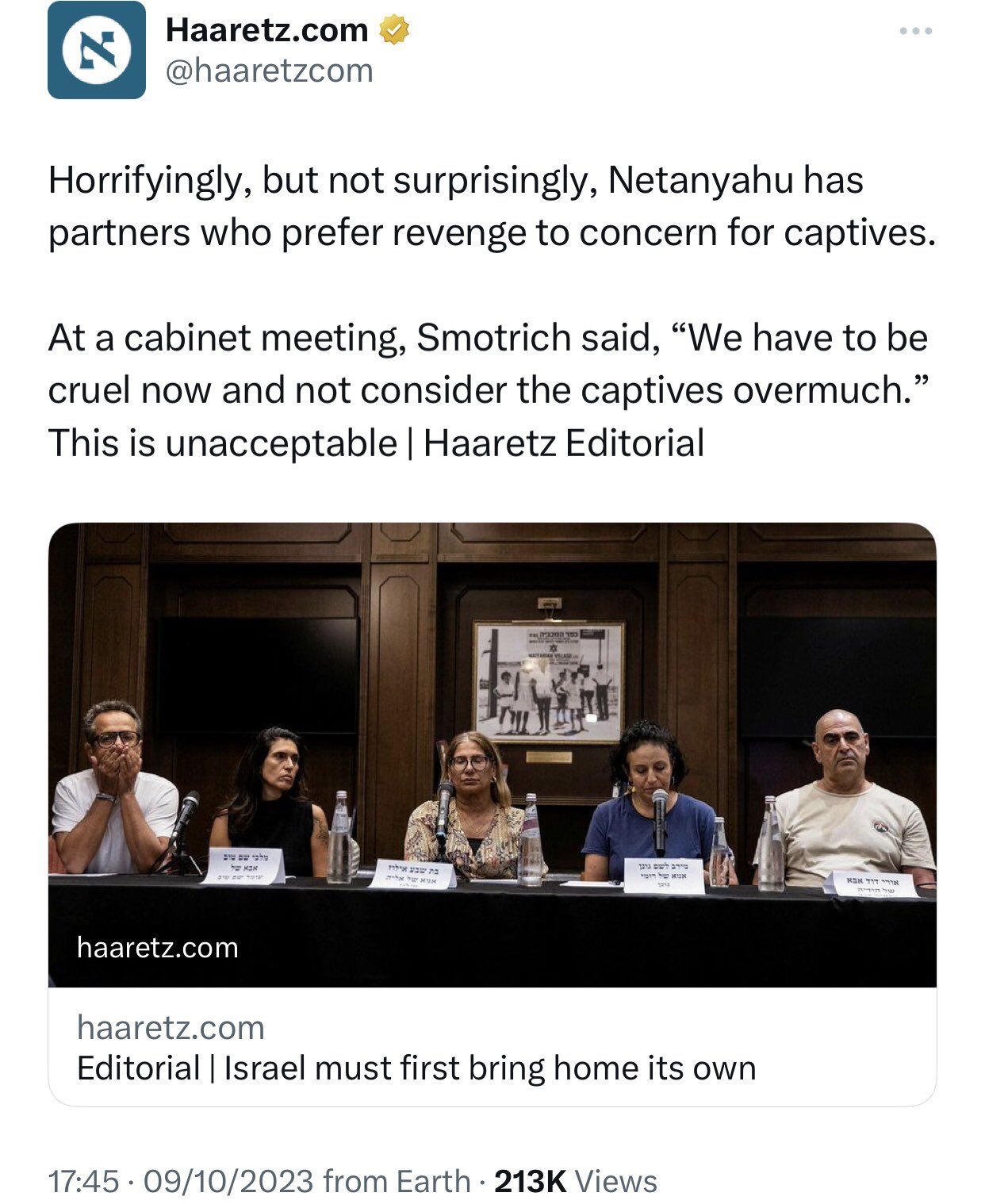 This is reminiscent of the IDF's Hannibal Directive, a policy calling for the killing of Israeli soldiers who fall captive to Palestinian militants.  Israel prefers a dead soldier to a live one it will be forced to exchange for Palestinian prisoners.  Israel's imminent attack will likely kill its own citizens, and is a version of this horrible Directive. As this Haaretz makes clear, Netanyahu has no intent to negotiate for the hostages' release. He has given them up for lost. Abandoned them.  It's a cynical, morally bankrupt approach characteristic of him.
The Biden administration has ordered a naval task force to the eastern Mediterranean and declared readiness to offer whatever weapons Israel needs to obliterate Gaza.  Though meant as show of strength, it is really a confirmation of the impotence of Israeli policy. We claim to support a tw0-state solution. Yet we are accessories to mass murder of Palestinians.  We are all-in for Israel. Palestine can go to hell (and it will, if the Israelis have anything to say about it).
Israel is an example of the worst of humanity.  Of the depths of depravity to which our species can sink. Israel's apologists raise bitter cries over the murder of children and women, while refusing to acknowledging that many times more Palestinian children and women have died under Israeli onslaught.  As I said in an earlier post, this is terror for terror.  Hamas declares that if every Palestinian is a legitimate target, then every Israeli will be as well.  It is a cold, brutal calculation.  But Israel has no monopoly on brutality.  It will suffer what it metes out.