Palestinian Imam's Grandson Abandoned Islam, Fabricating a Backstory to Become Orthodox Jew
NOTE: I just published a new piece for Middle East Eye on Israel's roll-out of Covid19 vaccine and how it highlights medical apartheid.  I hope you'll give it a read and post it to your social media accounts.
מונטאסיר חלאווה, נכדו של אימאם פלסטיני, נטש את האסלאם, פברק סיפור חייו, והוליך רמאות בתקשורת ישראלית ורבנות כדי להתגייר ליהדות אורתודוכסית
Way back in 2009, I received an unsolicited e mail from someone I didn't know.  His name was Mark Halawa.  He was promoting a pro-Israel video he'd created for Aish HaTorah telling his life story.  Nowadays, when I get such propaganda I ignore it.  But something about the e mail piqued my interest and I watched the video.
He claimed that though he was raised a Muslim in Kuwait, that he learned from his grandmother that she had married a dashing Jordanian army soldier who she met while he patrolled the streets of East Jerusalem in 1948.  His grandmother, he claimed, was Jewish.  That, of course, would make him Jewish.  And that was how his grift began.
He continued his story by claiming that his family had emigrated from Kuwait to Canada (with a few-year hiatus in Jordan) and he enrolled at University of Western Ontario.  There he chanced upon a kindly old man in the campus library wearing a kippah.  He began conversing with the man telling him his story.  Miraculously, the genial old fellow told him that he was Jewish and didn't even know it!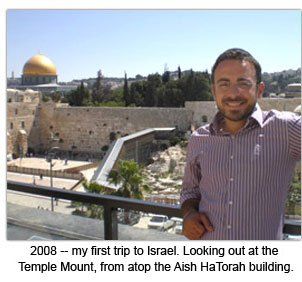 Thus began Mark Halawa's 'pilgrimage' toward Orthodox Judaism.  Later, Aish HaTorah paid for him to join a month-long trip to Poland and Israel. He, of course, fell in love with everything about the Holy Land and decided to study at an Aish-affiliated yeshiva where he became religious.  At the same time, conveniently, Orthodox right-wing groups like Chabad and Aish began to tell his story in the media.  He began doing promotional events featuring his story to Orthodox audiences.  He did official hasbara junkets for the foreign ministry.  There is nothing a pro-Israel audience loves to hear more than a Muslim who's seen the error of his ways and repented from them and joined the Jewish people. His is a latter-day version of the heartwarming story of Ruth and Naomi.
In one of his many improbable stories, he claimed that in his Jordanian home he grew to love Israel by watching an Israeli TV channel, and especially enjoying the image of the Israeli flag waving and HaTikvah playing as the station signed off the air.
He's even renamed himself, Mordechai, after the Biblical hero who saved Persian Jews from the evil Haman (a perfect stand-in for those crazy Jew-hating Muslims).  Such a mechayeh!
There is only one small problem with the story I just recounted: it's a hoax. From beginning to end. "Mark" is Muntasir Halawa.  He grew up in Jordan, not Kuwait.  His grandmother not only isn't Jewish, she never lived in Jerusalem.  Muntasir's maternal grandfather was a revered imam in Nablus.  His father abused him severely, refused to permit him to get an education, and eventually kicked him out of the house because he was unnerved by the boy's disability.  This, in turn, caused severe psychological damage in the son.
Muntasir's uncle posted a comment in Arabic to one of the blog posts I wrote profiling his nephew. The person who translated this from Arabic told me that the first person statements in the last sentence are written in female grammatical form, indicating either that his mother wrote the statement or that the uncle transcribed the mother's words in her voice:
"Everything he's said is lies and slander, and he is mentally ill, in need of psychiatric treatment. His grandmother is Muslim — both of her parents were Muslim — and she was not from Jerusalem. Her father was a sheikh who had a school for teaching the Holy Quran. He was renowned in Nablus, and many reciters of the Quran have graduated under his supervision, as well as some of the great men of Nablus.

But Muntasir's problem is that his father was very harsh towards him during his lifetime and didn't want him at home and was not interested in educating or containing him as a child and a young man, who had these mental conditions and needs in life. His father was very harsh toward him and as a result of this he went astray, out of the proper path, towards a path of lies and trickery in any form possible, in order to affirm his existence in life; especially since his father hadn't allowed him to complete his education. He would always banish him from the home. The shame is not upon him, but upon his father; this is, unfortunately, the consequence.

But he knows that I am not content with him as long as he is in this erroneous path, which has not led him and will not lead him towards the right path. I ask God to grant him the gift of returning to the righteous path."
Several other comments were published by those who knew Halawa in his past life. Among them are this from Walid:
I know Mark or "Muntasir" Halawa personally. He attended UWO university in Ontario. The guy is confused, drug addict, willing to sell his soul to the devil. I met his father who is a Muslim. He claims that his grandma is Jewish. The guy is a fraud and it's not hard to figure this out after sitting with him for a few minutes.

He was kicked out from UWO for plagiarism. I remember him wanting to make money or get famous at any expense. He finally met a jewish lady that he managed to sell his story to…

He is the scum of the scums. A man with no morals or ethics, willing to sell his soul to the devil.
Sami, a close friend of Halawa's brother, wrote this:
I'm good friend of his brother Munthir Halawa. I've known [him] for many years and he's a great guy.

I was impressed with your ability to detect his [Muntasir's] lies.

So I'll back up your claim with some facts. His name is Muntasir Halawa. His parents are Muslims, so are his grand parents from both sides. They're not Jews by ancestry or by religion.

His family lives a very good life in Jordan without any problems.

The fact that this person presented such lies on [a] Jewish website leads me to believe he's trying to impress Jewish people with his story. He can either be a spy or he's trying to pick up Jewish women and prey on them with his lies. Either way he's trouble

If he converted to Judaism is one thing and it's acceptable. But for him to claim he has Jewish ancestry with pictures of his grandmother along side of him is really troublesome.

I would suggest you expose this person to everyone you know.
Sarah posted this comment:
This guy is a manipulative and a liar. I met him twice, the first time he said that he is a Christian from Gaza and Hamas killed his cousin in front of him. The second time I saw him was after I read his article, he stated the same lies about being a Christian from Gaza and I called him out on it. Later on in the conversation, he made a shocking comment that because I am a Palestinian activist that I would blow up myself or become a terrorist. It is too disgraceful to call him a Palestinian.
Yves, who is clearly an Orthodox Jew, wasn't taken in either:
Met him last year in Dubai at a Brit milah (which was held at a friend's house), he didn't fool me for a second, I knew what he was the moment I caught sight of him, and I remember the first thought that came to my mind (before we were introduced by the host) was "what is an Arab guy in a yamulka and tzitzis doing here?!" After that, we had a brief chat where he told me that he was a lulav [a Jewish ritual fruit] expert!!! and that he was in UAE for the business of exporting "lulavim" to Eretz [Israel] after an import from Egypt was denied. I hardly found any space for that in my head, however, I kept my peace… but to think about it, what chutzpah!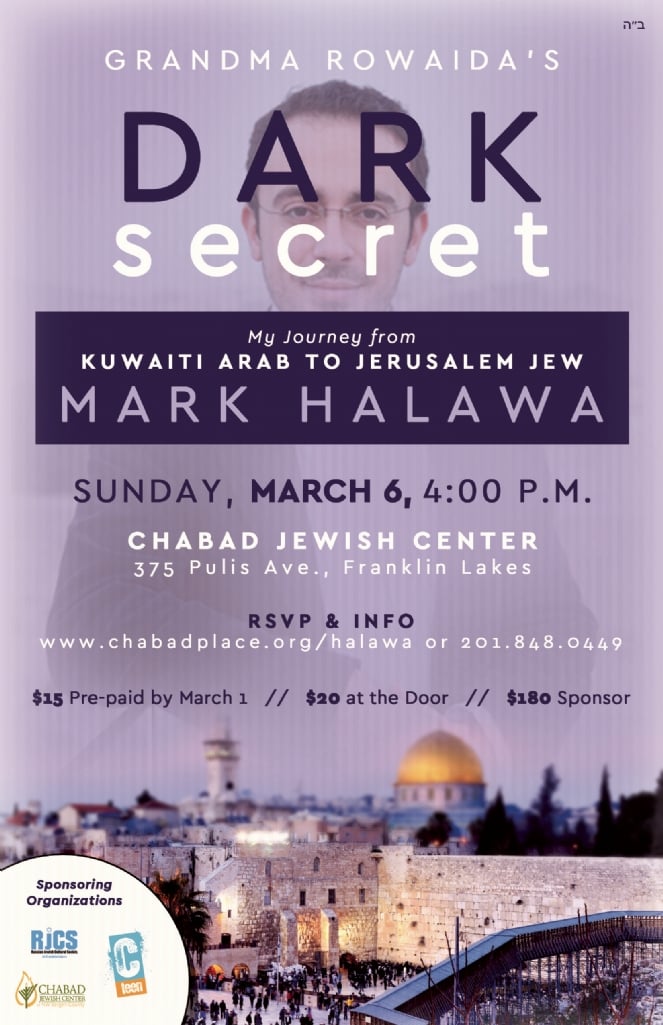 After publishing two pieces (this is the second) about Halawa, someone named "Frank Walker" began posting comments defending Halawa.  But "Frank" was sloppy and signed one of his comments, "Mark."  This sort of sock-puppetry further exposes Halawa's pathology.
Halawa's LinkedIn profile continues the fraud. He describes his business interests as "establish[ing] business relations between interested parties in N. America and the Middle East. My clients include, Security Technology, Agriculture, and Pharmaceuticals."  He claims he's a principal of the Mersad Group, a "boutique consultancy firm dedicated to excellence in the area of advanced security solutions, intensive fish-farming technology, and Bio-Fuel cost reduction solutions. Our services cater to governments, and Fortune 500 companies."  The company, purportedly based in Canada, has no known website.  This week, in a Jewish Chronicle profile, he said he worked in the "food industry." One of the companies he claims to have worked for from 2006-8, Guardian International Currency Group, has a web page which consists of a homepage with no other content.
All this hasn't stopped the Orthodox pro-Israel world from embracing him.  As I noted above, his first patrons were Aish and Chabad.  They sent him on well-paid speaking tours of the U.S. where he appeared at numerous Jewish community events promoting his message that not only was Israel a mighty and righteous nation, but that Muslims were filthy and evil.  The grift has been an amazing success.
Halawa has his fans among the pro-Israel groups who promote him.  Simon Plosker, who spent 15 years working for a media advocacy group promoting Israeli interests, Honest Reporting, offered this endorsement couched in a veiled threat:
Those of us who are lucky to know him personally can testify that he's completely genuine. Given your track record of lies and libels, I'd delete your tweet if I were you.

— Simon Plosker (@SimonPlosker) January 5, 2021
Plosker's boss at Honest Reporting was Rabbi Ephraim Shore.  Shore's twin-brother, Raphael, once led Aish. How convenient for Plosker to vouch for one of Aish's ex-Muslim poster boys. Small world!
Halawa has suffered some setbacks in his attempt to join the Jewish people.  He underwent an Orthodox conversion by a rabbi in Bnai Brak.  But when he presented his proof of the ceremony at the office of the Chief Rabbinate, they rejected it; because it does not recognize that rabbi as authorized to perform conversions.
All of this is odd: if his grandmother was indeed Jewish, then he should not need to undergo conversion.  The fact that he did indicates the rabbinate either did not believe him; or found sufficient doubt in his story that it compelled him to undergo a full formal ritual conversion.
When he attempted to secure Israeli citizenship, the Interior Ministry, according to a 2017 Ynet profile, also balked.  They did so because he was not a legal resident of Israel during the period he was studying with the rabbi.  I am not aware of any subsequent developments.  But I would bet if he were an Israeli citizen and the Chief Rabbi had officially recognized his conversion, he would be trumpeting this in every interview.
This week, Halawa was booked by the pro-Israel UK Limmud Festival, which features lectures on Jewish themes along with heavily Zionist programming.  The Jewish Chronicle published a profile of him that spurred me to write this post. Like most of the material published about him, it was rubbish.  Here's but a single example of the sloppiness of the profile:
In 1990, when he was 13, the family was holidaying in Spain as they often did, on their way to Canada, where they intended to settle. But the plans were derailed by Saddam Hussein's invasion of Iraq.
I don't know whether this howler is the fault of Halawi or the reporter. But it's just one example of the mess this piece makes of things.
What strikes me about the scores of articles published here and in Israeli media is the complete naivete with which they greet his life story.  No one has done any due diligence to determine if any of it is true.  No one asks any probing questions of him.  They accept every word from his mouth as if it were God's word come down to Moses from Sinai.
Of course, there is one paramount reason for such gullibility: it serves the interests of a pro-Israel Jewish community desperate for affirmation; desperate to believe that Israel isn't just a wonderful country steeped in Jewish faith, but that the heathenish Mohammedans will eventually come to understand this as well.  Halawa is like a Balaam in the Torah, who was paid by a king to curse the Jews; but who, once he saw the tents of the Children of Israel, could do nothing but sing their praises.
Nor is Halawa the first 'reformed Muslim' to take such a path.  There have been many who trod it before him: Walid Shoebat, Zudhi Jasser, Mosab Yousef, and Tawfiq Hamid. Not to mention Iranian 'Lovers of Zion' like Reza Khalili and Amir Fakhrivar. All seized on this particular grift as a way to earn fame and fortune from the 'firm hand and outstretched arm' of pro-Israel Jews showering them with shekels and dollars.
A word here about the Jewish Chronicle's role in this scam.  Here is a publication which recently went bankrupt and was rescued by wealthy pro-Israel media executives and financiers eager to maintain its pro-Israel brand.  I liken the Chronicle to Brooklyn's Jewish Press, which was once edited by Meir Kahane.  It's content is laughable as journalism.  It routinely libels both Jews and Palestinians with false claims.  And I use the term "libel" literally, as it has settled multiple cases of defamation filed against it in British courts.  Just this week, it settled yet another one filed by a photographer who accused it of violating his photo copyright.  The Chronicle displayed the woman's photo in a column which smeared her as an anti-Semite.  She too sued and won her own settlement against the paper.
Do you begin to see a pattern here?  What sort of country needs True Believers like this?  What sort of movement is settler Zionism which latches on to such frauds and hoaxsters?  It takes a grifter to know one.  And Israel under its Judeo-fascist leadership is certainly that and more.  As an apartheid state founded on ethnic cleansing and bathed in racism, it needs to find weak, psychologically damaged individuals who it can exploit.  Not that these hucksters and hoaxsters aren't themselves above exploiting their patrons in return.
You can find the profiles I wrote of Halawa and other posts mentioning him, here.