Does Attack by Iranian Ally in Yemen Portend Similar Ones Against Israel and U.S.?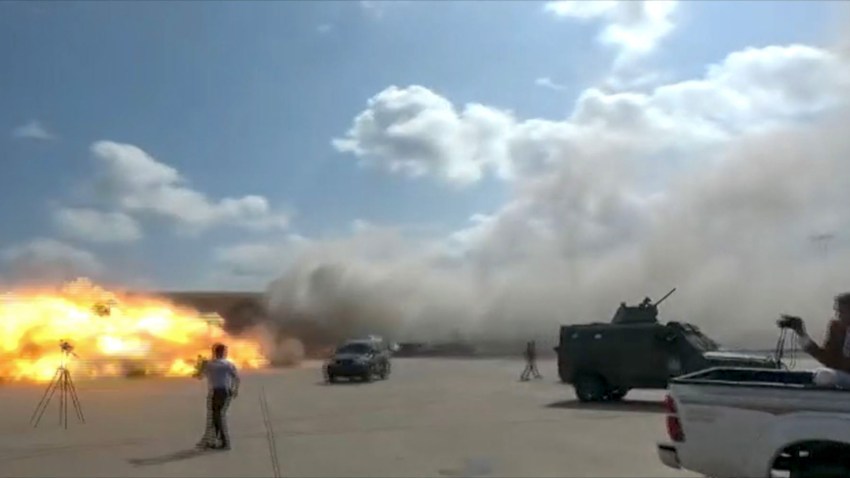 A few days ago, Yemeni Houthis mounted a precisely-coordinated and complex attack on the arriving Saudi-sponsored cabinet at the Aden airport.  The government had announced the arrival with great fanfare as TV cameras rolled to capture the success.  The cabinet had been appointed after complex negotiations between two factions (one sponsored by the Saudis and the other by UAE); it had also been forced to shelter in Saudi Arabia for considerable time because it was deemed to dangerous for it to return to Yemen.
Though the attack received some foreign media coverage, there has been little appreciation of the greater implications.  The operation involved Houthi drones and missiles striking the tarmac and passenger lounge with devastating effect.  20 were killed and 50 were injured.  None of the senior cabinet members died, though several of their junior colleagues did.  There were even drones detected at the presidential palace, where the surviving delegation members had taken shelter.
This indicates the scope and capability of the Houthi.  They are able to penetrate into the inner sanctum of the enemy and disrupt its most critical functions.  It further indicates the abject failure of the Saudi sponsors who have rained terror down on the heads of Yemenis for years, to little effect.  They and their allies have no more control over the country than they did when hostilities started.
Though the Houthis, are usually called "rebels," in fact Yemen has been warring between northern and southern factions for decades.  After Britain left Aden, the country was riven by civil war in which the Houthi fought on the side of the Imam (King) who hailed from the north; against a southern faction led by officers who were supported by Britain and Egypt.  That country's leader, Nasser sent 70,000 troops to fight there (a third of his entire army) and it became known as Egypt's Vietnam."  Today it is Saudi Arabia's Vietnam.
Much is made of the fact that the Houthi are supported by Iran.  Trump, Netanyahu and others routinely accuse Iran of fomenting strife in order to extend their Islamic revolution all the way to Saudi Arabia's doorstep.  This, of course, ignores the fact that outside powers going back to the initial civil war, have interfered in Yemen's internal affairs and stoked the violence.  If anyone has intervened with malign intent it is Saudi Arabia, whose forces have killed tens of thousands of civilians and laid siege to the ports causing massive famine.
Donald Trump has enjoyed an obsequious relationship with Crown Prince Mohammed bin Salman, acceding to his every wish: pouring weapons into the kingdom, excusing the dismemberment-murder of journalist, Jamal Khashoggi, and supporting his war on Yemen.  He also ordered the assassination of Iran's leading military commander, Qassem Soleimani, which undoubtedly pleased Saudi Arabia immensely.
Congress has disagreed strongly with his approach, but done little to stop it.  During the presidential campaign, Joe Biden and his Secretary of State-designate, Tony Blinken, have made clear that they oppose Saudi adventurism.  They have not announced whether they would cut off arms sales, which fuel the bloodshed.  But given that Congress already leans in that direction, it's a pretty good bet they will.  Biden has also committed the U.S. to return to the Iran nuclear deal negotiated by his former boss, Barack Obama.
All of this is complicated by the fact that Iran has endured a series of humiliations at the hands of Trump and Netanyahu, who murdered not only Soleimani, but Iran's leading nuclear scientist.  Like any nation, Iranians are a proud people who will not stand for such disrespect.  So far, Iran has responded in a calculated way, with its parliament directing the nuclear personnel to ramp up uranium enrichment from the current 4.5% to 20% (90% is needed to build a nuclear weapon).  Foreign media are falsely reporting this development as a "provocation."  The real, and only provocation was Trump's withdrawal from the agreement.  Once he did so, Iran was under no obligation to honor its terms.  The fact that it has withdrawn from those terms in carefully calculated and measured ways indicates far more restraint than Trump showed in his cavalier rejection.
As we come to the first anniversary of Soleimani's murder, and the U.S. puffs out its chest by sending carrier task forces through the Strait of Hormuz and B-52 nuclear-capable bombers to within 60 miles of Iranian airspace, based on U.S. intelligence's vague claim Iran may be planning a strike, we must consider what Iran will do.  The attack in Aden is one response.  A report in Haaretz noted that Iran and its proxies could mount similar attacks on U.S. and Israeli targets.  Though it's unlikely Iran would attack the U.S. as long as it believes Biden might ease or remove sanctions, Israel is another story.
It would be much more difficult for Iran, Hezbollah or its Iraqi militia allies to mount such an attack on Israel. But it's not outside the realm of possibility.  In Yemen, Iran's allies enjoy uncontested control of territory from which such attacks may be mounted.  In Lebanon and Syria, Israel has the capability of monitoring weapons convoys and missile placement; and of intervening to thwart any hostile operations.  As a far more formidable military force than the Saudi army, Israel could mount a devastating response to such an attack against it.  That is probably the only thing holding the Iranians back from doing so.
Israel has a "time-honored tradition" of interfering in the affairs of its frontline neighbors through invasion, sabotage, assassination, regime change, and occupation.  It's done so over the years in Jordan, Lebanon, Egypt, Syria, Palestine, Iraq, Iran, Sudan, and even Libya.  Will Yemen be next?  Will Israel answer a call from its Saudi ally to expand its reach southward to the Arabia peninsula?  Will it be sucked into the quagmire as well?
Trump and Netanyahu are playing a dangerous game.  They recklessly attacked vital Iranian interests assuming either that the Iranians couldn't mount a serious blow in return; or hoping that they would do so, so that they could mount an even more devastating blow that would destroy its nuclear facilities or even facilitate regime change.
That is playing with fire.  They were foolhardy to believe there was no chance that they would be burned.  There is.  And if the world thinks Saudi Arabia has wreaked a catastrophe in Yemen, that will be small potatoes compared to what could happen between Iran, Israel and the U.S. if the dogs of war are unleashed.