Israel-Jordan Crisis Deepens as Jordan Exposes Identity of Shin Bet Killer, Ziv Moyal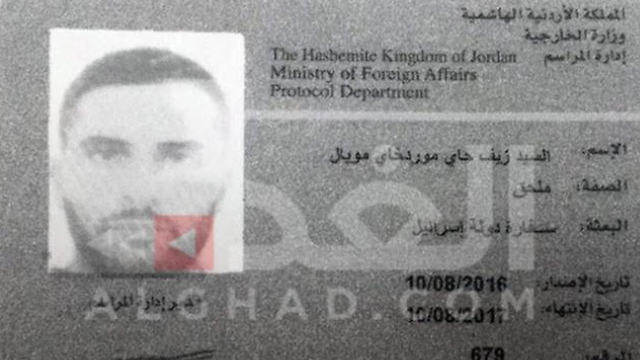 UPDATE: Ben White tweeted that Reuters published a story a week ago naming Moyal.  But apparently the IDF censor compelled Reuters to remove the name, which it did.  There are a few online sources which continue to display the original version of the story with Moyal's name.
Jordanian authorities have published for the first time the name of the Israeli Shin Bet agent who killed two Jordanian civilians and severely wounded a third.  Further, there have been mass protests in Amman against the country's government for going lightly on the killer and the Israeli government, not to mention anger over the lack of Jordanian response to the Al Aqsa crisis.
As a result King Abdullah realizes he must take a tougher approach in order to mollify activists in the kingdom.  He does this against his own inclination since Jordan, like the PA, is a willing collaborator with Israel in security, intelligence and many other matters.  So in a sense Abdullah is a hypocrite.
But he has identified the embassy deputy security chief as Ziv Moyal and also published his Jordanian security ID.  As a result, Israeli media have also published his name.  Now Bibi can embrace the killer full-frontal, as opposed to the chicken shit photo he took of him embracing Moyal from behind so his face could not be seen.  Now also the Israeli uber-nationalists can lift Moyal on their shoulders and parade him in front of Al Aqsa to provoke even more violence between Jews and Muslims.
Jordan has told Israel that its ambassador and embassy staff will not return to that country until Israel tries Moyal for his killings.  That puts Bibi is a bad spot as he's endorsed the man for his brave deeds.  The best Israel can do is mount a sham investigation that finds Moyal acted proportionally and appropriately.  Perhaps they can cashier him from the spy agency.  Then Moyal can get a job as a private security guard guarding settlements and stolen Palestinian homes on behalf of Elad.  They'll put his killer instincts to good use against uppity Ay-rabs for sure.
Ynet reported as well that exposure of this information by Jordan is liable to have international repercussions.  It didn't explain what this might mean.  But it's an intriguing thought that Jordan might pursue the matter before international bodies such as the United Nations or other judicial fora further ratcheting up pressure against Israel.