Settler Bridegroom at Knife-Dance Wedding Charged with Hanging Dog from Tree, Filming it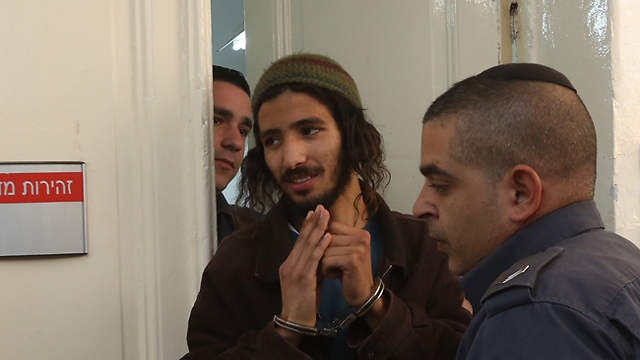 You know those bizarre headlines you read if you take a glance at the Daily Mail website?  Well, this headline may qualify.
Recently, I posted about the settler wedding celebrated during the period when suspects in the Duma murders were being arrested and allegedly tortured by the Shabak.  During the simcha, revelers danced with Molotov cocktails (used to set the arson fire that killed the Dawabshehs), raised AK-47s, and knives.  The latter they used to stab an enlarged picture of the Dawabsheh's 18 month-old baby who was burned to death.  It was quite a spectacle.  For just a moment, even settler leaders were mortified and promised they would turn over a new leaf.  That lasted about four and a half seconds till they could get back to business as usual.
Now, Haaretz brings word that the bridegroom has performed even greater service to humanity and the animal world.  He and his pals, undoubtedly seeking to make the world a better place, caught a dog, then hung it from a tree by a wire, attempting to kill it.  They videotaped their little escapade.  I call it settler sadism.  It has a nice ring to it.
My immediate suspicion is that this wasn't mere animal cruelty, but cruelty with a purpose.  If you wanted to figure out how to lynch a human being (and God only knows why you would) wouldn't you start with an animal first?  Want to lynch Palestinians?  Start with a dog to get your "chops" down.  This is, as anyone who watches cop shows knows, the way sadists begin their grisly rise to notoriety.  They start small and then go big.
Mark my words, Yakir Eshbal will make a big splash one of these days.  Just as three Jewish terrorists burned Mohammed Abu Khdeir to death, Eshbal will make his major entry into the grisly annals of Jewish terror with a spectacular lynching.  It will grab all the headlines and make "our people" (Jews, that is) proud.
Iris Bar posted this joke on Facebook which I've changed in one small detail:
A member of Kahane Chai tells a wannabe Jewish terrorist about the initiation rites. The member says: "You have to kill three Arabs and a dog." The other replies: "Why waste time killing a dog?" The first one replies: "You're in!"
There's a whole lot of obvious things you could say about these cretins, which I won't delve into.  But my practical concern is where does a new bridegroom find the time to lynch dogs?  Don't these people have jobs like the rest of the world?  Or do they live off the welfare of that $220-million that American Jews send to them tax-free?
A notice to readers: Mint Press News will publish my expose of the Uvdah TV program which smeared Ezra Nawi and Taayush, tomorrow.  In it, I'll report the criminal charges against Nawi based on the program and why they're a total sham.  Watch this space and my Twitter/Facebook accounts for further details.