Shabak Arrests 20 Year-Old Israeli Palestinian for Facebook Posts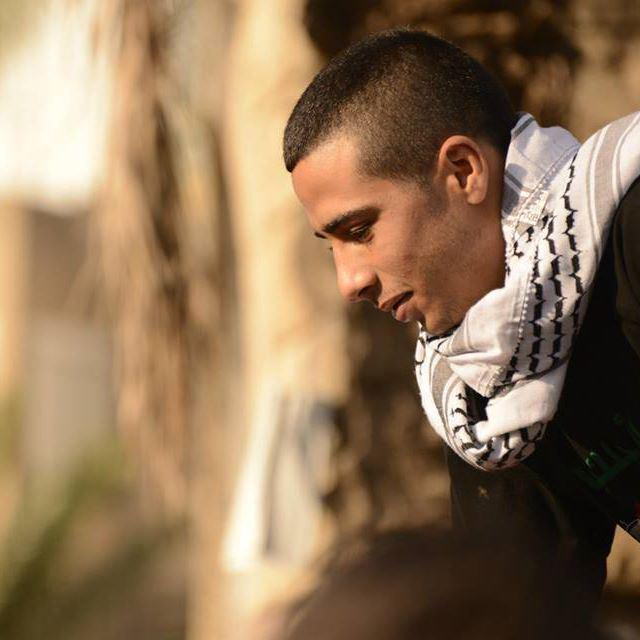 UPDATE: At an appeal hearing yesterday, the Shabak gained everything it had previously failed to get from the Israeli judiciary.  Hassan's was remanded for another week (instead of the two days originally granted by in the initial hearing).  Adalah's appeal to grant his access to his lawyer was denied.  And a blanket gag was placed on the case.
The following development exposes the tacit collusion of so-called "civil rights" NGOs inside Israel with the most evil elements of the Israeli system.  When an Israeli activist brought this case to the attention of Dan Yakir, the lead litigator for the Association for Civil Rights in Israel, instead of expressing any concern that the civil rights of Nadaf was being violated, he responded:
Why are you persisting in violating gag orders? Adalah represents him [not ACRI).
Imagine, Israel's leading civil rights NGO washes its hands of Palestinian security cases regardless of the charges against the victim.  That tells you a lot about ACRI.  It is most definitely part of the problem with Israeli society, an NGO that buys into the worst elements of the national security state and refuses to do its job to fight violations of civil liberties.
*   *
Yesterday, ten Israeli police and plainclothes agents invaded the home of Palestinian youth, Hassan Nadaf, a local activist.  When his mother demanded a warrant from them they said they did not have one, ignored her protests and conducted one anyway (so much for the rule of law).  They carted away Hassan's computer, books, a political poster and his keffiyeh, and took him away as well.  When asked why they were at the home, the police said it had something to do with a post he'd published on Facebook.  For Arabic speakers, please review his account.  I'm certain you'll find many instances of vicious incitement and terror plotting!
This corresponds to a rising tide of such prosecutions, one of which I reported here.  Apparently, the Shabak has uncovered a secret terror underground based on Facebook and filled with zeal to destroy the Zionist state.
At this point, Hassan's family believed the arrest was just another of the minor inconveniences which accompany daily life for Israeli Palestinians.  They believed he'd be questioned and released after a few hours as happened in earlier instances.  His last run-in was during a demonstration protesting the murder of the Dawabsheh family by settler arsonists.  After that, he was arrested along with eight others and brought to a police station where he was beaten to a pulp.  No charges were filed against him and he was released a few days later.
But this was different.  Hassan never returned.  When his family inquired they were told he was being held for further questioning at the Shabak prison, Kishon (Jalameh in Arabic).  At a hearing the next day, his family and supporters were told in court by a Shabak agent that they must leave the courtroom.  The agent didn't even ask for the authority of the judge to clear the chamber.  He did it on his own account as if he was the judge.  The real judge sat behind him saying nothing, as an afterthought.
At the hearing, a Shabak agent demanded extension of Hassan's detention by 15 days.  The official charge against him was "possessing arms."  Of course, no arms were found in his home during the search and no evidence of arms found after any other searches conducted.  I suppose the Shabak thought it would be a rather thin charge to demand 2 weeks detention for a youth because of a Facebook post.  So they invented a weapon that never existed.
The judge, deciding not to be a mere appurtenance in her own courtroom, extended his imprisonment by only two days.  For the Israeli justice system, this was considered judicial activism and almost defiance of the security apparatus!  Indeed, the secret police have appealed the ruling and a new hearing is happening as I write this at which they will appeal for an increase in his detention.  Apparently, they're not satisfied they can beat a confession out of him in two days.  They need a few extra just in case he proves too stubborn.
Another typical Shabak tactic is to prevent a suspect from contact with his attorney.  I display the police document denying him such access.  The reason for holding him incommunicado is that contact with his lawyer would sabotage a criminal investigation.  Imagine that: in an alleged democracy with the rule of law, the right to an attorney is not only denied–it's used as an excuse to argue that such access actually promotes further criminality.
The real purpose of this act is to isolate a victim, make him feel powerless, and willing to acquiesce to any charges made against him.  By the end of the detention, the Shabak either has enough incriminating statements to make its case or, if it doesn't, it invents the rest (as it did in the case of Dirar Abusisi and so many others).  Unlike in the U.S., the defense may not argue that denial of the accused's access to his attorney is a grounds for dismissal of charges.  Such a denial is irrelevant to Israeli judicial proceedings.  The "Only Democracy" at work…
This form is signed not with the full name of any government official, but with a codename, Lavie.  The name is accompanied by the Hebrew phrase, hamechuneh Lavie ("the one otherwise known as" or "called Lavie").  In other words, the name is as fake as the entire judicial process.
If you wanted other "evidence" against Nadaf, you have to look no farther than this Ynet profile which describes some of the dangerous terror activities in which he engaged.  He would essentially perform an expanded version of the Jewish ritual act of shlach manot, the preparation of goodwill bags on behalf of the poor.  This tradition is done on Purim.
Nadaf went around to local businesses and collected money and goods on behalf of poor Jewish and Palestinian families.  After his collections, he would place the money in envelopes and distribute it to the families.
He once again proved his perfidious intentions by refusing to differentiate between Jewish and "Arab" families:
In my eyes, there's no difference between a Jew and an "Arab."  We're talking about human beings.  Anyone who needs my help gets it.
The shop owners clearly knew of his terrorist activities because they prepared their envelopes full of cash in advance for his arrival.
The reporter too appears to be "on" to Nadaf, writing this cynical account of his suspicious activities:
His will to help arose from seeing the daily struggle for survival of some local families.  He says: "It's no secret that some in the neighborhood are on the brink of starvation.  Their plight is due to different factors.  It was hard for me to watch as these families, many of them full of children, couldn't provide even basic necessities.  I'm moved when I see a smile and a sparkle in the eyes of the needy I help, who are happy to get this small donation I'm able to offer."
Hassan even makes so bold as to include the aged in his plots against the Zionist homeland:
His initiative fills him with pride when he's able to aid the elderly and the sick.  "Sometimes they ask me to fetch them their medications from the pharmacy; or ask me to accompany them to the clinic.  The more I can help them the stronger I feel."
Looks like the Shabak nabbed a real terrorist this time.  Not like those fake ones they invent to justify their budget hikes.  This guy is the real deal.  As for possessing arms, he does indeed: he's armed with love and kindness.  A deadly combination in the Land of Zion.
Another of Hassan's "suspicious" hobbies was parkour, which he featured in this video filmed in his native Akka (Acre).  It clearly offers physical training in activities that could easily be translated into orchestrating terror attacks.
What Shabak has in Store for Hassan: Infinite Varieties of Torture
Haaretz offers a synopsis (English here) of many of the Shabak's more odious means of torture.  This is what Hassan either has already been subjected to, or what he has in store.  An interrogator code-named "Solly" described these techniques (in euphemistic Hebrew, "special means") used in several of his interrogations:
These methods included blindfolding, kneeing a suspect in the thigh, forcing him to lean backward and strain his stomach muscles, making him sit on a backless chair with his back forced against the wall, forcing him to stand bent over during an interrogation, forcing him to raise his hands behind his back to shoulder level, tightening his handcuffs and tickling him with a feather.
But the victim saw things differently.  Here is how he described the same "treatment:"
Investigators cuffed his hands, shackled his feet, kept him in a backless chair and put his back on the ground, he says.

"My legs were shackled to a chair in front, and the interrogator in front would slap me in the face and chest," he testified. "Someone from behind would hold my shoulders, raise me and lower me."

After this he was forced against a wall.

"They would knee me in the thigh from each side," he testified. Afterward, they slapped him and "took the cuffs from my legs and put them on my hands, one on each side, and squeezed until the blood stopped flowing. Later they would bend me over on my knees. An interrogator would sit in front, and the interrogator from behind would put a chair on my knees and press down, and the interrogator in front would slap me."

Later, he testified, he was handcuffed to a table from behind. One interrogator pulled on his hands for an hour, while an interrogator standing in front of him beat him.

"Solly would ask me a question," Khawajeh testified. "If I didn't answer in the affirmative everyone would jump on me, 10 of them, and beat me and drag me to the ground. Solly told me, 'I will cause your death,'" he said, adding that he lost feeling in his legs at one point. "Because I couldn't walk, the investigators would drag me to the bathroom."

Khawajeh also recounted that during the investigation he was told the head of the Shin Bet had approved the methods.

"They told me he gave the order that either I'll die or start talking," Khawajeh testified. "He said that this was an order from [Prime Minister] Bibi Netanyahu."
When asked about the use of blindfolds, Khawajeh said, "There was a small ribbon on my eyes to protect them, and they would slap me so I wouldn't know who was slapping."

When he moved his face a little, "the slap would come from the other direction. That's how they would hurt my ears and eyes," Khawajeh said.
Tickling was also a form of torture, he said. "Each interrogator had a feather," he recalled, explaining that the interrogators put a feather in his ear or nose, and when he moved they would slap him. He said he has since been taking medication and after the beatings he would vomit blood.
On a related subject, PressTV interviewed me last night for its segment on the rising violence of the new Al Aqsa Intifada.  Here's the video: