Israel's Mysterious Mr. X, Prisoner With No Name is Alleged 'Terrorist'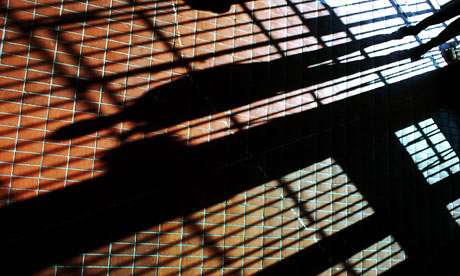 Yesterday, I reported that Yediot Achronot published a story about an Israeli prisoner who, according to informants in the prison service, had no name, no identity, no contact with the outside world or fellow prisoners.  He seemed truly to be a disappeared person in the midst of a country that likes to think of itself as a democracy.  And true to form, the article about Mr. X, as the article dubbed him, disappeared!  Yesterday, I agreed with Israeli blogger Yossi Gurvitz in conjecturing that the article had run afoul of the intelligence services who secured a gag order banning publication of any information about him.
An Israeli journalist today reports to me that a source, also within the prison service, confirms Yossi and I were right.  Not only is there a gag order against publishing anything about Mr. X, there is a ban on revealing that there is a gag order of any kind.  It's a kind of double-bind theory of Israeli spookdom.
The source described Mr X as "a terrorist from one of the organizations."  This would likely mean that Mr. X was either a Palestinian from Israel or the West Bank, either accused of terrorism or belonging to a proscribed organization like Islamic Jihad, Hezbollah or Hamas.
Now, think about this.  A man is imprisoned for no one knows what.  Not only can't any Israeli report on who he is or what he has done.  You can't even report that he EXISTS.  We're talking Scaresville here.  But Israel has become such a hardened national security state that almost no one there would find anything wrong with this picture.
If we in the U.S. want to conjecture where outrages like Guantanamo, Bagram, Abu Ghraib, etc. can lead we should look no farther than Mr. X.  No matter what this man may have done (and again, we don't have a clue whether he is guilty of anything), society–whether Israel or the U.S.– is totally corrupted when it disappears people in such a way.
I've absorbed my share of body blows from the pro-Israel far-right and now it's happened at the Israeli gossip site Rotter, which has a section called Scoops.  I post some of my newsworthy Israel reporting there.  A member responded to a message which linked to my last post about Mr. X, with this tender endearment:
Perhaps you'll stop flacking your anti-Semitic site, Silverstein?

You've never published a single thing in your whole sordid life.  You've stolen from other sites and taken credit in order to flack for your leftist, jihadist, murderous, extremist, fly by night, uber-radical, sick site.
I do so love the smell of napalm in the morning!  When they hate you like this you know you're striking a nerve and a blow for a democratic and just Israel.