Biden Administration to Fund Gaza Ethnic Cleansing
US is accessory to ethnic cleansing and war crimes, offering "humanitarian assistance" to Gazans expelled to third countries
Israel intends to keep a kilometer wide (at least) buffer zone inside Gaza Strip along the entire border. After the war, anyone entering this zone will be shot.

–Israel security source
The Biden administration supplemental aid bill offers Israel $15-billion in new weapons shipments to pursue genocide in Gaza. But what few have noticed except DAWN, is that there is funding tucked away to offer "humanitarian assistance" to Gazans expelled (or "relocated" to use State Deparment euphemism) to "third countries" (including Egypt) by Israel. The funding is presented as "humanitarian" in order to make it sound humane. After all, who can argue with offering much-needed assistance for starving refugees? DAWN explains:
"The Biden administration isn't just giving a green light for ethnic cleansing—it's bankrolling it," said Sarah Leah Whitson, DAWN's Executive Director. "Gaslighting Americans into facilitating long-held Israeli plans to depopulate Gaza under the cover of 'humanitarian aid' is a cruel and grotesque hoax."

On October 20, 2023, the White House sent a request to Congress for supplemental funding for the current fiscal year, which, among other things, includes logistical, infrastructure, and other material support to make possible housing displaced Palestinians from Gaza to neighboring countries. This section of the request states:

These resources would support displaced and conflict affected civilians, including Palestinian refugees in Gaza and the West Bank, and to [sic] address potential needs of Gazans fleeing to neighboring countries. This would include food and nonfood items, healthcare, emergency shelter support, water and sanitation assistance, and emergency protection. This would also include potential critical humanitarian infrastructure costs needed for the refugee population to provide access to basic, life-sustaining support. This crisis could well result in displacement across [the] border and higher regional humanitarian needs, and funding may be used to meet evolving programming requirements outside of Gaza.
Clearly, as I wrote above, this provision envisions Israeli ethnic cleansing. Though it is couched in terms few could argue with, the bottom line is it supports a planned Israeli mass expulsion.
During a press conference, Sam Husseini pressed State Department spokesperson on this issue. The official response was:
First, we continue to provide support to Palestinian refugees through the UN, through UNWRA, and the U.S. is going to also continue to support efforts for safe passage for civilians in Gaza seeking safety. As it relates to our foreign policy, the U.S. does not support any forced relocation of Palestinians outside of Gaza. It is not a policy we are pursuing. It is not something that is on the table.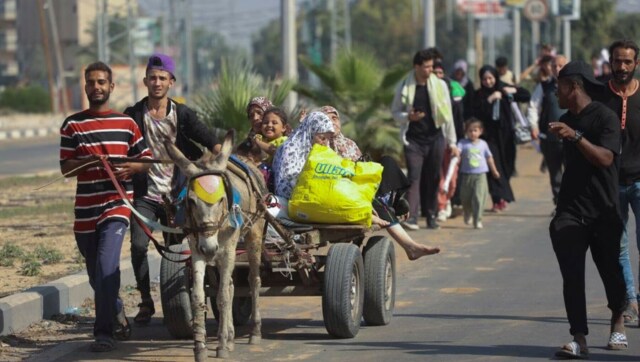 Here, he is saying two separate things which contradict each other.  First, that the US supports Palestinian refugees via existing UN humanitarian programs. So far so good. But then he adds we "continue to support efforts for safe passage for civilians in Gaza seeking safety."  That can be read two ways: one is supporting "safe passage" of Gazans inside the enclave. But the second more ominous potential meaning is that the US supports "safe passage" to outside Gaza.
Though the US official says the US does not support "forced relocation of Palestinians outside Gaza," note what he didn't say: the US does not support any relocations outside of Gaza.  In other words, the US may have no problem with voluntary relocations to Egypt or third-countries.  If the US, Israel or any other party "persuade" them to leave, we have no problem with that.
Of course, the definition of "forced" and "voluntary" is almost indistinguishable in the Israeli vocabulary.  For example, it put many of its African refugees in a desert concentration camp. Then it offered them a paltry sum if they would leave.  Those who did were dumped unceremoniously in Rwanda or Uganda with no travel documents or funds. Israel considered those voluntary departures.  Even if the US provides all of the refugee "assistance" its funded, it will still be a forced relocation.
Finally, the State Department official ends with a non sequitur. When Sam tries to ask him again about displacement of Gazans to Egypt, the reply is: "we are not engaging in any situation in which Egyptian land would be leased."  Huh? Sam's question mentioned nothing about leasing Egyptian land.  This begs another question: if the US opposes leasing Egyptian territory would it accept another method which would permit placing them there?
Israel's newer and more improved Nakba
Returning to the Israeli ethnic cleansing plans: two of them suggest that all Gazans be expelled. The third and official plan calls for "only" hundreds of thousands of Gazans be expelled from their homes.  At the start of the war (October 15th), an Israeli security official told me (see above) Israel planned to create an added buffer of one mile inside Gaza. He added ominously, that anyone entering the zone (i.e refugees seeking to reclaim their homes, orchards, etc) would be executed.  That is about an explicit admission of Israeli intent to permanently depopulate nothern Gaza, as you can get.  And subsequent events have borne it out.
This would be a land grab involving 20% of all Gaza residential and agricultural land.  It's clear that the reason Israel forced Gazans to evacuate the northern portion of the enclave was not merely to facilitate its attacks on Hamas–it was a massive ethnic cleansing. It does not intend for those refugees to return.  It will refuse to permit it regardless of what its US or European allies say.
Israeli settler fascists have already begun clamoring and planning for a "return" to Gaza. They plan not only to restore the settlements evacuated by then PM Ariel Sharon, they plan to resettle all of Gaza with Judeo-ethnic cleansers.  It is Judeo-triumphalism. Israel enveloped in nationalist-messianic miasma.
Israeli logic dictates that the fewer Gazans there are and the fewer land they occupy, the less the territory Hamas will have in order to operate. This ethnic cleansing project has a long term goal to dismantle both the resistance to Israeli Occupation, and the number of Gazans in Gaza.  Like Ben Gurion, who reluctantly accepted UN partition with the stated expectation it was only the first phase of Zionist conquest, Israel probably views this stage as a down-payment on its ultimate goal, to rid the West Bank and Gaza of ALL Palestinians. This would make Israel Arabrein and achieve the stated goal of large portions of the Zionist movement over a century: making Israel a pure Judeo-ethnic state.
Nakba 2.0
Gazans were already expelled from their original homes in Palestine during the Nakba. They fled to Gaza and established lives as refugees there. Now Israel will make them refugees a second time.  This is criminal behavior that must be condemned by all humanitarian agencies, world bodies and governments. It won't be. But they better wake up and understand the process at work here. Otherwise, Israel will present the world a fait accompli.
Though a NY Times report indicated united opposition to this Israeli plan, the Congressional aid proposal marks a tacit approval for such a plan. The US expects Gazans will become permanent refugees within Gaza due to Israeli expulsion.  Since Israel plans to reoccupy Gaza and wipe clean the entire northern portion of homes and any infrastructure, these internal refugees will not have any homes or land permitting them to remain in Gaza.  At the right moment, Israel will open the gates to Gaza and those hundreds of thousands of displaced Gazans will, in Israel's plan, flood into Egypt.  The Israeli plan would also permit the refugees to go to third-countries, though it's hard to imagine any that would accept them on such terms.
But the most critical factor is that Israel will essentially expel them and they will never return. That is ethnic cleansing, a war crime. Any party engaged in any action that aids, promotes or facilitates in any way,such expulsion is itself committing a war crime. That makes the US complicit in Israel's crimes.  The supplemental aid package is aiding and abetting a war crime.