BREAKING: Reports Sara Netanyahu Treated in Viennese Psychiatric Clinic
DONATE: This is the sort of reporting you will not find anywhere else.  Information that is hidden away in obscure websites.  I dig it up from sources who share their stories with me because they understand the critical role I play.  If you value this reporting, please donate to support it.  Use the Paypal link in the sidebar. If your employer has a matching gifts program,  you can donate to my fiscal sponsor, Independent Arts & Media, and designate the gift to support Tikun Olam.
דיווח: שרה נתניהו טופלה בקיץ האחרון באגף הפסיכיאטרי בבית החולים הכללי של וינה
שרה נתניהו מאיימת להגיש נגדי תביעת דיבה בארה"ב, רק מפני שציטטתי דיווח עיתונאי על טיפול פסיכיאטרי שעברה בווינה
רעייתי שרה במסר חשוב לאור ההסתה ואיומי הרצח נגדי ונגד משפחתנו. צפו ושתפו pic.twitter.com/G2ZJlnti9h

— Benjamin Netanyahu (@netanyahu) July 30, 2020

Last summer, Sara Netanyahu disappeared from social media platforms she regularly uses to defend her husband, herself and her sons from the attacks of disgruntled Israelis tired of his corrupt rule. For several weeks, she wasn't photographed or seen in Israel. Rumors began to swirl that she was ill, that she was hospitalized in a foreign country, etc.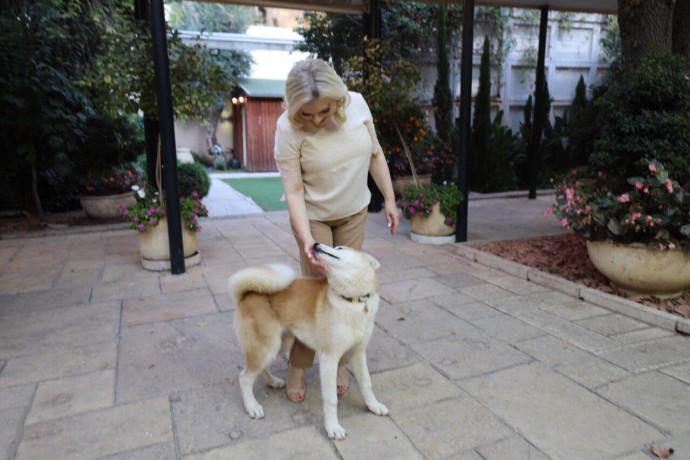 Last March, the Bulgarian news site, Focus News Agency, published a story promoting the Austrian hospital chain AKH Wien, which planned to expand its facilities in Bulgaria. The report noted the number of celebrities and powerful politicians who sought out the hospital for medical treatment.  Among them was, according to the article (Google Translate version), Sara Netanyahu:
The wife of Israeli Prime Minister Benjamin Netanyahu, Sarah Ben-Artsi Netanyahu, underwent successful treatment in the hospital's psychiatric ward last summer…
In late July, 2020 once the rumors began to swirl,  Sara sent the PM's digital media director to do media interviews saying the Sara was fine and that she would release a video soon to prove it.  Indeed,  that's just what she did.
In it, she explained that her absence had been caused by pressing matters related to the end of her work year.  As she is an educational psychologist, it's possible she's referring to clients who are coming to the end of a school year.  But it's unclear whether she still practices as a psychologist, whether she sees clients, etc.  In other words, I strongly doubt any of this is true.  That, of course increases the credibility of the Bulgarian report.
I've translated her video statement because it is a model of its kind, an exemplar of the extreme narcissism and megalomania for which she is infamous:
"Lately, I saw something terribly disturbing which they call "fake news," and about this shaming they direct at my husband, and me, and my children.  Even my youngest son was subjected to it.

My friends, shaming is something we've seen lately during the period in which we've had social media. We see many children harmed [by it].  I, as a psychologist, am acquainted with several instances of children, aged 15-16 who committed suicide.  They did so because of the shaming their friends directed at them.  It's inexcusable for this to happen.  So remember that I am a human being.  My children are people, souls, all of us are people who feel pain, who experience such pain.

So I truly ask all sides to restrain themselves and not to issue calls to murder the prime minister and his family.  Let's take advantage of positive energy…Let's make things so that it will be better for all of us."
She is undoubtedly referring to the weekly anti-Bibi protests which swept the country in light of his corruption trial.  Hundreds of thousands of Israelis have demanded his resignation.  Police have attacked some of the protests and injured individuals opposing him.  A few hot-headed people did threaten Bibi.  And given Sara's reputation as the power behind the throne, there is a great deal of hostility toward her as well.
But clearly she is playing the victim card, trying to gin up sympathy from a country which hates her with a passion.  Not to mention that they deliberately incite hatred against multiple sectors of Israeli society who oppose them.  Is it any surprise that Israelis would respond in kind?
It's important to make something clear. I have all the sympathy in the world for those suffering from mental health issues.  This post is not meant to stigmatize them in any way.  That being said, when it comes to running a country, leaders must be clear-headed and rational.  It's critical that their thinking not be impacted by distorted thought processes.  We in this country have recently seen enough of this sort of delusional thinking in our political leadership.
Some Israelis object to Netanyahu's personal medical history being fair game for journalists.  To that I say, when you are a major public figure and the fate of your nation is in your hands and those of your husband, then all bets are off.  Everything about your life is fair game since you are no longer the average person on the street.
Sara Netanyahu is not a typical politician's wife.  She does not sit in the background.  She plays a key role in decision-making and personnel matters.  She not only offers her opinion about crucial political appointments, she exercises her prerogatives aggressively.  I've reported here on a number of military, political, and intelligence appointments which she rejected because she simply did not like or trust the candidate.
She is precisely the wrong person to be in such a position.  Israel is beset by massive internal and external conflict.  It faces life and death choices.  Any single decision could conceivably lead to regional war or the complete breakdown of domestic social order.  This is not the person you want sitting alongside the nation's leader and impacting his decision-making process.  She is a damaged person terribly close to power in a severely damaged country.
Sara Netanyahu response: Ofer Golan, who describes himself as "Netanyahu's spokesperson" sent this legal threat in Sara's name:
One big Fake News story from start to finish. This is low, discredited slander repeated time and time again by left-wing elements in Israel for political purposes. Even the attempt to use a far-left American blogger to spread lies will not prevent a libel suit against him in the United States.
I replied to him that I would welcome such a lawsuit in the US or anywhere.  Lawyers will line up to defend me.  It would permit my counsel to depose her and subpoena documents (including travel logs) that would confirm where she was during the weeks she disappeared from Israeli public view.