Trump-Netanyahu Hoax of the Century
I never thought it could get worse.  I have bemoaned the evils of Republican presidents going back to Nixon (I've railed against Democrats during that time as well).  Each one, I believed at the time was the worst possible leader one could imagine.  Reagan's Evil Empire. George HW Bush's "read my lips, no new taxes." George HR Bush's ill-fated war in Iraq and Abu Ghraib.  I observed and cataloged the misguided assumptions underlying the worst of their policies.  And there were many. So I naturally assumed Trump would be yet another example of the banality and stupidity of GOP politics.
But I was wrong.  There can be no lower debasement of the presidency than Donald Trump.  I simply cannot believe that I will see a worse, more venal, more imbecilic, more mendacious leader in my time.  Just as I very much doubt there has ever been anything to match it in the entire history of the institution of the presidency till now.  And believe me, we have had some truly awful presidents.
All this by way of introduction of the latest bit of idiocy in today's launch of the much-vaunted Trump "Deal of the Century."   It has properly been labeled "terms of surrender," and a "con," rather than a mutually negotiated approach to resolve the issues of the Israeli-Palestine conflict. One look at the Kushner-devised map of "the future state of Palestine" tells you all you need to know about this piece of dreck.
Besides ousting Jerusalem as the Palestinian capital (it would be consigned to a tiny village lying even outside East Jerusalem) and offering Israel (not the Jordanian waqf) sovereignty over the Haram al Sharif, it also proposes expelling Israeli Palestinian villages from Israel and transferring them to the new amalgam called a potential-maybe-future state.  A neat bit of ethnic cleansing few are remarking.
In his speech today, Trump stuck his feet even deeper into dog-shit when he said that Muslims who wished to, would continue to be able to worship at the "al-Aqua mosque."
Palestine could maybe perhaps become a state within four years if it agreed to being a eunuch state with no army and no militias. Disarm the PA, Hamas, Islamic Jihad and submit to the whims of the Israeli master.  And statehood would be determined not by the U.S. or any legitimate outside body, but by Israel itself.  It's something like the fox telling the chicken she must live with the fox for four years and be a very good chicken and offer all her eggs to him.  If she is, then the fox promises her freedom–if he hasn't eaten her by then!
Imagine you were a Briton during the Battle of Britain and Hitler offered peace terms that involved British acceptance of annexation of half of England to the German Reich.  Imagine you had to agree to disband your army and accept German troops policing your borders.  Imagine hundreds of thousands of German settlers displacing native Britons in towns and villages up and down the Atlantic coast.  Or alternatively, imagine you are an American after Pearl Harbor and Prime Minister Togo offers the U.S. peace terms which demand the annexation of the entire U.S. west coast to the empire of the Rising Sun.  The terms would also involve disbanding the U.S. armed forces and permitting Japanese troops to police our borders.
What would you call this?   Of course, you'd call it terms of surrender no matter how much Hitler or Togo refused to use those terms and called them a fairly negotiated peace agreement.  In the normal course of warfare, there comes a time when one side may be vanquished and the other triumphant.  In such circumstances, there may be an unconditional surrender, with the winner dictating terms to the loser.  But besides the fact that such terms of humiliation usually lead to bitter enmity and further conflict down the road (i.e. World War II), the loser has to concede his loss.
No such thing has happened to the Palestinians.  They are not vanquished no matter what disparagement Jared Kushner may offer them:
"It's a big opportunity for the Palestinians. And they have a perfect track record of blowing every opportunity they've had in their past." The senior White House adviser encouraged Palestinian leadership to agree to the deal and "do what's best to try to make the Palestinian people's lives better."

"If they don't, they're going to screw up another opportunity, like they've screwed up every other opportunity that they've ever had in their existence," he said.
The outrageous sense of entitlement of such a statement betrays the racism inherent in Kushner, Trump, and most Israelis' views of Palestinians.
You'll remember that Donald Trump similarly told Black voters during the 2016 campaign that they should vote for him: "What the hell do you have to lose?"  The presumption of that statement, that African-Americans were utterly hopeless and bereft of agency and that Trump was somehow throwing them a life preserver, was mind-boggling at the time.  And the presumption of the current deal, which makes the same assumption about Palestinians, is breathtaking.  It assumes that they have no other choice.  And that the only rational decision they could make is to accept these terms.  It makes the assumption that eventually they will accept terms when there is no reason at all to believe so.  The Deal of the Century is delusional and rooted in the stunted minds of bigots.
They betray absolute ignorance of the history of the region and the Israeli-Palestinian conflict.  The motto of the Palestinian struggle is sumud, steadfastness.  Staying true to the cause.  Never giving up no matter what happens.  There can be no such thing as resigning to one's fate.  The Palestinians can accept no other fate than one that recognizes their inalienable rights.
Approaching the deal as much of world media has done, analyzing the terms and their impact, is in many ways besides the point.  Netanyahu and Trump want you to think this is a serious proposal to solve a major conflict.  It isn't. This is a shabby magic trick.  As you watch the magician perform the trick you know there is some sleight of hand, but no matter how hard you try you can't detect it.  Well, a trained magician can tell.
So here's how I dissect the Trick of the Century: both the U.S. and Israeli leaders face almost insurmountable scandals at home: Trump is facing impeachment and Netanyahu is facing both a criminal trial and election.  This means that unveiling their plan had nothing to do with peace and everything to do with preserving their political rein.  They each desperately need to change the narrative: to distract their respective publics from their corruption and criminality and focus on a major achievement about which they can boast.
It's no accident that almost at the same moment the Israeli leader was captured beaming with Trump by the cameras of the media, the attorney general was filing an indictment on three counts of bribery and corruption.  The trial might even begin before the March election.  This takes Israeli politics into uncharted territory.  An indicted PM has never run for a new term.  Though the Blue and White opposition appears to be slightly ahead in most polls, Netanyahu is by no means out of the running.  His political fate hangs by a thread.  That's why events like the World Holocaust Forum and today's White House dog and pony show are so critical to him.
Though Netanyahu is much the smarter of the two, both are ultimate narcissists who see the world refracted through their own self-interest.  Why else would Netanyahu, for example, agree to host a Holocaust remembrance designed to beatify Vladimir Putin as leader of a heroic nation that resisted the Nazis and liberated Auschwitz?  This permits the memory of 6-million exterminated Jews to be defiled by tawdry political calculation.  Both Putin and Netanyahu needed to be seen by their own population and the world as the center of such a gala commemoration.  It suited their political interests perfectly.
Survivors?  The dead?  Not so much.  You have only to look at the Auschwitz commemoration in Poland that followed the one in Jerusalem to see the difference. There 300 survivors were welcome and honored guests, whereas barely 80 seats and no speaking slots were offered to survivors in Jerusalem. Not that I'm defending the ruling party's obdurate refusal to consider Polish culpability for the Holocaust.
The worst aspect of the Deal is its total obliviousness to the Israelis and Palestinians who will suffer the consequences of its failure.  Though one could argue that no one except the delusional figures who negotiated this mess ever credited it with a chance of success; any attempt to put forward any solution invariably arouses resentment and bitterness when it fails.  This only exacerbates the hopelessness on each side and escalates hostility.  It promotes extremism on both sides and confirms that only a one-state solution remains viable.
After all, Netanyahu is preparing as early as Sunday to convene a cabinet meeting which would annex the Jordan Valley and 30% of Palestine.  Once this is done, one-state becomes the only remaining option.  Clearly there can never be a Palestinian state under this regime.  Thus, the real battle must now be to accept that Palestine has essentially been annexed and absorbed and transform this single state into one for all its citizens offering full democratic rights to all regardless of religion or ethnicity.
The impact of the endorsement of Israeli rejectionism in this plan can be seen in a recent ISIS pronouncement: for the past few decades Islamists have focussed their energy within the Muslim world to remake it in their image.  They have largely (though not wholly) eschewed targeting Jews or Israel as the enemy, because they had so many enemies to fight among the Muslim states.  But ISIS this week announced a radical shift in strategy.  Its new leadership has directly targeted Israel for attack.  Even if there is an element of hyperbole and boasting as there is in these sorts of dramatic announcements, Israel must take notice of this break from past behavior.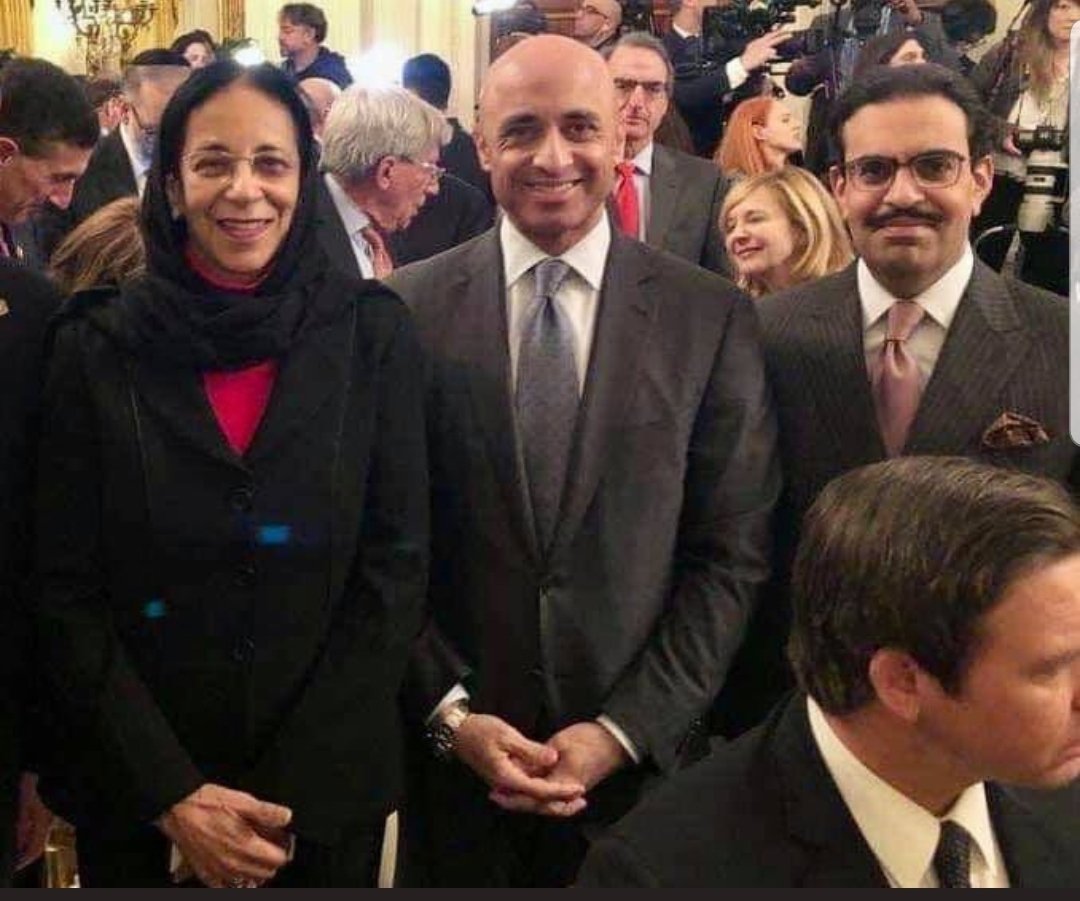 Why is ISIS even able to take such a dramatic step in the evolution of its strategic goals?  Why does such an announcement even resonate outside the narrow realm of the group's depleted leadership?  Because of Israeli rejectionism.  Because Israel, contrary to Kushner's insulting claims about the Palestinians, never misses an opportunity to miss an opportunity.  The failure to resolve this conflict has been one of the single most destabilizing factors in the Middle East for decades.  Islamists themselves also seek to destabilize the societies in which they operate.  What better way to do this than to draw attention to one of the deepest resentments in the Arab-Muslim world: the plight of the Palestinians.
One of among many shocks of today's circus was the presence of ambassadors from the UAE, Bahrain and Oman offering their blessing on the proceedings.  Though they did not attend the ceremony, other Sunni states allied with Saudi Arabia including Egypt, (and even Qatar!) released statements of fulsome praise.  They have done this because they've all determined that they have bigger fish to fry than Palestine.  The Saudis, whose oil wealth dominates the region, have led them by the nose to perceive Iran as their greatest enemy.  Israel, instead of being the single most powerful unifying force among the Arab states as a dire enemy, has become the exact opposite.  It now has joined forces in a hostile campaign to force regime change on the Iranian people.  This too is a deluded effort, much like the Deal of the Century.
The only positive element of such a radical turnaround is that it indicates that if a just peace was ever negotiated amongst the parties, they too could shift their hostilities and find common ground with former sworn enemies.