Has Facebook Decided the Star of David is Anti-Semitic?
As readers will know, my Facebook account was suspended for three days last week, because the censors determined that comments I made about racist Israeli rabbis were not "respectful."  I have posted a query to Monica Bickert, FB vice president for global standards asking why my anti-racist speech was determined to be disrespectful.  She has not replied to my message.  I also opened a case through Facebook's Support unit asking why my account was suspended and who made this determination about what I posted.  Neither has replied.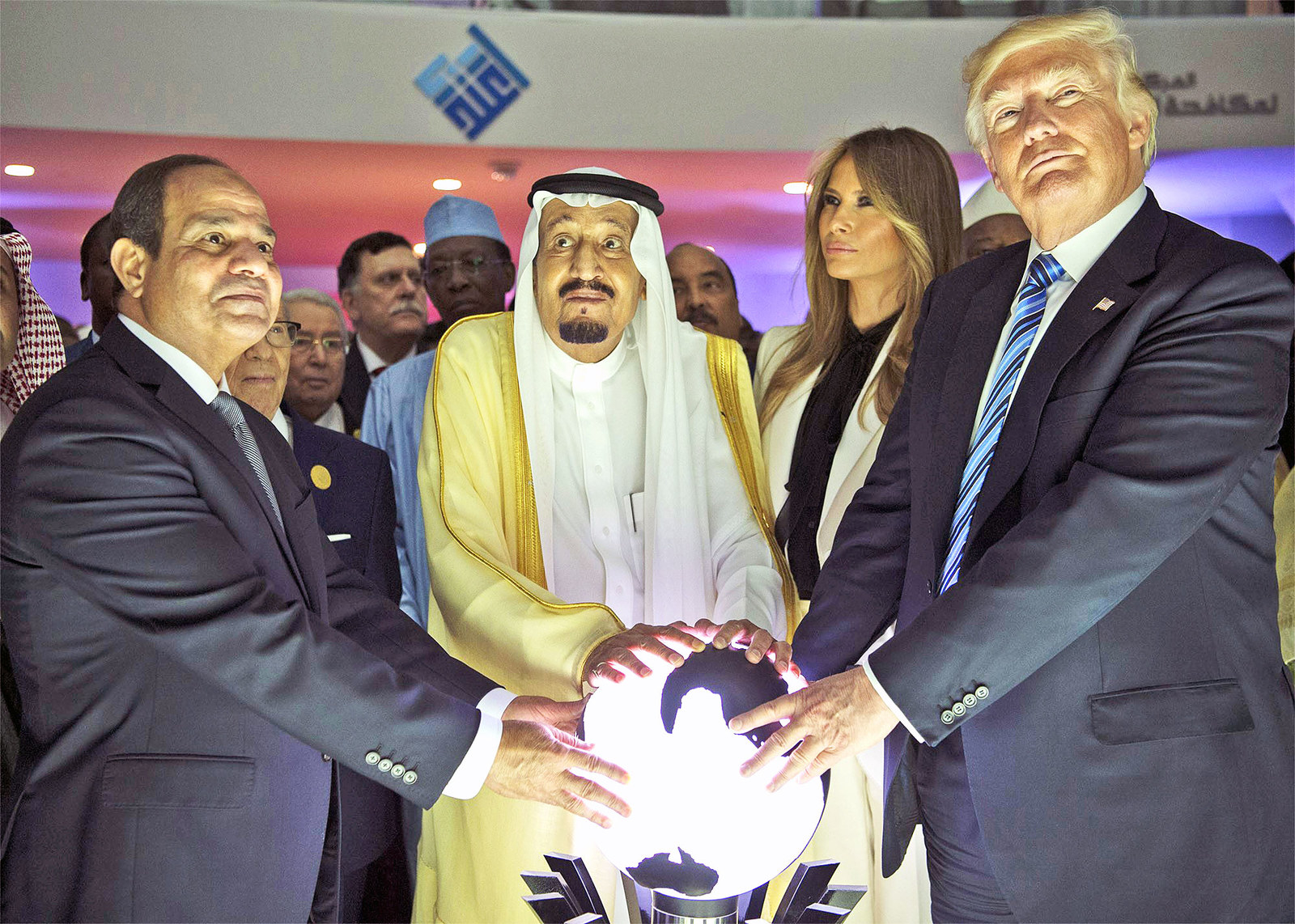 Today, I'm writing because the beleaguered folks at Facebook have committed another bit of face-palm censorship.  They slapped a three-day suspension on the account of my friend, Prof. Muhammad Sahimi.  His "crime?"  He posted a Latuff cartoon from Mondoweiss which was a take-off on the infamous photograph of King Salman, Donald Trump and Abdel Fattah al-Sisi laying their hands on a shining globe.  In the cartoon, Trump, Salman and Bibi Netanyahu gleefully fondle a glowing missile aimed at a map of Iran.
Sahimi is an engineering professor at USC.  He is also a noted expert on Iranian politics who's been quoted in the NY Times.  He co-founded the PBS Iran media portal, Tehran Bureau.  How the hell did FB catch him up in its net??
While I'm not a special fan of Latuff's sledge-hammer style as a cartoonist, or Mondoweiss, I had to scratch my head to figure out what a Facebook reviewer might find offensive about the image.  The only aspect I could figure might upset someone was the Star of David on Netanyahu's tie.  If I'm right (which I may or may not be), it might mean that Facebook has determined that the use of the Star of David is offensive when used in the context of criticizing Israel.
I suggest this as a possibility in the aftermath of the horror show that was the Artunes cartoon featuring Netanyahu as a dachshund with a Star of David around his neck, leading a blind Donald Trump with a yarmulke on his head.  The benighted NY Times caved to right-wing pressure and 'executed' the cartoon and the cartoonist with dramatic public statements and even an editorial denouncing the image as anti-Semitic.  Critics of the work of art determined falsely that the Star of David is a religious symbol and that use of it in the cartoon defamed Jews.  In actuality, the Star of David is the national (not religious) symbol of the State of Israel.  It was used in both cartoons to associate Netanyahu with Israel and not Judaism.
So has Facebook's AI algorithm been tweaked to catch Jewish symbols that could conceivably be used in speech critical of Israel?  I've just e-mailed Facebook's press unit asking these questions.  If I'm even partially right, this raises immense problems with the manner in which Facebook is policing speech on its platform.
Returning to my own suspension, might it be possible that the FB AI protocol found the term "rabbi" associated with "sick and twisted" and automatically determined this was anti-Semitic speech?  If so, the most horrible aspect of this is that a computer algorithm appears to lack the linguistic ability to analyze the statement I made and its context.  In other words, instead of a fine-tuned algorithm, they have code that is as refined as a sledge-hammer.
No one is happy these days with the job the company is doing.  On both the right and left, users and politicians are up in arms regarding the heavy hand of censorship used in applying its so-called community standards. A brilliant essay by Facebook co-founder, Chris Hughes, calls for the break-up of the company into at least three separate units.  He also calls for a federal agency which would monitor social media platforms both for competitive business practices and content.  This would remove Mark Zuckerberg and his minions from the role of determining on our behalf what is good and bad speech.
As Hughes says, while it's not entirely welcome to have government determine standards on these matters, at least government agencies are accountable to the people.  Facebook and its executives are accountable to no one but Mark Zuckerberg and, to a much lesser extent, the stockholders.
I agree with Hughes' proposals, which are also being advocated on the campaign trail by presidential candidate, Elizabeth Warren.  As Zuckerberg and his company come under increasing fire for their ham-handed approach to almost every major business decision they make, they're running scared regarding content as well.  That is why Prof. Sahimi and I were in Facebook Jail this week and last.  The net Facebook is casting is oppressive, arbitrary and full of holes, which permit real racists and anti-Semites to slip through with ease.