Kerry's Speech: America Lost in Two-State Ether, Israel Spied on Nations Supporting UN Vote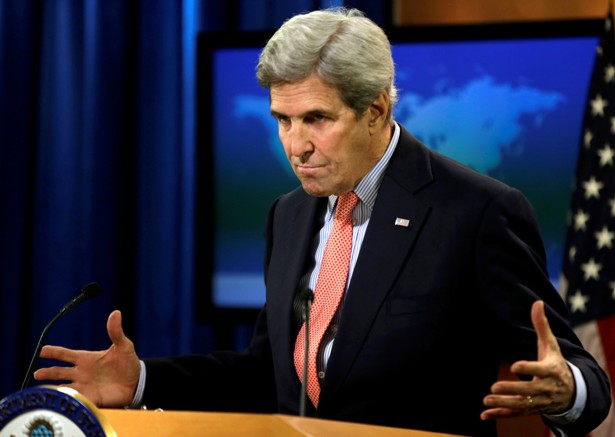 Today, Secretary of State John Kerry gave a valedictory address on the Obama administration's efforts to achieve Israel-Palestine peace.  There were several strange aspects of the speech serving as background.
First, he gave the speech at the State Department.  An odd choice if you want your words to have a special impact in the world.  Giving it in the hermetically sealed environment of Foggy Bottom gives the impression that you've already given up on the possibility they will go forth and have an impact outside its walls.
Contrast this with the electrifying speech Obama gave in Cairo at the start of his first term.  Then he went directly to the Middle East and spoke to the hearts of those immediately impacted by the conflict.  What a come-down from that initial euphoria to speak your farewell words only to the staff who worked with you on these initiatives.
Second, consider who gave the speech: the secretary of state and not the president.  This in itself is an admission of failure and diminished expectations.  It's an admission that there wasn't enough new or promising to make it worth Obama's time to deliver it himself.  Originally, some in the administration considered the President delivering this speech to the UN or at some other significant venue.  But delegating it to his subordinate confirmed the content would break no new ground.
The speech's content was same old-same old and it was too-little, too-late.  It reaffirms ideas like the two-state solution, which have gone the way of the dodo bird, eclipsed by events on the ground rendering them obsolete.  Kerry adopted a tone of hand-wringing, of warning about the apocalypse if Israel refuses to adopt our prescriptions.
Instead, he should've embraced reality, looked it straight in the eye and said where we are: we are nowhere.  There is no two-state solution.  It is dead.  Israel has killed it.  The question isn't how to revive it.  You can't.  The question is what do we do from here?  That's where we have to be honest and confront prospects for the future, no matter how bleak.
Kerry did pretend to do this here:
…It is vital that we have an honest, clear-eyed conversation about the uncomfortable truths and difficult choices.
But his conversation was none of what he claimed.  It was full of trite, hackneyed outdated notions.
This passage is not only hackneyed warning against one-state, it's just plain false:
But here is a fundamental reality, if the choice is one state, Israel can either be Jewish or Democratic, it cannot be both. And it won't ever really be at peace.
There are some fundamental misconceptions here.  First, if there was one state offering equal rights to all citizens, then it certainly would be democratic.  But would it cease to be Jewish?  In one sense it would: if you define a Jewish state as being where Jews have superior political rights, then they would no longer have that.  But if you define the state as one which honors the religions of Jewish–and all–citizens, then Israel would be a state that provides many, if not most of what was offered in that former "Jewish state."
Kerry's final sentence claiming one state could never be at peace is patently false.  Two peoples could certainly live in one state, though one of them would have to learn to be in the minority while the other was in the majority.  There are countless examples of this working in democratic societies, though it is by no means easy, nor is success guaranteed.
Kerry continues with another of his many misconceptions:
…The Palestinians will never fully realize their vast potential in a homeland of their own with a one state solution.
Here's another:
…Polls of Israelis and Palestinians show there is still strong support for the two state solution in theory. They just don't believe it can happen.
Note my italics above.  Saying Israelis and Palestinians support a solution in theory is like saying in theory the earth will collapse into the sun and everyone on remaining on it will perish in fire and gas.  Sure, this will happen sometime in the far distant future.  But in practice this has little or no impact on humanity right now.  And if no Israelis and Palestinians believe two states are possible, then the latter simply aren't.  Saying that they are or that they should be, is fixating on the theoretical and ignoring the practical; which is that two states are dead because both sides believe them to be.
As for the best way to realize Palestinian potential, that depends on how you conceive of Palestinian nationalism.  Is it meant to ape Israeli Jewish nationalism?  Is the only solution, for two peoples to live in separate states to realize their "full potential" (whatever this vague notion means)?  I don't see this as the sole possible outcome.  Many Palestinians, in fact, see the fullest realization of the potential of both peoples as being in a single unitary state.
Here is another of Kerry's misconceptions about what the future might hold:
Does anyone here really believe that the settlers will agree to submit to Palestinian law in Palestine [in the event of a two state solution]?
This argument actually supports a one-state solution.  That way, any Jew living anywhere in Israel-Palestine will be a citizen of that country no matter where he or she lives.  But should there be two states and 100,000 settlers living deep inside Palestine, beyond the boundaries of Israel, then they would either have to return to Israel or remain in Palestine.  Those settlers residing in Palestine for truly religious purposes would, as Rabbi Menachem Froman did, agree to live under Palestinian sovereignty.
Returning to what the future holds for Israel-Palestine, there are only a few real options: permitting Israel to continue with the status quo of creeping annexation until there is nothing left of Palestine to offer its indigenous inhabitants.  In this case, Israel would probably not formally annex Palestine because this would exert pressure to offer full democratic rights to Palestinians, thus rendering the Jewish political majority moot.  Losing such control would be anathema to Israeli Jewish nationalists (most of the country).
The Israeli far-right demands annexation of the Territories.  This could be an intriguing option, except that there would seem to be no way to do this without facing the wrath of the democratic world, which would increasingly demand full democratic rights for Palestinians.  Whether they realize it or not, the far right might seal the long-term doom of the Jewish political majority if it embraces this option.
The option least likely is for Israel to annex the Palestinians and offer them full rights.  This would be the most successful option since it would accommodate most Palestinian demands.  It would also, in the near to medium term, mean Palestinians would be in the political majority, an eventuality most Israeli Jews would treat with great trepidation, if not worse.
So how do we get there (wherever "there" is)?  Clearly, not under current conditions in which Israeli governments and many of its citizens refuse to make the required compromises for peace.  That leaves only one option: an imposed solution much like what happened in Kosovo.  That's why I disagree with Kerry:
…In the end, we all understand that the final status agreement can only be achieved through direct negotiations between the parties. We've said that again and again. We cannot impose the peace.
Peace is impossible well into the foreseeable future under current circumstances.  Israelis do not want peace.  Not really.  They love saying they want peace.  But the doing is the problem.  They're willing to do nothing that will bring actual peace.  So the only remaining option is offering carrots and sticks.  If Israel won't eat the carrot it must face the stick of sanctions, boycotts, divestment, etc.  International pressure ratcheted up gradually until it becomes irresistible, is what appears necessary.
While I disagree with what Kerry said in this passage, it does allude to the future and changes which will come in the U.S. relationship to both Israel and Palestine:
Others want us to simply recognize a Palestinian state absent an agreement. But I want to make clear today, these are not the choices that we will make.
We may not make them now.  But others may, and will, make them in the future.  Certainly not in the next four years.  But after that–it will come.
Defense of the UN Vote
Much of Kerry's speech was a defense of our decision to tacitly accept a UN Security Council resolution denouncing Israeli settlements.  That's what made the entire exercise seem so small compared to what it might've been (a sweeping appraisal of where we are and where we should go in the future).
But even this defense rang hollow since it contradicted many of the known facts about past Obama administration actions:
…The United States did, in fact, vote in accordance with our values, just as previous U.S. administrations have done at the Security Council before us.
Not really.  Past administrations voted in the Council against settlements, but this one never did.  So when it did finally return to the previous consensus it was met with virulent hate.  No good deed goes unpunished.  This administration constantly and consistently covered Israel's ass, voting against the Goldstone Report, against a two-state solution, and for settlements, in vetoing countless resolutions deemed opposed to Israeli interests.
That's why this abstention and the behind the scenes lobbying that accompanied it, as laudable as they might be, come too little and too late to make a real difference.
This phrase from Kerry portraying U.S. support for Israel in the Council seems particularly inapt:
…This friend that has blocked countless efforts to delegitimize Israel…
If the past vetoes were cast to 'block efforts to delegitimize Israel,' how was this vote, which the U.S. permitted to pass, any different?  The problem is that Kerry is engaging in revisionism.  He isn't telling the truth–which is that Obama grew tired of protecting Israel from the hypocrisy of its own convictions and decided, like the Wizard of Oz, to open the curtain and permit the world to see what lay behind it.  The truth is that those resolutions the U.S. vetoed were as important and legitimate as the one we finally helped enact.  Here again, we see yet another example of the U.S. fudging instead of speaking clear truth.
In the course of his speech, we learn a very small but astonishing fact, that John Kerry actually piloted an Israeli military jet during one of his visits to Israel:
[I] piloted an Israeli jet over the tiny airspace of Israel…
Though his statement is meant to reinforce the notion of Kerry's undying commitment to Israel, instead it offers us the image of a senior U.S. official actually piloting an Israeli war plane and participating, even symbolically, in Israel's Occupation and suppression of its Palestinian neighbors.
Israel's far-right government is crowing at this speech.  Ministers are clinking champagne glasses at this last death knell of the Obama administration.  They are rubbing their hands with glee at the prospect of four years of warm collaboration with the Trump administration.  It will be a match made in right-wing heaven.  No more carping and whining from the self-righteous liberals, Barack Obama and his friends.  They'll make hay while the sun shines–and how it will shine.
Cyberwar and the Death of Diplomacy
Now a word about Israel's reaction to the UN vote.  This is not merely a spontaneous reaction.  This is an orchestrated campaign, plotted carefully over a long period, with a number of international collaborators.  The purpose has been to exact revenge on Obama for his betrayal and notify enemies that if they ever cross Israel, this is what is in store for them.
There has been a relentless torrent of leaks from all quarters of the globe designed to shame and embarrass the U.S. for its betrayal.  The language has been furious and unrelenting; unprecedented in the annals of international diplomacy. To New Zealand's foreign minister, Netanyahu accused his country of "a declaration of war."  Since when is a vote in an international body a declaration of war?  Should the foreign minister notify the defense minister to expect Israel F-16s over Wellington?  Or will Unit 8200 be intercepting the prime minister's calls as it does those of Palestinians routinely.
Before that came Ron Dermer's strange warning that Israel had actual physical evidence that the U.S. was the hidden hand behind the resolution: that it wrote it, lobbied for it, and rammed it through the Council.  This immediately made me think that Israel had either hacked, bugged or intercepted communications among the U.S. and other nations on the Council.  Such bugging has become de rigueur on the world stage.  Israel has done more than its share.  For example, all the hotels of Switzerland where the P5+1 negotiators stayed during the talks were bugged by the Israelis.
Bibi provides strong circumstantial evidence of Israeli dirty-tricks (aka cyber-spying) here:
There is "absolutely incontestable evidence that the United States organized" and advanced the UN resolution, says Netanyahu, adding that the transcript leaked to Egyptian media is the "tip of the iceberg."

"Some of it is sensitive; it's all true," he says of the information.
The only question was whether Israel developed this intelligence through its own resources alone or relied on the help of "friends" with similar capacities.  The answer came shortly afterward when the pro-Israel media mouthpiece, Tablet published a story quoting a "high-level Israeli official" (likely Avigdor Lieberman) claiming Joe Biden jawboned Ukraine's President Porshenko to vote for the UN settlement resolution.  This means it's likely either Israel or Russia bugged this conversation.  If the latter, then it was offered as a gift by Putin to Israel via Lieberman, who's known as "very good friend" (or some might say "asset") of Russia's.
Another day, an Egyptian newspaper with a rather spotty record of reporting hoaxes (which may include this one), published the purported notes from a meeting among Kerry, national security advisor Susan Rice and PA negotiator Saeb Erakat, in which they coördinated their respective approaches to both the UN vote and the speech the Secretary eventually gave today.
We must remember through all these seedy revelations that there is nothing in them that nations have not done for centuries or millenia.  They negotiate, they cajole, they seek support to advance their interests. There is nothing dishonorable in the settlement resolution.  Nothing for which Americans and Jews should not be proud.  So enough with the hand-wringing and being suckered into a fake Israel narrative.
Israel does far worse: it murders Palestinians on foreign soil, then buys the acquiescence of those nations whose sovereignty have been violated through bribery in the form of arms and trade deals, and easing of trade and travel restrictions, etc.  It even buys UN votes with such blandishments.  No one has ever accused the U.S. of buying a Security Council vote as Israel has.
No doubt, we will continue seeing leaks intended to embarrass the Obama administration and make it pay a price for its 'perfidy.'  All this reminds me of the Russian campaign to demolish Hillary Clinton's presidential campaign.  It began with threats of a major revelation, then gleeful boasting from Wikileaks that they were going to blow the lid off her campaign.  The leaks began slowly, then continued, and finally became a tidal wave of gossip, innuendo, and sleaze.  The whole time this fiasco proceeded the candidate became bogged down in the miasma of it like wading through gallons of molasses.  By the time November rolled around, the numbers of voters enthused about Hillary was massively reduced.  That's how Putin killed Hillary's chances (along with considerable assistance from a weak candidate herself).
This is international relations in the cyber age.  Hacking is war by other means.  It is the death of the subtle art of diplomacy.  Everything is now fair game.  Not only are your own communications vulnerable, those you communicate with are even more vulnerable.  If Israel can't penetrate your own technical apparatus, then it may penetrate your interlocutor.  And if Israel can't, then Putin can.  Not to mention Israel's friends like al-Sisi in leak-like-a-sieve Egypt who owe it a multitude of favors.  It becomes a shadowy cabal of intrigue across the globe.
As my retiring Congressmember Jim McDermott said: what Israel is now doing is waging a cyberwar campaign against not just the Obama administration, but any other force in our society which would stand in its way.  It is a declaration of war against those who reject Likudism, settlerism, and Jewish supremacism.  That is, the vast majority of Americans and American Jews.  You may not know this know, but you are the enemy.  Be prepared.
What's most depressing about all this is that for the next four years, all these intelligence agencies (CIA, NSA, KGB, Mossad, Unit 8200) will be allied pursuing similar interests.  We will learn next to nothing about the shady deals being concocted in the backrooms of the Kremlin and Jerusalem's prime minister's office.  Unless, of course, there is another Edward Snowden becoming more and more disgusted about what he's being asked to do on behalf of this international mobocracy.  We can only hope…