Mossad Assassinates Key Hezbollah Commander in Beirut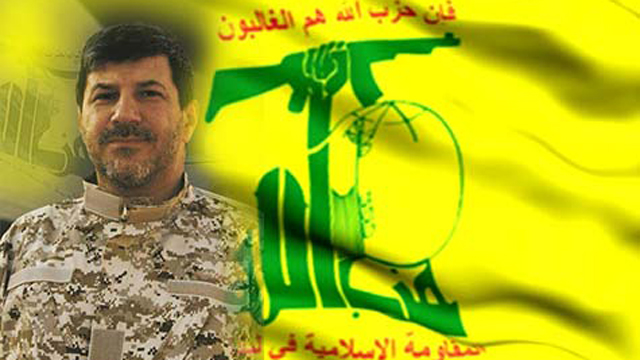 Please donate (tax-deductible contributions here) to support the original reporting you'll find below.
Hezbollah commander Hassan al-Laqqis, in his late 40s, was a close confidant of Hassan Nasrallah.  Last night about midnight Beirut time, he drove his Jeep Cherokee into the parking lot of his residence in the suburb of Hadath.  There he was attacked by assailants who fired five shots with a silencer at close range as he sat in his car.  My Israeli source confirms claims by Hezbollah that this was a Mossad assassination.  Al-Laqqis' son died in fighting during the 2006 Lebanon war with Israel.
The foreign ministry's spokesperson, Yigal Palmor released this pack of lies:
He pointed out that these "automatic accusations are an innate reflex with Hizbullah," adding that the party "doesn't need evidence or facts… They just blame anything on Israel."
I promise that in coming days you will hear some different statements from Israeli leaders.
Not only is the killing itself important, the circumstances of it are perhaps even more so.  The Mossad created a "front" website called Terror Control, which is devoted to exposing the leadership and methods of Hezbollah.  The site claims to have launched by "western intelligence agencies."  But this is a lie.  It was created by the Mossad.  Domaintools indicates that likely false registration data was filed to register the site in the name of Adrian Peeters of Roulers, Belgium.  It also offers a street and e-mail address though I'd bet these turn out to be fake.
The site offers money in return for exposing Hezbollah's leadership to assassination:
Even though we believe that it is the duty of each and every one of us to battle the scourge of terror with any means at our disposal, we have decided to provide a financial reward for information provided that might assist in fighting terror.

Information you send us will be verified, and cash payments will be sent. The verification of course takes time, so we ask you to be patient after submitting your information.

After information has been verified, we will be in touch with the people who sent it to check how best to send the compensation, without compromising their safety in any way. We undertake to pay hundreds and even thousands of dollars to anyone sending valuable information.

…Concerning the people displayed in the photos on the website, we are interested in their true identity, family, place of residence, friends, telephone numbers, email addresses, country of origin, etc.
The site offers surveillance photos of various Hezbollah figures though it doesn't identify them.  It might as well display wanted posters with bounties offered on their heads.
Ironically, the website urges informers to take special precaution in concealing their identities in much the same way that Edward Snowden concealed his in contacting Glenn Greenwald:
Your personal security matters to us.

For your own security, we recommend you perform the following steps when you send your details:

Connect through a public Internet Service Provider such as an Internet café.
Verify that the SSL on the Internet site is functioning properly:

Make sure that the displayed Internet address begins with https://
Verify that it is working properly.

Make sure that a padlock icon is displayed next to the address of the Internet site. In some browsers, the padlock will be displayed at the bottom of the page.
When using a newer version of Firefox, first click on the name of the site appearing next to the address field, and only then will the padlock icon appear.

Do your browsing using Tor.
This shows that while the good guy whistleblowers use such protection to keep themselves safe, intelligence agents use it to kill people.  Similarly, while the web offers undeniable benefits to mankind, it also serves as a playground for killers.
My source confirms that information obtained via the website was instrumental in facilitating al-Laqqis' murder.  I have heard of such websites before.  But never of one established by the Mossad, let alone one that brought about someone's murder.  In a sense, such a site offers terrific opportunities to both intelligence agencies and would-be informers.  The latter can remain relatively anonymous if he wishes.  It allows him to retain some measure of independence if he doesn't wish to become an ongoing Israeli agent or double-agent.  It also allows the Mossad to significantly expand its reach beyond  the conventional person-to-person recruitment of intelligence assets.  Though Israel clearly operates relatively freely when it wishes inside Lebanon, it may not have the boots on the ground to recruit all the agents it wishes there.  Setting up a website allows them to circumvent that.
Ask yourself a larger question: why this?  Why now?  Bibi is at quite a low ebb in terms of international influence.  Though this hasn't hurt him seriously within Israel, he's become a nobody on the world stage.  I imagine he's worried that could translate into political irrelevance inside Israel as well.  What better way to burnish those security credentials than by putting a few Arabs in coffins.  When Al Manar shows the funeral, Lebanese will be proud of al-Laqqis' ultimate sacrifice, but Israelis even prouder.  You know who reaps the benefit of that pride…
Also, Hezbollah has, over the past few years, successfully dismantled a number of key Israeli cells inside Lebanon which offered critical intelligence to the Mossad.  This serves to remind the Islamist group that the Israelis are still a force to be reckoned with.  There's nothing a spy agency hates more than to have its enemies laugh at its incompentence.
All this comes in the context of last week's massive bomb that attacked the Iranian embassy in Beirut.  Though it appears Israel wasn't directly involved in that bombing according to my source, it's entirely possible an Israeli ally like Saudi Arabia or an Al-Qaeda group like Al Nura was involved.
So while the world focuses its attention on Iran, and Pres. Rouhani gets plaudits for his moderating influence on his country's foreign and nuclear policy, the Mossad and Saudi Arabia's mukhabarat have their own message.  These two Iranian enemies won't sit idly by.  They will make Iran and Hezbollah pay their pound of flesh and continue hurting its interests in whatever ways they can.  While such incidents won't in and of themselves derail the nuclear talks, they create a level of instability and tension which furthers the interests of those who want to interrupt or even derail this process of rapprochement.
I'd imagine I was offered this information by Israeli intelligence sources because they want to brag about their prowess in capturing their prey.   They want to chortle as Hezbollah absorbs the fact that its security was penetrated successfully.  They hope Nasrallah will be quaking as one of his inner circle was picked off.  I can't help facilitating this perverse war dance.  But my ultimate mission is to allow the world to judge the tactics and methods of the national security state independently of whatever twisted form of pride resides in the breasts of its agents.
Related articles