House Republican: Deport Iranians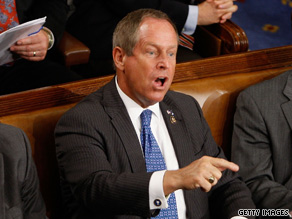 Idiot wind, blowing like a circle around my skull,
From the Grand Coulee Dam to the Capitol.
Idiot wind, blowing every time you move your teeth,
You're an idiot, babe.
It's a wonder that you still know how to breathe.

–Bob Dylan, Idiot Wind
What is it about politics in South Carolina?  They send some of the goofiest Republican wingnuts to Congress and do so without any shame or sense of embarrassment. There's Sen. Jim DeMint, holder of some of the most extreme views in the U.S. senate and ranked by National Journal as the most conservative member of that body. Then there's dufus Joe Wilson, who had the bad manners to shout out that the president of the United States was a liar during the State of the Union address, a low to which the House has never sunk in Congressional history. The state was also represented in the U.S. senate by Strom Thurmond who, while championing white rights managed to sire a child with his African-American 'hired help.'  Citizens were so happy with Strom's representation that they retained him as their senator till he was about 130 years old.  Did they not care that their state was represented by someone who was practically embalmed?
And let's not forget that native son Lothario, Gov. Mark Sanford who decided it would be a great idea before running for president to carry on an affair with an Argentine TV newscaster.  After exposure of his philandering, the Republican-dominated legislature didn't even think Sanford had done enough wrong to warrant impeachment.  Nevertheless, in a family values state like South Carolina, Sanford's political goose is cooked.  Which opens the door for yet more wingnut Republicans to enter.
So now we have Congressmember Gresham Barrett proposing, I hope as a campaign stunt, that the U.S. expel all Iranian visa holders from these shores.  The Stop Terrorist Entry Act, would not only prevent any Iranian from entering the country, it would criminalize as terrorist those who are current legal visa holders.
Trita Parsi notes what the U.S. would've lost had it implemented Cong. Barrett's crackerjack legislative proposal years ago as it should have:
…Such important and inspiring figures as Christiane Amanpour, tennis great Andre Agassi, and eBay founder Pierre Omidyar would have never called the United States home, nor would the United States benefit from the innumerable contributions to medicine, engineering, science, and academia that Iranian-Americans made in the last half-century.
One of these, Prof. Muhammad Sahimi keynoted the Iran-Israel conference I organized last month at Town Hall here.  Sahimi is one of the nation's foremost experts on the Iranian nuclear program and a noted opponent of the current clerical regime.  Besides, if the professor were expelled back to Iran he'd likely be imprisoned by the authorities, who killed one of his brother after the 1979 Revolution because he treated a wounded student organizer opposed to the government.
Congressman Barrett, have you forgotten that one of the premises of this country as espoused by Emma Lazarus in the poem that graces the Statue of Liberty is that we are the Golden Door opening our arms to embrace the oppressed, the enslaved and those who need a home and are seeking liberty because they have lost theirs in their old home?
Many Iranian-Americans came to this country to escape repression at home. We left the country we called home in search of a better, more secure future free from social, political, and religious repression. In the years that have ensued, we have established ourselves and our families in communities across the country and built new connections between Iranians and Americans.
In his attempt to protect America, Barrett adopts tactics that are about as un-American as they come:
Your proposal discriminates against individuals who are in this country legally, based on nothing more than their family's place of origin. Instead of celebrating the opportunity to inspire a new generation of world leaders and to imbue them with positive feelings toward the United States, your bill would label entire groups of people terrorists based on their nationality and have them summarily deported.It can't get more un-American than that.
Barrett claims he is introducing his bill in response to the Fort Hood shooting and Detroit terror attack.  But the fact is that no Iranian has been implicated in these incidents and the Iranian regime has never been implicated in any attack on these shores.  Furthermore, his legislation could not have stopped the attacks by the U.S. Army major or Nigerian since it would not have affected them.  Talk about grandstanding for the home crowd.  If this is what it takes to get elected governor of South Carolina it's a wonder the only people who would want to job are of Barrett's ilk.
I'm sorry to generalize about South Carolina.  There are probably some wonderful residents like Cong. Jim Clyburn, who championed Barack Obama's candidacy.  But God, what these fine people are being asked to put up with to have to share a state with 'em!
Oppose the Barrett punitive legislation by signing the NIAC petition.