Iran's Major Diplomatic Successes Offer Promise of Regional Stability
IAEA clean bill of health, resumption of ties with Saudis, Deescalation of Yemen and Syrian wars, and 'less-is-more' nuclear deal now possible
Over the past few months, Iran has achieved major successes in advancing its regional interests.  Most recently, IAEA findings resolved two key outstanding issues regarding Iran's nuclear program.  Such resolution has been one of Iran's main demands before negotiating any nuclear agreement.  I expect any outstanding ones to also be resolved, which will bring Iran to the negotiating table for a real agreement.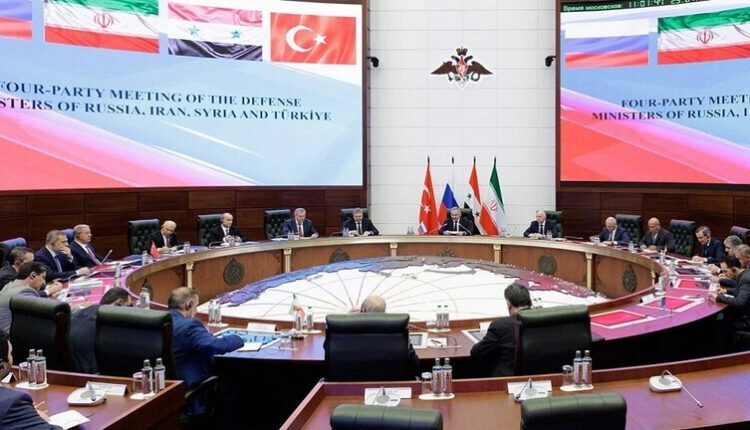 Iran's reconciliation with Saudi Arabia will at least deescalate, if not resolve the Yemen civil war. It could also enable de-escalation of the conflict in Syria.  Saudi ruler, King Salman, personally invited Bashar al Assad to rejoin the Arab League after more than a decade during which he was persona non grata.  Last month, al Assad made his first visit to Saudi Arabia since 2011, the year the civil war broke out.  Egypt's foreign minister made the first visit to Syria in over a decade to meet Al-Assad.  Last month, the foreign ministers of Iran, Turkey, Russia and Syria met in Moscow with the goal of improving relations between Turkey and Syria, which have been frayed due to Turkey's occupation of a buffer zone in northern Syria.  This was part of its ongoing battle against Kurdish rebels, who also occupy Syrian territory.  As Syria's main regional allies, Iran and Russia play a major role in negotiating the eventual removal of Turkish forces.
As provider of much of the military forces and weaponry enabling al Assad to regain control of territory his regime lost, cessation of hostilities will enable Iran to reduce its presence and pivot to more conventional bilateral relations. This will offer greater stability in the region than it has had in decades.
Chinese mediation reconciles Iran and Saudi Arabia
As I wrote recently, China's mediation led to a breakthrough rapprochement between Iran and Saudi Arabia. Both had severed relations after Iranian protestors burned down the Saudi embassy in Tehran.  The Chinese-brokered deal would lead to restoring diplomatic relations, and an end to their proxy war in Yemen.  It is expected to lead to a reduction or elimination of an Iranian military presence in Syria.
Last month, Iran's military leader announced it would be joining a new Gulf naval force including Saudi Arabia, the Gulf States, India and Pakistan, presumably to protect the sea lanes for their respective countries.
These developments were made possible by a radical shift in national priorities of two of the most powerful figures in the region: Crown Prince Mohammed bin Salman and Ayatollah Khamenei. They've adopted a new-found pragmatism on major outstanding issues, which have divided their two countries for over a decade. As Iranian-American USC Prof. Muhammad Sahimi wrote to me:
Khamenei has decided that mending fences with the Arab nations of the Persian Gulf is in his regime's interest. If peace becomes permanent in Yemen, and if the Arab nation re-establish their relationships with Syria, that would lessen the pressure on Tehran, as well as reduce the cost of preserving the state of affairs as they were…It will help enormously with the crisis in Yemen and Syria.
Oman promises to play key role in brokering US-Iran nuclear deal
Oman is also playing a key role in mediating between the US and Iran, which could lead to resumption of formal talks regarding a nuclear deal.  Last month, its Sultan made the first visit by an Omani leader to Iran in a decade.  His country also mediated between the two parties leading to the 2015 JCPOA agreement.
US officials have been touting a reduced version of the JCPOA agreement abandoned by Donald Trump in 2017.  They're dubbed it less-is-more: a deal that would restore $7-billion from South Korea in frozen Iranian assets in exchange for Iranian limits on its nuclear program.
Prof. Sahimi believes that Iran is seeking a more ambitious agreement, a full return to JCPOA, which would release the tens of billions of its assets frozen in various western countries. But US election considerations may prevent this:
Iran wants a full return to JCPOA. The Biden administration, mindful of 2024 elections and the recent protests in Iran, does not want to appear too accommodating. So, they want a partial return to the agreement and to postpone everything else to 2025. Recently, Khamenei has sent signals that he is interested in some sort of agreement, and the trip to Tehran by Sultan of Oman may be an indication of the behind-the-scene negotiations. I believe there will be an agreement over the next few months.
Israel: odd man out
Israel would appear to be the odd man out amidst all of these developments.  Its leader continues to threaten war and to vehemently oppose any resumption of a nuclear deal.  Netanyahu yowled after IAEA cleared Iran of two serious violations regarding its nuclear program:
"Iran is continuing to lie to the International Atomic Energy Agency. The agency's capitulation to Iranian pressure is a black stain on its record," Netanyahu told his cabinet in televised remarks.

"If the IAEA becomes a political organization, then its oversight activity in Iran is without significance…
That's rich to accuse the IAEA of becoming "political," when Israel has been manipulating the organization for years, plying it with alleged stolen Iranian documents purporting to prove it was pursuing a nuclear weapon.
The Israeli prime minister's implacable hatred for Iran and the JCPOA would explain why US Secretary of State will be visiting Saudi Arabia this week, but snubbing Israel.  This is yet another indication that the US is moving forward with a plan involving a deal of some sort with Iran.  It is almost a requirement that US officials visiting the Middle East must make a stop in Israel.  That Blinken is skipping a stop there shows that the tables are turning.  And not in Israel's favor.
While the Arab states are reconciling, Israel mounts what seems like (and probably is) its thousandth attack on Hezbollah and Iranian military targets in Syria and Lebanon.  Talk about beating one's head against the wall.  Israel's vain hope for Saudi Arabia to join the Abraham Accords seems dead in the water, despite US and Israeli efforts to bring it about. I do see a slim opportunity for such normalization. But only if the US demands in exchange Israeli acceptance of a nuclear deal; and possibly including a serious concession by the Israel to the Palestinian side.  Though chances of this are quite dim considering Israeli intransigence.
Barring that, the Saudis see more long-term benefit in a pivot toward Iran than one toward Israel. Similarly, any hope that the Saudis would participate in an Israeli-led future attack against Iran has gone by the boards.  This would leave Israel alone and isolated.  If Pres. Biden is re-elected, he would be much more likely to demand Israel refrain from such an attack.  Of course, if Trump returns to the White House all bets are off.
Israel may be the last man standing in this game of Middle East musical chairs.  If it continues to pursue the same failed approach while its former Arab allies have moved on, it will find no chairs left.