Terror is a Two-Way Street
Amid Palestinian Terror Attacks, the World Forgets Terror Inflicted by Israel on Palestinians
DONATE: Please support Tikun Olam with a donation. This article and others like it cannot be found in much of the progressive media, let alone in the MSM.  I break stories which are censored in Israel. I'm able to do this thanks to sources who entrust me with their confidence. You are the beneficiary.  So please show your appreciation for this effort by giving a gift now.
Some people say terrorism is a dead-end.  I say it's a two-way street.
In the past week, Palestinian militants launched three attacks inside Israel, which killed 11 people including three police officers and two Ukrainian foreign workers. Two of the attackers were, according to the Israeli security services, Bedouin affiliated with ISIS.  The third, and most deadly attack, in the ultra-Orthodox community of Bnai Brak, killed five people.  This was the highest death toll from terror attacks since 2006
There have never been terror attacks inside Israel by ISIS.  This is a new front in the terror war Israel faces.  Even the Shin Bet, which prides itself on intercepting hundreds of such attacks before they happen, has been caught unawares.  It doesn't even list ISIS as a terror organization which it tracks.  How are these militants tied to ISIS?  How has the Shin Bet defined or identified such affiliation? Who recruited them and what means did they use?  Did they receive instructions from anyone outside Israel?
Unlike most terror attacks against Israelis, these ISIS-associated individuals who perpetrated the first two shootings were Palestinian citizens of Israel.  Israel has always viewed its Palestinian minority as a Fifth Column endangering from within the security of the "Jewish state."   It has regularly arrested and imprisoned Palestinian citizens (including MKs) with strong nationalist views. Nevertheless, Israeli Palestinians have, until the last Al Aqsa riots which led to pogroms against their communities, always maintained loyalty to the state.  Such loyalty can no longer be taken for granted.
One of the attacks happened in Beersheva, just six days before a much-ballyhooed meeting, in the same city, of Arabs states with Israel and US Secretary of State, Antony Blinken. Israel touted it as the latest manifestation of normalization of the "Jewish state;"  accompanied by a parallel Arab abandonment of the Palestinian cause.  The terror attack served as a pointed reminder that while the Arabs may want to forget Palestine, Palestinians will not go quietly. They have a nasty habit of reminding the world that they exist and refuse to accept abandonment.
The attacker in the most recent Tel Aviv incident was from Jenin.  Though not affiliated with ISIS, his motivation was also Islamist in nature.  In a picture, he stands smiling before the Dome of the Rock.  Israeli reports indicate Hamarsheh was not a lone wolf:
Somebody transported him to central Israel and armed him with an M16 assault rifle. This time, it's unlikely that the attack was a so-called lone wolf attack, carried out by individuals who are not affiliated with a terrorist organization.
Not only did someone drive him into Israel, he arrived in Bnai Brak on a motorcycle.  These are complex logistical arrangements.  An Israeli source indicated to me that the preliminary finding is that Islamic Jihad sponsored it.  Hamarsheh earlier spent 20 months in prison for plotting with an Islamic Jihad operative to mount a suicide attack in Israel.
The Religio-Political Nexus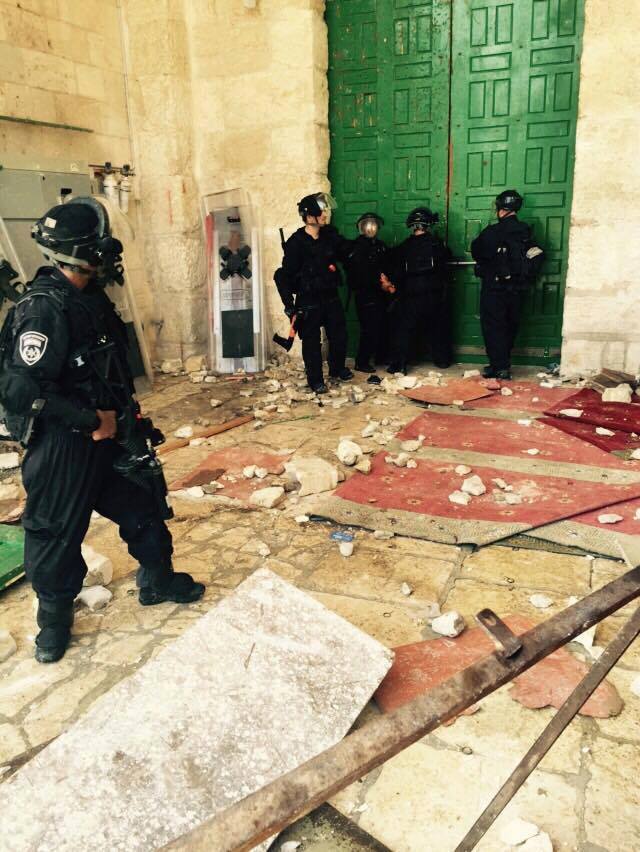 Until Israel began restricting religious worship rights at the Haram al-Sharif last year, much of the Palestinian resistance has been focused on political issues of power and control (of land, people and natural resources).  But mass violence instigated by Israeli Border Police who repeatedly ransacked the Al Aqsa mosque and restricted physical access for worshippers to the holy site, led to nationwide sectarian violence with bands of Jewish vigilantes roaming the streets hunting for Palestinians.  Religion has now become a key element in the Palestinian struggle for rights and justice.
Israel has attempted to 'manage' the security issues by bolstering police presence during Ramadan.  As if a Muslim holy day is somehow the locus or motivator for Palestinian violence.  As if every other day of the year is free of the rage which Palestinians express during the holy month. The anger and frustration of Palestinians cannot be confined to a day or a month in the year.  It is every day of every year. Ramadan is but a smoldering ember that ignites all of that pent-up resentment.
Which Israeli security forces are now patrolling the Palestinian streets to suppress potential violence?  The same ones last year who provoked the worst inter-communal violence in the history of the state: the hated Border Police.  Who arrested scores of Israeli Palestinians suspected of ties to ISIS? The Shin Bet, tasked with the hopeless task of keeping its finger in the dike of Palestinian rage.
Israelis must be asking how three separate attackers, all of whom were known to the Shin Bet for their willingness to engage in acts of violence, evaded detection?  How did its vaunted security apparatus, which has maintained relative "quiet" for over a decade, fail so badly?  But rather than viewing this spate of violence through the security lens, it must be viewed through the lens of Palestinian mass suffering. No amount of Border Police or Shin Bet agents can constrain an entire population seething with rage.  Attempting to do so is a fool's errand.
Prime Minister Bennett is urging all Israelis with gun permits to carry their weapons with them at all times. As if putting a gun in the hands of every Israeli civilian will end the threat of violence. It makes it more likely that someone will kill someone else thinking they're a terrorist.  There have been many accounts of Israeli Jews attacking and even murdering Mizrahi Jews, African refugees, Israeli Jews (and another), and Israeli Bedouin, believing they are Palestinian terrorists. Now, with every Jew armed, they will find it easier to kill than merely beat someone to a pulp. Perhaps the worst irony is that Bennett is realizing the "dream" of Meir Kahane: "For every Jew a. 22!"
As for the blocking of Muslim worship imposed last year, imagine for a moment that you were a regular worshipper at your local church or synagogue. Suddenly and without warning or explanation, police surround your place of worship and block the entrance.  Say, they use tear gas against worshippers inside the building,  claiming they are being assaulted by them. Say they take axes and break their way into your sanctuary firing stun grenades and tear gas canisters among the worshippers.  Imagine the local evangelical megachurch claims it owns your church property and plans to replace it with a satellite worship facility.  Imagine the mayor of your town is the pastor of the megachurch, and preached sermons of hate against your church and religion; then gave the order for police to defile your holy space.
How would you and your co-religionists react if there was no recourse and all your protestations fell on deaf ears?  Maybe you could control your anger for a month or a year.  But after repeated hate and insult over years, you would harbor the same impulses as Palestinians. You'd take aim, either figuratively or literally, against figures of state violence who represent this repression.
That's why much of the outrage expressed by Israel's leaders and the nation's defenders reeks of hypocrisy: how long should Palestinians suffer under Israeli apartheid, if not genocide, before their resistance takes the form of violence?  You want to complain about the "murder of innocent civilians?"  Palestinians can complain a hundred-fold, because they are 25 times more likely to die at the hands of Israeli forces than Israelis are killed by Palestinians. Why are Israeli victims more worthy of outrage than Palestinian?  Is Israeli Jewish blood redder than Palestinian?
Unfortunately, the answer to all these questions is "Yes," for Israeli Jews. Their lives are more valuable, their blood redder. Israel is a Judeo-supremacist state which has raised the Jewish religion, as defined by its settler state theocracy, on high.  Jewish is good. Jewish is supreme. Palestinian or Muslim is not only bad, but it is malevolent; an existential threat.
Given this reification of Judaism, how else would we expect Palestinians to respond than by mounting their own green crescent flag high from the battlements? If Israeli police can storm the Muslim holy places and defile them, and settlers can prepare for the day the Haram al-Sharif will be destroyed and replaced by a Third Temple, why would Palestinians not take up the call to defend their holy places?
In response to the terror attacks, Israeli Jewish thugs have gathered around the country shouting "Death to Arabs." Their goal, if they articulate one, is to rid the country of "Arabs." But if they could, how would they do it?  Mass extermination? Trucking a million to the border and dumping them in Jordan? Hasn't that been tried before? It didn't go so well, either for the victims or the perpetrators, did it?
Israelis are angered that Palestinians in the attacker's hometown, Jenin, celebrated his attack. This outrage presumably aims to portray Palestinians as animals lusting for Jewish blood while celebrating death. This is a very common trope among Israel's apologists.  But let's put it another way: if you were an oppressed minority who watched helplessly for decades as your children, youth, and elderly were wantonly murdered, what emotion would you feel? How did the Jewish partisans feel when they blew up a German convoy? Of course, they felt pride and joy at striking a blow against the oppressor. Would I prefer that Palestinians not celebrate? Of course. Can I judge or denounce them for doing so?  No. Unless I must denounce the partisans, which I cannot do.
It's also another bit of hypocrisy to claim Palestinians are the instigators of violence.  Where did these Palestinian militants learn the lessons of violence? Not from their religion or tradition.  But from the Israeli oppressor.  As H. Rap Brown said about violence during the American Civil Rights movement:
"I say violence is necessary. Violence is a part of America's culture. It is as American as cherry pie. Americans taught the black people to be violent. We will use that violence to rid ourselves of oppression if necessary. We will be free, by any means necessary."
No Palestinian could have put it better.  Violence is the weapon of the colonizer to maintain control over the colonized.  So it has been through countless colonials struggles (Algeria, South Africa, Zimbabwe, Mozambique, Congo, etc.). So it is in Palestine.  When all the colonized know is violence from the colonizer, it becomes the former's weapon of resistance.
Islamism in Regional Context
This conflict is playing out in the context of Islamist activism within many Middle Eastern societies (Tunisia, Morocco, Algeria, Egypt). Despite state violence and suppression of political Islam, it has persisted in all these countries. As long as there is endemic corruption, autocracy, rampant repression, and economic deprivation, Islamism will be a potent alternative. It thrives on hopelessness and bleak horizons.  As Steven Cook writes:
…There are ways in which regimes in the Middle East are actually helping Islamists. All the problems of Arab politics that made Islamists attractive in the first place still exist or are progressively worse in the resurgence of post-uprising authoritarianism. Economic opportunity remains limited, avenues for political expression are closed, leaders do not have an emotionally appealing vision for the future, and brutality is a hallmark of political control.

…As Islamists…around the Middle East are afforded fewer and fewer ways to express their grievances and articulate their worldviews, it provides an opening for extremists to fill the gap, leading inevitably to violence.
Nations which permitted Islamists to play a political role have enjoyed far more stability and peace. Nations which attempted to eradicate Islamism have not only failed, they have planted the seeds of their own eventual destruction.
If all this rings a bell in the Israeli context, it should. Israel, even before its founding, treated its Palestinian citizens with disdain or, at best, benign neglect.  Their towns had no services, no budget.   They were made to fend for themselves.  There were no jobs, no education. The State also forbade them from constructing new housing. A young couple could not build a new house, let alone a new family.
Perhaps the worst blow for Palestinians is Israel's refusal to negotiate a peace agreement that offers full national rights to them.  There have not been such talks for a decade.  No Israeli government in the past two decades has contemplated Palestinian statehood, let alone a single state for all its citizens.  In what seems another historical era, the Arab world once offered Israel the Three Noes.  Today Israel offers Palestinian one resounding No which shuts the door to their aspirations.  In the face of such a dead end, who is surprised that this people turns to violence as its only means of protest and resistance?  Who is surprised at the rise of Islamist groups like Hamas and Islamic Jihad who offer a powerful response to Israel's brutality?
I used to warn against the injection of religion into political conflict.  I argued that religion was a match that could ignite such disputes.  If only, I wrote hopefully, the Israeli-Palestinian conflict remained political in nature, a compromise might be found.  But add the zeal of religion and appeals to the Divine, and disputes become intractable.
But now, given how deeply religion is embedded in most of the countries of the Middle East, including Israel, it's clear that religion informs every element of life.  It is inseparable from politics. I may wish it were not.  But this is not the US.  Even the few democracies in the Middle East are not secular, as ours is.  Whether religion is toxic or not is not the issue. Rather, integrating religion into politics in the least toxic way possible is.
Israel's NIMBY Response to "Arab Crime"
Apart from Palestinian acts of terror against Israeli Jews. there has been a spate of murderous crime and violence inside Palestinian communities.  It has shocked Israeli Jews out of their complacency.  Not so much because they care about life in these places or their residents, but because it reflects badly on the state as a whole. Israeli Jews see their fellow Palestinian citizens as primitive and backward.  They expect this sort of lawlessness and criminality.   But they wish somehow it could be contained or cordoned off from them.  That's why the government has thrown a few million ($45-million to be exact) at the problem and allocated more police to ensure security. What it hasn't done is treat Palestinians as equal partners, and their communities the same way they treat Tel Aviv or West  Jerusalem. Until they do, Palestinian violence will reciprocate Israeli Jewish racism.
The Shin Bet has begun mass arrests in Palestinian villages within the Green Line.  Such preventive detention has, until now not been used on Israeli citizens. These are arrests without charge under administrative detention regulations which permit the security apparatus to hold detainees for unlimited time without trial or access to an attorney.
Israel has also never destroyed the home of any Palestinian citizen (though it regularly destroys the homes of West Bank Palestinians who engage in terror attacks).  Now, the government is proposing to destroy the homes of those Israeli citizens who committed this week's attacks.  By importing the cruelty and lawlessness of the Occupation into Israel itself, the security forces are erasing any distinction between Israel and the Occupied Territories.  Once again proving it is an apartheid entity from the river to the sea, as Amnesty's report showed.