Netanyahu's Hidden Hand Hovers Over Al Aqsa Pogrom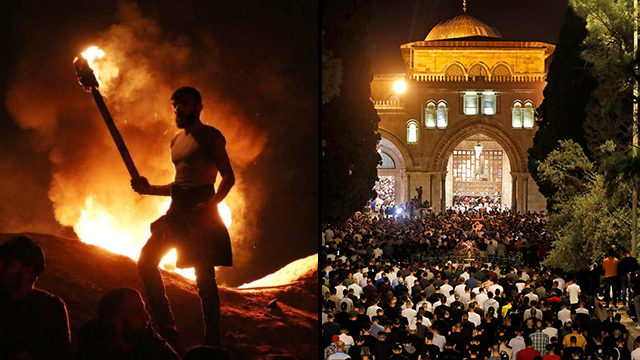 The past two nights have witnessed scenes of horrific violence with Israeli Border Police thugs assaulting Al Aqsa, the third holiest site in Islam.  They threw stun grenades, ransacked the sacred sanctum, and fired rubber bullets indiscriminately.  Nearly 300 worshippers have been injured, many seriously.
Israel claims that police only responded when Palestinians threw rocks at them from inside the mosque.  The claims and counter-claims make it appear to be a he-said-she-said situation in which both sides make opposite claims and no one can be believed.
Today's post is meant to clarify not only who is at fault, but the ultimate reason for the Israeli provocation.  Israel's incitement did not start on Friday night, when 200 were injured in the most savage violence the city has seen in several years.  It actually went back to the beginning of Ramadan.  Palestinian worshippers coming from prayers traditionally congregate at the Damascus Gate and socialize as they prepare to break the evening fast.  Israeli police decided to ban this gathering.  Palestinians correctly viewed this as a provocation and raised a hue and cry against it.  That is what led to scenes of riots and violent confrontations a few weeks ago.  The tension only eased after police backed down from their position and removed the barriers preventing access to Damascus Gate.
In the meantime, Israeli settlers have long laid claim to homes in which Palestinians have lived for generations in Sheikh Jarrah.  An Israel court approved the ethnic cleansing of up to 2,000 residents of homes in the neighborhood.  Of course, these evictions are a serious violation of international law.  They are scheduled for this coming Thursday.
Settlers in East Jerusalem have been on a campaign to Judaize it for years.  They have used the courts when they could, and chicanery and fraud when they couldn't.  Palestinians have felt a gradual crushing pressure of both the settlers, police, and the courts forcing them from homes they have lived in for generations.  They have reacted with fury and this has ratcheted up the tension.  The confrontations at Al Aqsa during Ramadan have been the culmination of all these provocations.  But it's important to understand what lies behind the police provocations and violence.
Bibi Netanyahu last week lost his mandate to form a government.  The president turned to his center-right rival, Yair Lapid and offered him the opportunity to create a governing coalition.  He has another three weeks to cobble one together.  Netanyahu, who faces multiple corruption charges in an ongoing trial, is desperate to maintain his hold on power.  As long as he is prime minister, he believes he can avoid a guilty verdict that would banish him from his post.  For that reason, he favors a fifth election during which he believes that he will somehow pull a rabbit from a hat and win a new term.
To call such an election, Lapid would have to fail in his efforts.  So Netanyahu has attempted to buy off several MKs being courted for his coalition.  So far, he has only enticed a single one to rebel at the prospect of joining a government that includes the Islamist Raam Party.  But that has not been enough to derail Lapid's attempts.
That is where events in Jerusalem come in.  If Netanyahu can show that the country is ungovernable; if he can create enough disturbing images on Israeli TV screens of Palestinians throwing stones at police, then the public will become disgusted.  That in turn could convince the skeptical parties who Lapid is negotiating with, to turn their back on him.  During social upheaval, Israelis are loathe to place their trust in anyone but the most extreme, the toughest, and the harshest political leaders.  That would not be Yair Lapid, who has a reputation as a centrist (which in Likud terms is an extreme leftist).
The police are under the authority of the Security minister, Amir Ohana, who is a toady of Netanyahu.  Without doubt, it is Netanyahu who has directed Ohana to turn up the heat in the city; with the sole goal of destroying any chance of forming a center-right government.  That is why thousands of police mass in the streets of Palestinian neighborhoods engaging in deliberate, violent provocation designed to induce a violent counter-response.
This strategy is the ultimate in cynicism and narcissism.  It puts the lives of both Palestinians and Israeli law enforcement at risk.  It makes them expendable assets to be exploited for pure political expediency.  All for the benefit of a corrupt, washed-up, political hack.  This is vintage Netanyahu.