Senior Israeli Security Minister: We Will Redeem the Temple Mount, Make It Ours
NOTE: This is an expanded version of an article published earlier this week by Middle East Eye.
The headline blasted off the pages of Israel HaYom: Israel's Public Security Minister, Gilad Erdan, boasted: "Freedom of worship on the Temple Mount? It can happen in the next few years, a decade at most." The explicit meaning is clear to all Israelis: Erdan plans to topple the decades-old compact between Israel and the Jordanian Waqf to offer the most extreme Israeli settlers, who seek to rebuild the Temple, total and free access to Haram al Sharif.
Given that it is the third holiest site in Islam, and that the Jordanian government is its guardian, offering full access to settlers will cause an immediate rupture with the Muslim world.  It will threaten to resume the deadly riots which brought tens of thousands of Palestinians to the Haram when Israel installed intrusive surveillance equipment at the compound entrances.
Erdan is banking on Israel's budding bromance with the Sunni world, led by the House of Saud and its allies, deflecting any potential conflict with the Muslim world.  Given how close these relations have become and the military-intelligence collaboration against their mutual enemy, Iran, the Saudis seem more than willing to abandon Palestinians.  And with such abandonment comes a retreat from previous Muslim commitments to defend the Haram from Israeli encroachment or desecration.
The Israeli government has made a cold, hard calculation that eventually it will get away with whatever it wishes at the holy site.  Its Saudi-Sunni allies will protect it from any charges of religious violations.  Palestinians will be outraged by Israeli assaults on the sovereignty of the enclave? They will be left to their own devices–just as Israel wants it.
During Erdan's tenure, the trespass (or as Jews would say, "pilgrimage") of Israeli settlers on the holy site has increased nearly four-fold to 40,000 annually (as of 2018).  They make their visits during the three Jewish festivals when Jews made pilgrimages to the Temple.  The unexpressed sentiment of these current visits is to restore the Temple to its former glory, so they can make a pilgrimage to the holy site itself, and not its ruins.
In fact, settlers who attempted to bring shofars on Rosh Hashana and blow them in fulfillment of an ancient Temple ritual were evicted from the premises.  The blowing of the shofar is an important symbolic act leading to expectation of the rebuilding of the Temple.  In this interview, Erdan expresses his disappointment at what happened to the worshippers.  He calls it a "historical error which must be corrected:"
As a political, religious and national objective, this must be a goal we set to achieve [in future].  We will act, God willing, much more aggressively to see that we realize it.

At the beginning of this [New Year], everyone must consider what he can do in the context of [Israeli] responsibility and authority to achieve sovereignty over our people's holiest site, our holy Mount.  This is what I myself do and promise to do even more in future.  We have achieved no small feat so far, and will do even more.
Israel HaYom also lavishes praise on Erdan for criminalizing all the Muslim religious groups who acted as defenders of the holy site including the Mourabitat, Mourabitoun, and the Northern Branch of the Islamic Movement.  According to the report, removing them from the scene has greatly facilitated the ability of Israeli worshippers to invade the sacred space.  It also notes that it was Erdan who, for the first time ever, offered access to Israeli Jews to the Temple ruins on Tisha B'Av and Jerusalem Day.  The latter, in particular, is a day when settler hooligans parade through East Jerusalem neighborhoods inciting violence and hate against the Palestinian residents.  The Day also fell during the Muslim holy month of Ramadan, which served as an even greater provocation.  In the past, the Temple Mount had been off-limits to non-Muslims during Ramadan.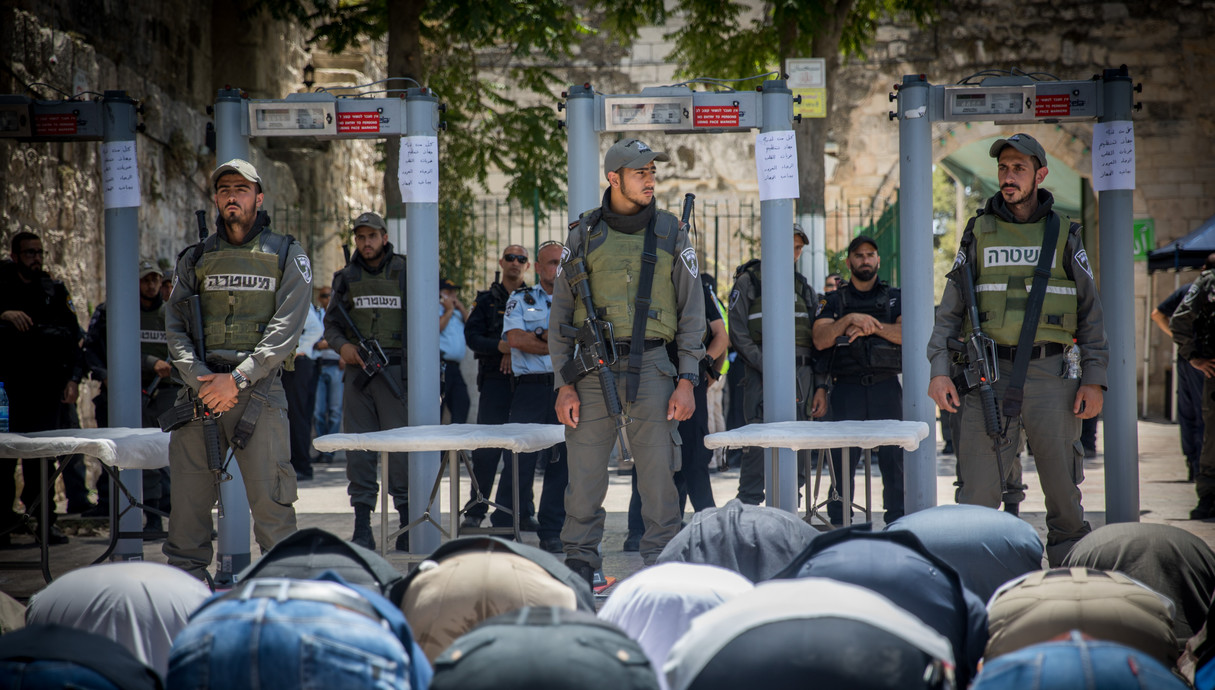 Several years ago, Erdan's ministry attempted to install metal detectors and other surveillance technology and force Muslims to undergo intrusive security checks.  After hundreds of thousands of Palestinians converged on the holy site to protest, the Israelis eventually backed off their plan.  Or so the world thought.  However, the minister reveals here that much of the contentious surveillance technology was indeed installed, including facial recognition software connected to intelligence databases designed to detect efforts by Palestinian "suspects" to enter the compound.  Though I'm not aware of which specific company provides this spyware, it precisely matches the product offering of the Israeli company, Anyvision, in which Microsoft has taken a major financial stake.  An Israeli security source, asked about which company provides the equipment, declined to comment.
UPDATE: Though I sent a query to Anyvision before publishing, they did not respond.  After this post was published, the company's media firm, Edelman, sent this message clarifying that its technology is not being used at this site:
AnyVision was not involved with any surveillance activities at the site of the Temple Mount/Haram al Sharif.
Erdan's tenure as minister encouraged radical Jewish extremists to expect a "comprehensive revolutionary change" in status might be imminent. And he has not disappointed.  He called the current situation "distorted" and promised radical change to correct so-called "discrimination" against Jews within the compound.  The minister went even one step further and promised action within the "near future."
When asked by the reporter whether Jews would see "full freedom of worship" Erdan replied:
"I am certain of it, God willing. It cannot be otherwise. The direction in which things are moving is that we will return to ourselves an ever-greater level of sovereignty over the site.  We will achieve this objective when more and more Jews make pilgrimage there. So that my prayer that–balancing with international interests [read, foreign Muslim and Christian interests], we will bring pressure to bear that is necessary to change the status quo, in which Jews are currently sadly deprived [of full rights], will be answered.

It's disgusting that people create a provocation every time I say that the current situation discriminates against Jews. You can't even argue against this.  I tell people abroad what's happening on the Temple Mount and they don't understand how it's possible that Christians and Jews cannot fulfill their freedom of worship there, while only Muslims can do so.  This is a distorted situation that must be changed.
Then Erdan shockingly bares his true intent, to rebuild the Temple and restore it to its former glory—at the expense of the Muslim holy places:
The fact that Jews can now pray on the Temple Mount does not mean that full redemption has arrived. Because this is dependent on powers beyond me, I cannot predict when this will happen.  But it must be an objective realized in the coming years, a decade at most.

However, we must also take into consideration the reality of the Middle East, which will always remain complicated.  Though I respect the peace treaty with Jordan, it's not possible to reconcile with a terrible historical injustice which was done.
In other words, that day can only come when the Temple itself is rebuilt.  Clearly, an objective he is endorsing wholeheartedly, though implicitly, since it is such an incendiary topic.
Another senior Likud figure also exploited the Temple Mount for his own publicity campaign.  Avi Dichter was Shin Bet chief during the second Intifada and responsible for the murders of Palestinian worshippers after Ariel Sharon's provocative tour of the holy site.  He too gave his own interview to Israel HaYom in which he offered groundless claims inciting fear and hatred of Palestinians.
Among the claims he made was that Palestinians have a weapons cache in the holy precinct:
Police commanders declare unequivocally that there are no weapons on the Mount, but Dichter [disagrees].

"I'm telling you that our working assumption must be that there are weapons on the Mount. The police must work under the assumption that they could be surprised by guns," he says.
Since the police, charged with protecting the enclave disagree, Dichter is not only lying, but he is inciting further fear and potential violence with his baseless claim.
Dichter let loose with yet another statement inciting hatred by Palestinians themselves against Israeli provocateurs like him.  The interviewer accompanying his visit to the Haram al Sharif asks whether there is a solution to the vexing issues surrounding the holy site: :
"Right now I don't see a solution in the form of dialogue with them, because the Palestinians are a cowardly people. They don't have the courage to do anything that isn't belligerent.
What never ceases to amaze me is how deaf, dumb and blind Israeli officials are to their own faults.  They project onto Palestinians precisely those vices they themselves display day after day. Palestinians are cowards unless they capitulate to Israeli demands.  On the other hand, they would presumably be courageous heroes if they were compliant and subordinated all Palestinian interests to the superior needs of Israelis.  It's the height of chutzpah.
Erdan Offers Red Meat to Likud Voters in Anticipation of Party Leadership Fight Should Netanyahu Fall
Erdan's interview comes at a crucial juncture in history of his ruling Likud Party.  Its longtime leader, Benjamin Netanyahu, is struggling to retain his position as prime minister after two indecisive elections.  He also faces three serious corruption indictments which could force his resignation.  Those like Erdan who are politically ambitious, see an opening for a leadership fight if Netanyahu falls.  This interview is a carefully crafted message meant to cater to his right-wing settler base, who would be a major constituency in any Likud party primary for a new party leader.
Returning to the Israel HaYom story: Erdan delivered a homily about the role of the Temple Mount in Israeli life which would make secular Zionist founders of the nation like David Ben Gurion turn over in his grave:
There are many reasons for the life we lead in the land of Israel.  But the main reason for our presence here is the Temple Mount…Our dispute with [our Arab enemies] is not really territorial–like how many kilometers Israel will take in the West Bank. Rather it is a religious-nationalist conflict over whether the Jewish people has a right to exist here in the land of Israel.  And the Temple Mount, with all it symbolizes, occupies a central role in providing the answer: the sacrifice of Isaac, the covenant with the Creator of the World, and of course the Holy of Holies.
Erdan almost immediately disproves his claim that the conflict is solely based on religious conflict with this attack on Jordan:
The Jordanians adopt dangerous positions in many international bodies which are hostile to Israel.  Then, with all due respect, we must uphold our own national interests in these bodies via realizing these important [religious] principles.
In other words, Erdan sees the religious conflict as an extension (not the primary motivating factor) of the political conflict.  Von Clausewitz said "war was a continuation of politics by other means."  In Israel, religion is the pursuit of political supremacy by other means.
Israelis who argue that the Israeli-Arab conflict is essentially based on religious hatred of Jews; or that it is a conflict for global dominance between a western religion, Judaism, and an eastern one, Islam, engage in a dangerous historical fallacy.
Religion serves as a fig leaf to conceal Israeli nationalist objectives for dominance over its neighbors.  The real goals are political-military power, control of natural resources, and land.  Most Israeli Jews, if they care at all, consider issues like rebuilding the Temple or gaining sovereignty over the site to be peripheral.  But these Israelis have permitted the settlers to drive the national agenda in these matters.  Thus, the religious zealots have hijacked the political class and molded it to its own religious-supremacist specifications.
It is much easier to believe that God is on your side than to make difficult political compromises for the sake of peace and security.  When God allegedly tells you the land is yours for eternity and no one may take it from you, that is so much more powerful than a mere politician or peace activist who tells you that peace can be achieved through trust and negotiation with an implacable enemy. Religion, when it is distorted in this context, is a poison that can breed only war and hate.