Israel's Abandonment of Ukraine
A Nation Birthed in the Shadow of the Holocaust Stands Idly By as Ukraine Comes Under Russian Attack
NOTE: Al Jazeera published an abridged version of this essay here.
Poll: 76% of Israelis support Ukraine. Only 10% support Russia. Among Israeli Arab Muslims support of Russia – 35%. More than half the Israelis support official Israeli policy (which is close to neutrality). https://t.co/Glv5GyFueW

— Imshin (@imshin) March 4, 2022
Since the start of Russia's invasion of Ukraine four weeks ago, many Israelis have alternately protested the aggression and were aghast as their leaders remained mute.  A poll found that 76% of Israelis supported the Ukrainians while only 10% favored the Russians.  Despite these numbers, half of Israelis support the government's neutrality policy.  However, that official Israeli policy has been all over the map and conducted in a haphazard fashion.  Just as presidential candidate, John Kerry, flip-flopped on his opposition to the Iraq War ("I actually did vote for the $87 billion [military authorization], before I voted against it"), Israel rejected a US request that it co-sponsor a UN vote condemning Russia's invasion, which spurred a Biden administration protest.  Then it turned around and voted for it. Part of the motivation for this may have been a desire not to be seen as a Russian toady in the face of overwhelming General Assembly support for the resolution.
Israel eagerly welcomed Ukrainian Jewish refugees to its shores, even planning to airlift tens of thousands to safety.  But it pulled back the welcome mat when it came to Ukrainian non-Jews.  After that provoked outrage, Israel said it would cap refugees at 25,000, but only 5,000 non-Jews would be accepted.  Ukrainian non-Jews would be granted a three-month visa on payment of a $3,000 fee refundable on their departure from the country.  Imagine how many refugees fleeing with little more than the clothes on their backs have such a sum stashed away.  Following the angry response to that proposal, Israel withdrew the requirement. Why does it feel Israel must be hectored into doing the right thing?  At least it's doing something.  Though it doesn't compare to the hundreds of thousands of refugees who are entering Poland and other European countries bordering Ukraine.
The estimable Israeli satirical TV show, Eretz Nehederet, features a Hebrew language segment with an airport immigration official who flashes a sign to incoming Ukrainian refugees: "The heart is open, the border closed."
Prime Minister Naftali Bennett has maintained radio silence regarding the invasion (though foreign minister, Yair Lapid has denounced it).  He maintains that he must be neutral as he has offered his services as a mediator between the two parties and made a visit to the Kremlin.  Despite his wish to appear as a distinguished statesman before the world, he is doing little more than serving as an errand boy, ferrying messages back and forth between Putin and Pres. Zelensky.
While Ukraine begs Israel for at least moral support, its official position is to do nothing.  When Ukrainian leaders criticized Israel's apparent indifference, they were admonished for their ingratitude by Bennett's government and warned Israel would walk away from its mediator role (as if Israel was doing Ukraine any favors).  The Israeli leader even had the chutzpah to say that it was "our moral duty" to help with mediation efforts.
Israeli media reports that Ukraine's president requested to give a video address to the Knesset about Ukraine's plight and what Israel could do to help.  Instead of offering him such a distinguished platform, Israel's 'esteemed' legislators told him:
Zelensky wanted to deliver an address via remote video to the Knesset's plenum to present Ukraine's plight during the Russian invasion…Zelensky has given similar speeches to officials and lawmakers in the United Kingdom, European Union and Canada.

Ukraine's ambassador to Israel, Yevgen Korniychuk, filed a request for the speech with Knesset speaker Mickey Levy, who said the matter was complicated, since the Knesset is beginning its recess on Thursday, so a special meeting would have to be called…Levy said convening the Knesset would not be possible, and suggested to Korniychuk that Zelensky hold a smaller Zoom discussion with some Knesset members, but not the full plenum…

The Ukrainians were not interested in Levy's suggestion for a Zoom talk, seeing the offer as disrespectful. They were hoping Zelensky could speak on a bigger platform and were disappointed with the offer.
I guess Knesset renovations trump the massacre of thousands of Ukrainian civilians.  While pregnant mothers endure an artillery assault in a Ukrainian maternity hospital, the Knesset is measuring new drapes.
There is an economic motive as well in Israel's stance: greed.  Many Russian oligarchs have found a home in Israel and stashed some of their dark-money billions there.  In fact, the Israeli government, seeing a cash cow, has refused to join the west in sanctioning Russia, and the US is not pleased:
The US warned Israel on Friday against taking in "dirty money" from Russia and called on Jerusalem to join Western sanctions to punish the Kremlin for its invasion of Ukraine.  Israel has avoided sanctions or strident criticism against Russia and its president Vladimir Putin as it seeks to balance its warm ties with both Kyiv and Moscow.

Western countries and companies have enacted crippling sanctions against Russia's economy, its oligarchs, and some officials, including Putin, since the start of the invasion.  However, Israel has not joined the efforts, including not taking action against Russian-Israeli billionaire Roman Abramovich who has been sanctioned by the United Kingdom and Canada.

In addition, a number of private jets have reportedly traveled from Russia to Israel in recent days.

…"You don't want to become the last haven for dirty money that's fueling Putin's wars," [Victoria] Nuland said.
I'd say that given Israel's rather checkered history, that's a debatable proposition.
Israel's Geo-Strategic Interests Block Moral Considerations
In the face of today's news that Russian artillery struck a Ukrainian maternity hospital, wounding scores of pregnant mothers, we must ask what motivates Israel's abandonment of moral responsibility in the face of true evil?  First, Israel is a country far more interested in serving its own interests than in engaging with questions of morality.  Even when it does humanitarian relief work on behalf of its Syria Islamist allies or in earthquake-struck Haiti, it fulfills ulterior motives.  Doing good for its own sake is hardly Israel's top priority.
In this vein, Israel has far more need for Russia in maintaining its own interests in the region.  Ex-prime minister Netanyahu made frequent trips to the Kremlin to consult with Putin regarding their mutual interests in Syria.  They worked out a rather odd modus vivendi by which Israel had carte blanche to attack Iranian and Hezbollah targets as long as it did not impinge on Russian forces.  While the Russians pursued their own military objectives, which steered clear of Israel's enemies named above.  Putin's aim was to strengthen the Assad regime, while Israel's was to undermine it.  But somehow they managed not to get in each other's way.
Though Russia has reduced its footprint as the anti-Assad insurgency has cooled, it still maintains a considerable military presence.  Israel too continues to pummel military targets there.  So when Israel weighs its interests in Ukraine, it must take into account a matter much closer to home.  It cannot afford to anger Putin without risking the disruption of the delicate balance in Syria As a Haaretz columnist writes:
The real story…is that Putin arrived in Syria against Israel's will, allowed the Iranians to enter and, at the same time, cleverly authorized Israel to continue to attack them, albeit under restrictions that have left Jerusalem anxious lest Russia change its attitude to Israel…This…gives an advantage to Iran, which is developing a military front on Israel's border.  Therefore it is convenient for them not to react. Thus, Russia keeps Israel…Syria, and to a large extent…the Iranian forces there, on a short leash.

…The Russians were generous enough, in their wisdom, to give credit to Netanyahu in his meetings with Putin and to allow Israel to present itself as attacking Syria nonstop of its own accord. They are now allowing Bennett to assume the standing of an international mediator. [But that does not] acknowledge the harsh reality beneath the surface.

When Israeli [decisions to refrain from supporting Ukraine are] undertaken out of fear that Moscow will suddenly inform Israel that it no longer has the right to operate in Syria…in this context we are, to some extent, in the role of Ukraine.
Or to put it more starkly: Bennett's offer to mediate and his visit to Moscow is largely a sham.  The Israeli leader is making a virtue of necessity.  While Israelis lead with their heart regarding Ukraine, the government leads, if not with its brain, then with colder, harder calculations.
Jews in Ukraine are fleeing Odessa amid reports that Russia plans to attack the city, including Holocaust survivors.

A 91-year-old who fled lost family in Nazi death camps. Nazi allies murdered an est. 250,000 Jews around Odessa during WWII.

"Now it's the second war for her." pic.twitter.com/FeinAvgTPG

— AJ+ (@ajplus) March 7, 2022
Israel's Silence Betrays Historical Suffering of Jewish People
The diffidence of Israel's leaders stands in start contrast to Israel's own history and that of the Jewish people.  The country was birthed in the shadow of the Holocaust. Hundreds of thousands found safe haven there during and after the War, in the aftermath of Nazi genocide.  Though it may be an exaggeration to compare Putin to Hitler, it is no exaggeration to compare Putin's vicious assault on Ukraine, the brutal slaughter of defenseless civilians, and the millions of refugees it has created, to the havoc the Nazis wrought, especially on Jews and other victimized minorities.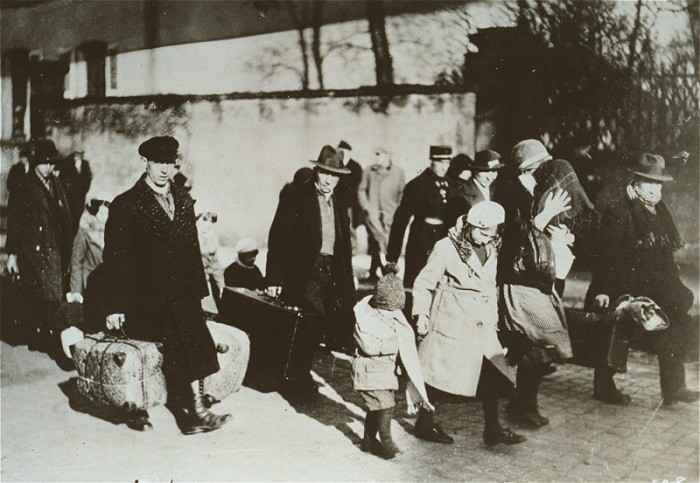 To be sure, Putin's goal is not to decimate religious minorities or exterminate entire populations, but rather to subdue and absorb territory, bringing it within Russia's sphere of influence. Nevertheless, the current situation in Ukraine resonates deeply among Israelis, who see in Ukrainians a mirror of their Holocaust-survivor grandparents.  As they watch on TV images of long lines of Ukrainian refugees walking the roads to the Polish border, bearing all their earthly possessions in a few suitcases, they cannot help but see Jews fleeing to the Spanish or Swiss border in the face of the Nazi invasion of France; or Polish, Dutch and Hungarian Jews herded into ghettos and shipped on trains to concentration camps.
Also, the parallel between a Russian dictator invading a neighboring state in order to impose his vision of a Greater Russia, and Israel's 70-year history of imposing its will on Palestinians and neighboring Arab states, will be clear to much of the world. Both Russia and Israel conquer and absorb territory of their neighbors, behaving as if no law applies to them. They demand that rivals and enemies bow to them or face annihilation. They create massive military machines to accomplish these goals, but no amount of firepower can subjugate a people which refuses to be erased.
Just as Russia claims that Ukraine is not a state and historically was always part of Russia, so Israel's leader claim there never was a Palestinian people and refuse to recognize the State of Palestine.  Just as Russia employs local militias doing its bidding in the Donbass and Luhansk region, so Israel has created such local allies in southern Lebanon and Syria to advance its own interests there.  Both countries have invaded and conquered such territory using creeping annexation to expand their influence.  Both refuse to clearly define their own borders in order to preserve their own expansive territorial ambitions.
For all these reasons, Bennett's cozying up to Putin only reminds the world of how odious the behavior of both their countries is.
Israel's Response to Ukraine Reflects Its' Conflict Between Being a Jewish or Non-Sectarian State
This raises a larger question about the nature of the Israeli state: is it a Jewish state, by and for Jews alone as its far-right Orthodox-dominated government asserts?  Or is it a state like any other, pursuing its own objectives based on purely utilitarian motives?  If it is the latter, then it has every right to ignore particularistic Jewish values.  It can ignore past Jewish traumas like the Holocaust and behave like any other state.  It can reject refugees or accept them based on its own national calculations, rather than by notions of Jewish solidarity.
But if Israel is a Jewish state whose interests are determined by an extreme-nationalist version of Judaism, in which religion both informs and serves the interests of the state, then it has every right to close its doors to non-Jewish refugees.  It has every right to refuse aid to Ukraine because of its abominable history of genocide during the Holocaust.  It has every right to determine its path solely based on exclusivist religious considerations.  It has every right to be a Judeo-supremacist, anti-democratic, authoritarian, theocratic state as envisioned by Meir Kahane, the prophet of today's Israeli state.
However, there are two major trends within Judaism: the extremist-particularist version represented by Israel's theocratic state; and the universalist trend emphasizing the values of prophetic Judaism.  Those values declare that Jews fulfill their highest traditions by seeking justice for all.
Universalist Judaism finds only a faint echo in Israel today.  It is much stronger in the Diaspora, which is one of the many reasons for the increasing split between Israel and the Jewish Diaspora.  In the past, Israel would have worked to mend fences and ameliorate tensions between the two visions.  But the more extreme Israeli politics becomes, the less Israel is willing to compromise.  As a result, it is abandoning the Jewish Diaspora, seeking to replace it with more amenable allies like European rightist states (Poland and Hungary); and Christian evangelicals.
Israel exists in a schizoid limbo: it is Jewish when it serves its interests and it is (non-sectarian) nationalist when it serves a different set of interests.  It cannot make up its mind.  Though the rise of the religious far-right and its increasing control of all the major levers of power, ensure that Israel is far more a theocracy than a non-sectarian state.