Israel, Iran, US: Playing with Fire
Misguided rhetoric and delusional thinking could lead to regional disaster
As the date for renewed nuclear talks looms at month's end, Israel and the US remain deeply divided on the approach they should take.   Israeli senior officials ominously threaten a military attack while it's covert operatives sabotage Iranian nuclear infrastructure.  The US, on the other hand, pursues an increasingly unlikely diplomatic deal that would bring a return to the JCPOA agreement.  Meanwhile, Iranian hardliners reject a return to the nuclear deal and continue to offer maximalist demands before they will acquiesce:
The spokesman for Iran's foreign ministry, Saeed Khatibzadeh, said…that Iran had three conditions for Washington to return to the deal: It must admit to wrongdoing in pulling out of the deal, it must lift all sanctions at once, and it must offer a guarantee that no other administration will exit the deal as Trump did.
Anyone with even the faintest awareness of US politics will understand that even if he wanted to, Biden cannot remove sanctions by fiat.  Due to Congressional legislation, there is a long onerous process involved in doing so.  And GOP hardliners and legislators beholden to the Israel Lobby will resist this every step of the way.  As for ensuring that no future president exits the deal–that would be terrific…except that it would require a signed treaty.  That, in turn would require Congressional approval.  In the present political environment, there is little to no chance any president could garner the support for such a treaty.
Thus, the bravado and defiance from both Israeli and Iranian leaders bodes ill for the future.  Hardliners in both camps use the threat of the enemy to provoke fear and solidify their political power.
The US has warned Israel that its campaign of state terrorism, including assassination of nuclear scientists and sabotage of nuclear facilities, has had the opposite of the intended effect, speeding Iran's pursuit of nuclear capability:
Over the past 20 months, Israeli intelligence operatives have assassinated Iran's chief nuclear scientist and triggered major explosions at four Iranian nuclear and missile facilities, hoping to cripple the centrifuges that produce nuclear fuel and delay the day when Tehran's new government might be able to build a bomb.

But American intelligence officials and international inspectors say the Iranians have quickly gotten the facilities back online — often installing newer machines that can enrich uranium at a far more rapid pace. When a plant that made key centrifuge parts suffered what looked like a crippling explosion in late spring — destroying much of the parts inventory and the cameras and sensors installed by international inspectors — production resumed by late summer.

American officials have warned their Israeli counterparts that the repeated attacks on Iranian nuclear facilities may be tactically satisfying, but they are ultimately counterproductive…Israeli officials have said they have no intention of letting up, waving away warnings that they may only be encouraging a sped-up rebuilding of the program
Despite the resilience and defiance displayed by Iran's nuclear scientists and engineers, it has not cooled the ardor of Israeli military-intelligence for inflicting bloody noses on their adversary.  The problem with this approach is that it an incoherent, disjointed response substituting for a coherent foreign policy.  If you have an adversary, repeatedly offering feints and jabs that inflict minor annoyance, rather than substantial damage, is slap-dash and will lead to a dead-end.
Benny Gantz's Rancid Iranophobia
Not to mention that absolute lack of comprehension of Iran, its leaders, and their thinking exhibited by Israel's leaders. At an Israeli academic security conference this week, Defense Minister Benny Gantz, offered this abysmal assessment of Iranian geo-strategic thinking:
Iran, he said, does not just pose a threat to Israel, but is attempting to become a regional – and eventually global – hegemon that will impose its "extreme ideology, in which human rights are trampled, LGBT people are hanged, women are excluded and resources are allocated for the enrichment of the regime."

Iran's modus operandi for doing so, he said, is to take control over weak and unstable states like Yemen, Syria, Iraq and Lebanon. "The method is clear: First we take Damascus, then we take Berlin," he said.
Even if we take much of this as typical pablum, red meat offered for an Israeli public enamored of military solutions to all problems, it betrays a delusional mindset when it comes to Iran.  Seeing Iran as a monster seeking to gobble up weak states throughout the world and impose on them its "extremist [Islamist] ideology" is pure Islamophobia.  It isn't much different than the calumnies Nazis spread against the Jews in the prelude to the Holocaust.
Amidst all this fake bravado, we hear the discordant note of a speechwriter attempting to be clever, who inserts a reference to an ironic Leonard Cohen lyric, which Gantz delivers in all seriousness, as a claim that Iran seeks world domination. Here are some of the original lyrics:
They sentenced me to 20 years of boredom
For trying to change the system from within
I'm coming now, I'm coming to reward them
First we take Manhattan, then we take Berlin

I'm guided by a signal in the heavens
I'm guided by this birthmark on my skin
I'm guided by the beauty of our weapons
First we take Manhattan, then we take Berlin
Gantz continues with his flights of fantasy about the so-called megalomaniacal ambitions of the Iranian mullahs:
The Islamic Republic is also operating outside the region, he said, and "traffics oil and weapons to Venezuela, mobilizes the Quds Force in South America and tries to implant its influence into Afghanistan." One of its key tools, he added, is its unmanned aerial vehicles, "a highly accurate weapon that can reach strategic targets that are thousands of kilometers away."

These capabilities "endanger Sunni states and international forces in the Middle East, as well as European and African countries." The world must act against this threat, he said, and has many tools at its disposal for doing so, "and must enact plan B for its diplomatic option."
Yes, I can picture Nicholas Maduro ditching his military fatigues for the clerical garb of an Iranian mullah after declaring Venezuela the first Islamic Republic in the Americas. This Israeli rhetoric is totally divorced from reality, and recalls the hateful Islamophobic rhetoric of Jewish white supremacists like David Yerushalmi, Pam Geller and Dennis Prager.
If we have learned anything from the serial terror attacks against Jews and Muslims in this country and abroad, it is that such hate is not theoretical.  It is not an abstraction devoid of real-world consequences.  On the contrary, it leads to terrible, bloody outcomes.  We learned this from Charlottesville, Tree of Life and Poway.  We learned it from Christchurch too.  Just as Donald Trump's vicious hate-filled rhetoric encouraged neo-Nazi lunatics to mount terror attacks, Gantz's outrageous portrayal of Iran could lead to regional war. Leaders on both sides appear to be oblivious to this.  They throw caution to the winds to exploit base fear and instill terror in their fellow citizens.  This cannot end well.
Another example of Gantz's bellicose rhetoric:
"There is no doubt that a diplomatic solution is best, but at the same time, there has to be a show of force on the table as well, which means continuing diplomacy through other means," he said…

"Sometimes using and displaying force can prevent the need for using stronger force.
What would constitute of "show of force?"  Clearly, he means more than having B-52 bombers fly over the Middle East escorted by Israeli and UAE warplanes.  Shall we attack Iran directly?  Blow up a few of their speed boats in the Persian Gulf?  Assassinate another IRG commander as Trump did, Qassem Soleimani?  Where will that lead?  Will it cow the Iranians?
Gantz employs, in that passage, an odd inversion of von Clausewitz's original saying: "War is the continuation of politics by other means."  How can "force" be a continuation of diplomacy "through other means?"  Force is a negation of diplomacy, not a continuation.  You turn to force when you have exhausted diplomacy and deemed it useless to advance your interests.
At this week's anti-Iran Gulf security conference, Israel's national security advisor (and former senior Mossad official), Eyal Hulata, made this claim without any historical basis:
"Iran won't make concessions only because we ask them nicely. They don't work like that. Whoever says pressure doesn't work needs to look at how pressure by both Republican and Democratic administrations made Iran change its policy,"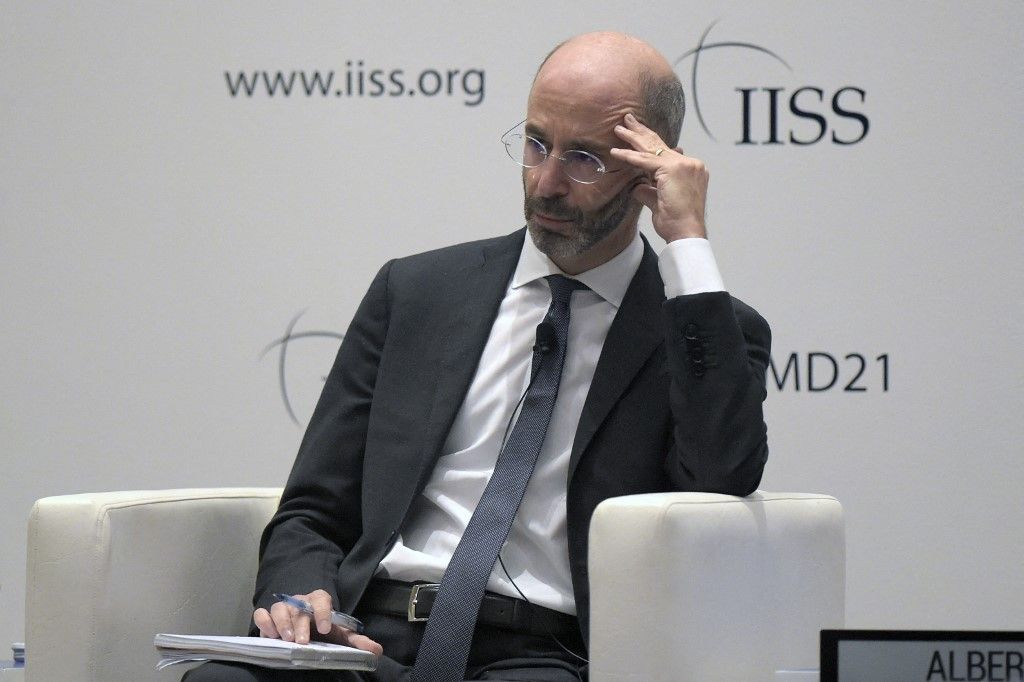 Biden's Missed Opportunity
Frankly, I have no idea what he's talking about.  If he's claiming that sanctions were the only reason Iran came to the table to negotiate the JCPOA deal, it's flatly untrue.  The Iranians have always been willing to negotiate over their nuclear program.  Sanctions had nothing to do with sealing the deal.  Of course, Iran anticipated relief from sanctions after the signing of the deal, and that never happened (which played a major role in bringing the hardliners to power).  But sanctions in and of themselves had no real bearing on its willingness to come to the table or to compromise in order to get a deal.
Regarding US policy, those favoring a nuclear agreement must increasingly face the fact that the Biden administration lost a golden opportunity when it dithered for months before recommitting in earnest to pursuing a deal:
When Mr. Biden took office, several of his top aides had high hopes that the original deal — parts of which they had negotiated — could be revived. At that time, the Iranians who had agreed to the accord were still in place: Iran's president, Hassan Rouhani, and his foreign minister, Mohammad Javad Zarif, remained in office, even if their power was greatly diminished.

But the administration spent two months determining how to approach a negotiation, and European officials complain that, in retrospect, that lost time proved damaging…

By June, an agreement "was largely complete," one senior administration official said. Then it became clear that Iran was stalling until its presidential elections, which brought in Mr. Raisi, a hard-line former head of the judiciary.
Now, Biden must face yet another defeat as his poll ratings continue to decline.  His campaign commitment to return to the JCPOA lies in shambles and the only option he and his secretary of state put on the table is yet more sanctions to punish Iran for its intransigence.  The punitive approach has failed for decades.  Currently, there are 1,500 separate sanctions in place.  Yet Iran has devised numerous ways of skirting them. It increasingly turns east for its trade partners and astutely plays off its western enemies against its traditional Russian and (new) Chinese friends.
What is Plan B? US commander of CENTCOM answered that question in recent Congressional testimony.  His answer would be chilling if it was credible:
"Our president said they're not going to have a nuclear weapon," General Kenneth McKenzie, commander of U.S. Central Command, tells TIME. "The diplomats are in the lead on this, but Central Command always has a variety of plans that we could execute, if directed."
So CENTCOM is prepared to blow Iran to Kingdom Come. Is that credible? Does anyone in their right mind think that would happen? Does anyone even believe the US would join in such an attack on Iran with Israel? The only remaining possibility would be an Israeli attack. But would we even permit that?
Without a convincing Plan A or B, where does that leave Biden? Does he leave the Iran issue ""hang slowly, slowly twisting in the wind" as Richard Nixon said of his then-FBI director?  The danger of maintaining this perilous status quo is that one side will miscalculate and provoke the other side into a massive retaliation, drawing the US into a conflict it desperately wishes to avoid.  This is not airy conjecture or abstraction.  It is a real possibility.  A potential disaster of monumental proportions brought about by the folly of so-called wise men leading their nations to disaster.