The Great Escape, Or Was It?
Are the Palestinian Prison Escapees the Heroes They're Made Out to Be?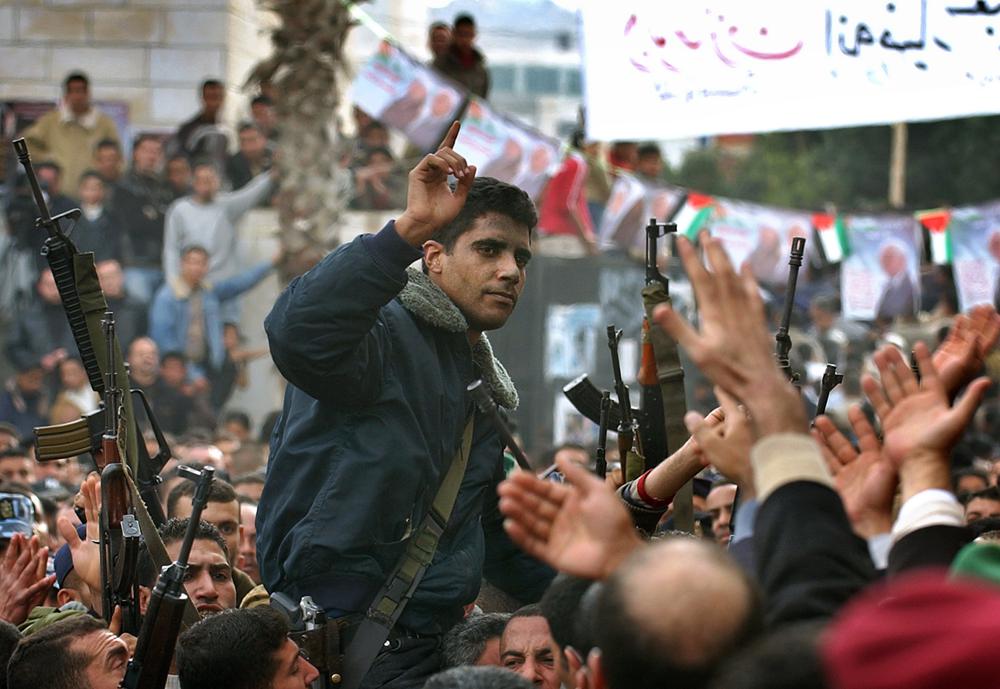 האם בריחת האסירים הפלסטינים מכלא גלבוע הייתה מבויימת? כך טוען מקור ישראלי?
An Israeli source has conveyed to me an alternative narrative about the Palestinian Great Prison Escape which, if true, discounts the hero narrative portrayed among Palestinians.  According to original story, six security detainees imprisoned for major terror attacks spent months digging an tunnel from their cell outside the prison from which they made a daring escape. In a plot worthy of a Hollywood movie, they allegedly used spoons and a plate to dig laboriously through earth and rock till they reached their goal.  Once outside, four of them managed to remain at large for almost a week, while the remaining two weren't captured till yesterday, spending nearly two weeks on the run.
Their daring prison break fired the imagination of Palestinians both in Israel, but especially in the Occupied Territories.  Life under Israeli Occupation is desperately glum.  Often resistance appears futile.  Israeli security forces stomp their jack boots on Palestinians with routine night time raids filled with screams, crashing doors, homes smashed and family members disappeared under cover of darkness.  This act of defiance offered Palestinians a break from this dreary routine.  A story of resistance in the face of impossible odds.
Even more appealing, was the apparent ineptitude of Israeli prison authorities who were completely unaware of the covert operation happening under their noses.  In addition. a prison guard was purportedly asleep in a watch tower facing the area from which the escapees emerged outside the prison wall.  All of Jewish Israel was mesmerized and mortified by the incident.  How could this happen?  How could a country steeped in security allow dangerous terrorists to run amok in their very midst?  There were reports also that these prisoners, who'd participated in earlier terror attacks, would plan new ones while on the lam.
As they watched the consternation with which Jewish Israelis faced the escape, and the many days during which they engaged in self-flagellation about it, Palestinians enjoyed a bit of schadenfreude.  If they were made to suffer at Israel's hands, watching the Israelis suffer offered a delicious bit of vengeance-fulfilled.
But now questions are arising about whether this narrative of the events is accurate.  In a prison system in which such escapes are unheard of, how did this one succeed?  One senior Israeli prison official termed this "a catastrophe never before seen by Israel's prison services."  In past instances in which Palestinian terror suspects have gone to ground after mounting an attack, Israeli forces routinely murder the suspects once they've discovered their hiding place (though for media purposes they are always killed in a desperate Trumpeldor-like "firefight").  This is a long "tradition" going back to the Bus 300 terror attack. In the current case, most of the prisoners were captured without a scratch on them (there was one picture of a detainee with a swollen cheek).
Perhaps the oddest development involved the capture of the two outstanding escapees in Jenin yesterday.  Some of the six had been residents of the Jenin refugee camp, and all of them are from Jenin area.  Thus, everyone expected them to make a beeline for the camp from the prison.  Yet that's not what happened.
Inside the camp, all of the Palestinian militant groups united in an unprecedented act of solidarity, establishing a joint resistance force to meet the expected Israeli onslaught:
Residents of Jenin are used to waking up at night to the sound of shooting and explosions when an arrest takes place in their city or in the adjacent refugee camp. But on Sundayת they slept soundly through the night only to be wakened by the surprising news that two prisoners who escaped from Gilboa Prison were arrested in the city – with barely any resistance.

Many in the West Bank were afraid during the past two weeks that they would be forced to bear the consequences of the escape of the prisoners, with Israeli security forces holding extensive searches for them. The same was true in Jenin.
But it never came to pass.  The two prisoners were taken not inside the camp, but in the town of Jenin, outside it:
…Palestinians…raised questions about the prisoners' actions after the escape. A relative of Kahamji said that one of the questions bothering many in Jenin is why the prisoners did not flee to the refugee camp. Located just a few minutes' drive from the place where they were hiding, the camp would have been a safer location for them.
Israeli forces never fired a bullet.  There was no resistance.  Why weren't they inside the camp, where they would have been protected and defended?  If they were true militants they would have welcomed making a brave last stand against the Israeli oppressor and becoming martyrs for the resistance.
My source has laid out a shocking counter-narrative. According to him, the Great Escape was nothing of the sort.  The prisoners are not heroes at all.  In fact, they are Israeli informants inside the prison.  The "escape" was planned by Israeli authorities to transform them into resistance heroes and burnish their credentials so that other prisoners would trust them.  It's known that inside these security prisons, detainees plan terror attacks.  That's why Israel recruits snitches to disrupt such plots.
In a related matter, one of the detainees, Zakaria al-Zubeidi was known before his arrest as the leader of the Al Aqsa Martyrs Brigade in the Jenin refugee camp.  He was a charismatic figure, with a complex set of motives and checkered backstory.  At one time, he believed in co-existance with Israelis.  He was one of the first Palestinians to participate in the Jenin Freedom Theater, founded by Israeli activists Arna Mer-Khamis.  She welcomed him into the circle of not just the theater, but the heart of her own family (she was married to a Palestinian and lived in the camp).  But then Israeli forces murdered both his mother and sibling and he turned away from non-violence.
In 2011, Mer-Khamis' son Juliano was sitting in a car outside the theater with his child when a gunman fired shots into the vehicle, killing him.  Suspicion immediately focused on Al-Zubeidi.  As the chief of security forces there, he would have to have known of such a plot, if not planned it himself.  Curiously, no one was ever arrested or charged and the crime remains unsolved.  It seems neither Israeli nor Palestinian security forces were interested in doing so.  One way to explain this is if al-Zubeidi was already an informant for the Shin Bet. Indeed, his Israeli one-time lover, Tali Fahima, testified to such a claim herself in an Israeli TV interview:
In an interview with Israel's Channel 10 in 2008, Fahima accused Zubeidi of collaborating with Israel's Shin Bet security service after he secured permission to travel from Jenin to the West Bank city of Ramallah for eye surgery.
Did Juliano discover that al-Zubeidi was a Shin Bet informant?  Is that why he died?
I've always thought it was a shameful betrayal by Israeli law enforcement that an Israeli Jew was murdered by a Palestinian gunman, yet they barely lifted a finger to find and punish his murderer.  Of course, why would they want to solve it?  After all, Mer-Khamis was an ardent opponent of the Occupation regime.  His theater was an international embarrassment, as it toured the world offering dramatic re-enactments of the oppression facing Palestinians under Israeli apartheid rule.  From the point of view of the security forces, the Israeli theater director's murder was an abject lesson in what happens when a Jew betrays his people and sides with the enemy.
On a critical note, if Zubeidi was a valued informant, as this version of the story goes, then why would the security services destroy that value by turning him into a Palestinian traitor? As is clear from the militant's past, he appears to be someone capable of switching sides depending on what's best for him. He once was a peace activist, then became militant commander. What if he switched sides after being an informant and became a double agent? That would give the Shin Bet ample motivation for destroying his reputation among his fellow Palestinians.
On a related note, it's striking that while the escapees were charged with terror attacks which murdered Israeli Jews, two of them had never been charged with any crime, let alone tried or convicted.  Administrative detention allows Israeli authorities maximum flexibility in dealing with such suspects. They can imprison them for as long as they like.  They don't have to go to the trouble of mounting a legal case against them and proving their guilt in court.  They also don't have to face any unpleasant surprises that might complicate prosecution, such as charges that the defendants were valued informants for the State against their fellow prisoners.  The Shin Bet would rather not face the prospect of explaining how one of its informants might have committed crimes against Israeli Jews while working for it.
In the interest of full disclosure, there are many aspects of this counter-narrative that are troubling and even hard to believe.  Among them: it's convenient for Israel to offer an alternative version of events which lets prison authorities off the hook as they grapple with the terrible media coverage they received.  This account also tends to sow doubt among Palestinians about the nature of the events.  Instead of heroes, are these six prisoners informers who would betray their own comrades on behalf of Israel?  Is the Israeli account intended to counter the damage done to its security capability by fomenting disunity and distrust amongst Palestinians?
There is no way for me to tell for certain whether the account offered to me is true.  I can only weigh the theory both for its strengths and weaknesses.  The future should bring some clarity to this strange incident.