As Burlington City Council Tables Historic BDS Resolution, Israel Lobby Fails to Defeat It
Vermont City Becomes First in Nation to Consider BDS Support
In recent months, twenty-five progressive groups in Burlington joined together in a campaign to secure the city's endorsement of the BDS movement. They included Jewish Voice for Peace (VT-NH), Vermonters for Justice in Palestine, Vermont AFL-CIO, an AFSCME local, and DSA (Champlain Valley). It was the first city in the US to consider such a resolution.
During the campaign, the groups worked tirelessly to gain the support of city council members. They secured the support of seven of twelve members and believed they were assured a victory. But they didn't count on the overwhelming fire-power of the local and national Israel Lobby. It pulled out all the stops, flooding the council offices with up to 2,000 text and e mail messages, letters and phone calls denouncing the resolution as anti-Semitic. The mayor, who is pro-Israel and Jewish, denounced BDS. Four local rabbis published a scurrilous attack on BDS.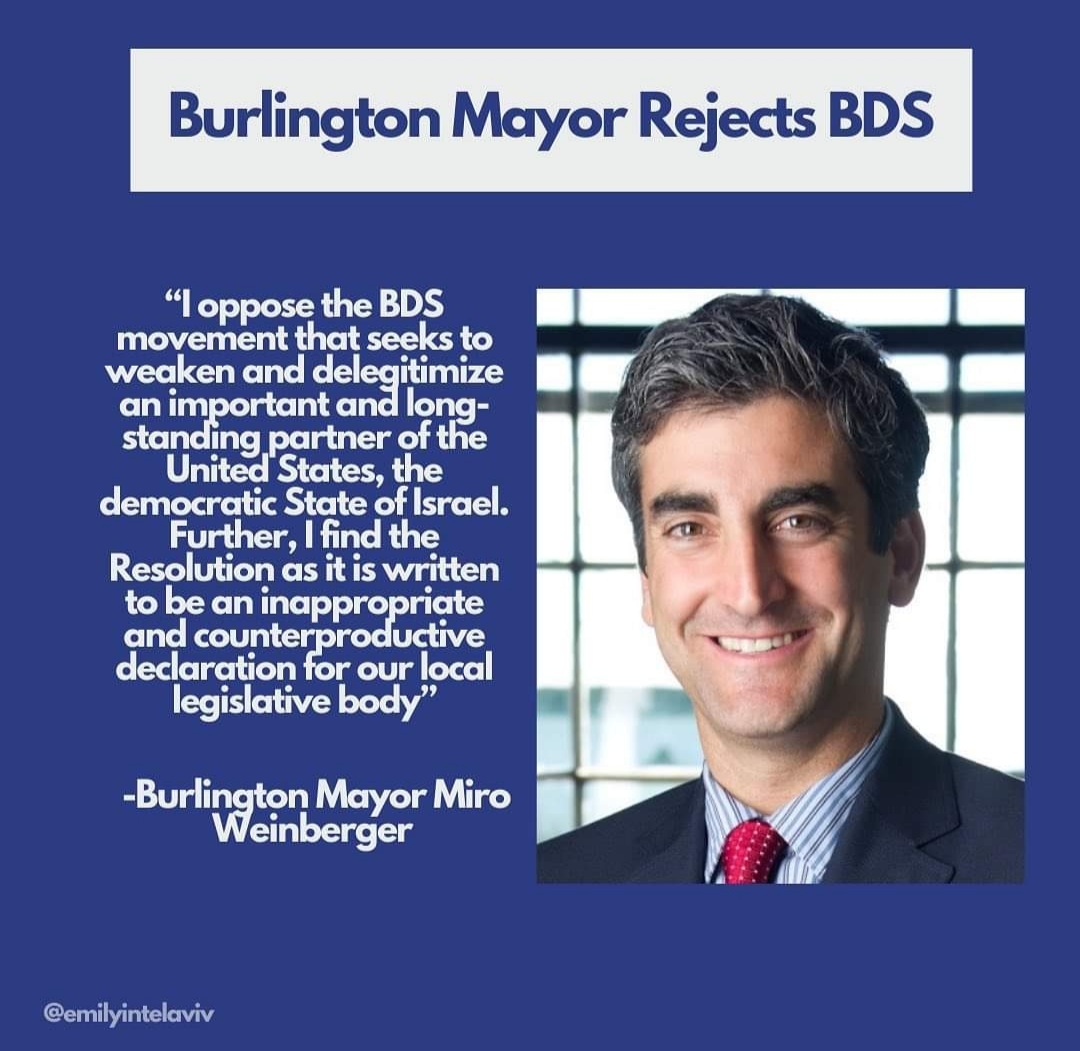 Among their claims was that bringing such a measure to a vote during the High Holiday period was intended as a deliberate affront to Jewish sensibilities. Another histrionic claim is that the BDS movement has "one guiding purpose — the elimination of the state of Israel." It also falsely claims that "every mainstream Jewish organization has rejected BDS." In fact, many such groups focus on issues having nothing to do with Israel and have taken no position on it. Jewish Voice for Peace, with over 100,000 members nationwide, is a strong supporter of the movement and its members supported the Burlington campaign.
The rabbis' offer a quotation from an Anti Defamation League account of BDS which is also false:
"The BDS campaign does not support Israeli-Palestinian peace efforts and rejects a two-state solution to the conflict."
In fact, BDS proposes a path toward a fair, just solution (though it does not prescribe any particular outcome); which makes the next phrase false as well. BDS does not propose or reject either a one-state or two-state solution. But even if it rejected two-states, most analysts and even Israelis have come to the conclusion that this option is dead on arrival, due not to BDS' rejection of it, but due to Israeli rejection. Two states is a chimera, a shimmering mirage that conveys a false sense that real peace is possible based on Israel accepting such a proposal (which it consistently rejects).
The rabbis' ask why Burlington would want to be the only city in the US which "demonizes Israel." In fact, this is not the case. The resolution factually notes Israel's illegal policies and demands that Israel comply with international law. Since when is such a demand "demonization?" This statement mistakes criticism for hate. When we Jews marched for civil rights, immigrant rights, or LGBT rights, did that mean we were demonizing the country which denied them? No. We were demanding that the US live up to its own constitution and Bill of Rights. The same holds true for Israel.
The statement suggests instead of supporting BDS:
We recommend focusing on the many ways to positively influence the region by supporting organizations comprised of Palestinians and Jews working together…
This is typically vague normalizing language which offers a gauzy reality in which Jews and Palestinians will, by dint of good will solve the conflict. It offers no examples of groups doing this work, suggests no plan or program, makes no commitment. It is full of empty promise.
It continues:
This resolution serves as a flash point that divides us further, rather than advancing an agenda of peace.
The suggestion that peace can only be achieved via good vibes, that conflict or dissension are inimical to achieving justice–is a false premise. In fact the opposite is true. As Jefferson so eloquently once said:
…What country before ever existed a century & half without a rebellion? And what country can preserve its liberties if their rulers are not warned from time to time that their people preserve the spirit of resistance? Let them take arms. the remedy is to set them right as to facts…What signify a few lives lost in a century or two? The tree of liberty must be refreshed from time to time with the blood of patriots & tyrants.
Why do these rabbis worry so much about division in Burlington, while having no concern for the tens of thousands of Palestinians, the vast majority unarmed civilians, maimed and killed by Israel in the decades since 1948? What about the division and hatred sown by Israel toward its Palestinian neighbors? Such enmity goes far deeper than any that engendered by BDS.
In concluding their statement, they insinuate that BDS is anti-Semitic because it engenders fear in Jews:
Wearing a well-worn Israel Defense Forces T-shirt, Spencer Karofsky, a student at University of Vermont, said he was reluctant to speak but was doing so "out of fear" because "I am terrified that I will be attacked on account of my religious and ancestral identify if I do not. When pro-BDS activists marched into this meeting, I felt an emotion I have felt never on account of my religion: fear."
What about the far greater fear Palestinians feel when they hear F-35s, attack drones, and helicopter gunships bearing down on their homes? Whose fear is more real, more palpable, more lethal? Pro-Israel voices can try all they like to turn this into an existential attack on them as Jews. But it isn't and doesn't compare to the very real lethality of Israeli aggression against Palestinians.
The rabbis, as if rehearsed, parrot the same trope:
…Such a divisive resolution creates an unsafe environment for Jewish students in our public schools, Jewish students at UVM and other area colleges, and heightens fear for many in our community.
My three children attend local public schools and no BDS resolution would make them feel unsafe. One of them attends a state university in which a BDS resolution was debated. He unreservedly supported the resolution and demonstrated on its behalf. He is a proud Jewish student and walks the campus unafraid to declare his Jewish identity. No Jew should fear BDS. If they do, they are mistakenly conflating legitimate criticism of Israel with Jew hatred. That is not the fault of supporters of this movement. It is the problem of the fearmongers themselves. A problem they have created and exacerbated in false allegiance to an Israeli apartheid state which no longer deserves the unconditional support of American Jews (or Americans, for that matter).
BDS Resolution
The actual text of the resolution in no way resembles the caricature portrayed by the Israel Lobby. In fact it is carefully researched and filled with facts easily supported by sources. It notes (correctly) that the Palestinian Territories have been occupied since 1967, and that Israel recently launched a devastating attack on Gaza. It mentions that hundreds of thousands of Israeli Jews live in illegal settlements built on Palestinian lands. It argues that the nearly $4-billion in US military aid to Israel demand extra sensitivity to the rights of Palestinians, who suffer from Israel's use of them. It adds:
the City Council of Burlington express its solidarity with the Palestinian people, condemns anti-boycott legislation, and endorses the Palestinian-led Boycott, Divestment and Sanctions movement, which calls for nonviolent pressure on Israel until it meets three demands:

1. Ending the military occupation and colonization of all Arab lands and dismantling the
Separation Wall;

2. Recognizing the fundamental rights of the Arab-Palestinian citizens of Israel to full equality;

3. Respecting, protecting and promoting the rights of Palestinian refugees to return to their
homes and properties as stipulated under U.N. Resolution 194.
The final clause of the resolution calls for Pres. Biden to end US military aid to Israel.
This is indeed the most controversial clause, which goes beyond even where Bernie Sanders stands. He says that such aid should be made conditional on Israeli adherence to international law, respect for human rights, and US foreign policy. But despite offering a proposal to the left of Sanders, ending military aid is not anti-Semitic. It won't even endanger Israel, which has a massive weapons industry and is one of the top ten international exporters of military hardware.
Council BDS Supporters Fold Under Lobby Onslaught
In the days leading up the vote, the council members who formerly supported the resolution stopped taking calls from those local progressives. The council member who had sponsored the measure himself got cold feet. The activists then could see the handwriting on the wall. When the lead sponsor proposed that they reconsider and cancel the public hearing at which the vote was to be taken, they objected and demanded that there be a public hearing, testimony and a debate.
On Monday, the day of the hearing 150 BDS proponents marched to City Hall through the streets of Burlington. As they entered council chambers they continued shouting "Free Palestine!" Debate was loud and furious lasting until 2am. After witnesses were heard, council members opposed to the resolution sought to defeat the measure. But proponents prevailed and voted 6-5 to refer the resolution back to committee. If may now be revived and brought back for consideration in the future. Headlines like this one in pro-Israel media deliberately misconstrue the outcome: Burlington BDS resolution to be withdrawn as sponsor cites concerns about antisemitism. An American Jewish Committee press release falsely claimed the city council had "rejected" BDS.
Nevertheless, this was certainly not the outcome supporters expected. They thought they had a victory in their hands only to have it snatched from them at the last second. But they didn't anticipate the dirty tricks of the Lobby nor the gullibility of council members flooded with lies about BDS. But this was not the defeat being portrayed in pro-Israel media. BDS is not dead in Burlington. It now becomes part of a longer-term effort to counter the poison injected by the Lobby into the local community, and organize more powerfully and effectively for the next go-round.
Israel Lobby's Usual Suspects
According to local peace activists I spoke to the opposition to BDS was led not by local residents, but by outsiders–pro-Israel groups like the Israeli-American Council (IAC), Israeli American Civic Action Network (ICAN), the ADL and BDS Report. The latter even compares the BDS movement to Nazism:
The Boycott, Divestment, and Sanctions (BDS) movement is an antisemitic campaign to destroy the Jewish State of Israel. BDS is frequently compared to the Nazi era boycotts of Jewish products and businesses.
These groups have professional staff and budgets in the millions (for the ADL, in the tens of millions). IAC, in particular, received nearly $100-million from Sheldon Adelson.  It was founded by Adam Milstein, an Israeli ex-felon whom I've profied here.  Milstein is also the inspiration for Canary Mission, another thuggish group which doxxes Palestinian activists and seeks to destroy their career opportunities.
The modus operandi of these groups is to flood a community with hostile rhetoric and massive targeted attacks on BDS supporters. They make it appear that they represent an army of followers, when most of their activity is inauthentic and coordinated by outside parties.
In fact, IAC sent its New England "Activism Manager," Israeli citizen Asaf Magen, to Burlington to testify against the resolution. You can watch it at 1:24:50 of the video above. Magen lives outside Boston and the IAC office is there. It has virtually no members or support in Vermont.  Thus his appearance represents blatant outside interference in Burlington domestic politics.  While there are nearly 8,000 Jews living in Vermont (most in Burlington), there are almost no Israelis living there.  Yet he repeatedly refers in his statement to the danger BDS poses to "Israeli-Americans" living in Vermont.
He disparages the resolution because it is "angry," when it is in fact dispassionate.  But using a term like "anger" permits him to paint BDS as anti-Semitic hate speech (which it isn't). He says it is "filled with unproven claims," when in fact (as I noted above) it deliberately eschews emotion or even opinion. Rather, it is entirely factual and deliberately so because supporters anticipated these sorts of false claims against it. He calls the BDS demand for an end to "occupation of all Arab lands" an example of such a false claim.  In fact, Israel is occupying Syrian and Lebanese territory.  It has even annexed the Golan.  Israeli conquest of these lands is recognized as illegal under international law.  This is not a false claim.
He denounces the Right of Return advocated by BDS, claiming 7.5-million Palestinians would be entitled to resettle in Israel.  Regardless of the the question of the accuracy of his claim, the Geneva Accord asked demographers to estimate how many Palestinians would actually physically return given the right to do so.  They placed the number at between 400,00-600,000.  This is half the number of Soviet Jews who emigrated to Israel during the decade, when over a million came.
He closes by noting that the cell phones of all those supporting BDS in the council chamber are made with Israeli technology, and that he therefore would collect all of them at the end of the hearing.  There are no Israeli companies which manufacture cell phones.  Therefore, there would be no boycott of this product, despite the fact that there may be individual components or technological processes used in their operation.
Nearly 2,000 e mails flooded the inboxes of city council members. Two nearly identical templates were distributed, which clearly indicated they originated with IAC and/or ICAN. The key passage says:
Like any immigrant community in America, I believe that Israelis deserve the right to connect to their culture and celebrate their heritage free from bias and bigotry
This clearly is a generic template prepared by one of the Israeli Lobby groups for all of their anti-BDS campaigns throughout the country. Given how few Israelis live in Burlington, it sticks out like a sore thumb in this context.
Though ICAN does not explicitly concede an affiliation with the Israeli-American Council (which also participated in the Lobby campaign in Burlington), a group of Israeli-Americans who lobby aggressively for Israeli interests in the US, it appears that the former is the lobbying arm of the latter. IAC is a 510c3 non-profit organization. Lobbying groups like ICAN cannot enjoy non-profit status (it has a 501c4 designation). Their agenda is tightly coordinated with the Israeli government, which makes them an agent of a foreign power. Unfortunately, our Justice Department has not seen fit to pressure them to register under FARA. Failure to do so permits a foreign government to exert undue influence on, and interfere with the foreign policy of this country.
Burlington and BDS: Where Does it Go from Here?
I asked a leader of the local Burlington campaign what would be the next step. How would progressive activists organize to win the next time? Would they run candidates against those who betrayed them? Or against those who opposed them from the beginning? He responded to me that Arab Americans don't yet think this way politically. They are unused to such exercise of political influence in the American system. They have never had the economic or political power to call in chits with their political leaders or hold them accountable when they oppose Palestinian rights.
He also mentioned that many of those on the council who deserted the resolution are allies on almost every other political issue. So attempting to defeat someone who shares every one of your values but one is a difficult choice to make. It means rupturing political alliances. It means bad blood within the left movement. He wasn't sure they were willing to go there.
The next time around it might be more persuasive to local residents to show, via the resolution, the impacts Israeli apartheid and Occupation have on the city itself, and the direct ways in which Burlington can promote real justice in Israel-Palestine. For example, the city has a public retirement plan. The resolution might direct those managing the plan to divest from any companies whose stock is held in the plan, which benefit from Israeli Occupation. The plan could be directed to research and invest in companies based in Palestine or which benefit it economically. Since some US states are divesting their portfolios of Unilever stock in protest against its decision to halt sales of Ben & Jerry's in the Occupied Territories, why not encourage Burlington's pension fund to buy the stock? The resolution could encourage a Burlington tour of Palestine by residents, business owners, municipal employees and elected officials. As written, the resolution presented last week was strong on aspiration but lacked concrete proposals that Burlington itself could implement.
The next time around, organizers must prepare council members who support them for what they're likely to face–grow them a spine. They must educate them on the tactics employed by the Lobby and assure them that much of the sturm und drang it generates comes from outside Burlington. If they stay with the coalition and vote the right way, they won't lose their seats in the next election. Because BDS opponents are not a majority in their wards or the city as a whole. Assume that council allies who are progressive on every other issues will be progressive on this one, if they know their support is rock solid at home, and understand the tactics of the other side. Then they can't be ambushed as happened this time.