Ex-CIA Analyst Confirms Beirut Blast Initiated by "Military Munitions," Lebanese President to Examine Role of "External Actors"
For Arabic speakers, above is an interview I did today for Al Jadeed (Lebanon) about my reporting on the Israeli attack on Beirut. You can find the segment devoted to my story at 24:45.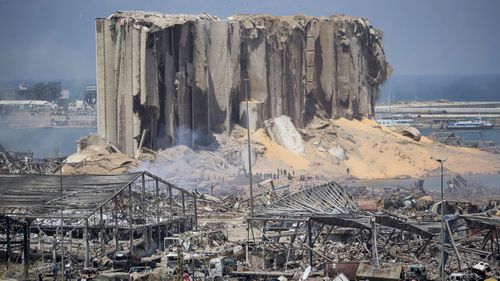 Robert Baer, one of the CIA's most distinguished Middle East analysts, did an interview with CNN about the Beirut attack.  In it, he confirmed an essential piece of the story I've been reporting. While others have speculated that the first blast which triggered the following devastating explosion in the ammonium nitrate warehouse consisted of fireworks, Baer closely reviewed the video and says it clearly was "munitions:"
Baer said he thinks that there were military munitions and propellants present. He speculated it could have been a weapons cache, but it's unclear who it belongs to.

"It was clearly a military explosive," he said. "It was not fertilizer like ammonium nitrate. I'm quite sure of that. You look at that orange ball (of fire), and it's clearly…a military explosive."

Baer noted that white powder seen in the videos of the incident before the major blast are likely an indicator that ammonium nitrate was present and burning. He also noticed a lot of munitions going off ahead of the larger explosion…

"It almost looks like an accident," he said. "It was incompetence, and maybe it was corruption, but the question is whether it was military explosives, who was it going to or why was it stored there?"

Baer isn't confident we'll ever know the truth.

"I've worked in Lebanon for years, and no one is going to want to admit they kept military explosives at the port. It's a stupid thing to do."
There are several critical elements to Baer's interview: first, he confirms that the initial spark that set off the most deadly explosion was caused by the ignition of military explosives.  Second, he concedes that an unknown party was storing such munitions at the port.  Third, he explains why Hezbollah, the party I contend was responsible, would vehemently deny it was responsible in any way for the catastrophe.
I spoke yesterday to a Lebanese journalist and asked him if it was possible Hezbollah had a presence at the port. He said certainly they did and at the airport as well.  But he said that if there had been such a weapons cache at the port, the militant group would have done a forensic clean-up to eliminate any traces of what had been there before the attack.  It was clear to him that as it is to me that Hezbollah would be mortified that it's carelessness wrought such devastation on the city; and deathly afraid  of exposure.
In another major development, Lebanon's president, Michel Aoun announced that the state would be examining the possible role of "external actors" in the explosion:
"The cause has not been determined yet. There is a possibility of external interference through a rocket or bomb or other act," Aoun said in comments carried by local media and confirmed by his office.

He said he had asked French President Emmanuel Macron, who visited Beirut on Thursday, "to secure aerial images to determine what happened and if the French do not have them, we will request them from another source."

…Aoun said the probe would be conducted in three parts: "First, how the explosive material entered and was stored … second whether the explosion was a result of negligence or an accident … and third the possibility that there was external interference."

…The source familiar with the initial investigation said a fire had started at port warehouse 9 on Tuesday and spread to warehouse 12, where the ammonium nitrate was stored.
Of course, it is critical to determine what was in warehouse 9 and who had control of it.  Despite the massive destruction there, forensic investigators–were they permitted to visit the site–could determine this.  But Hezbollah, if it were involved in the manner my source has claimed, would do its utmost to prevent this.
This is a critical new piece of evidence indicating that the country's leadership is now prepared to abandon former claims that the tragedy was an accident or that an accidental explosion in a fireworks factory caused it.  That was always a flimsy reed on which to hang this entire catastrophe.
None of this offers a smoking gun which decisively proves the accuracy of yesterday's report. But it becomes part of a network of circumstantial evidence which buttresses the case.  I referred to another critical piece in that post which I want to emphasize: Gideon Levy, one of Haaretz's most courageous columnists not only linked to my post in his column yesterday, he went as far as he could without violating military censorship in pointing out that Israel had motive, means and opportunity to commit this vile crime.
Most skeptics regarding this story are hung up on the grant of confidentiality I gave my source.  Many do not understand the danger that such an individual faces in a national security state.  It is not my right to put such a person in danger in any fashion.  And if I reveal more than I have, I would certainly be doing that.  For those who may not be aware, a decade ago an FBI translator, Shamai Leibowitz, became my secret source for classified information he leaked to me about Israel's campaign for Iran regime change in the U.S.  The Justice Department later exposed him and he went to prison.  No journalist wants such a terrible fate on their conscience.
What I can say beyond what I already have, is that my source is a professional with access to Israeli officials.  One of the latter gave this information to him.
Others doubting Israeli involvement claim that because the Beirut port is in a Christian neighborhood, Hezbollah would not maintain a warehouse there.  Certainly, the port is in a Christian neighborhood. But the port is a facility serving the entire country and, as I've written here, a Lebanese journalist confirmed to me that the militant group has a presence at the port.  Keep in mind that Hezbollah is the most powerful political and military force in the country. If it wants to maintain a weapons storage facility somewhere, it will do so, wherever that location may be.
The claim regarding fireworks causing the initial explosion or that they were in the warehouse with the ammonium nitrate is not significant.  As Pres. Aoun said, the initial explosion occurred in warehouse 9 not the building containing the ammonium nitrate, stored in warehouse 12.  Fireworks may have exploded at some point along with the fertilizer.  But as Robert Baer said, "military munitions" caused the initial blast, not fireworks.
The response to my Beirut bombing post has been both heartening and disheartening. There have been 225,000 unique visitors in the past 48 hours. That's many orders of magnitude higher than any daily site-visitation I've ever had. There are 40,000 Facebook likes and hundreds of Twitter RTs and comments.
On social media, progressive Jews and Israelis with whom I [thought I] shared allyship have turned and derided my reporting.  It makes you realize who your friends really are.  And who is a false ally who's betrayed your trust.  I've been excoriated by erstwhile progressive Jews as in league with anti-Semites and white supremacists. Others on the left have labeled the piece "bullshit" and unfriended me. Yet others, see malevolent motives and allude to unspecified character flaws they've detected in me. The screenshot below gives a taste of some of the less-guarded responses.
To anyone in the above categories, I could care less. In fact, there is a certain cleansing benefit in shedding them. And those who've engaged in that sort of personal gutter sniping, I'm banishing from my platforms. That stuff distracts from what's important and I don't want it to interfere. The work is what's important. Not me or what you think of me or your theories about who I am or why I haven't met your personal standards. The work will stand the test of time. The derision will fall by the wayside.
I want to thank those who've reposted my piece and who've stood by it and me.
DONATE: If you support journalism unlike any you can find anywhere else regarding Israel's national security state and its impact in the region and the world, please come forward with a donation. Use either the Paypal or Network for Good buttons in the sidebar to do so.