Pompeo: We Offer Iran Freedom
Pompeo offered Iran freedom from the barrel of a gun.  And mighty persuasive it was too.
He gave an interview earlier today in which he recounted a fever-dream version of the aftermath of the Soleimani assassination, which bore no resemblance to any reality we know:
Pompeo: I saw last night there was dancing in the streets in parts of Iraq.  We have every expectation that people, not only in Iraq, but in Iran will view the American action last night as giving them freedom.  Freedom to have the opportunity for success and prosperity for their nations.  And while the political leadership may not want that the people in these nations will demand it.

Interviewer: We'll see.
The only dancing in the streets of Iraq was done by the Sunni minority, which ruled the country while Saddam's Baath Party held power.  And lost it once we overthrew him and dissolved the Baath infrastructure.  If there is a last bastion of ISIS remaining on Iraqi territory, they'd indeed be celebrating, since Soleimani was their fiercest enemy (and supposedly ours as well).
So let's ask this question: if Iran killed a U.S. official who combined the job portfolios of chairman of the Joint Chiefs of Staff, Secretary of State, and CIA chief, would we view such an act as "giving us freedom…and opportunity for success and prosperity?"  Or would we view it as a grave threat to the nation, its security, and existence?  Would we be plotting the type of revenge FDR did after Japan attacked Pearl Harbor, for example?
Pompeo's line of argument is absurd. It's no different than the delusional utterances we heard from the mouths of Dick Cheney and Don Rumsfeld during the Iraq War.  And look how well that turned out.
Trump's decision to kill Soleimani is the act of a desperate, deranged man.  He did not prepare the American people for it. There is no long-term strategy for our relations with Iran.  There isn't even any awareness of the fallout that will result from this.  No preparation for the undoubted scores of terror attacks which we will suffer in coming days, months and years.  It mirrors perfectly the shambles of a presidency he's conducted.
Unlike Trump's belief that it shows him to be a tough, decisive leader, the operation shows that he is bereft of a policy.  That he bases decisions on whim and circumstance.
Trump's claim that the attack was meant to "avoid a war, not start one," is limp.  In fact, if you turn almost any administration defense of the operation on its head ("defense," "freedom", "stability," "security," "safety") , you will get at the truth and eventual result of this disaster.  Colin Kahl offered a credible scenario that could easily lead to precisely the type of endless Middle East war Trump has promised he would avoid like the plague:
If Iranian retaliation draws more American blood, it will prompt other U.S. counterpunches aimed at, in the words of a recent statement from the Pentagon, "deterring future Iranian attack plans." And Iranian leaders, facing additional U.S. strikes against their forces and interests, will face a similar calculus. Neither side may want an all-out war, but each increment of escalation and counterescalation will have its own defensive logic—and it is hard to see a clean escape from this spiraling vortex.
In my previous post I suggested that the JCPOA agreement which Trump trashed a year ago, is now dead for the Iranians as well. Here is how Kahl explains the heightened danger that this poses for a larger conflict:
On the nuclear front, too, Iran is likely to ramp up its provocations. Over the past year, in response to Trump's withdrawal from the nuclear accord, Tehran has incrementally restarted elements of its nuclear program. As tensions with the United States heighten, more dramatic steps, including the resumption of much higher levels of uranium enrichment, are likely. And as Iran gets closer and closer to the capability to produce fuel for a nuclear weapon—and the prospects for a diplomatic solution fade—yet another path to a military confrontation with the United States or Israel will emerge.
Another segment of Pompeo's fever-dream involved this:
The Iranian people understand that the United States is a force for good in the region.  I'm convinced that the support that we have provided to the people of Iran and that we will continue to provide to the people in Iraq will work to protect American lives and make lives better.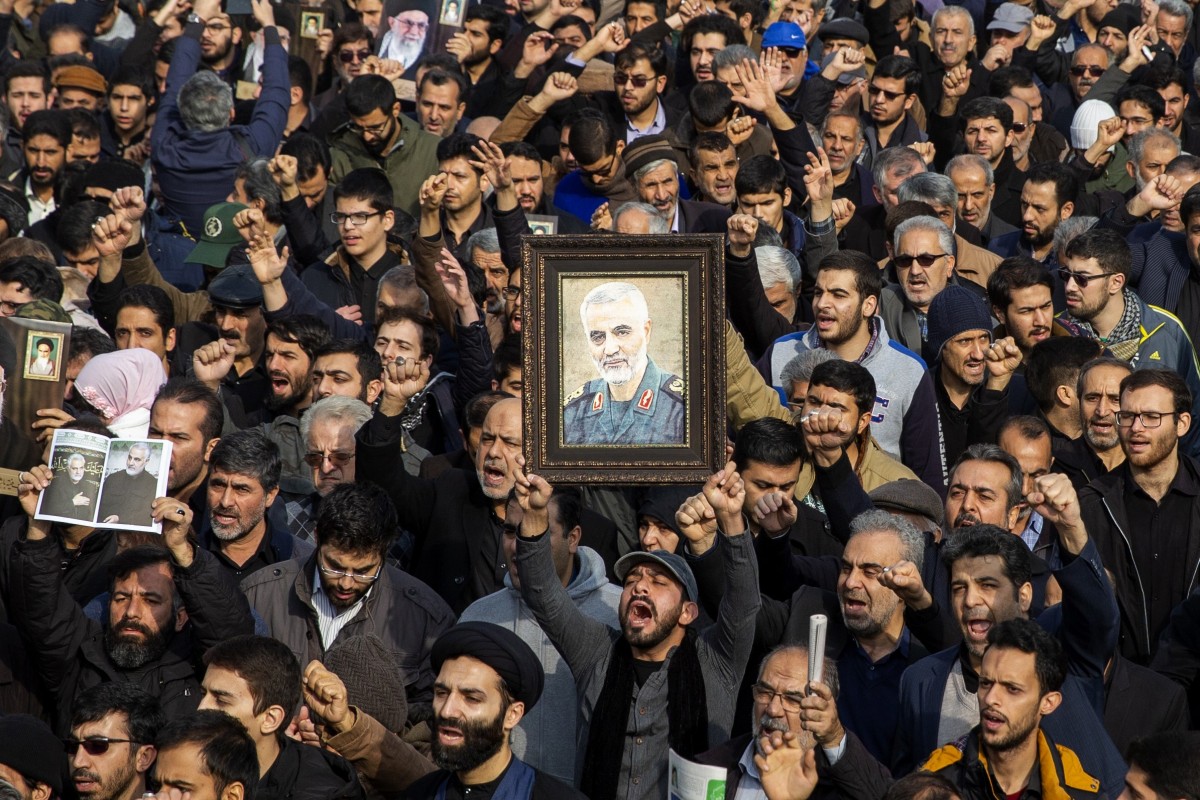 What support is he talking about?  Is he referring to the strangling sanctions we've forced down the world's throat, which prohibits vital medical and foodstuffs from curing the ill and feeding the hungry?  Or the financial blocks we've put on Iranian business transactions so there can be no exports from or imports to the country?
Pompeo's own State Department told all U.S. citizens to leave Iraq, Bahrain, the UAE and Pakistan.  For a country offering another country the blessing of freedom, it seems we're worried its citizens won't take it that way.  It seems even his own agency doesn't believe the lies the Secretary is spinning.
When the interviewer asked what the nature of the "imminent threats" Soleimani posed to American interests, Pompeo pleaded national security and refused to elaborate, other than to offer a vague statement that "thousands" of American lives were saved by the killing.  He added for emphasis: "There's no doubt about that."  Maybe in Kansas or wherever he comes from.  But here in reality there are graves doubts, which such nostrums do not assuage.
Pompeo told the interviewer that he hoped the response of the Iranian people would be along the lines of the protests of the past months in which working people rallied against massive gasoline price hikes.  Again, delusional.  During the domestic protests, the people were rightfully angry at the government and did offer slogans demanding the end of the clerical regime.  But from today, there will be no more such protests.  The only protests you will see for years will feature effigies of Trump and Pompeo which will be burned along with Uncle Sam.
At another point in the interview, Pompeo said of Iran: "Get out of Iraq."  That's like saying to the U.S., get out of South Korea, get out of Germany, get out of Japan.  It's like telling Pres. McKinley in 1898, "get out of Cuba and the Philipines!" Does anyone in their right mind think that Shiite Iran will abandon the Shiites of majority-Shiite Iraq?  Especially in light of the sectarian history of that country over the past decades?  And the fact that Iran lost 1-million dead in a war with Iraq's Sunni dictator?
The problem with people like Pompeo and Trump, and Bush, Cheney and Rumsfeld, is that they are historical ignoramuses.  They know nothing about the places they're 'liberating.'  It's doubtful, especially in the case of Trump & Co. that they even care.  My sense is that Iran is just a prop in theatrical production, Trump 2020.  Or perhaps Trump sees it as a way to pump up opposition to his impeachment.  Or both.
One insulting term Pompeo used to describe Iran's government was "kleptocracy."  There is no doubt a great deal of corruption in Iran.  There are also senior officials who are fighting it valiantly.  Most of the corruption exists in the institutions run by the clerical hardliners, not the reformists with whom we should find common ground.  However, the word kleptocracy is a far more apt portrayal of the Trump administration.  It stinks from the head with theft, collusion, bribery, and self-dealing.  And the levels of corruption in the Trump administration beggar those of Iran.
And if you want to look at the Middle East itself, the endemic corruption of the Gulf States led by Saud Arabi is on a scale unheard of in Iran.  If corruption runs to the billions in Iran, it runs to the hundreds of billions in Saudi Arabia.  Yet who is America's best buddy?  The Saudis of course.  Because only crooks trust other crooks.  They certainly don't trust an honest man (or woman).
Pompeo argued that Soleimani's death would be welcome in the region because he "killed many Muslims there."  Let's do some quick calculations about who has killed the most Muslims in the Middle East: the U.S. killed 1-million Iraqis before and during the Iraq War.  We killed hundreds of thousands in Afghanistan.  We've killed thousands with drone attacks in Pakistan, Afghanistan, Yemen and Somalia.  We are responsible for mass slaughter that doesn't compare to anything Soleimani has done.
Yes, the fighting in Syria has killed hundreds of thousands.  And Iranian forces and their proxies killed a portion of these.  But this was no one-sided massacre.  Against the Iranians and the Syrian government forces were arrayed the forces of ISIS, supported by Saudi Arabia, Qatar and the UAE.  So excuse me for calling Pompeo an outrageous fabricator.
Pompeo's interview is also an insult to Congress, which was not consulted; an insult to our putative allies, the Iraqis, whose territory we exploited for this murder; an insult to the American people who are being sold a bill of goods.
On a related note, Mike Pence floated yet more lies into the media ether claiming that Soleimani personally harbored "10 of the 12" 9/11 attackers in Iran.  First, the 9/11 Commission found that Iran had no involvement whatsoever in 9/11 either before or after it happened.  Second, there were 19 hijackers, not 12.  But who's counting?