Trump Begins Iranian 'Internment'
We aren't quite at the stage of internment…yet.  But we're headed there.  I mean for you to think of the Japanese internment of 120,000 U.S. citizens and legal residents in remote internment camps in the far West.  It was the worst anti-constitutional blemish on the U.S. in the 20th century.  We must never go back, no matter what 'national emergency' our leaders may proclaim.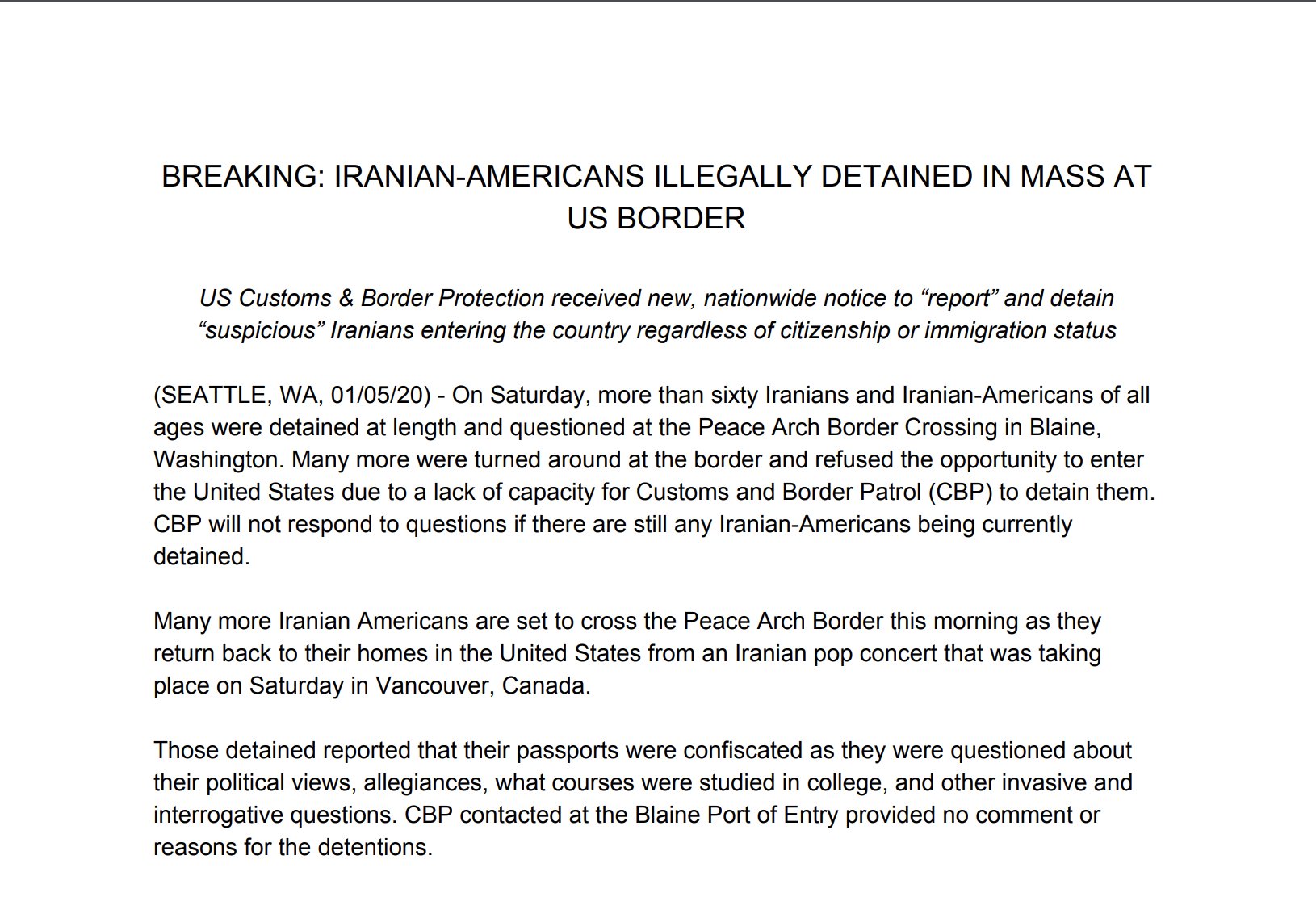 The pretext for the WWII internment was the unfounded fear that Japanese-Americans would constitute a Fifth Column and spy on the U.S. on behalf of their native homeland.  The same fear is motivating these detentions.  Trump is anticipating that Iran will activate its sleeper spies who have been placed here for just such an occasion.  It assumes that all Iranian-Americans are potential agents of the Iranian regime.  This is a deeply poisonous assumption that must be combated with all our will.
Lest you say the term "internment" is overly dramatic, think what will happen should there be a terror attack inside the U.S. or abroad targeting Americans and attributed to Iran.  The lobbying for internment will begin almost immediately starting with Lindsey Graham and Stephen Miller.  And lest you say it's not possible, that there are too many constitutional safeguards, or "he wouldn't dare go that far," think again.  He would and he will.
If you ever considered what an American Hitler might look like, this is it.  He will go as far as the American people will let him, maybe farther.  Just like Adolf Hitler with the German people.  No, perhaps there will be no genocide.  But consider that Hitler only implemented the Final Solution in 1943, ten years after coming to power.  We have no idea what's in store should Trump win another term.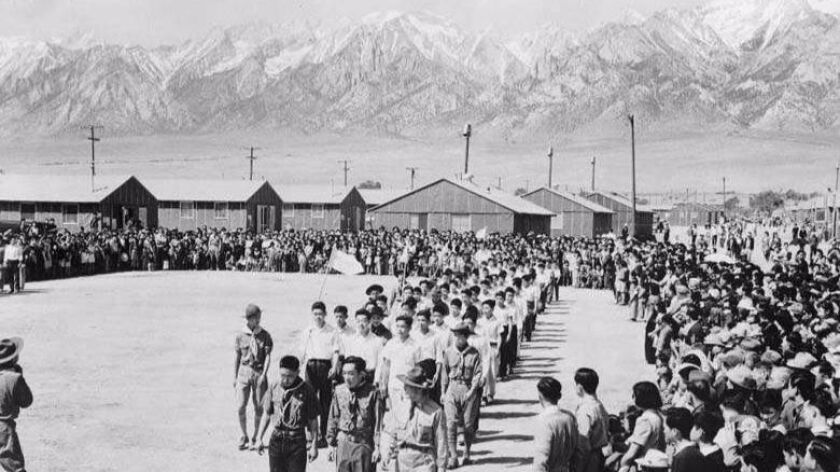 Almost one-hundred of legal Iranian-American residents have been detained or turned back from U.S. entry over the past 24 hours at border crossings by Customs Enforcement officials.  Most of the detainees have been U.S. citizens, born in the U.S. as well:
The Washington state chapter of the Council on American-Islamic Relations (CAIR-WA) is assisting more than 60 Iranians and Iranian-Americans of all ages who were detained at length and questioned at the Peace Arch Border Crossing in Blaine, Wash.

Many more were reportedly refused entry to the United States due to a lack of capacity for Customs and Border Patrol (CBP) to detain them…

Those detained reported that their passports were confiscated and they were questioned about their political views and allegiances.

…Crystal, a 24-year-old American citizen and medical student was…detained and interrogated for more than 10 hours with her family at the Peace Arch Border Crossing before being released early this morning. "The vast majority of people being held last night were American citizens," said Crystal. "We kept asking why we were being detained and asked questions that had nothing to do with our reason for traveling and was told 'I'm sorry this is just the wrong time for you guys.'"

A source at CBP reported that the Department of Homeland Security (DHS) has issued a national order to CBP to "report" and detain anyone with Iranian heritage entering the country
CBP quickly released a dueling press statement claiming the detentions lasted no longer than four hours.  I'll let you decide who to believe:
"Processing times are the result of the current circumstances, including staffing levels, volume of traffic, and threat posture," CBP added. At Blaine, "wait times increased to an average of two hours on Saturday evening, although some travelers experienced wait times of up to four hours due to increased volume and reduced staff during the holiday season."
There was a major Iranian pop music concert in Vancouver B.C. and the travelers were returning to their U.S. homes.  This punishment, besides being draconian and possibly a violation of the Constitution, punishes Iranian-Americans for enjoyment of their culture and traditions.  I can't think of too many things more violative of American values than that.
This atrocious policy was almost certainly devised by Trump's immigration Torquemada, Stephen Miller.  A darkly ironic historical footnote: Torquemada was born a Jew and converted to Catholicism, which provided the added zeal he used in torturing his former brethren. For that reason alone, it's critical as American Jews to stand with our Iranian-American brothers and sisters.  Those of you who are not Jewish will interpret your own personal religious/moral obligations in this matter.  I respect those as well, of course.
Deeply disturbed by reports that Iranian Americans, including U.S. citizens, are being detained at the Canadian border with WA State.

My office has been working on this all morning. Please contact us with information on directly affected people at WA07PJ_casework@mail.house.gov.

— Rep. Pramila Jayapal (@RepJayapal) January 5, 2020

I urge our Congressional representatives including my own, Rep. Pramila Jayapal, to hold hearings and haul Miller's ass before a Congressional committee to explain this absolute schandeh.