India Joins China and Israel as World's Leading Ethnic Cleansers
India has just invoked a form of martial law in the states of Jammu and Kashmir without calling it that.  It certainly did not wish to do so in order not to draw the world's opprobrium, since it prides itself on being the largest democracy in South Asia.  However, shutting down all communication, locking millions of residents in their homes, arresting all major political leaders, cancelling the special political status guaranteed to the territory by decades-old agreements, and summoning tens of thousands of troops to patrol the streets–that is a declaration of martial law (or as it was called when Indira Gandhi imposed it in the 1970s–national emergency).
In canceling these rights conveyed to Jammu and Kashmir in agreements signed in the 1950s and later, the Indian government abrogates a good deal of local political power and control and convey it to the central government.  In effect, India has rescinded autonomy and commenced a process leading to full-scale annexation to the Indian state.  Prohibitions against Indian non-residents settling in the territory or buying property will be canceled.  Narendra Modi's Hindu-nationalist government already plans, Israel-like, to create new Hindu settlements in Kashmir.
The goal is to mirror what both Israel and China have done (in Tibet, Xinjiang and the Occupied Territories).  In the case of India and Israel, a religious-nationalist supremacist regime seeks to expand its power and control over enclaves with majority non-Jewish populations (in Israel's case) and non-Hindu (in India's).  Not so coincidentally, in both cases the displaced population is Muslim.
China is different only in that its motivation is pure nationalism, without any religious element.  It does not have a state religion, unless you count the Communist Party as such.  Though China does have a strong antipathy toward religious belief (Falun Gong, Tibetan Buddhism, etc.), seeing it as a dangerous threat rival to national cohesion.  Also, both Tibet and Xinjiang have populations that worship religions (Buddhism and Islam) which are different from the majority Chinese Han.
Both China and Israel have mounted enormous national projects extended over decades to transfer their own national populations into the disputed territories.  By populating Tibet and Xinjiang with the dominant Han ethnic group; and by populating the West Bank with a million Jewish settlers–each country has staked its claim of national sovereignty over these lands.  Both countries exert further control by stationing tens of thousands of local police, militia and army personnel inside these zones.  Both also intervene in, and sabotage the religious practice of the indigenous populations. China has cracked down on the activities of numerous Buddhist monasteries in Tibet.  In Xinjaing, it has detained a million local residents in concentration camps which demand that they renounce their Muslim faith and swear allegiance to the central government.  Israel too regularly restricts Muslim pilgrimages to the holy sites in Jerusalem, with some senior ministers threatening to destroy the third holiest shrine in the Muslim world, the Haram al-Sharif.
The Indian prime minister has likely monitored developments in both countries closely and developed close ties, especially with Israel's Bibi Netanyahu.  He has observed China's massive campaign of suppression of Xinjiang's religious and cultural identity. He's watched the concentration camps being built and filled with a million detainees.  Both Israel and China have given him inspiration for his plans for Jammu and Kashmir.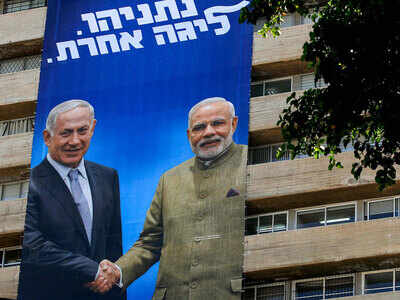 Israel's history offers yet another example that parallels the founding of India and Pakistan.  When the British colonial rulers left India in 1948, there was a huge spasm of Hindu-Muslim violence–over 1-million died and 15-million were forced to flee their homes.  Muslims largely fled to what became Pakistan and Hindus to what became India.  This was the Partition, which led to the sundering of colonial India into two separate, religiously homogenous (or segregated, depending on your perspective) states.
Israel too implemented a more organized campaign of ethnic cleansing at its founding in 1948, which became known as the Nakba (Ben Gurion called it Plan Dalet).  It was designed to substantially reduce the Palestinian population and guarantee a long-term Jewish majority.  Through a series of pogroms, and ethnic cleansing, 1-million non-Jews were expelled.  As in the case of Partition, the Jews eventually appropriated the villages, homes and lands of the fleeing Palestinians for themselves.  They also prohibited the new refugees from returning to their former homes on pain of death.  These Palestinians, unlike the Indian Muslims, had no new Muslim majority country to flee to. Instead, they were forced to scatter to the winds in Gaza, Lebanon, Syria, Jordan and elsewhere.
While Modi cannot expel the current Muslim residents of Kashmir to Pakistan as Israel did, he can, as the Chinese and Israelis have done, transfer hundreds of thousands of Hindus into the enclave.  This will diminish the power of the current Muslim majority and exert the central state control of a Hindu-supremacist government.
The Indian prime minister faces a major hurdle in bringing his plans to fruition: an appeal by the opposition Congress party and human rights activists to the Indian Supreme Court.  As Modi has deliberately torn up solemn agreements signed by previous national governments regarding the governance of Kashmir, a strong case may be made that his new declarations are null and void.
In Israel's case, its own judiciary had no such legal covenants or precedents to look to when it ruled on issues of Israeli settlements and ethnic cleansing.  So it offered virtually no opposition to political maneuvering by various governments to deepen Israeli control of the Territories.  That has enabled Israel and its dominant settler lobby to entrench Occupation, which eventually could lead to full annexation.
Both China, Israel and India are regional economic and military powerhouses.  No one can brook or interfere with their plans.  The rest of the world, which could express condemnation or sanction, has a competing desire to trade with these nations and reap major economic rewards.  In a battle between morality and commerce, the latter almost always wins.  Certainly, in these cases it has.
Speaking in military terms, the power each of these countries wields means that no rival will stand in the way of their expansionist policies.  Though Pakistan furiously denounced the Indian moves, its military would be no match in a war with its traditional rival.  Similarly, while Israel has fought many wars with its Arab neighbors, none currently has the will or capacity to oppose the apartheid and ethnic cleansing of Palestine.
It's also no accident that Israel is India's largest weapons supplier with nearly a billion dollars in sales in some years.  There is not only mutual political interest in subjugating captive populations, but also military cooperation in carrying out these repressive policies. Call it, the solidarity of the ethnic cleansers.
But just as Israeli Occupation, and continuing violence has incited renewed resistance among the Palestinians, so Modi's moves to consolidate Hindu/state control over Jammu and Kashmir will have the opposite effect to what he hopes.  They will not offer a decisive blow to Kashmiri activists seeking to break the bonds with India.  Instead this will incite them and Pakistan to escalate their resistance in the form of renewed acts of terror.  Those who were moderates before will be radicalized now.  India has created its own quagmire and nothing Modi has done will end it any time soon.
This is a perfect example of Modi's delusions:
I salute my sisters and brothers of Jammu, Kashmir and Ladakh for their courage and resilience. For years, vested interest groups who believed in emotional blackmail never cared for people's empowerment. J&K is now free from their shackles. A new dawn, better tomorrow awaits!

— Narendra Modi (@narendramodi) August 6, 2019
It is imperative that the movements supporting the rights of Kashmiri, Palestinians, Tibetans and Uighurs understand the critical intersectionality of their struggles.  BDS is a key element in this process.  I am sure if it has not already done so, it will be reaching out to all these movements for political rights to reinforce their mutual struggles.
Given developments so far, it seems possible that each of these three nations may eventually win the battle to ethnically cleanse their respective territories and exert dominance on behalf of the national religious or ethnic majority.  It's impossible to tell whether this will lead to the Hindu nationalist goal of equilibrium and stability; or whether the brutal attempt to impose cultural, religious and ethnic homogeneity will lead to full-scale rebellion and revolution.  It could go either way.