Israeli Activists Demand Mossad Documents Concerning UN Secretary General's Fatal African Plane Crash
פעילי זכויות אדם דורשים מהמוסד לחשוף את הידוע לו על נסיבות מותו של מזכ"ל האו"ם דאג המרשלד
The origins of so much of the misery of today's Africa lies in the colonial period, when European states carved up the continent and plundered its resources for private gain.  England's Cecil Rhodes seized control of what is now Zimbabwe and South Africa.  Portugal had Angola and Mozambique.  And Belgium had the Congo.  It's estimated the King Leopold was responsible for the enslavement and massacre of up to 10-million Congolese (half the total population) through starvation, disease and overwork.
Though this colonial period set in motion much of the suffering that has ensued up to the present day, there was a second decisive point at which Africa's fate could've been transformed into something far better than what subsequently happened.  That was the post-WWII period of liberation, when these European colonies won their freedom.  Had the Europeans acted responsibly toward their former colonies and prepared them properly for self-government, the serial blood-baths that followed, in which tens of millions of Africans have been slaughtered in ethnic and religious conflict might have been avoided.
Specifically, in the Congo, Belgium offered it independence in 1961.  However, not content to let well enough alone, Belgium tried to retain control of the richest resources in the country in the region of Katanga.  A rag-tag alliance of Katangese and Belgian mercenaries declared secession from Congo and a civil war commenced.  The Congolese were led by Prime Minister Patrice Lumumba, an anti-colonialist and ally of the Soviet Union.  His army chief of staff and defense minister was Mobutu Sese Seko.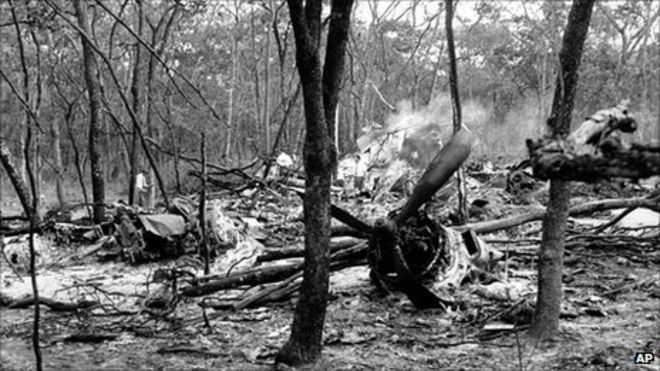 The then-UN Secretary General Dag Hammarskjold traveled to Congo in an attempt to mediate between the two sides.  English mediators had gathered with two Congolese parties in neighboring Zambia (later Rhodesia) for peace talks.  But there were elements in Katanga who wanted these talks to fail.  For some reason, they believed UN mediation would threaten them.
As Hammarskjold's plane neared the landing strip, eyewitnesses report that a jet plane approached and either clipped the wing or fired at it (or both).  As a result, the plane crashed and all aboard were killed.  An investigation at the time declared that pilot error was at fault.  But scholars and activists have reopened the case over the past decade and a UN special report found convincing evidence that supports the testimony of eyewitnesses that there was foul play.
The UN has asked all parties who have knowledge or archival documents that might shed light on the incident to produce relevant materials.  This includes Belgium, France, the U.S. and Britain, whose intelligence services were closely monitoring both the physical location of the talks, and all telecommunications, including those of the plane with the ground and any neighboring aircraft which may've interfered with the landing.  So far, they have not done so.
Eitay Mack, an Israeli activist and attorney who led the fight to expose Israeli arms sale to Burma's genocidal junta, has filed a petition demanding that the Mossad also open its archives.  Though Israel was not officially a member of the non-aligned movement during the 1950s and 60s, it saw itself as a bridge between the Third World and the major superpowers jockeying for influence in places like Africa. As such, it sought allies throughout the Third-World, including Africa.  Along with economic and agricultural aid packages to establish good relations, Israel sent intelligence agents and recruited spies to monitor the activities of the Russian and U.S. superpowers; and to exploit whatever openings they could find to advance Israeli interests.
Here is Mack's Facebook post about his petition, which I've translated:
Israeli human rights activists have filed a petition with the Mossad and other Israeli intelligence agencies to reveal any documents in their holdings having to do with the circumstances of the deal of UN Secretary General Dag Hammarskjold.

Whoever wants to understand the difficult situation in the Congo today must return to this lost and stolen decade, the 1960s, when the U.S., Belgium and Israel shaped the face of this nation for the decades which followed; building an unstable and kleptocratic regime based on war crimes against civilians.  Shortly after Congo won its independence from Belgium, in June 1960, the resource-rich Katanga province rebelled and decreed its independence from Congo.  In the context of the Cold War, many nations were involved in affairs of Congo at that time (in particular, Belgium, South Africa, France, Britain, China and the Soviet Union) and according the various reports and documents Israeli weapons were supplied to both the Katanga rebels and the Kinshasa government.

From the beginning of the 1960s, Israel forged an alliance with Mobutu, who was chief of staff and defence minister of Congo, and later a murderous dictator, among the most infamous of the 20th century.  Israel put great faith in him and his military forces.  In September 1960, Mobutu ordered a military coup with the support of the U.S.  Afterward, he was responsible for the assassination of Patrice Lumumba, an anti-colonial leader and prime minister of Congo's first government after it gained independence from Belgium in January 1961.

Like the U.S., Israel too opposed Lumumba and his ideas.  Israel has never liked radical, progressive or anti-colonial leaders.  It prefers instead to do business with dictators and corrupt armed forces which murder, rape, embezzle and disappear civilians.

In September 1961,  a plane crashed near the town of Nadola in what is now Zambia.  16 passengers died, among them then-UN Secretary General Dag Hammarskjold, who was en route to a meeting with the leader of the Katanga rebels, Moise Tshombe.  Hammarskjold wanted to reach an end of the civil war and was an important figure in the campaign to end colonialism throughout the world.

56 years have passed since then and many unanswered questions remain about Hammarskjold's death.  Despite the possibility that it was just a question of pilot error, there is a great deal of evidence that the plane crashed after it was attacked in the air…

Today, it's clear that the only way to arrive at the truth is through the release of all relevant documents by all UN members. This petition has first been filed with the ministries of defense and foreign affairs.  They replied that they have no such documents.  The defense ministry advised us to turn to the IDF.  According to the army, it appears Mr. Hammarskjold isn't yet dead.  He merely ceased being mentioned in any documents (after his death).  These documents do reveal that Israel and its army were involved in the Congo in a broad and significant way that isn't known to the wider public.

Golda Meir, then foreign minister, told a cabinet meeting: "No one will ever know" why the plane crashed.  Although there is no clear evidence Israel was directly involved in his death, in light of Israel's interests, involvement and massive military activities in the region at that time (in Congo, Cameroon, Rhodesia, Portugese colonies, etc.), and Hammerskjold's important role in the end of colonialism, and the geopolitical significance of his role as Secretary General, specifically in Congo, there may be documents in the possession of Israel's intelligence services which might aid in solving this mystery.
Mack's statement reminds us that Israel's history of intervention in affairs of states both near and far continues to the present day.  It's important to be aware of the continuity of Israel's foreign policy which has always acted on behalf of dictators and never on behalf of populism or democracy.  The full petition (mostly in Hebrew) may be found here.
Ironically, a family relation (granddaughter?), Elinor Hammarskjold, served as Sweden's ambassador to Israel.
H/t to Ofer Neiman.