Israeli Journalist Engages in Fraud to Get al-Zoari 'Scoop'
An Israeli journalist, reporting for Channel 10, used fraud to enter Tunisia and file a story about the assassination of Mohammed al Zoari.  Moav Vardi, using a German passport, traveled to Tunisia and, hiding his nationality, interviewed various neighbors of the victim and other Tunisians.  When he did so, he replaced the Channel 10 Israeli logo on his microphone.  When reporting alone, he used the company microphone and logo.  In a shocking display of disrespect, he sought entrance to the family home just after the funeral and under these false pretences, but was denied access. Nevertheless, he used video footage presumably filmed without permission, which is in the courtyard of the home.  Also, Vardi claims he entered the home without a camera, which is belied by the video footage of the courtyard which he filmed.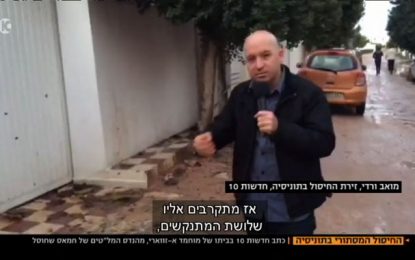 Apparently, the family has learned the lesson of Al Zoari himself, and wisely declined to permit an unknown journalist access. Imagine the pain the survivors would feel had he succeeded in his subterfuge and interviewed them, only to find themselves featured on Israeli TV. The TV of the state which murdered him? Apparently, no one at Channel 10 thought of that tiny bit of indelicacy–or cared.
Remember for a moment the killing of Hadar Goldin by Hamas militants during Operation Protective Edge.  Imagine a Palestinian TV news reporter using a foreign passport to enter Israel and attempt to interview Goldin's family about their son's death.  Imagine the reporter then left Israel and returned to Gaza or the West Bank and aired the segment in which he made pointed reference to the reasons Goldin was killed and the things he'd done to harm Palestinians.  Imagine the outrage of all of Israel at such an disgusting breach of the suffering of an Israeli family who paid the ultimate sacrifice.  Why did no knucklehead news producer think of it from that vantage point?  Why?  Because they don't have to.  They're Israel, after all.  No one second guesses Israel, except a few of us who haven't drunk the Koolaid.
Though claiming in his TV news report that he traveled to al-Zoari's home to learn who he was and why he was murdered, Vardi did nothing of the sort.  He learned virtually nothing he didn't know before he left Israel on his duplicitous mission.  He only proved that just as the Mossad violates territorial sovereignty of virtually any state, friend or foe, in order to burnish its own fearsome image, Israeli journalists will do virtually the same.  They will have the audacity to infiltrate (for that's the term Israelis use to describe Nakba Palestinians who sought to return to Israel after 1948,as it's the term used to describe African refugees or any "undesirable element" seeking access to Israel) an enemy state, just because they can.  By committing such a fraud in an Arab country–one, by the way, which it's illegal for Israeli citizens to visit–they make a mockery of the dignity and sovereignty of that state.
Nor did Vardi or Channel 10 consider the lives and safety of the Jews of Tunisia, who will now be considered by some Tunisians as accomplices or potential accomplices of Israeli killers.  It is typical, in the Zionism practiced by Israel today, to consider Diaspora Jews either expendable or mere assets serving Israeli interests.  The condescension inherent in such acts is typically cold and unfeeling.
What ruse did Vardi tell those he interviewed in Tunisia and al-Zoari's family?  Did he tell them he was filming for Israeli TV?  Of course not.  He deceived them in this as well.  This is journalism based on a tissue of lies.
Today, there were demonstrations in Tunis against the murder of al-Zoari. The German ambassador was also summoned to explain how Vardi was permitted to use his German passport to gain entrance to Tunisia under false pretences.
The segment the TV reporter produced highlights the cultural condescension by using Arabic music as the exotic, mysterious soundtrack. It's an unwritten code telling the Israeli viewer he or she is entering the strange, exotic world of the Arab: a place where bad things happen to bad people who deserve their fate.
Vardi makes one claim never before offered in any media report, apparently offered to him by Israeli intelligence sources: that al-Zoari was a key link between Iran, Hezbollah and Hamas in a major project to introduce armed drones into the Hamas arsenal. He offers no evidence to support this claim other than the fact that the engineer spent considerable time in both Syria, Lebanon and Gaza. If a U.S. journalist offered such flimsy evidence in a news report his editor, and certainly his readers would laugh him out of court–or a job.
There would, of course, be one way to end this charade and enable all Israelis to travel freely throughout the region.  That would also relegate the Mossad's murderous regime to the past: if Israel signed peace treaties with its enemies and settled the conflict between it and the Arab frontline states.  No Israeli regime will do so because they prefer lording it over the enemies than coming to terms with them.
Vardi's escapade duplicates one by former Israeli-Canadian "journalist" Lisa Goldman who thought it would be cute and cool to travel into the belly of the beast by visiting Lebanon and interviewing locals about their feelings about Israel.  She did this also through duplicity since she used her Canadian passport to enter Lebanon, concealing her dual nationality and that she was reporting for an Israeli TV station (also Channel 10 in this case).
A Lebanese journalist told me afterwards that what she did was the height of cynicism and disrespect because fraternizing with Israeli journalists could physically endanger any Lebanese who did so.  After all, the Mossad has assassinated numerous Hezbollah figures in Beirut.  Why might not the group perceive anyone speaking to a purported Israeli journalist as a collaborator?  What Goldman did wasn't journalism.  It was gimmickry for the sake of a story.  It showed the ultimate disrespect for her sources.
Goldman later was a co-founder of 972 Magazine and contributor to Peter Beinart's short-lived Open Zion, which was an attempt to offer a liberal Zionist perspective on the conflict in a progressive guise.  After Daily Beast pulled the plug on it, Goldman found her way to another Beinart-affiliated project: the New America.  They collaborated there on Israel-Palestine projects.  Now, she plies her wares on the media-talking heads circuit as a person wise in the ways of the conflict.  She's yet another example of the liberal Zionist narrative monopolizing media discourse and deluding viewers and readers into believing they're hearing something fresh or progressive, when it's nothing of the sort.
H/t to reader Deir Yassin for pointing me to this story.