BREAKING: Accused Israeli Price Tag Terrorists Arrested Under Gag Order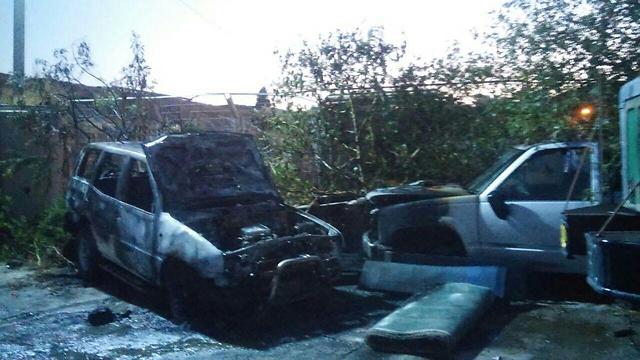 Young Israeli (alleged) terrorists have been arrested by the Shin Bet and charged with various acts of (price tag) violence against a Palestinian car dealer in a village near their home in Migdal HaEmek.  Several cars and trucks were incinerated by the hoodlums.  The victim suggested that the terror attack was retaliation for a Palestinian terror attack in Tel Aviv.  While arrests have been reported, the names of the suspects are under gag order.  An Israeli security source informs me that they are Noam Mermelstein and Yosef Bar-On, both age 15.  They are both students at the Migdal HaEmek yeshiva.
Honenu, the NGO which defends Israeli terrorists, complained the boys had been refused visits with their attorneys.  It also released a statement mourning the "democracy is dead."  While I believe all suspects are entitled to such rights, I don't recall any settler or Honenu complain when such a right is denied Palestinian security detainees.  Nor have I ever heard them affirm that Israeli Palestinians deserve the full rights of a democracy.  Chutzpah, much??
They respond saying there's a difference between Palestinian and Israeli suspects: the former are "ticking bombs" threatening to kill Jews; while the latter are tender young boys only out for a little fun messing up Palestinian property.  This neglects the fact that thousands of Palestinians are arrested for alleged security offenses without even being charged with a crime, and face the same treatment; while many Jewish terrorists murder Palestinians, not just vandalize property.  But why confuse things with facts when lies, amnesia and prejudice do so much better?
You can suspect that these suspects will not be charged with a crime; or if they are charged they will not be tried; or if they are tried they will not be convicted.  You have to kill a Palestinian in cold blood, preferably a helpless teenager and light him with kerosene before you'll go to prison as a Jewish terrorist in Israel.  These boys are only apprenticing before they reach the terror big-time.  Though a terror cell organized the murder of the Dawabsheh family, only one Jewish settler terrorist has been arrested.
NOTE: I just published an op-ed in the Seattle Times, Don't believe that Washington state is awash in anti-Semitism, rebutting charges by local Jewish leaders that the state is rife with anti-Semitism.  Please give a read and circulate it to friends, colleagues, family, etc.