Gaza Ceasefire Collapses, Israel Fails in Fifth Attempt to Assassinate Mohammed Deif
Israel grasped an opportunity to assassinate one of Hamas' top military leaders, Mohammed Deif, last night and instead murdered his pregnant wife and daughter at the Al Dalou home.  A Palestinian Twitter user posted this:
AlDalou Family house was targeted by 5 GBU28 bombs. The "Guided Bomb Unit 28" is a 5,000pound laser-guided "bunker busting" bomb made in USA
— Rajai abuKhalilرجائي (@Rajaiabukhalil) August 20, 2014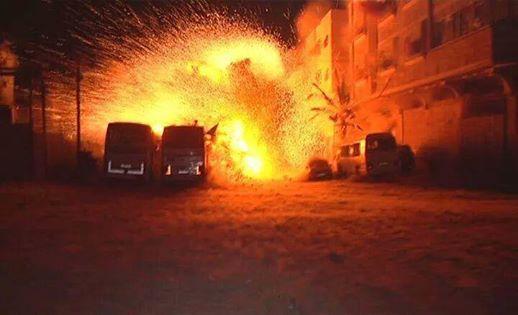 We may now thank the U.S. government for permitting Israel to further escalate the massacre Israel wants us to call Operation Protective Edge.  You thought bunker busters might be used against Iranian nuclear sites.  You thought they might be used to prevent it from getting WMDs.  Little did you know it would be used to kill a mother and her little daughter.  Congratulations, U.S. citizen.  This is your handiwork.  And send further regards to Barack Obama and John Kerry who don't have the b(&@s to do what has to be done to reign in the psychopaths pursuing this annihilationist strategy against Gaza.
Deif, whom Israel has attempted to kill many times, may have survived, though reports say a third unidentified person was killed as well.  UPDATE: It appears likely that Deif survived the attack as Israel media are conceding this.  The reason why the assassination attempt is especially important is that Israel was supposedly observing a temporary ceasefire and supposedly negotiating in good faith with Egypt and Hamas about a permanent ceasefire.
We can clearly see how genuine Israeli ceasefires and commitments are.  When they can drown their enemies in blood, they do so no matter what agreements this may violate.
Over the past few days, I'd been reading about Hamas' wish list in the talks and Israel's demands.  Given an ounce of good will and willingness to compromise, the demands weren't mutually contradictory.  If Israel had agreed to demilitarize its border with Gaza it could've reasonably demanded that Hamas disarm as well.  Had Israel been willing to allow either the PA or European specialists to assume control of border crossings and inspections, it might've lifted the Gaza siege it's implemented since 2006.  Had Egypt had any genuine interest in securing the peace it might've announced an end to its own siege on Gaza pending resolution of any outstanding issues between it and Hamas.
But none of that happened.  Israel would never demilitarize anything.  Nor would it lift its siege.  Israel's answer to the stall in the talks was to assassinate Deif.  Presumably, Bibi Netanyahu and his intelligence apparatus thought delivering such a blow against Hamas would punish it for its recalcitrance.  I doubt Israel believed that such a murder would bring Hamas to heel, since any reasonable person would know it'd have the opposite effect.  Indeed, the rockets have been flying all day, hitting sites near Jerusalem, Tel Aviv and other towns.
Another reason Israel might've targeted Deif is yesterday's announcement by the Shabak that it had foiled a major conspiracy by Hamas in the West Bank to commit coordinated terror attacks inside Israel and the West Bank which would spur a third Intifada and topple Fatah.  Israel's intelligence services highlighted a Hamas leader named the "Deif of the West Bank," as the mastermind behind the conspiracy.
There are a number of major problems with the story: this "Deif" would have to be insane to believe he could organize multiple, coordinated terror attacks both in Israel and the West Bank.  He would be even more insane to believe that such attacks would set off a Third Intifada.  Finally, he'd have to be certifiable to believe this would lead to a Hamas coup in which it took control of the West Bank from Fatah.
It is possible that some small portion of this claimed terror plot is true.  But due to the aggrandizing of the Shabak we'll never know, or be able to separate fact from fiction.  It's even possible that Shabak conveniently released this news the day before it already intended to assassinate Deif.  Had they succeeded they could've (and would've) pointed to this 9/11 style terror project as justification for killing him.  They would've argued that the only way to frustrate such criminal enterprises is by killing the masterminds.  Deif would've been the poster boy for such a strategy.
Returning to the ceasefire, the U.S. had the right idea in involving Turkey and Qatar in the original talks (which Israel resisted with all its might).  Turkey has had, and Qatar still has good relations with Israel and with Hamas.  They might've acted as honest brokers to resolve the conflict.  But Israel sabotaged this effort and froze Kerry out of subsequent ceasefire efforts.
I marvel that Hamas has even been willing to attend talks brokered by its enemy, the Egyptian junta.  I see no way the Muslim-Brotherhood-hating generals can represent anyone's interests but Israel's.  I suppose it's possible Hamas felt this was the only diplomatic game in town and if wasn't seen to be playing it might reflect badly on it.  At any rate, I see little or no hope for success in Egypt-brokered talks.  There is no party there Hamas trusts.
With this most recent war, Israel refuses to recognize that the game has changed in the Middle East.  No longer can Israel impose its will on its Arab enemies.  They are increasingly resisting both politically and militarily.  Though Israel still maintains a formidable military force that still rules supreme in the region, it can no longer call the tune to which everyone else must dance.
Not to mention that Hamas is an enemy Israel cannot subjugate.  Gaza has been virtually levelled to the ground.  There is almost nothing left.  Yet Hamas refuses to concede.  It can still fight. Therefore it has won.  One may argue about what exactly it has "won" given the devastation.  But Gazans had little before the war, now they have less.  Perhaps much less.  But "when you ain't got nothin' you got nothin' to lose," to quote Dylan.
A final word about what is ghoulishly being called Gaza "reconstruction."  It is ludicrous for any nation to attend or pledge to an international fund to rebuild Gaza.  Every potential donor must know that whatever they build will be destroyed in two years when the next war occurs.  If you want to throw away your petro-dollars, by all means do so.  Flatter the vanity of Israel that you will clean up after the mess it makes.  Do take Israel off the hook.
When will someone in the world look Israel in the eye and say, to paraphrase Colin Powell: you break it, it's yours.  Make Israel pay.  If it won't then place it under sanctions.  If no one will hold Israel accountable for its actions, then it eventually will drag down the entire region as Samson did the Philistine temple just outside what is now Gaza.
It makes my blood boil to hear anonymous Israeli officials claiming they recognize the obligation they have to allow humanitarian aid into Gaza.  It would have been better had they honored an even more important humanitarian obligation not to kill 1,500 Palestinian civilians, including 450 children.
For Yossi Melman's "take" on Israel's assassination is far too mild, but he does raise the question of whether it is effective or even can be effective.