In First Gaza Ground Battle, Israeli Commandos Repelled
In what was the first ground engagement between the IDF and Hamas forces during Operation Protective Edge earlier today, Shayetet 13 naval commandos landed on a northern Gaza beach, where their target was a rocket launcher firing long-range missiles toward Israel.  According to a well-placed Israeli source, the commandos were ambushed and repelled by Hamas fighters.  There was a huge firefight involving heavy weapons and the special forces were forced to withdraw with four wounded.  None were killed on the Israeli side.  The IDF says it killed three Hamas fighters, though this is unconfirmed on the Palestinian side.
According to my source, the battle did not go well for the Israeli forces who had hoped for stealth to reach and neutralize their target.  With the ambush they lost the element of surprise and were forced to call in F-16s and helicopter gunships to hold off the attacking Palestinians.  Certainly such air support wasn't anticipated unless the operation ran into trouble, which it clearly did.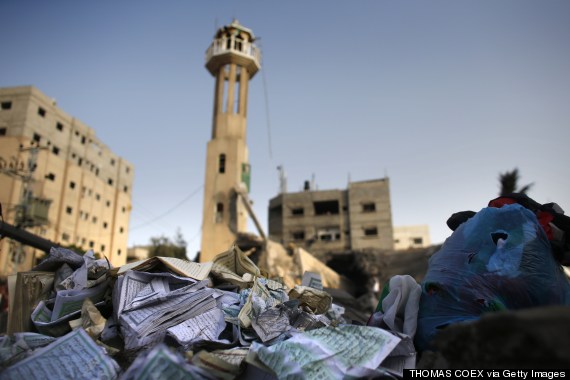 The commandos were repelled and never destroyed the rocket launcher.  Though certainly later battles between the IDF and Hamas forces will not necessarily go as well for the Palestinians, the fact that they gave the IDF a bloody nose, is a major victory.  Especially considering the drubbing that Gaza has been taking from Israeli forces.
This is the same commando unit which massacred 10 Turkish activists on the Mavi Marmara.  Also, the same unit which commandeered a ship off the shore of Sudan and pirated it to an Israeli port claiming it contained weapons destined for Gaza.  The only problem?  A UN report said the weapons on the ship were bound for…Sudan.  Surprise!  But when it comes to sabotaging the ships activists use to break the Gaza blockade, Shayetet 13 does a terrific job of sinking them in acts of terror in foreign countries against civilian targets.  In fact, this may've been the last "successful" Shayetet 13 raid!
If you want to watch a truly bizarre IDF video, you can see this Shayetet 13 ceremony at which the new commander was given his post.  You'll notice that no one seems to have a head in the video.  That's because they think they'll be exposing the identity of commandos to international war crimes tribunals, I presume.  The name of the new commander is supposed to be secret, but no longer.
The death count has now risen to 152, with still no Israeli fatalities. The air force bombed a rehabilitation center where two disabled women died.  It also destroyed the home of Gaza's police chief and the next door mosque during evening prayers.  Eighteen worshippers  and family members were killed during services, four of them children.  50 more were injured.  The army claimed the mosque was used by Hamas to store weapons.  What's historically interesting about this claim is that the Irgun and Palmach both stored their weapons in synagogues, believing the British would neither suspect nor search for weapons in a house of worship.  They too took advantage of their religion to further their military goals.  But imagine if, in 1947, the British had bombed one of those synagogues?  What a geshrei the Israelis would've let loose.
This doesn't even prove there were weapons in the mosque.  As is almost always the case, when the IDF makes a disastrous error like this one, they try to brazen it out with the best lie they can think of.  I also ask you to imagine what would happen if a Gaza rocket landed on an Israeli synagogue and killed 20 people.  Israel would go before the Security Council and demand Hamas be tried for war crimes.  What's good for the goose should be good for the gander, no?
A troubling new development (Hebrew) reminiscent of IDF promises during the last Lebanon War to turn the country "back to the Stone Age," involves an Israeli threat to turn the Gaza neighborhood of Saja'iya into Dahiyeh.  That is the neighborhood that is the heart of Hezbollah power in Beirut, and where Hassan Nasrallah took shelter during Israel's bombing campaign.  The IDF complains that Saja'iya is the center of Hamas' rocket launching campaign.  If Hamas doesn't cease and desist, the army is promising to raze it to the ground. It has the "catchy" title translated from Hebrew: turn Saja'iya into Dahiyeh.
Destroying this civilian neighborhood wholesale would be a blatant war crime.  Thousands of people live here who have no connection to rocket firing.  To deprive them of their homes and livelihood is beyond cruel.  Israel may not use the excuse that the neighborhood serves as a "human shield" for Hamas.  That is not a legitimate argument under the laws of war.  Guerillas fight using asymmetrical warfare.  They don't fight in conventional terms on a battle field where you can separate civilians from combatants.   The fact that Gaza is an unconventional battle ground does not justify abrogating international law.
The report on which this was based on an article by Ben Caspit, who is one of Israel's far-right reporters.  It's hard to tell whether it's typical bluff, bluster and braggadocio or whether it's in earnest.  My guess is that it's a little of both, but I would not discount the possibility that the neighborhood will be levelled by a Dresden-style bombing campaign.
Earlier today, I posted an Israel radio news report that an IDF source confirmed there would be a "significant military operation" in the coming hours which would follow the expulsion of 100,000 Gazans from their homes on the border.  I interpreted this as a veiled announcement of the impending ground invasion.  Mako also confirms (Hebrew) that a ground invasion is imminent:
Land Invasion? IDF Calls for Expulsion of Gaza Population

The IDF is expected to call on the residents of northern Gaza to abandon their homes in order to widen Operation Tzuk Eytan ("Solid Rock" aka Protective Edge).  Reports believe this refers to a step preceding a land operation [invasion]…This move testifies to a series of preparatory steps preceding a land invasion of Gaza.
I'm amused that when I tweeted my earlier post about an imminent ground invasion, Mona Eltawahy retweeted it.  But when she heard the lie from a pro-Israel social media operation that there was no such report on Israel Radio, Eltawahy deleted her tweet and called my report "unconfirmed" in that typically imperious way of hers. I love it when people bet against my sources.  An invasion of Gaza is not something to boast about.  But the invasion is coming and the deniers anger me.