Israeli Settler Priests Prepare to Build Holy Temple, Resume Animal Sacrifices
An Israeli friend has found an amazing YouTube video (apologies that it is in Hebrew without English captions) of the quasi-religious ceremony at which settler paraded scores of white tunic-clad (also called "kittels") men of various shapes and sizes as the coming generation of kohanim (priests), who would assume duties when (not "if") the State destroys the Dome of the Rock and replaces it with a rebuilt Holy Temple.  All this is under the auspices of the Temple Institute.  In a related incident, Israeli police arrested radical settler activists attempting to bring goats to the Temple Mount for the ritual Passover sacrifice.  No sooner were they released than one of them was rearrested bringing yet another goat into the Old City for sacrificial purposes.
To my surprise, my rightist readers didn't pooh-pooh earlier coverage of this incident by saying these are a bunch of crazy marginal extremists.  Instead, a few readers argued that this ceremony is an entirely mainstream ritual with no extremist overtones.  I'd hoped at least a few readers would try to argue the marginal angle so I could respond by noting how insane Ariel Sharon's plan to settle hundreds of thousands of settlers in the Territories appeared in the late 1970s, when there were only 20,000 settlers there.  One could retreat even farther in history to 1968 and speak of the small spark that was the settler movement then.  No one could foresee that from a tiny protest in Sebastia led by Shimon Peres, this incipient movement would, in effect, become a hidden elite actually controlling the Israeli government and political system.
So, when a bunch of seeming fanatics parade a bunch of fat, balding middle aged men through the streets of Jerusalem and tell us they're the Jewish High Priests of the future, I sit up and take notice.  This is friggin' scary.  Not because the rest of world Jewry will respond in any positive way to this rump attempt to revive the priestly elite.  But rather because the combination of this religious movement allied with State power will send Israel even farther in the direction of religious holy war.
There may be readers and policymakers in the U.S. and Europe who believe that this is a case of the boy who cried, "wolf."  But I assure any sensible analyst or policymaker that this is a lot worse than a silly visual farce (which it is).  It could rapidly spin out of control, just as Ariel Sharon's visit to the Temple Mount led directly to the second Intifada.  If anyone thinks Muslims throughout the world will react with equanimity to news of Jews encroaching on the Haram al-Sharif, they should have their heads examined.  Israeli Jewish fanaticism will be met with strenuous Muslim resistance.
I also urge Jewish religious leaders around the world to soundly reject this project.  There must be a loud, united voice saying Jews do not want this.  We do not want priests, we do not want sacrifices, we do not want Jews raising their arms in a priestly salute that reminds some of us other similar past racist salutes, we do not want a Temple.  The poor goat sacrificed is worthier than those who would slaughter it.  The blood flowing from its veins which they bless with a bracha is nothing more than a travesty and needless animal cruelty.  Their ritual project is nothing more than what the impatient Jews did in Sinai with the Golden Calf.  It is avodah zarah, worship of strange gods.  We want values and ideas, not sacred relics.
If there is anyone out there who objects, let them think back in Jewish history to the age of the Temple.  Remember the corruption, violence, unrest, class divisions.  Remember when the Romans destroyed the Temple and Rabbi Yochanan Ben Zakkai escaped to found his school at Yavneh and ushered in the era of rabbinical (rather than priestly) leadership.  Since that historical moment Jews have rejected centralized authority in the form of monarchy or priesthood.  Instead, Jews have embraced a decentralized, democratic form of leadership led by rabbis and lay leaders.
We don't need priests.  We don't need kings.  We don't need a theocratic state.  As Jews, we need Israel to be a democratic state.
Speaking of the Judaism (and Israel) I want, a group of African refugees celebrated a seder in an Israeli concentration camp along with Israeli human rights activists: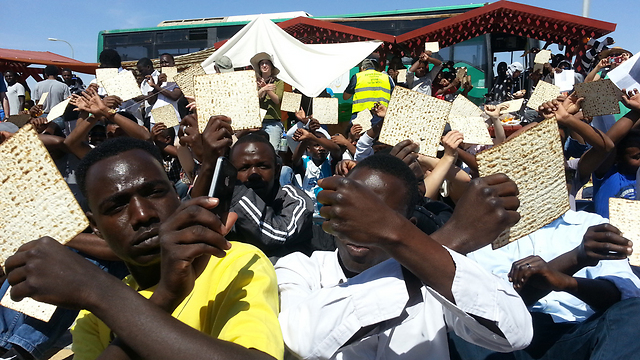 Outside the Holot detention center, migrants sat with Israeli activists amid the dust of the vast desert and listened to speeches about the lessons of the weeklong Passover holiday: the meaning of freedom and the importance of showing hospitality to strangers. They ate matzo, the unleavened bread meant to commemorate the Jews' hastened flight from Egypt, when they did not have time to wait for their bread to rise. There was no wine, a main fixture of the holiday, out of respect for Muslim migrants who refrain from drinking alcohol.

"(Jews) asked to leave Egypt. We also asked to leave our countries because the situation there is very difficult," said Anwar Suliman, a migrant from Sudan's Darfur region who has been held at Holot for the past month. "We are in the same situation."
During their Passover ritual they, just like Jews, asked for their freedom. They asked why, if Jews could gain their liberation from bondage in Egypt, today's refugees can't be treated with dignity and respect in modern Israel. Why they can't be sheltered as international law demands instead of being sent to countries like Rwanda and Uganda, where they are stateless.
Poignant questions deserving of answers. Instead of the hostility and moral obtuseness with which they're normally met by Israel's racist government.