Saudi Arabia Whines about U.S. Betrayals on Iran, Syria
Saudi Arabia  is making known its extreme displeasure with the U.S.' increasingly moderate, pragmatic approach to conflicts with Syria and Iran.  When the corpulent, oil-besotted sheikhs have a fit of pique, U.S. presidents are supposed to quake in their boots, lest the spigots be turned off.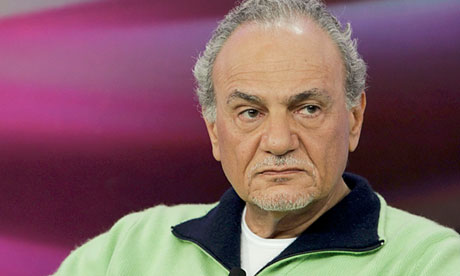 Last month, the Saudis waited in eager anticipation for us to unleash cruise missiles with Bashar al-Assad's name written on them.  When that didn't happen, the Saudis told the world they would accelerate their arming of Syria's Islamist extremist rebel forces.  Listen to this Saudi prince bellow his displeasure:
"The current charade of international control over Bashar's chemical arsenal would be funny if it were not so blatantly perfidious, and designed not only to give Mr. Obama an opportunity to back down but also to help Assad to butcher his people," said Prince Turki, a member of the Saudi royal family and a former director of Saudi intelligence.
The Saudis have also urged us to hang tough against the Iranians in our nuclear negotiations.  Like Israel, the Arab oil kingdom wants no Iranian nuclear program of any kind, a prospect the Iranians have rejected.  Pres. Obama appears now to have embraced a more pragmatic approach to the Iran negotiations which could end with an agreement allowing Iran to enrich uranium to a 5% level.  Feeling extremely dissed, Israel and the Saudis have collapsed into each others' arms and become military allies, if not bosom buddies.  Both nations have rattled sabers sufficiently to make it appear that they could together launch an attack on Iran.
To further dramatize their dismay, Saudi Arabia was offered a UN Security Council seat last week, a distinction coveted by all UN member states.  The Saudis rejected the distinction outright, an extreme version of cutting off one's nose to spite one's face.
The foreign policy mandarins quoted in this NY Times article warn of U.S. dithering.  Or our displaying weakness and vacillation in the face of the enemy:
"There is a lot of confusion and lack of clarity amongst U.S. allies in the Middle East regarding Washington's true intentions and ultimate objectives," said Robert M. Danin, a senior fellow at the Council on Foreign Relations who was a State Department official on Middle East issues during both Democratic and Republican administrations [ed., the Times fails to note that Danin was the Israel representative for Tony Blair's Quartet, which reveals his biases more clearly]. "There is also widespread unease throughout the Middle East, shared by many U.S. allies, that the United States' primary objectives when it comes to Iran, Egypt or Syria are to avoid serious confrontation."
These same folks said if we didn't go to war in Syria our "enemies" would see us as empty suits, as chumps.  They implied the only thing these Arabs understand is a strong fist.  But when we didn't go to war did we suffer these consequences?  On the contrary, our retreat from a disastrous intervention has allowed a negotiation process to begin both in Syria and Iran.
Keep in mind, this is precisely what the Saudi and Israeli war hawks hate.  No talks, no deal, confrontation to the end.  Should we be worried when they moan and groan?  That Saudi Arabia might throw in its lot with Al Qaeda or the IDF (or both)?  As far as it's are concerned: who cares?  Yes, the Saudis exercise influence in the Gulf.  They bankroll the Egyptian coup leaders and Syrian al Qaeda forces.  They're swimming in oil.  But can they really be the wave of the future?
As I wrote in a recent post, the U.S. now has to choose among its Mideast allies.  The Arab strongmen of the past, the Mubaraks, Abdullahs, Assads, are rapidly going the way of the do-do bird.  Do we maintain our ties with the authoritarian past of the region?  Or do we seek out an alternative?  Those nations which, though imbued with an Islamist cast, have democratic systems at their core.  Among them are Turkey, Lebanon and Iran.  Certainly, each of these countries are fighting a battle between fundamentalism and tolerance and democracy.  But our future must be seen with them.  We should, when we can, strengthen pragmatic forces in those countries.  Finally, we must turn away from the dictators of the past.
If Israel isn't careful and continues on the authoritarian road it's been following in domestic and foreign relations, it too will become increasingly irrelevant both in the region and on the world stage.  It risks becoming the North Korea of the Middle East, with a reluctant state sponsor (China in one case and the U.S. in the other) forced to shield it, and the world, from its worst impulses.
If this happens, it will have only itself to blame.  Over the years and especially lately, it has been given multiple opportunities to show moderation and willingness to compromise.  It has refused to do so every time, except on its own terms, which have never been acceptable to its interlocutors.  Israel's predicament and potential future peril are of its own making.
Related articles