Kamm Leaked Secret IDF Documents to Expose 'War Crimes'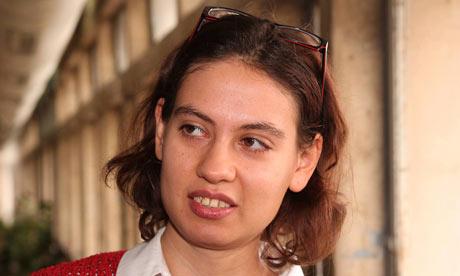 Finally, we have a evidence supporting Anat Kamm's motives in leaking hundreds of secret IDF documents to the Israeli press.  Until now, we've been forced to speculate on those motives and the theories have been all over the place.  But Haaretz, which appealed to the court to release police files related to the case, reports that her own testimony to the Israeli police explains her motivation:
Classified documents reveal that the Israel Defense Forces had committed war crimes in the West Bank, Anat Kam, the former soldier indicted for espionage over an alleged theft of top secret material, told the court earlier in the year, according to police documents released allowed for publication Monday at the request of Haaretz.

In the newly released material documenting court hearings surrounding Kam's arrest, the journalist and former IDF soldier said that the motivation behind her removal of sensitive military material was to expose "certain aspects of the IDF's conduct in the West Bank that I thought were of interest to the public."

Kam added that her thinking behind taking the top secret papers was to ensure that "if and when the war crime the IDF was and is committing in the West Bank would be investigated, then I would have evidence to present."

Kam said that she didn't think that transferring the documents would endanger the country, as she did not think "the journalist would focus on the details of the military actions, but rather on the principles and the policies that were behind the the top officers' decisions."
Ynetnews added this interesting quotation from her testimony:
"I couldn't make a big enough difference during my service. I thought exposing (procedures) would bring about a change… When I was burning the CDs I kept thinking that history tends to forgive people who expose war crimes."
Kam had also contemplated any punishment that might be meted out to her and the legacy that she might leave for Israeli democracy:
Referring to the possibility that she would be penalized for the theft, Kam said that when she "burned the material [onto a CD] I thought that in the test of history, people who warned of war crimes were forgiven."

"I didn't have the chance to change some of the things that I found it important to change during my military service, and I thought that by exposing these [materials] I would make a change," the former soldier said, adding that it was for those reasons that "it was important for me to bring the IDF's policy to public knowledge."
While I find these statements very powerful and convincing, I find it difficult to reconcile them with statements that she herself made here on this blog (I believe, though under a pseudonym) and to others in which she demeaned their own motives in publicizing her case.  At best, I think this was a woman whose motives were divided at least after her exposure.  But I'm prepared wholly to support her and put by the wayside any other theory I may've published before about other motivations I thought she might have.
Anat Kamm is a whistleblower in the best tradition of the term.  She is an Israeli patriot, an Israeli version of Daniel Ellsberg.  She did the right thing in a nation where others cover their tushes or ignore sins that lie right before their eyes.
Every Israeli and anyone concerned about Israeli democracy owes it to Anat Kamm to do whatever they can to support her.  I call on bloggers, journalists, academics, human rights activists to join together in a campaign to win her freedom and exoneration.  I will do whatever I can to create and support such activism.