Sara Netanyahu Testifies in Libel Trial Against Ehud Olmert
She claims my report alleging she was hospitalized in a Viennese psyciatric clinic was "fake news"
שרה נתניהו מעידה במשפט לשון הרע נגד אהוד אולמרט היא טוענת שהדיווח שלי לפיו אושפזה במרפאה פסיכיאטרית וינה היה 'חדשות מזויפות'
NOTE: Since this is a long, detailed post–for those interested in specific content regarding the Netanyahu testimony yesterday–the post is divided into four sections.  The introduction, the Hebrew testimony, the English translation and the conclusion, which offers my analysis and rebuttal of the Netanyahu testimony.  You can skip down to whichever section interests you most.
The Netanyahu family is suing former Prime Minister Ehud Olmert for slander because he called the family (collectively Sara, Bibi and Yair) "mentally ill." Each one testified today and it was riveting political theater.
Olmert's lawyer, Amir Titonovitz, cross-examined Sara Netanyahu.  As part of her testimony, he questioned her extensively about a blog post I published, based on a news report in a Bulgarian media outlet (since deleted, probably after a threat from Netanyahu), which claimed that a source at a Viennese psychiatric clinic told the Bulgarian reporter that she had been hospitalized there in 2020.  I based my reporting on this story, which I translated from Bulgarian.
After I published the post, Bibi Netanyahu's spokesperson, Ofer Golan, contacted me via Facebook. He asked for my mailing address so he could send a statement to me.  I refused to provide my residential address for privacy reasons and requested that he send it via Facebook Messenger.  He did so, and requested that I add it to my post, which I did.  His response included a threat to sue me in the US, to which I said I would look forward to it and to deposing her in court.  I never heard further from him or Netanyahu.
Israeli media quoted extensively from today's proceedings in their reporting.  Since the alleged defamatory statement concerned the family's mental health, and the report of her hospitalization would attest to the truth of Olmert's statement, his attorney questioned her extensively about my blog post.  I've translated the testimony as published in three different media outlets.
The lawyer mentioned below is Amir Titonovitz, Olmert's attorney.
The first is from Walla:
עו"ד טיטונוביץ' שאל אם שרה נתניהו ביקרה באוסטריה בשנת 2020. "אני שמח שאתה מעלה את זה", אמר נתניהו. "היא לא יצאה מהארץ ב-2020?", שאל הפרקליט. "לא יודע, הואשמנו שהיא קיבלה טיפול בסנטוריום באוסטריה", השיב נתניהו. "למה אוסטריה היא רלוונטית? משום שאשתי אושפזה, בגלל שיומיים לפני האשפוז היא היתה בכפרים דרוזיים. התפוצץ לה האפנדיציט, במרץ 2020, ואז כתוצאה מהטיפול במחלקה הכירוגית בהדסה, אמרו שהיא נלקחה לסנטוריום, זה אוסטריה".
שרה נתניהו הכחישה כי אושפזה באוסטריה. "שקר מההתחלה ועד הסוף, לא מכירה את בית החולים, לא הייתי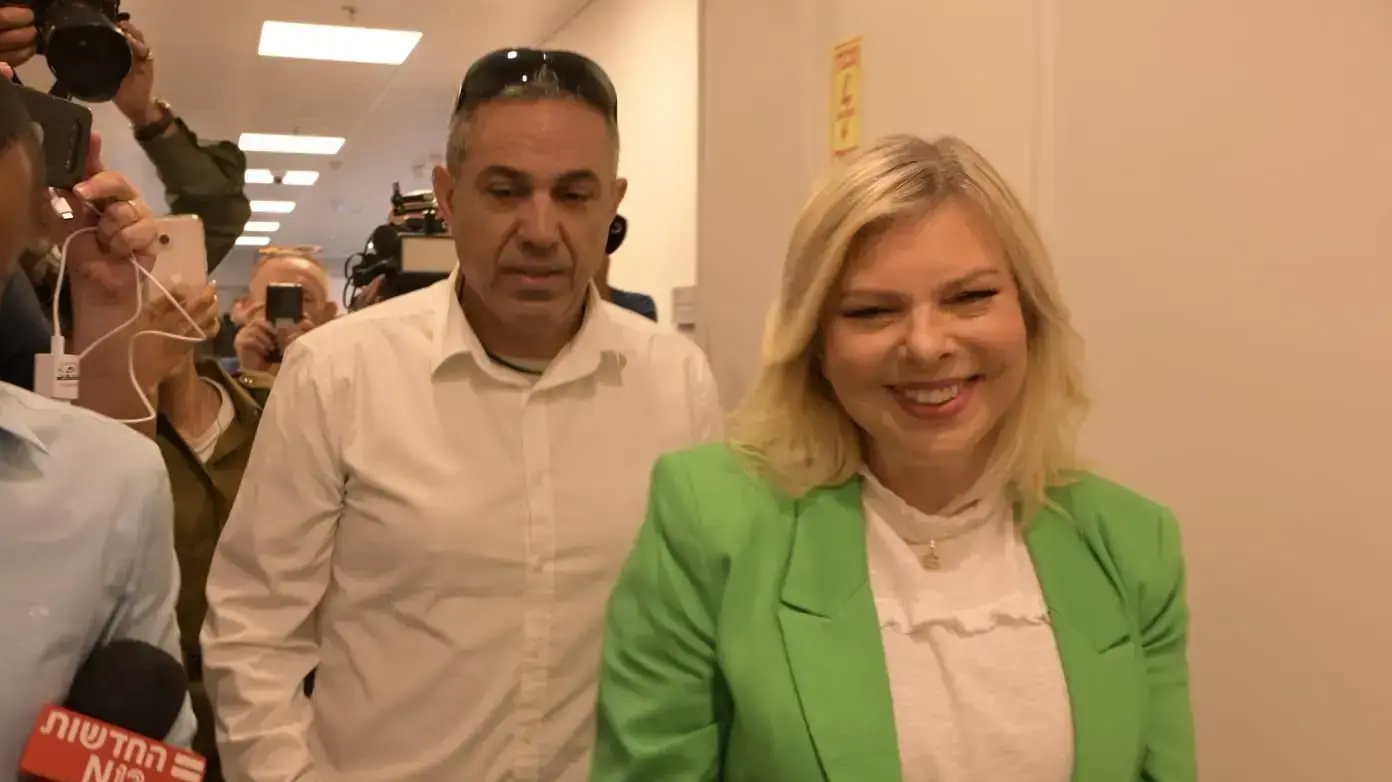 באוסטריה 20 שנה מאז שהיינו בביקור רשמי. ביקרנו במחנות ריכוז, הייתה ארוחת ערב רשמית, ביקור קצר כמו כל הביקורים הרשמיים. אולי היה ביקור אחרי זה בהרצאה שבעלי נתן", אמרה. היא פנתה לשופט והציעה גם להציג את הדרכון שלה כהוכחה.
טיטונוביץ' הציג פרסום של הבלוגר ריצ'רד סילברסטיין על האשפוז כביכול של שרה נתניהו במוסד בווינה ושואל האם היא מכירה את הפרסום. היא השיבה בשלילה. "אין לי מושג מי זה האדם ההזוי הזה, שלא פנה אלי, שלא שאל", אמרה. טיטונוביץ' שאל את גב' נתניהו אם היא בטרנס, והיא השיבה בשלילה. "אני לא בטרנס, גם אם לאשתך היו אומרים דבר כזה שהיא מאושפזת", אמרה. טיטונוביץ הגיש לנתניהו ידיעה מודפסת עם התגובה שלה לכתבה, אך היא סירבה לקחת את הדפים, הניחה אותם בצד, ושאלה את עורכי הדין: "רגע, מישהו מחייב אותי לקרוא? לא ראיתי את המאמר הזה מעודי, אין תגובה שם, לא התבקשתי לענות". טיטונוביץ' הגיש את המאמר לעורכי הדין. היא המשיכה להכחיש כי הגיבה לכתבה, וטענה כי התגובה שמופיעה בשמה "מפוברקת" וכי איש לא פנה אליה
טיטונוביץ הזכיר כי נתניהו פרסמה סרטון ברשתות החברתיות כדי להזים את השמועות על האשפוז באוסטריה. "אני פרסמתי סרטונים כל הזמן", אמרה נתניהו, "אמרתי שלא נעלמתי, אני כאן, כרגיל הייתה קורונה, הגבתי לפייק ניוז שנעלמתי. אתה יכול לשאול את טופז שעוזר לי בסרטונים".
:The second report is from Kan, the state broadcaster
נתניהו העידה כי הבלוגר הפוליטי, ריצ'רד סילברסטיין, לא פנה אליה: "לא שמעתי את שמו מעולם עד שהתחיל המשפט. אין לי מושג מי זה האדם ההזוי הזה. הכול שקר. לא הייתי בשום מקום כזה. יש גבול להשמצות", אמרה. תשומת ליבה של נתניהו הופנתה לכך שתגובתה פורסמה בכתבה, לכך התנגד עורך דינה יוסי כהן. לאחר ניסיון מצד פרקליטו של אולמרט, עורך הדין אמיר טיטונוביץ, להציג את הכתבה, חטפה עורכת הדין מיוחס, אחת הסניגוריות של נתניהו, את הכתבה מידו. השופט ניסה להרגיע את הרוחות
:The third report is from Ynet (via MSN)
עו"ד טיטונוביץ שאל על האשפוז באוסטריה, שעליו פרסם הבלוגר ריצ'ארד סילברסטיין. "כפי שאת יודעת התפרסם שאת ב-2020 אושפזת בבית חולים פסיכיאטרי בווינה".
שרה: "הוא לא פנה אלי מעולם, עד שנכנסתי למשפט הזה. ואז הסבירו לי מי זה האדם ההזוי הזה. לבדוק ברישומי שדה התעופה". עו"ד טיטונוביץ: "גברת נתניהו את בטרנס, מבקש רק לענות". שרה: "אם יגידו לאשתך שהיא אושפזה?". עו"ד טיטונוביץ: "בכתבה הזו יש את התגובה שלך". שרה: "כבוד השופט יש כאן הטעיה. לא ראיתי את המאמר מעודי. אין שם תגובה, לא התבקשתי לענות. אין לי מושג מי האיש הזה. לא ידעתי על הכתבה הזו עד למשפט ולא אקרא אותה". עו"ד טיטונוביץ: "מי זה עופר גולן?". שרה: "זה דוברו של בעלי". עו"ד טיטונוביץ: "אז התגובה ניתנה על ידיו, הוא הגיב". שרה: "עופר נותן כבר תגובות שגרתיות על פייק ניוז, לעתים מבלי שידעתי. זה לא אומר שתגובתו לא נכונה". עו"ד טיטונוביץ: "אנחנו מדברים על פרסום של בית החולים הכללי בווינה, החמישי בגודלו באירופה, והוא רוצה להיכנס לבולגריה. הוא פרסם ידיעה בשם עצמו בבולגרית והוא מספר שב-2020 הגברת בן ארצי נתניהו מאושפזת במחלקה הפסיכיאטרית בבית החולים". שרה: "שקר. אין לי מושג על סמך מה הוא פרסם את זה, ואיזה בית חולים זה. לא הייתי במקום כזה. זה לא נתפס, יש גבול להשמצות עליי. אתה לא שואל, אתה נותן נאומים". עו"ד טיטונוביץ: "מוסד גדול בווינה מפרסם שהיית מאושפזת אצלו ולא ידעת?". שרה: "לא" עו"ד טיטונוביץ: "אף אחד לא איים
"בתביעה? את מקווה שבית משפט יאמין לזה?". שרה: "לא
Translation:
1. Walla:
Titonovitz asked [Bibi] Netanyahu if his wife had visited Austria in 2020.
[Netanahu] 'I'm glad you raised that. "Didn't she leave the country in 2020," the lawyer asked."  There were accusations that she received treatment in a sanitorium in Austria,' Netanyahu replied.  'Why is Austria relevant?  Because my wife was hospitalized? Well, two days before she was hospitalized she was visiting Druze villages.   Her appendix burst in March 2020.   Due to her treatment, she was hospitalized in the Hadassah surgical unit. As a result [of her disappearing for a few days while recuperating at the hospital], they said that she was taken to a sanitorium in Austria.'
Sara Netanyahu denied she was hospitalized in Austria. "A lie from start to finish. I'm not familiar with that hospital.  I haven't been in Austria for 20 years, since we made an official visit. We visited the concentration camps and then had an official [state] dinner.    There may have been a subsequent visit when my husband gave a lecture,' she said.  She turned to the judge and suggested that she present her passport [as proof].
Titonovich presented a publication [blog post] by blogger Richard Silverstein about Sarah Netanyahu's alleged hospitalization in an institution in Vienna, and asks if she is familiar with the publication.
She replied in the negative. 'I have no idea who this delusional person [me] is, who did not contact me, who did not ask,' she said.
Titonovich asked Ms. Netanyahu if she was in a trance [while testifying], to which she replied in the negative. 'I'm not in a trance, even if your wife were told something like that she was hospitalized,' she said.
Titonovich submitted a printed article to Netanyahu with her [spokesperson Ofer Golan's] response to the article, but she refused to take the [printed] pages [of the post], set them aside, and asked [her] lawyers: 'Wait, does anyone require me to read this? I have never seen this article, there is no response [from my spokesperson] there, I was not asked to respond. '
Titonovich submitted the article to [her] attorneys. She went on to deny that she responded to the article, claiming that the response that appears in her name was 'fabricated' and that no one contacted her.
Titonovitz mentioned that she uploaded a video to social media to rebut the rumors of the hospitalization in Austria. 'I make videos all the time.' Netanyahu said. 'I said that I hadn't disappeared [from the country]. I am here as usual during the Corona [epidemic].  I was responding to the fake news that I had disappeared. You can ask Topaz who helps with the videos.'
2. Kan:
Netanyahu testified that the political blogger, Richard Silverstein, did not contact her: 'I never heard his name until the trial began. I have no idea who this delusional person is. Everything is a lie. I have not been anywhere like this. There is a limit to these defamatory claims, 'she said.
Netanyahu's attention was drawn to the fact that her response was published in the article, to which her lawyer, Yossi Cohen, objected. After an attempt by Olmert's lawyer, Amir Titonovich, to present the article, one of Netanyahu's defense attorneys snatched the article from him. The judge tried to calm things down.
3. Ynet:
Adv. Titonowitz asked about the hospitalization in Austria, mentioned in the post the blogger, Richard Silverstein, published. 'As you know, it was reported that in 2020 you were hospitalized in a psychiatric hospital in Vienna.'
Sarah: 'He never approached me, until I got into that legal case [against Olmert]. Then they explained to me who this delusional person was. Check airport records'.
Adv. Titonovich: 'Mrs. Netanyahu is in a trance, I just want an answer.'
Sarah: 'Should they tell your wife she was hospitalized?'.
Adv. Titonovich: 'This article has your response.' Sarah:
'Your Honor, this is false. I have never seen the article. There is no response [she is denying the authenticity of her spokesperson's statement], I was not asked to respond [to the blog post]. I have no idea who this person [me] is. I did not know about this article until the trial and I will not read it. '
Adv. Titonovich: 'Who is Ofer Golan?'
Sarah: 'This is my husband's spokesman.'
Advocate Titonovich: 'So the response was made by him, he responded' [to the post].
Sarah: 'Ofer already gives routine comments on fake news, sometimes without my knowledge. This does not mean that his response [to my post is incorrect. '
Advocate Titonowicz: 'We are talking about the publication from the General Hospital in Vienna, the fifth largest in Europe.  [The news of your hospitalization] made its way to Bulgaria, where a reporter published it in his own name, and he says that in 2020 Mrs. Ben-Artzi Netanyahu was hospitalized in the psychiatric ward of the hospital.
Sarah: 'A Lie. I have no idea on what basis he published it, and what hospital this is. I have not been to a place like this. It makes no sense, there is a limit to such slander against me. You don't ask [questions], you give speeches. '
Adv. Titonowitz: 'A major institution in Vienna reported that you were hospitalized there and you don't know?'
Sarah: 'No'
Adv. Titonovich: 'No one threatened a lawsuit? Do you think a court would believe this? '
Sarah: 'No.  This too is probably fake.'
*   *
A few short comments on Sara's testimony regarding my report.  Note, she claims that she's never heard of me, never read my post, and never responded to it.  She even denies her spokesperson's response to me, saying it was "fabricated."  But she then offers the opposite claim: that it might be possible he did respond, because Ofer Golan responds to many such reports without telling her.  In other words, she said the thing, and its opposite.
At one point in today's testimony, she calls my report "lies from start to finish."  Note in the screenshot of the response I received from Bibi Netanyahu's spokesperson, Ofer Golan, he says: "Fake news from start to finish."  While this may be a common phrase in Hebrew (and English), the chances that the phrase she used in her testimony today–and the one Bibi's spokesperson used in his Facebook message to me–are not from the same person, are slim to none. If she lied in this particular part of her testimony, how can anyone believe the rest of it?
Note too, that Sara claims she hasn't been in Austria for 20 years.  And that she was willing to present her passport to the judge to prove it.  Does anyone in their right mind think that a prime minister's wife would travel to a foreign psychiatric hospital under her own name and passport?  It would be quite easy for her to obtain a passport under a fictious name and register with the hospital under that name in order to conceal to the Israeli public her hospital stay.
Bibi's Testimony: Obfuscation or Clumsiness?
Bibi Netanyahu claims that the report of her being admitted to a Viennese psychiatric hospital originated because she was not seen for a few days during March 2020, when her appendix burst and she was a patient at Hadassah Hospital.  Bibi made a major blunder in this part of his testimony: Sara's appendectomy happended in 2021, not 2020.  Therefore, the rumor of her hospitalization in Vienna could not (as he claimed) have had anything to do with the appendix surgery at Hadassah.  The question is: did Bibi know his dates were wrong and offer them hoping it would confuse everyone; or did he make a mistake?  My guess is that he knew his statement was wrong and hoped it would confuse the narrative offered by Olmert's attorney.  If that's so, it shows how empty was the defense he offered to rebut my report regarding her alleged psychiatric commitment in the summer of 2020.
Another Bibi blunder came during a separate portion of his testimony is which he (mistakenly?) said his wife's appendectomy happened not at Hadassah (in Jerusalem) but in Austria!  Perhaps a Freudian slip revealing the truth?
Bibi's claim that the "rumor" of Sara's admittance to the psyciatric hospital was a fabrication of his political enemies, is far-fetched because it would have required the Israeli hoaxster to leak it to the Bulgarian reporter.  Not to mention that the reporter claims in his article that his source was from the hospital itself.  Why would such a foreign journalist writing in Bulgarian for a Bulgarian newspaper have such an Israeli source? And why would the purported Israeli leaker know such a reporter, let alone offer the story to him?
The Bulgarian article on which I based my blog post, said she was a patient at the Austrian clinic in the "summer" of 2020.  Not in March.  It's a shame Olmert's lawyer didn't note this discrepancy. In addition, Sara released a video rebutting claims of the Austrian hosptialization in July 2020, which accords perfectly with the Bulgarian report.
This is characteristic Bibi behavior.  To rebut an attack, he defends his wife with a diversion having nothing to do with the original.  The old American spiritual urges African Americans to strive for their freedom: "keep your eyes on the prize."  Bibi keeps his eyes on the lies.
Isn't it ironic that a woman about whom the Israeli press has been reporting for years due to her erratic, abusive, volcanic temperament, and who Olmert called "mentally ill," would call me "delusional?"  It's delicious. I just added that to my Twitter profile as a badge of honor.
It's a dubious distinction to be dragged into someone else's lawsuit.  But in the case of the Netanyahu family, I consider it an honor.  It is my 15 minutes of minor notoriety.
Why the Netanyahus did not offer a stronger defense
I was struck by Bibi and Sara's testimony how lame and overwrought their denials were.  They were simply not believable.  Instead of making claims easily rebutted, as they did–if their claims she did not travel to Austria were true–they could easily have produced solid evidence supporting them.  For example, they could have offered proof that Sara was in Israel during the summer of 2020, especially in the weeks before she released her July video rebutting these claims. They could easily have obtained a statement from the Viennese clinic denying she had been a patient.  But they did none of this.  They offered weak denials instead.  All of which bolsters the impression that the Bulgarian report is true.
Israeli media reports about Sara Netanyahu's rages and physical and verbal assaults on her staff and others, are widespread.  Likewise, Yair Netanyahu launches vitriolic attacks on the family's enemies regularly, using language that echoes his mother's temperament, as reported in the press.  These are at best, obsessive individuals with a martyr complex.  At worst, they're exactly what Olmert said they are.  He clearly based his judgment on those media reports, making an assumption that there is truth to them.  That would seem to be a reasonable assumption.  Though those stories don't specifically claim that she is mentally ill, they imply this.  Olmert's was a considered judgment.
Thanks for editorial assistance to Iftach Shavit