Bernie Calls AIPAC "Platform of Hate," It Calls Him "Odious," "Shameful"
The Israeli people have the right to live in peace and security. So do the Palestinian people. I remain concerned about the platform AIPAC provides for leaders who express bigotry and oppose basic Palestinian rights. For that reason I will not attend their conference. 1/2

— Bernie Sanders (@BernieSanders) February 23, 2020
On the heels of his resounding Nevada victory, Democratic frontrunner Sen. Bernie Sanders announced he would not attend next month's AIPAC national conference.  Though Sanders didn't attend when he ran for president in 2016 (and has never attended the event), the presidential candidate intended to make a statement this time and took a swipe at the leading Israel Lobby group by criticizing it as providing a "platform for bigotry." This echoes the same phrase used by Rep. Betty McCollum, after she was demonized in an Aipac attack ad as "almost as bad as ISIS."  The apparent reason she drew the ire of the group was she sponsored a bill which would sanction Israel for violation of international law in arresting, abusing and imprisoning Palestinian children.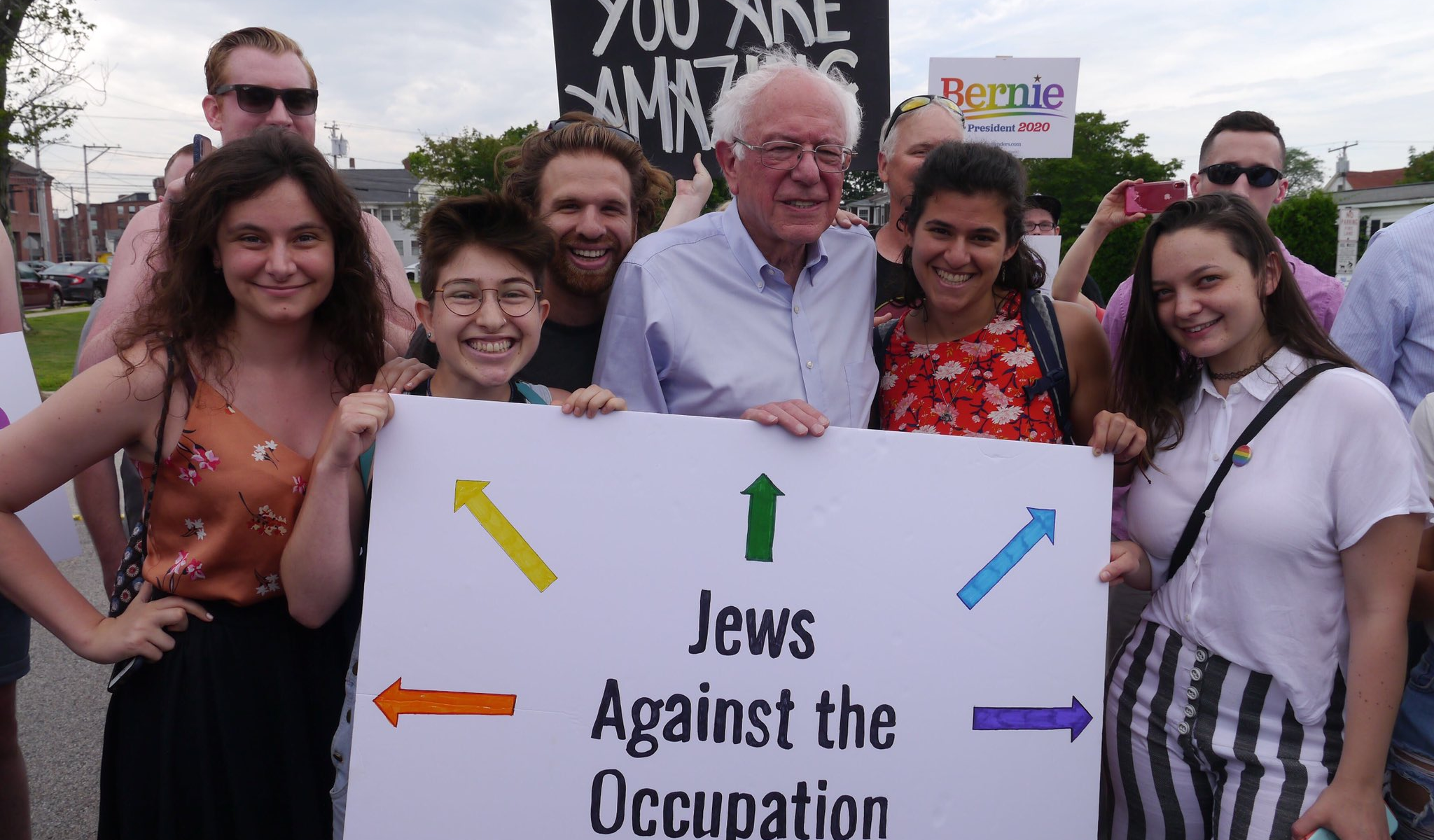 Without doubt, Sanders is laying down a marker and saying to Aipac: "I am the Democratic frontrunner.  I expect to be president of the United States on November 4th.  From that day on, you will be chopped liver" (and not "chicken liver" as Bloomberg so ineptly said during the last debate). As the presumptive nominee, Sanders is also laying down a marker for the other candidates.  Any who do accept the AIPAC invitation will be setting themselves apart from Sanders.  They do this at their peril since he could use it as a cudgel to hammer them for cozying up to pro-Israel bigots.
Aipac, as you can imagine, didn't take kindly to this full-frontal attack.  In fact, it is used to receiving the utmost deference from its Democratic water-carriers.  Thus, its spokesflack launched a counter-attack:
Senator Sanders has never attended our conference and that is evident from his outrageous comment," AIPAC spokesman Marshall Wittmann told The Times of Israel.

"In fact, many of his own Senate and House Democratic colleagues and leaders speak from our platform to the over 18,000 Americans from widely diverse backgrounds — Democrats, Republicans, Jews, Christians, African Americans, Hispanic Americans, members of the LGBTQ+ community — who participate in the conference to proclaim their support for the US — Israel relationship," Wittmann said, in an unusually harsh statement for the group.

"By engaging in such an odious attack on this mainstream, bipartisan American political event, Senator Sanders is insulting his very own colleagues and the millions of Americans who stand with Israel. Truly shameful," Wittman said.
Ouch. Presidential candidates aren't used to being called "odious" and "shameful" by the Israel Lobby.  This marks the nadir (so far) of the historic bipartisan Congressional alliance supporting Israel.  Clearly, both the ruling extremist Israeli government and its Lobby affiliate have written off the Democrats (though of course, they mouthed the tiresome claim of "bipartisanship").  Now, many Democrats are coming to the same realization.  The divorce is going to be rancourous.  It already has been: an Aipac front group, Democratic Majority for Israel, spent nearly $1.5-million in attack ads against Sanders in Iowa and Nevada.  Instead of denting his momentum, it spurred a huge fundraising haul and perhaps even motivated the candidate's supporters to go out and vote in the face of these negative ads.  DMFI announced yesterday that it planned to air no more such ads.  One imagines that instead of the effect they intended, they were stunned at the blowback from the media and public.
Godwin's Law says, essentially, that any rancorous argument will eventually come down to one party accusing the other of being Nazis.  We've just discovered that it holds true in political punditry as well.  Two of MSNBC's stalwart media personalities, Chuck Todd and Chris Matthews, have resorted to bizarre historical comparisons of Bernie Sanders and his supporters to Nazi "Brownshirts" and the Nazi invasion and conquest of France in 1940.
MSNBC's Chris Matthews likens Sanders victory in Nevada to Nazi Germany overrunning France in 1940: "It's too late to stop him … it's over" pic.twitter.com/6GJetLoDkq

— Tom Elliott (@tomselliott) February 22, 2020
"What if you can't win the presidency without an online mob?" — MSNBC seems very frightened that ordinary voters, many of whom use the Internet, may actually get to participate in deciding who wins the presidency pic.twitter.com/nPM5c8DF1n

— David Sirota (@davidsirota) February 10, 2020
Todd faced a certain degree of criticism for his Brownshirt comment.  But perhaps because he was only quoting a right-wing blogger (approvingly) and not speaking the offending word himself, he had a certain level of defense.  However, Matthews can claim no such cover when he announced to his audience on caucus night that the primary race for president was over.  He then quoted the French general charged with defending France during the Nazi invasion, who told a stunned Winston Churchill, that the battle was over and France had been overrun.  The MSNBC pundit then went on to compare Sanders' steamrollering over his opposition to the Nazi blitzkrieg which overran France.  Let's also not forget that the self-same Matthews earlier made the equally daft claim that should Sanders win the presidency, there would be executions "in Central Park" as there were supposedly "under Castro" (this claim is obviously absurd and invented).
All of this is deeply problematic on multiple levels: first, though I'm not a psychiatrist I'd say that Matthews is dealing with a profound sense of victimization and persecution.  Whatever personal demons he's facing, he shouldn't be taking them out on Bernie Sanders. The candidate has never spoken about the media in such terms (though Trump certainly has).  The former has criticized, but never demonized the MSM, though it has been largely against him from Day One.
Second, and most important both the Brownshirt and Nazi invasion references are profoundly anti-Semitic, whether the speakers realize it or not.  Not only did Sanders' father's family lose most of its members in the Holocaust, but calling any Jew a Nazi, or even inferring he is as they did, is beyond abhorrent.  Todd and Matthews may argue that they didn't intend to make the connection their viewers made.  But no matter, when you invoke anything to do with the Nazis you are stepping on territory infested with landmines.
We all need to remember (and media figures even more so because of their public influence) that the Holocaust must not be used to score political points.  It was a grievous historical tragedy that left 6-million Jewish victims.  Their blood is sacred and not meant for gaining an advantage in a mundane political debate.
There is one major exception: that is, when political discourse does take a turn toward fascism, as it has in this country and around the world, it is appropriate to use historical parallels between contemporary events and historical ones.  That is why I use comparisons of Israeli treatment of the Palestinians with Nazi treatment of the Jews.  And in doing so, I make careful distinctions as well when the comparisons are similar, but not exact.  For example, when using the term "genocide" I make clear that the traditional definition of the term is far broader than the act of extermination itself (horrible as this may be).  And that there are aspects of genocide (cultural, ethnic and religious) that characterize the Israeli subjugation of the Palestinians.
Returning to the U.S.: in the age of Trump, every aspect of American life has been corrupted. Neverthless, our media discourse should not permit such unhinged rhetoric.  We are going to have a deeply divisive, explosive, and contentious presidential election.  We should prepare for it by laying down red lines and penalize media personalities who themselves contribute to such corruption of discourse.