Rudy "Better Jew than You" Giuliani
If we've learned anything, it's never to be shocked at the depths to which Giuliani and his 'client' can sink.  When you think they've hit rock bottom, they'll sink even lower into the miasma the next day.  Giuliani's world consists of conspiracies cobbled together like plaque in the brain of an Alzheimer's patient.  His latest ones tie together Ukraine, Marie Yovanovich, the FBI, and George Soros.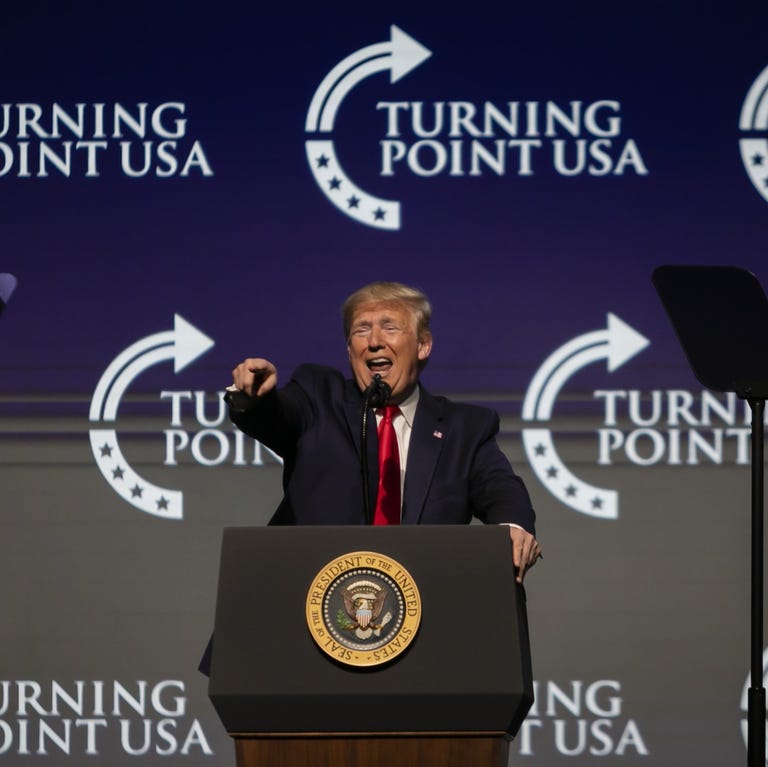 The past week brought together a plethora of neo-Nazi, white supremacists, Tea Party Republicans, Giuliani, and the President of the United States for the Turning Point USA national conference.  Something about the event seems to have cast an evil spell on the speakers and turned them into demented lunatics.  If you'll recall, the President's keynote address devolved into a rant against "windmills," which purportedly kill bald eagles. Apparently, the President of the United States doesn't know that windmills were long ago replaced by wind turbines.
Giuliani took his turn next.  His raving involved a near anti-Semitic attack on George Soros during a podcast interview with Charlie Kirk, TP's founder:
Giuliani went on to explain why the embassy 'quashed' the Ukraine probe about corruption in their government, laying out his unproven allegation that the money was being funneled to non-governmental organizations run by George Soros and his children.

Giulian…was insistent it was Soros behind the Ukrainian corruption – with American help.

'The money was being given out to the embassy and you know who it was being given to – not to the government, but the NGOs. Who were the NGOs?' Giuliani said.

'Soros and the children of Soros,' he said dramatically. 'Left wing, further left wing, socialists, anarchists, communists.'
I don't know why he didn't add "Bolsheviks" for good measure.  But there is another word omitted from that list of perfidious leftists. C'mon now, you know what it is: JEW!
As if to prove my point, earlier today New York Magazine published yet another bizarre interview with "America's Mayor." It happened earlier this month over Bloody Marys at New York's Mark Hotel.  There Giuliani closed the circle and made explicit what had been only implicit the day before:
He said former ambassador Marie Yovanovitch, whom he calls Santa Maria Yovanovitch, is "controlled" by George Soros. "He put all four ambassadors there. And he's employing the FBI agents." I told him he sounded crazy, but he insisted he wasn't.

"Don't tell me I'm anti-Semitic if I oppose him," he said. "Soros is hardly a Jew. I'm more of a Jew than Soros is. I probably know more about — he doesn't go to church, he doesn't go to religion — synagogue. He doesn't belong to a synagogue, he doesn't support Israel, he's an enemy of Israel. He's elected eight anarchist DA's in the United States. He's a horrible human being."
To give him credit, Giuliani is at least aware that his conspiracy theories concerning Soros tread on anti-Semitic ground.  That's why he warns his interviewer not to call him an anti-Semite.  But in rebutting the claims, he characteristically reinforces them by spinning misbegotten definitions of Jewishness.  As a Catholic, he simply has no understanding of the relatively decentralized approach of Judaism to religious authority.  Though Judaism is a religion, not all Jews are religious.  Yet they still are Jews.  You cannot, as perhaps you might in the Catholic Church, declare someone "not Jewish" simply because they don't go to synagogue (which he tellingly first called "church"–that's how good a Jew he is!).
Nor can you unJew someone for not supporting Israel.  But even that spew from Giuliani is misplaced since Soros doesn't hate Israel.  In fact, he's donated millions to Israeli NGOs fighting for democracy and social justice there.  What he hasn't done is support far-right Likudism.  That is the only barometer by which Giuliani (and Trump) measure how good a Jew one is.
Let's be clear that this is an anti-Semitic rant.  And characteristically for anti-Semites, Giuliani has his good Jews and bad Jews.  The good ones play ball.  The bad ones want nothing to do with him.  Bibi Netanyahu has precisely the same approach to Diaspora Jews.  If you're Orthodox, if you hate Palestinians, if you're an Islamophobe, if you give to support settlements–then you're a good Jew.  Greenblatt, Friedman, Kushner–all good Jews.  If you support Israeli democracy, Palestinian rights, ending the Occupation–then you're as good as a Nazi.  That would be George Soros, whom Yair Netanyahu, who posted to Facebook an anti-Semitic cartoon likening the Holocaust survivor to an octopus whose tentacles ensnare the world.  That makes Baby Bibi and Bibi himself anti-Semites as well.
The conventional definition of anti-Semitism as "hating Jews" should be amended: the smart anti-Semites don't hate all Jews.  Eichmann didn't hate all Jews.  In fact, he said that he himself would be a 'fanatical Zionist' if he were Jewish.  Richard Spencer doesn't hate all Jews.  In fact, he admires Israeli Jews because they represent the Jewish version of the white ethno-state he envisions here.
The darkest irony of all is that Giuliani declares himself a better Jew than a real Jew who survived the Holocaust.  If the blundering ex-mayor were a Jew I would call his statement a chilul HaShem ("desecration of God's name").  You see, in Judaism, we still manage to have a sense of moral outrage about such violations of common decency.  The rest of America long ago lost any sense of outrage and has become numb to the constant spate of pathological behavior.
Finally, the Jewsplaining that's involved in a non-Jew defining for Jews who's a good Jew and who's bad goes far beyond chutzpah.