Happy Hanukah to all: more light, less darkness!
Earlier today, Bibi Netanyahu stood before a hanukiya at the Western Wall and lit the Hanukah candles.  He was accompanied by the U.S. ambassador and settler acolyte, David Friedman (he appears to have left his pickax home).  None of this was particularly unusual.  It wasn't even a surprise when he likened himself to the ancient Maccabbees fighting against the Greek pagans to preserve their Judean homeland and right to worship in their Holy Temple.  That, of course, would be typical self-aggrandizement by which Netanyahu projects himself onto the great heroes of Jewish history (his followers often refer to him as King Bibi).
What was unusual was the historical connection he attempted to make between the Greek dictator, Antiochus, and the prime minister's arch-enemy du jour (last week it was Iran, next week, who knows?), the International Criminal Court.
The Maccabean revolt was precipitated by a royal decree that forbade Jews from performing pilgrimage and offering sacrifices at the Temple (anyone catch a similar contemporary restriction imposed by Israel on worshippers of a certain other religion?).  Instead, Antiochus declared the Temple dedicated to the Greek god Zeus, and defiled the sacred site by offering sacrifices of unkosher animals like pigs (or so the tradition says).  This, of course, outraged the Jews, who rose up in rebellion.  Besides the Greeks themselves, the Jewish rebels also targeted Jewish collaborators whom they called Hellenizers.  They slaughtered them, as well as Antiochus' officials and troops.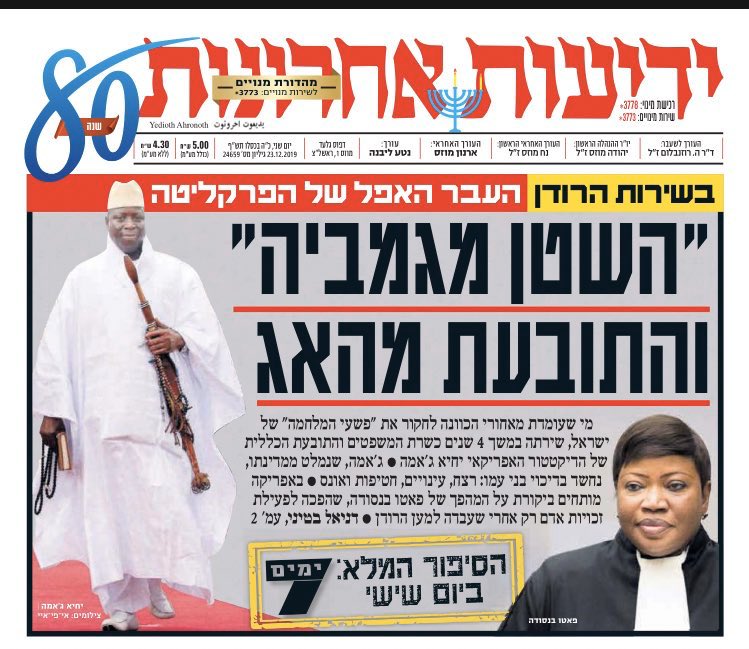 It's in this light that Netanyahu offered this dubious historical analogy (remember: Bibi is the son of a one-note Jewish historian of dubious reputation):
Netanyahu said that "new decrees are imposed on the Jewish people. Anti-Semitic decrees of the International Court telling us, the Jews standing by this wall, by this mountain, in this city, in this land, that we have no right to live here, and that if we live here we commit war crimes. Blatant anti-Semitism."
First of all, the ICC announcement was not "decreed" on "the Jewish people." It was, in fact, decreed on Israel; more specifically individual military, political and intelligence officials who are accused of committing war crimes from 2014 till today.  That also rules out that other over-worn term of opprobrium, blood libel, raised at the same ceremony by a Netanyahu acolyte, Yuval Steinitz. Again, the ICC investigation is not targeted against Jews, specifically.  It is targeted against specific acts that violate specific terms of international law.  It would not matter (or should not, at least) whether the crimes were committed by Jews, Christians, Muslims or Buddhists.
Nor does the ICC statement have anything to do with Israeli claims to sovereignty (at least not sovereignty over territory within the Green Line) over Jerusalem or the land of Israel.  It certainly makes no claim that simply by settling there Israelis have committed a war crime.  This, of course, is the type of hyperbole for which demagogues the world over are known.
But as I've said before, Netanyahu may be a terrible strategist, but he is a brilliant tactician.  And exploiting the setting of the ruins of the Holy Temple and the holiday of Hanukah, which has been embraced by Zionists as a harbinger of the latter-day state of Israel, creates an impressive tableau that resonates among observant Israelis.  He has rung the bell and Pavlov's dogs salivate on cue.
There are numerous terms of opprobrium far-right observant Jews use to smear those they see as deficient in their religious identity.  'Kapo,' of course, is one of the most popular.  Though 'Hellenizer' is less well-known, it carries much the same stigma.  Netanyahu didn't specifically single out Israeli human rights NGOs or dissenting American Jews, he didn't have to.  Every Israeli knows who the Hellenizers among us would be in this context.