Netanyahu Government Falls
Today, Prime Minister Bibi Netanyahu decided to topple his own government and call new elections.  The ostensible reason was that impending legislation to compel ultra-Orthodox men to serve in the IDF was destined to fail due to opposition from key parties.  The real reason for the dissolution is more complicated.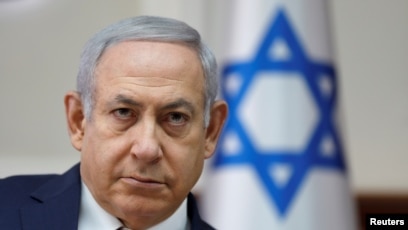 First, Netanyahu faces indictment on three of four corruption cases filed against him.  Both the police and State Prosecutor have approved indicting him.  The ultimate decision rests with the Attorney General, Avichai Mandelblit.  He is a former Netanyahu chief of staff and member of Bibi's inner circle.  Despite that, it would be unprecedented for Mandelblit to defy the recommendations and quash the indictments.  Doing so would ignite a firestorm which in itself might topple both Netanyahu and Mandelblit.
The prime minister's strategy is to pre-empt the AG by winning the next election (which he's almost assured of doing) and then daring the government's chief legal officer to prosecute him in the face of a popular mandate.  Winning the next election would give him his fourth consecutive victory and his fifth term as national leader.  This is a feat even David Ben Gurion, the "father of his country," didn't achieve.  It would transform him into something akin to an African dictator or an Arab strongman sitting on his throne for decades.  The only thing remaining would be to groom his son, the virulently racist and sexist, Yair, as his political heir.
Of course, Mandelblit could avert this dare by indicting Netanyahu well before the election.  That would place Netanyahu's fate in the hands of his Party and political allies.  Though there is no law demanding a PM resign while under indictment, Ehud Olmert also initially refused to resign after he was indicted.  Ultimately, his Party determined his fate and forced him to resign.  He was ultimately convicted and served a prison sentence for similar offenses.  It would be hard for Bibi to argue that he deserves more lenient treatment than Olmert.
But if Mandelblit does act decisively during the election campaign by indicting the PM, or even releasing some of the key evidence against him so that the public has a better sense of the scope of Bibi's wrongdoing, the AG runs the risk Robert Mueller has run regarding the Trump investigation.  Bibi will scream that Mandelblit is diverging from his purely legal mandate and injecting himself into partisan politics.  Such a charge against Mandelblit would be a profound irony, since the PM himself routinely does this and much more. To offer but one example, until this week, Netanyahu held not one, not two, but five ministerial portfolios.  Nor was he averse to exploiting them to his political advantage.  That's what one of the corruption cases against him entails.
In many ways, Netanyahu is like a slightly calmer, more tightly wound version of Donald Trump.  They both are control freaks who nurse longstanding grudges against allies and enemies.  They are both loners who perceive themselves as eternal victims.  They are both narcissists who mistake their own self-interest for the national interest.  They are both corrupt as hell.
Netanyahu and Mandelblit are playing a hand of very high stakes poker.  The PM has raised them as high as they go and dared Mandelblit to go higher.  He's waiting for the AG to blink.  It's a test of how political Mandelblit is willing to be.  Does he have the guts to go face to face with Netanyahu in what is now the equivalent of a street brawl?
I believe there is at least a 50% chance that Bibi will not be the Likud's Party leader come April.  If indictments are filed in the next two months or so, then it's likely he will be forced to resign.  In that event, it all becomes a crapshoot.  There are several younger Likud candidates like Gilad Erdan and Gideon Saar who have their sights on the leadership.  Erdan is totally repellant.  Saar is a slightly kinder, gentler version of Netanyahu.
Any Likud candidate automatically holds the advantage over candidates from other major parties.  For example, Yair Lapid leads Yesh Atid as a center-right party.  It's not clear to me what this Party stands for that distinguishes it in any appreciable way from parties to its right.  It espouses the same basic principles except it does so in a less offensive fashion.  There is absolutely no groundswell amongst Israeli voters for what Lapid offers.  He's an also-ran who was once the New-New Thing.
Naftali Bennett may be Likud's most serious challenger.  He's one of many former Bibi chiefs of staff (Avigdor Lieberman is another) who've broken away and challenged him for power.  Bennett's Bayit Yehudi Party is closely aligned with the most extreme elements of the settler movement.  He boasts of killing Arabs while he served in the Sayeret Matkal (IDF special forces).  His "peace plan" is "never a Palestinian state."  He proposes instead an autonomous entity with no real governing power.   In addition, he suggests moving as many West Bank and Israeli Palestinians as possible outside of Israeli jurisdiction, while expanding Israel's territorial sovereignty over as much West Bank land as possible.  This is ethnic-cleansing lite.
This might not yet be Bennett's time.  But he's definitely cut from the mold of former terrorists turned prime ministers like Begin and Shamir.  His time could yet come.  And woe betide Israel when it does.