Shin Bet Agent Attacked, Kills Two Jordanians, Israeli Military Censorship Just Lifted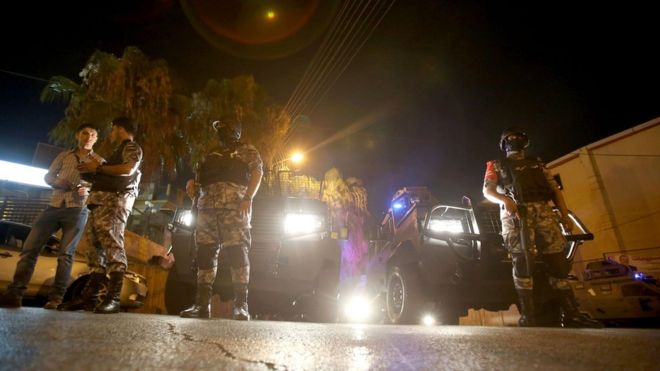 UPDATE: The Israeli gag order was lifted around 8:30 PM Pacific.  Israeli media now report that the attack targeted the deputy security chief of the Israeli embassy in his private home.  He was there with his landlord and two workers who were bringing in new furniture.
One of the workers stole up behind the Israeli officer and stabbed him with a screwdriver.  He drew his service weapon and killed the attacker and mortally wounded his landlord (it's not fully clear at this point whether the security official wounded the landlord or whether the Jordanian attacker did).  The Israeli made his way to the Israeli embassy, where he now may not be questioned under the Vienna Diplomatic protocols.
Israeli lawyer Yossi Nakar raises some provocative questions about the incident: with all the professional training offered  Shin Bet agents,  he can't manage to subdue an attacker armed with nothing but a screwdriver without killing him? It also seems part of a new security protocol directing,  as the IDF chief of staff recently complained, those confronted with girls with knives to empty the ammunition magazine into the victim and ask questions later (or never).
Yossi Melman also tweeted that for a time,  Israel was considering withdrawing all embassy personnel in response to to the attack.   Ultimately it decided not to do do.   Evacuating the embassy in response to such an incident would be seen as deeply embarrassing between two countries which are ostensible allies.   This and the prolonged censorship indicates the incident was quite a bit more complicated than hitherto acknowledged.    I've asked my usual Israelis source about this and he's refused to comment, which only confirms my suspicions. 
It's now a bit clearer why Israel censored the incident for a full 12 hours.  As the security guard made his way to the embassy the Israelis did not want the Jordanians to know what had happened; and they wished to ensure he could not be questioned regarding the incident.  Which is unfortunate considering you'd think the Israelis would want to help the Jordanian authorities piece together what happened.
Israel probably feared what happened a few years ago in Cairo, when Islamist crowds stormed the embassy and tore it apart.  Some embassy staff was locked inside the building fearing for their lives.  If Jordanians got wind of an Israeli Shin Bet agent (embassy security is provided by this agency) killing two Jordanians they could very well have done something similar.
When Jordan discovered that Israel planned to withdraw all its diplomats including the Shin Bet agent, it responded by locking down the embassy entirely.  As a result the staff is there along with the alleged killer.  No one can leave.  The embassy is under siege with Israel refusing to permit the agent from being questioned and Jordan livid.
What should happen now is that Israel should negotiate an end to the entire al Aqsa crisis by removing the security equipment from Haram al Sharif.  It should permit the shooter to be questioned by Jordanian officials as long as he's permitted to leave the country afterward.  Whether any of this will happen is anyone's guess.  Right now we have a royal standoff with huge consequences for either side.
חשיפה: התקשורת בישראל מנועה מלדווח על פיגוע בשגרירות הישראלית בירדן
In the Israeli national security state it's often mystifying to understand why and when it invokes opacity.  In this, it's especially so.  A Jordanian has attacked the Israeli embassy in Amman shooting at least three individuals (one Israeli).  Two of the Jordanians was killed.  There is a gag order on reporting the story inside Israel.  What it hopes to achieve by prohibiting its own citizens from knowing about this incident is unknowable.  I suppose it's afraid of Palestinian copycat attacks inside Israel. But do Israeli officials really believe Palestinians need any more incentive to attack Israelis than they already have?
This attack comes on the heel of mass demonstrations inside Jordan against Israel's restrictions on worship at the Noble Sanctuary.  Even the speaker of the parliament called on Jordanians to protest against Israel's actions.  There have also been previous Islamist attacks inside Jordan like the one today, though they targeted either Jordanian or U.S. personnel.
The issue, of course, that remains on the table and ignored by Israel is that this is the first terror attack on Israeli targets outside Israel during the al Aqsa unrest.  The longer Israel keeps its head in the sand and refuses to concede its error in imposing unilateral draconian security procedures at the third holiest site in Islam, the more such attacks will happen outside Israel.  There are many cities in the world where such attacks are possible, especially in the Arab world.
There is only one way to end this mess, return to the status quo ante.  Remove all blockades and impediments to Muslim worship.  I should add that Israel's security services are not unanimous in advocating the harsh measures implemented after the attack on Haram al Sharif.  A confidential source has told me that the Shabak disagrees with the new protocol.  Instead it advocates more stringent vetting of worshippers before they arrive at the holy site (but not metal detectors or video surveillance), focussed especially on renewed efforts to intercept and confiscate weapons in Palestinian communities.  One can only hope that these wiser heads will prevail in this internal debate.