Beitar Jerusalem Commemorates Holocaust Day: "Death to Arabs!"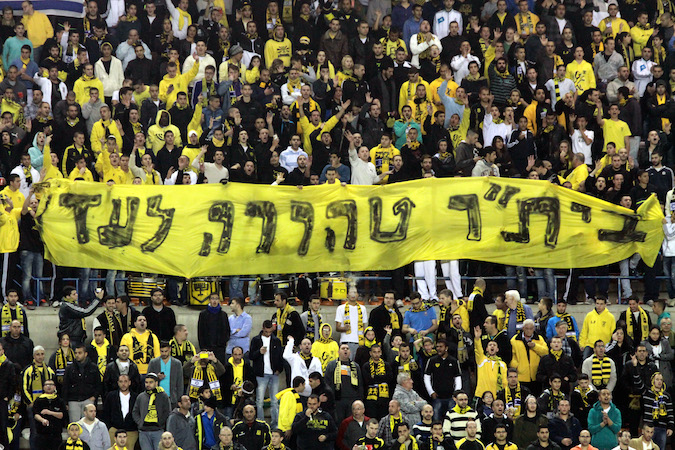 Beitar Jerusalem is the city's professional soccer team, with a reputation of being the most violent, brutal and racist of all clubs in the country.  It's fan regularly shout racist slogans at Israeli Palestinian players.  When a former owner imported several Muslim players from his Chechen club to play for Beitar, the mafia-like fan club, La Famiglia, burned down the club's offices.  The players were promptly dispatched home to Chechnya.
Last January, three La Famiglia members were convicted of assault against a fan of a Tel Aviv club.  He was smashed in the head with a hammer and underwent emergency surgery.  He nearly died.  The thugs received a "hefty" four month jail sentence and $1,000 fine.  How Israeli justice 'winks' at racist violence.  Even the thugs who burned down Beitar's office got longer sentences–for property damage!
Today, the "Beitar Heart" Instagram account of the Beitar fan club featured a somber image of a candle lit to commemorate Israel's Holocaust Remembrance Day.  Only one small problem: the image was tagged with #Death to Arabs!
This is especially touchy given that FIFA has taken notice of Beitar's atavistic behavior and fined the club for it.  As a result, Beitar told fans that it would begin a "zero tolerance" policy regarding racism.  If they waved Kahanist banners or shouted slogans, the players would leave the pitch immediately.  It should be noted that the club never did such a thing till it received a harsh penalty from an international soccer body.
In the following official statement it's clear that the club's management is only taking these measures because of the way the behavior is perceived outside Israel, not inside.  Because clearly the views expressed are the consensus among the club's supporters and much of the Jewish neighborhoods of Jerusalem:
"If in European play these songs are treated as racist and resulted in the club being punished harshly – financially and professionally and mainly from a reputation standpoint, we feel that these songs should also be treated as racist in Israel," added the club.

"These songs could result in the club being suspended from European play for many years. Being a top club in Israel depends directly on consistent participation in continental competitions. Without that, a big club like Beitar Jerusalem has no right to exist in Israeli soccer."
The issue is more sensitive still since Israel is battling against a campaign within FIFA to ban Israeli clubs in the West Bank from competing as part of the international circuit.  So messages like this one should be of considerable interest to these authorities.
As an aside, a French player facing charges of smashing the head of passerby who tried to intervene to protect his girlfriend (who he was pursuing) is welcomed to the Beitar side.  It seems violence and anti-social behavior is welcomed in the Israeli soccer world (and outside it as well).