As Bibi Readies for Trump Summit, He Dumps Two-States for "State-Minus"
The NY Times and Washington Post have been duly helpful in pimping for Bibi Netanyahu's upcoming summit with Pres. Trump.  They've published several articles advancing ideas for an Israeli-Palestinian peace deal.  There is a minor problem with all of them: they completely omit Palestinians.
Peter Baker published two pieces both of which are filled with delusional thinking and wish-fulfillment.  In the first, he advances the notion that Bibi and Trump, with the help of Saudi Arabia and its Sunni allies can somehow impose a peace deal on the Palestinians:
President Trump and his advisers, venturing for the first time into the fraught world of Middle East peacemaking, are developing a strategy on the Israeli-Palestinian conflict that would enlist Arab nations like Saudi Arabia and Egypt to break years of deadlock.
The emerging approach mirrors the thinking of Prime Minister Benjamin Netanyahu of Israel, who will visit the United States next week, and would build on his de facto alignment with Sunni Muslim countries in trying to counter the rise of Shiite-led Iran.
As further proof of a mutual set of delusions at play, Baker says that Trump has back-pedaled on two former ironclad notion of his: that the U.S. embassy must be moved to Jerusalem and that the settlements aren't obstacles to peace.  Thus, Trump recently actually faintly criticized settlements and has refused to set a date for moving the embassy.  These are concessions Trump has made to these friendly Arab states who supposedly are whispering in his ear that they can bring peace if only he can tidy up Israeli policy and make it more presentable.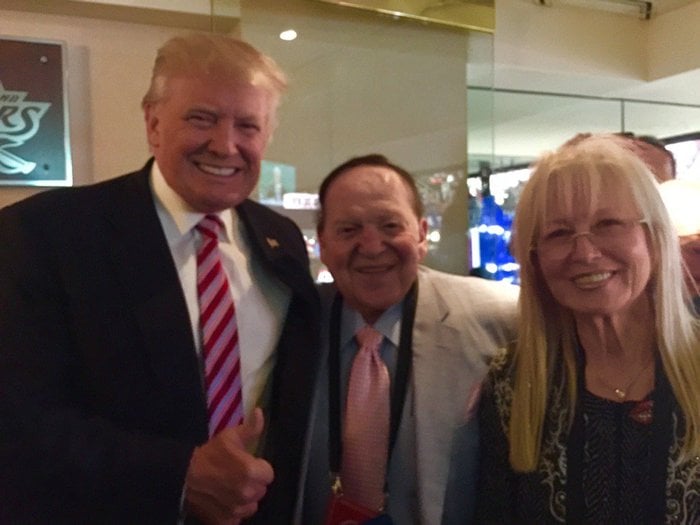 In these articles, Baker doesn't quote a single Arab or Palestinian source supporting the credibility of this notion.  But he does manage to quote WINEP's Robert Satloff (the Aipac affiliated think-tank), Dennis Ross, and the ZOA's Mort Klein.  Baker does list a series of Sunni Arab leaders Trump has consulted with in the past weeks.  Yet he doesn't interview a single one of them to test their reaction to this purported theory.
It's no accident that these ideas were cooked up during a dinner Trump held with Sheldon Adelson and his foreign police team, including Rex Tillerson and Nikki Haley.  Jared Kushner, his new Israel-Palestinian dealmaker was also there.
In a related development, convicted felon Elliot Abrams is about to be named Tillerson's top deputy at the State Department.  Abrams personally connived with Mahmoud Abbas to overthrow Hamas after it won the 2006 PA legislative election.  The uprising, launched by the PA, was an abject failure and besides leading to revenge killings in both Gaza and the West Bank, drove a permanent wedge between Hamas and Fatah that remains unbridged.  With Abrams running our Mideast policy, peace is guaranteed…perhaps in a century or so.
It is true that Israel's far-right government has found common cause with the most authoritarian regimes in the Middle East, among them Saudi Arabia and the Gulf States.  There is one mutual interest that joins them: Iran.  They both hate Iran.  However, there is absolutely no indication that any of these Sunni states either have leverage over the Palestinian Authority or that they desire to forge a peace deal on Israel's behalf.
I understand that in Trump-world, there is little difference between reality and fantasy.  But sober-minded NY Times journalists are paid to understand the distinction.  There isn't a scintilla of skepticism in Baker's account, which does a real disservice to serious Mideast journalism.
In  a separate, but related development, Haley scuttled the nomination of former PA prime minister, Salam Fayyad, to be the UN's peace negotiator for Libya.  She nixed Fayyad as a favor to Israel.  Don't ask why Israel should have a veto over a portfolio involving Libya.  It will only give you a headache to ponder the matter too closely.
Sheldon Adelson and Niki Haley dined with Trump on Thursday night. My guess: Sheldon might have vetoed Salam Fayad [sic] for the UN job.

— Martin Indyk (@Martin_Indyk) February 11, 2017
Apparently, no one in Trump-land bothered to consider how Palestinians would look upon their former leader being axed by Haley.  In this tweet, Martin Indyk suggested that Fayyad's fate was sealed at the Adelson-Trump dinner.  And that his nomination was killed as a special favor to Sheldon.
Keep in mind that this isn't Marwan Barghouti or a Hamas or Islamic Jihad leader.  This is the mildest, most milquetoast Palestinian leader imaginable.  A guy who many believe is an Israeli stooge, he was so amenable to Israel's interests while in power.  A guy who was beloved of Tom Friedman, who coined the short-lived term "Fayyadism" in his honor.  If the Trump-Bibi-Adelson nexus can't stomach Fayyad as a Palestinian leader, why would they harbor the illusion they can work out a peace deal with the Palestinians?
Bibi's New 'State-Minus:' Two-State Lite
To all those Israel apologists who've been professing Bibi's adherence to the two-state solution, you can all retire in shame.  Netanyahu has officially ditched two-states.  He's now going with a new marketing campaign which he dubs "state-minus."  It's not a Palestinian state.  It's something less than that.  More along the lines of a South African Bantustan, but minus the disparaging reference.
State-minus means precisely…nothing, as this Washington Post article makes clear:
[When] Prime Minister Benjamin Netanyahu huddled behind closed doors with his security cabinet, ministers on his hard right pressed Netanyahu to publicly proclaim the "two-state solution" dead.

The Israeli leader refused but told his raucous cabinet not to worry. Netanyahu said he did not support a full Palestinian state, but "a state-minus," according to Israeli reports on the meeting.

In the days since, Israelis, Palestinians and American diplomats have been struggling to define what Netanyahu might have meant by "a state-minus."

…The Washington Post asked a half-dozen experts…what Netanyahu meant by a "state-minus."

They answered that it could mean almost anything.

It could signal support for a small nation close to what the Palestinians seek: a demilitarized state that surrenders some sovereignty to allow for Israeli security, especially in the Jordan Valley, with a slice of East Jerusalem — maybe a village on the other side of today's separation barrier — as its capital.

Or, from the Palestinian perspective, it could mean something far worse: abandoning Gaza to Egypt and allowing a few isolated pockets of stunted but self-governing cantons, with a flag and a postage stamp and a seat at the United Nations.
This is the deal Bibi thinks he can sell to Egypt and Saudi Arabia and which he expects they'll sell to the Palestinians.  How in hell anyone can expect these Sunni toadies to promote "state-minus" as an acceptable choice to the Palestinians is anybody's guess.
This is the bill of goods Bibi is selling to a gullible Donald Trump and his Orthodox, pro-settler son-in-law, Jared Kushner.  If the consequences of failure weren't so dire, the entire episode would be a bad joke.  But given the continuing, festering anger on the Palestinian side over insults like this–it will only lead to more dead on both sides.
It's all a cruel charade, a fool's errand.  But there is one very small benefit: only fools and liberal Zionists can continue to argue that the two-state solution is anything more than a dead letter.  There is only one viable option remaining and with idiots like Adelson running our Mideast policy, this will become more obvious as the Trump administration continues to fumble in the dark on its way to finding a light switch and a coherent regional approach.